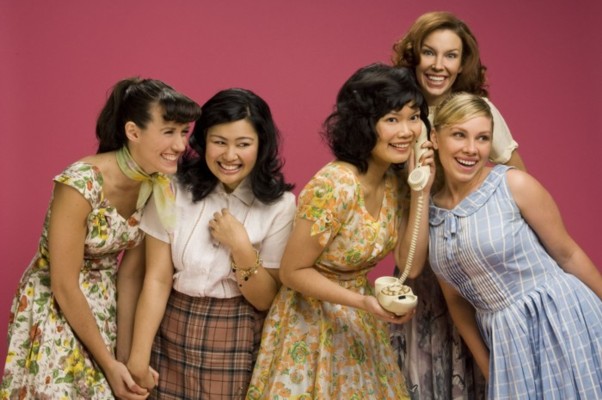 Unlike so many of his contemporaries, Director David Hudgins was not persuaded, nor was he even tempted to take a classic piece of theater and put it into a more modern context. I do not know about you, but for this journalist, that is a breath of fresh air, for there is nothing more irritating than to witness something such as Shakespeare set in the nineteenth, twentieth or twenty-first century, all of which I have scene over the years, or as was the case a few years ago when the Stratford Festival in Ontario staged The Taming Of The Shrew, set in a western motif. While Hudgins is not involved in directing Shakespeare at this point in time, he did want to be as true to the intent of Michael Stewart, the author upon which the original Bye, Bye Birdie musical production was based, a musical which he is now directing. The Langara College Studio 58 production opened on January 29th, in Vancouver, Canada.
To that end, Hudgins cautioned his young cast to focus more on the period of time and the culture of the late 1950's than in viewing internet clips of other stage productions or in watching the Bye, Bye Birdie movies which have been produced for both the big screen and television.
"Our actors are trained well enough to understand that what they have to bring, is their own version, and everybody at the studio does a good job of that. I think a lot of amateur shows suffer from, directors who direct according to how they think that a show is supposed to be, or that there is some sort of template out there that musical theater productions are supposed to have, and which are related to the original Broadway production or something like that. I take a completely different point of view, that being, the script exists for anybody to pick up and to try and create. I think that research is vital to a production, but it should come as close to whatever source material that you can get. In the case of (Conrad) Birdie, you can study as much as you can, whether it is Elvis, Conway Twitty or whoever from that period. You try and pull as much detail as you can from that. If you are playing Kim or another girl from that period, you look for source material, but you don't necessarily look at what other people have done in that production. I haven't looked at the movie (in its entirety). I resisted purposely. I asked people about that, whether I should go look at the movies that are out there and generally what I got back from other directors was, 'No, stick to your own vision, create your own vision and try to stick by that," says Hudgins, as he discussed the musical with me, just weeks before it was to open in Vancouver, Canada.
Hudgins explains why he feels so strongly about actors not immersing themselves in previous renditions of, not just Bye Bye Birdie, but any musical or play, prior to taking part in a new production. "It's not to say that you can't get good stuff by seeing what other people have done. It is when it starts to limit you and you feel that you couldn't do this or that, because it is too crazy or to out there. I saw the telephone hour (scene from Bye Bye Birdie) on the internet, and they had made a lot of changes. It had a sixties vantage point. It seemed to echo more early sixties than it did the late fifties."
It has long been surmised that Michael Stewart based his central character of Conrad Birdie on two musical icons of the late fifties, Conway Twitty and Elvis Presley. Hudgins echoes those thoughts and attests that his research revealed what others have suggested for many years, that Conrad Birdie's name is a play on Conway Twitty's name and that the persona of Birdie was a caricature of Elvis Presley. The most obvious similarity to Elvis is the fact the musical's focal point is Conrad Birdie, a musical icon, has been drafted into the army. Elvis in fact, was drafted in 1957, and inducted in 1958.
Studio 58's production of Bye Bye Birdie utilizes a cast of twenty-three actors and actresses, a number that comes with both its challenges and its rewards. "The reward of working with a large cast is you get so much color and so much variety from scene to scene. You get this great blending of talent. The fact that we have so many multi talented people in this production (allowed) us to find their strengths and to capitalize on them. Choreographer Shelley Stewart Hunt is so great at bringing out what people do well and adding it into the production. Something that I wanted to do as a director was to have part of the rehearsal process just as sheer play. From that, we were able to pull people's expressions of what they do, and to use it in the show. I was interested in using the gifts that people had and brought them into the show. That is one of the strengths of working with a large group. If the cast is too small and the people are too strained to fill all of the parts, it often feels like that to the audience. On the other side of it, if it is too big of a cast, people can feel like they are waiting around. I feel like twenty-three people in this cast is just the right number. It means all hands on deck, all of the time, and it keeps the thing going. It has to move along (at a quick pace), because it has that youthful quality and spirit. The through line of the play is the peace and the freedom of youth," says Hudgins.