CALICO the band - Singing About Runway Cowgirls and Breaking Your Hearts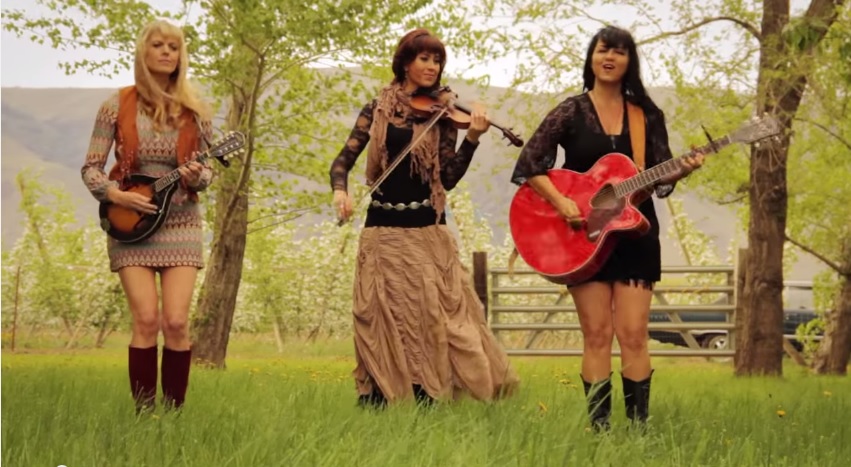 CALICO the band, comprised of three singers-songwriters-musicians from Southern California has been steadily increasing their fanbase, radio airplay of their original songs and have performed more than 200 gigs during the past twelve months and as we go to press, they are once again touring, this time in the Pacific Northwest. They are defined by beautiful, pristine harmonies and they strike a good balance between writing and performing thoughtful songs and other tunes that are just outright fun. Manda Mosher, Kirsten Proffit and Aubrey Richmond are the three ladies of CALICO the band and before they joined forces all three of them were already highly regarded artists. The group is riding high in the saddle these days as their debut album Rancho California receives rave reviews from music journalists throughout America.
Manda Mosher says the seeds for the album Rancho California were first sown when she and Kirsten Proffit got together to write some songs.
"It really had to do with the inception of the band and that was before we knew it was going to be a band. It really just started with songwriting. Kirsten had an idea to write some songs together, so we started as a songwriting team and it was the inspiration from the quality of the songs that we were producing together and singing together, as well as the harmony that sparked an interest in continuing to do that. We thought wow this is special and different than anything that we had been doing on our own. We were creating a new sound.
We started out by making some demos of the songs. Kirsten is a production partner with Steve Berns. They have a long history of working on projects together, as a production team, so Kirsten brought us into Steve's studio, which is The Fitting Room Studios. We as the band had input all along the way. This record ended up being done that way except for one track, "Dead Reckoning," which was produced by Rami Jaffee a member of the Foo Fighters and The Wallflowers," says Mosher.
"It's going to burn like the devil / It's going to sting real good / You won't be able to wash it off / It's like a bad tattoo / I guess I should have warned you / Before I let you jump in / But we're already peaking / And it's all down hill from here," the first few lines from the song "Break Your Heart," from the album Rancho California, are hardly words that inspire confidence in a man, especially when sung by three beautiful women.
Kirsten Proffit says, "When we do it live Manda puts the castanets over her head like some sort of Latin dancer (Mosher adds, "In Flamenco style."), and it is so cute. It is a fun live song."
Mosher picks it up from there, "When people start hearing the lyrics, both men and women start to laugh."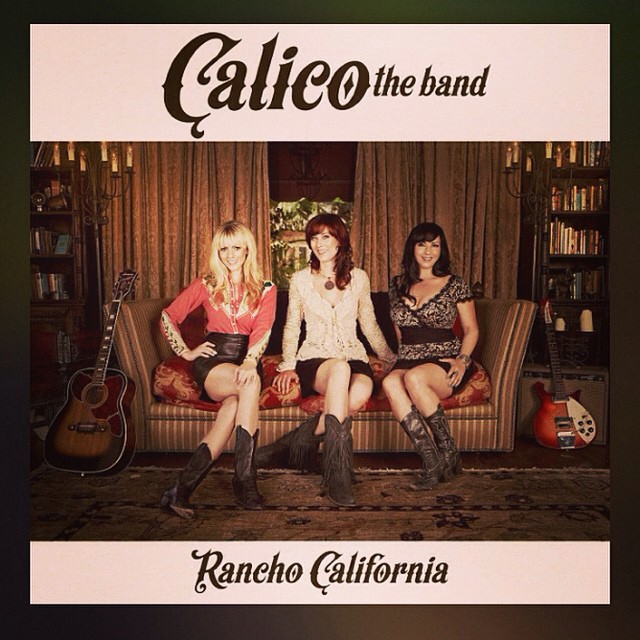 As for the song "Runaway Cowgirl," Manda Mosher says, "We felt like writing a real love song, because we didn't really have one like that on the record. Then we thought of this story and sometimes we call this song, "The Ballad of Ginger and Danny." (It is about) a girl who is working in a bar at a dead end job in a small town. She had big dreams and hopes and she had a whole future ahead of her, but she just couldn't see it. Sitting there in that bar she was losing her faith and the excitement of life, when in comes this trucker character and interestingly enough Kirsten has experience working with truckers in the past. Kirsten has all of these connections with these truckers that she has helped get from point A to point B in routing them all around the country and she knows who they are and their character. We were curious about the truckers and we started asking all of these questions about them and what their lives were like. We decided to make the male character a trucker who comes through town. They meet each other in the bar, they fall in love and they decide to run off together (Kirsten laughs lightly) (We ask if they run off together in his big wheeler and there is more laughter from all of them). They might have ditched the big wheeler for a sports car. I don't know. We didn't get that far. We really wanted a sweet love song on the record and it just has a real touching feel to it. That line, "love is just one stop away," is funny, because you never know when it is going to show up. It feels like a big surprise when it does. You are just going through your life and you can feel very bleak about it or maybe it is never going to happen to me again. All of a sudden there it is."
Aubrey Richmond talks about the music video for another of the album's songs, "Runaway Cowgirl." "I find with CALICO we have so many good friends and fans and even when I came into this they had a group of friends and fans that were so supportive. A lot of people love the band and respond to it and sometimes people will say, hey, I really want to do a music video for you. A lot of times it just feels right to let them take the lead creatively. I believe that Kirsten and Cody Bedbe were already friends and they knew each other from previous things. He had a video production company that he started called Digital Vendetta Productions. He just loved the song "Runaway Cowgirl," and he had this whole vision for it. He started setting us up in different locations (in Yakima Valley) to do the shots and a friend had an old car that he borrowed for the day. We put it (the video) in his hands and we let him do his thing. We were so happy with how it all turned out. We were up there on our Pacific Northwest tour in May. It was freezing that day, but gorgeous."
Proffit picks up the conversation at this point, "It is funny we started in the morning and we ended before dark that day. They did the editing over a few days back and forth, because they are artists too. For such a simple thing with less than perfect conditions and everything I think that we are getting a really nice response from it.
The scene in the beginning where there are all of those apple blossoms (Mosher adds, "They were just gorgeous.") The next day a windstorm blew through and blew every one of those blossoms off of the trees.
We have (endorsements with) Gretsch guitars and in that video Manda is playing the Gretsch mandolin and I am playing a red Gretsch acoustic guitar. Gretsch really liked it. They posted it up on their gretschguitars.com and their Gretsch pages and that got a lot of attention."
That provided a nice segue into a discussion about the importance of endorsements for an artist or band.
Proffit says, "To me it is very important, because not only do you get the support of the company backing you with the instruments, but we are also able to get instruments when we need them. We needed a new mandolin and they got us another level up of mandolin called the Gretsch Park Avenue. It has just come into the family, so we are still getting used to it. It is a beautiful instrument and it is really nice to just be able to have it, because these things are expensive. We are very hard on our instruments, because we are traveling a lot. They are being put in and out of the trailer everyday when we are on tour, in heat and cold, so it is really nice to have a company behind you that wants to have those instruments in your hands.
The other thing is the marketing and the fact that we were able to get our video on their (Gretsch) website and in an email blast to hundreds of thousands of people who would not have seen us otherwise. It has become a partnership, we are proud to play their instruments and they are happy that we are out there gigging with them and going to these different cities. On our last tour they put us in a Sam Ash store and we did a little question and answer (session). We are going to be doing more of those types of things for Gretsch where we go play in music stores. They also have radio there or someone to do an interview. We answer the questions of the patrons at the store who ask about our instruments and how we use them. It's fun and it is another way to engage with your audience. The audience wants to know. Almost at every show that we play, someone comes up and wants to know, what is that guitar? We have some really beautiful instruments. Manda plays the resonator and everybody always wants to know what that thing is. It looks cool and it sounds cool. It is a really neat partnership (with Gretsch) to have."
Mosher says, "Kirsten was talking about how people ask us about the instruments and it is like an icebreaker when we are done performing. They really like to do that and it makes it easier to talk about the brand that we are promoting. They just come right up and say, what are these things? I have this white Gretsch electric Panther guitar and it sounds really cool and it looks really cool. They come up to it and go ooohhh what is it?"
For fans of vocal harmonies it doesn't get any better than the song "You Ain't Going Nowhere." Each of the ladies sings one verse and then they harmonize on the chorus. To say that Manda Mosher, Aubrey Richmond and Kirsten Proffit serve up a breathtaking beautiful vocal performance almost sounds like an understatement.
The question is posed to the group as to whether or not their song "You Ain't Going Nowhere," is the most Country sounding song of this record.
Kirsten Proffit replies, "That would be fair. You wouldn't lose any demerits for that."
Aubrey Richmond says, "I guess you could make a case for that. In the seventies the Flying Burrito Brothers and Gram Parsons were Country (West Coast Country Rock), but now more and more they are referring to bands like Fleetwood Mac and Crosby, Stills & Nash, as the California Country sound. To me, "You Ain't Going Nowhere," still reflects a lot of that Roots Rock Folk sensibility of that time. If I am thinking more of modern Country, I would go to "Runaway Cowgirl," having more of that vibe in the traditional sense."
Mosher says, "We do have a music video that will be coming out for "The Lone Ranger," and that was the first song that we wrote. The video will be coming out as an exclusive with Gretsch. They did an interview with us and then they are going to announce that video. We are really excited about it. It really does everything in one song. It showcases each of us individually with our own verses and then blending our harmonies on the chorus together. It has a very unique, identifying CALICO kind of sound.
We feel in a lot of ways that we are continuing traditions that we learned and that we loved while growing up. Great songwriters like Bob Dylan are very inspirational to us. Crosby, Stills & Nash are very inspirational to us in terms of their harmonies, songwriting and the instrumentation. All of these artists who have come before us (inspired us) and many of them are still going in various incarnations, but we feel as the younger generation that we have our own stories to tell and we have our own way of incorporating those influences. I feel like we are a part of a lineage in musical history. We are carrying on more of the California sound, the Laurel Canyon sound, because that is what we are closer to and it is the region where we live."
The beginning of CALICO the band can be traced to the "Lone Ranger," which was the first song that Kirsten Proffit and Manda Mosher wrote together.
Manda Mosher talks about the song. "It is about traveling, being out there on the road and being out there in the world. (It is about) feeling like you are by yourself and feeling like you are on your own solo path and then you meet others that you realize are just like you. Lone Rangers are loners out there on their own paths and then you come together and there is sweetness to not being so alone anymore. That is how we really felt about each other as a band. We were all solo artists, doing our own thing and then we met each other, and we saw each other, in each other."
You can listen for CALICO the band's music on AAA and Americana radio stations in the United States. Early in 2015 the group has plans to start creating a new album, sandwiched in between their fall 2014 tour and a spring 2015 tour.
Please visit the CALICO the band website and you can follow them on their official Facebook page.
This interview by Joe Montague published November 9th, 2014 is protected by copyright and is the property of Riveting Riffs Magazine © All Rights Reserved. Bottom photo courtesy of Eric Craig
and is protected by copyright ©, All Rights Reserved
This interview may not be reproduced in print or on the internet or through any other means without the written permission of Riveting Riffs Magazine, All Rights Reserved