In September Norwegian director, screenwriter and actress Camilla Roman's short film Waves premiered at the tenth Global Nonviolent Film Festival in Hollywood, California. Riveting Riffs Magazine had the opportunity to watch Waves. Like other films that Camilla Roman has written and directed Waves packs a powerful message that is very relevant to this moment in time.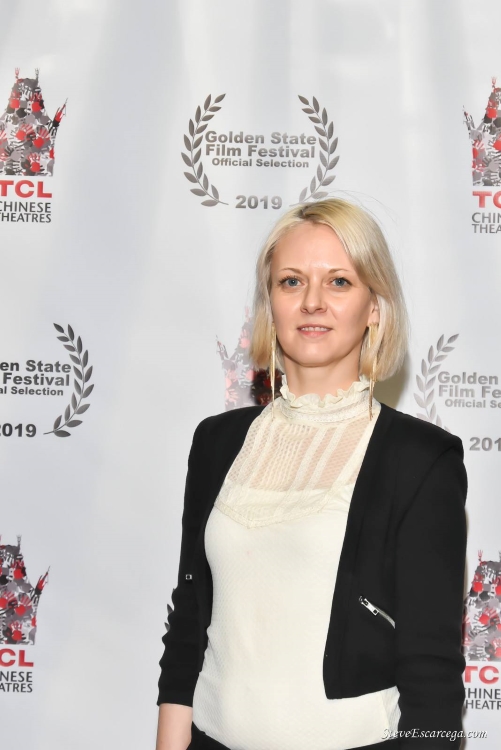 Without giving away too much of the storyline, asylum seeker Leyla played by Tonje Thwin and Stig portrayed by Eric Vorenholt meet during a COVID-19 lockdown, while Stig is making a delivery to her home. All is not what it seems however and as the story unfolds the characters have to make a decision to trust one another and to tell their own stories.

Norwegian readers will recognize Tonje Thwin from television series such as Sol, Snart Seks (2016) when she was cast in the role of Linnea's mother and her regular role as Fiona in Hotel Caesar between 2014 – 17. Eric Vorenholt is best known for his role as Arne Hammer in The King's Choice (2016), which was in consideration for an Academy Award for Best Foreign Film. He also appeared in six episodes of the 2020 television series Vikingane.

Camilla talks about casting both actors, "I thought Tonje Thwin and Eric Vorenholt would be excellent choices for this film. When I wrote the script they appeared in my mind, because I knew them a little bit. It was the natural choice to ask them. They said yes and I was very happy that I cast them. I think both of them are excellent actors.

I can tell you why I was drawn to a story like that and why I wanted to direct it. There are many cases like this in Norway and most of the time it doesn't come to people's attention. There is a case now in Norway of someone who came to Norway when he was six and now that he is eighteen and he has been kicked out of the country and they kicked out his mom. It has gone back to court to see if the verdict can be reversed. People have said you can't just send him out, because Norway is his home. There are other cases like this.

We have had a rightwing government for eight years and I think it has become stricter. That is one of the things people talked about in the recent election. They were voicing that we need a different policy concerning how we treat immigrants and asylum seekers who are not treated fairly.

I feel it is unfair for people to be told no after they have lived here for several years, who are paying taxes, have a job and they are integrated into the community. Suddenly someone thinks they have found a fault and they say I think you are lying or this is not correct. Your country was safe for you and suddenly it is not.

Leyla is an example of so many people around the world. She is a symbol of many women who have been in similar situations.

What about these police officers who are ordered to go back and drive them to the airport and send them off! They are not the decision makers; they just have their orders. I am sure a lot of them find it terrible to do something like that. That was the inspiration for the film."

In length, Waves is 16:20.

Hode, skulder, kne og

tå

(Head, Shoulders, Knees and Toes) is the best 4 minutes and 35 seconds you will spend this year, while watching a film.

Camilla Roman talks about the film and the title, "I thought we all have heads, shoulders and toes no matter our race, sexual orientation or age.

There is a group called PurpleDragons that is a production company. From time to time they have these workshops and I was on one of them. This was during Pride Week two years ago. Our theme for the workshop was equality and were given half of a day to come up with something. We filmed (our ideas). The dialogue was improvised."

The best way to describe this film without leaking spoilers is to say, the film explores stereotypes about age, sexual orientation and much more. We are living in 2021 and yet whether you live in Europe or North America the two regions of the world we are most familiar with; prejudice keeps rearing its ugly head and often with violent outcomes. Hode, skulder, kne og tå (Head, Shoulders, Knees and Toes ) does not take a confrontational approach, but rather is lowkey and yet very convincing.

The two protagonists in the film are Jonas (younger man) played by Anders Wenger and Paul (older man) by actor by Terje Bruun Lien. We would like to see more of both actors as they are outstanding. Marianne Jonger makes a brief appearance as the teacher. Roman, Wenger and Lien collaborated with Franklin Bass Mukadi and Frank Evensen to write the screenplay.

Camilla Roman acknowledges that the theme of the film was to breakdown those stereotypes, "I think all of us, even if we feel we are not prejudiced and we are accepting of people for who they are, most of us have some kinds of thoughts that come up if we see someone who is different or someone who has a different lifestyle even if we are not always aware of that. I wanted people to recognize that.

When talking about the children (the characters) realize children don't have these thoughts. Children don't care who your parents are or where you come from."

We will get to Camilla Roman's acting in a minute, but let's go back to the beginning. She was born in Tromsø, in the North of Norway, above the Arctic Circle.

"It is cold and dark and we have the midnight sun in the summer. For one-half of the year, it is very light and for the other half year it is very dark. It is cold in the winters and cold in the summers most of the time. It is the fifth biggest city in Norway, although it is more of a town. By Norwegian standards it is pretty big, but (really) it is pretty small," she says.

At nine years of age, Camilla Roman did not waste time on obscure roles and she started by playing the Virgin Mary in a nativity play (since twisted humor is sometimes hard to detect in this forum, that is our attempt!)

Jokingly she says, "Yes that was my breakthrough role. It was my first role and it was when I realized I wanted to be an actor.

When I was in school, I was kind of invisible and I was an average student, but as an actor I could shine. People would come up to me when I did something on stage and they would complement me. I felt this was what I was good at and this is what I wanted to do."

In Norway, Camilla Roman also was enrolled in dance school, "When I was in dance school my teachers were English. I wasn't a very good dancer at all. I started way too late, but I felt included and I was happy to be a part of it all. My teachers were very strict, but it was a tough love and I felt that they really cared. Being in dance school helped my English education. We had it in school, but in dance school I heard it from native English people several times a week and we also spoke in English to our teachers.

I lived in Tromsø until I was twenty and then I moved to London to go to drama school. I did theater and things like that when I was a kid and a teenager. I just needed to get out and to go abroad. Maybe it is like a lot of artists and creative people when you do not feel like you always fit in and you want to find the people who are similar to you.

(When I decided) that I wanted to get away there were so many different (acting) schools in England and in Norway there was only one and each year they only accepted six to eight students. Getting in there was super difficult.

There was not the (availability) of the internet back then so we had to write for the catalogue of schools. I applied to a couple of schools in London and then one in Newcastle. It turned out that when I got there it wasn't a very good school and the students weren't serious. A lot of them just wanted to party and have a good time. Our teachers weren't that good. I thought I was never going to become an actor from being there. This wasn't going to work for me. I needed something else. I left after one semester, and I went back to Norway. I went to London the next fall.

I applied to proper schools in London and I liked London. It is such a great city and there are so many opportunities to watch good theater. I had a lot of friends. The school was hard. It was not a breeze to go to a London drama school. I think now they are better than they were back then. They would push you down and mold you into what they wanted you to be. A lot of our teachers were failed actors and they were bitter. We learned Ibsen, Shakespeare and Chekov. They were very thorough. Some of the teachers and especially the ones making the decisions had favorites who always got the leads. Then there were ones who were not favorites like me who most of the time I was playing the maid and things like that. When you do that again and again you feel like you aren't growing as much.

I was the first person in my year to get an agent. At that time the internet wasn't really used for castings, so I did not get a lot of auditions. I don't think it was my agent's fault and he did what he could. It wasn't accessible to him at this time. After a while and because so many of my friends left London, I went back to Norway.

A year after I graduated, I went to Los Angeles to do a two-week summer course at Actors Studio West. I (returned) to the United States in 2004 and I did one year at the New York Film Academy, but it was in LA at Universal Studios," she says.

We asked Camilla Roman to compare living in Norway to London and Los Angeles and also to relate the type of training she received in those countries.

In the beginning you wonder how you are going to get around this humongous city, but after a couple of weeks you get used to it. I loved both Los Angeles and London. They are still part of me, so when I go back, I feel very much at home. It was where I needed to be in those moments.

There was a huge difference (in the London schools from the American ones), absolutely huge. They have a different way of treating students now in London, but when I was there many of my teachers seemed bitter that they never made it as an actor. I was never encouraged when I was in London.

In Los Angeles I met a lot of casting directors, agents and all kinds of industry people for the (initial) two weeks that I was there. I received a lot of good feedback and I had never before experienced that from professionals. They made me feel that this was what I should be doing and I should move there. This was the place to be.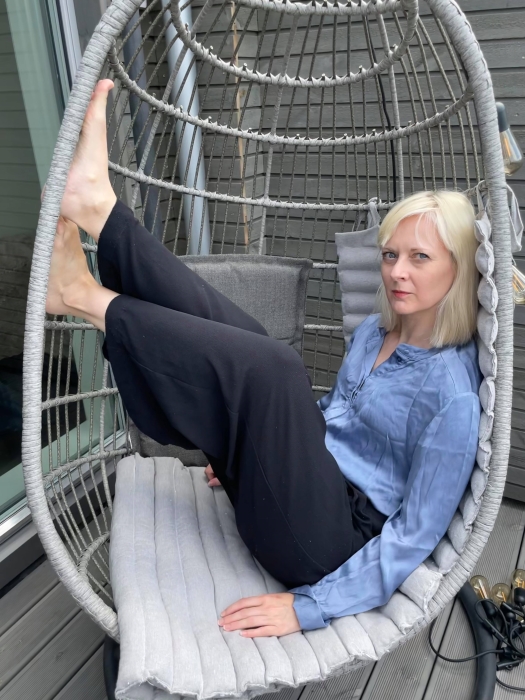 I wanted to immerse myself in film and television more than stage. I had three years of training already and I couldn't afford three more years, so the New York Film Academy (also in Los Angeles) had a one year (program). All of the teachers we had were still working in the industry. They would teach and talk about the audition they had earlier that morning or productions they had been on. It was a completely different experience and also, they were encouraging. I got to play a lot of interesting roles. We didn't do big theater productions, but we would do scenes on camera and we had showcases. I could make suggestions and they would say yes, cool let's do that. I am still in touch with three of my teachers from my time in L.A. and I saw them when I was there for my premiere of Love You to Death. It was great. (She then laughs) I have never met my teachers from London ever again."
Since you brought up the film Love You to Death, let's talk about that for a minute or two.
"Love You to Death happened after (I wrote and directed) my feature film, so I decided to try a short film. It came from a dream that I had when I was writing it. I was planning to play the lead part myself, but when I was writing it, it was so clear to me that I thought I have to direct this. I cast Kirsti Lovas in that part. I was concerned at first that I would find it hard to give it to her, because I had planned on playing the part, but it was not hard at all. I let Kirsti do it the way she wanted to do it with her views and thoughts about the character. It felt so natural for me to direct the film. That is why I directed two more films after that," she says.
This year, Camilla Roman stars in nine episodes of the television series Coda Kork, as Maxima, produced by NRK, (Norwegian Broadcasting Corporation) and the show started to be broadcast in mid-September.
Camilla Roman talks about Coda Kork, "It is a comedy series regular on the show. A lot of the parts I have done have been comedy. Two well-known Norwegian actors / comedians developed this show. In Norway NRK is the equivalent of BBC. They have their own orchestra and this year is there 75 th anniversary. The NRK orchestra is in the show. They are not acting, they are playing. It is a comedic look at the orchestra.
The two leads are playing four different characters each. One day I came in and I couldn't recognize the guy over there and then it was oh my god it's you. I couldn't recognize him at all. I think it is going to be funny. There are only three other actors in it.
My role is Maxima who is Russian and a classical musician. She is a very serious woman."
In 2020 Camilla Roman appeared in the pilot for the television series The Shadows and her character was Hege Bjørke.
"We did the pilot and the director / producer tried to get funding to produce the whole series.
In Norway we have state and regional funding and very seldom are private investors involved. It is getting a little more common, but still very few people do that. When you apply for the state and regional funding it is difficult to get money, because they have so many rules and regulations. Because I do not have an education in screenwriting or directing, I am not even qualified to apply. That is the biggest problem and a lot of people in the film community are frustrated about that.
The series Skyggene (The Shadows) is about an African guy who comes to Norway, and he is an illegal. He becomes friends with a Norwegian guy who has been in jail. I am the ex-girlfriend of the guy who was in jail, and we have a daughter together. I play a social worker who is familiar with people who are illegal immigrants. There were people from a lot of different countries who were (involved) with that production. The director and the writer is an immigrant from Libya. He is trying to be a filmmaker in Norway.
The director, Prince Nyantian Joe approached me, and he sent me some of the script. I had worked with him before on a film and I knew he was serious about what he was doing. I thought it was an interesting story and something that we should see in Norway. The stuff that is shown on Norwegian television is still very middle class and white. They are starting to get influences from other cultures, but it is written by people who came to Norway, and it was not written by Norwegians who may not have very much knowledge about this community and what it is like to be an immigrant.
In addition, to her many guest appearances on Norwegian television series, Camilla Roman also had a recurring role as Lena on Rekyl.
"Lena is a single mom who has to make ends meet by being a stripper and then she got involved with this police guy who is shady. She is like an informant for him. This whole series is about the criminal underworld of Oslo. I am in three episodes and eventually I decide to take my daughter and leave. It was getting too dangerous (for my character) to be a part of this community.
I was only supposed to be in one episode and they liked what I did and so they wrote more scenes for me. It was very cool to find out they really liked what I did and they wanted to see more of that. I realized there was more of a story to this character than had been written.
What was great about working with these people is they took time to have a conversation with me, before they shoot. We talked about the character and where she came from. They were very laid back and easy to communicate with. It was a great experience to be on that show and now it is available in America on Amazon Prime. It is available pretty well all over on streaming channels."
Finally, we wanted Camilla Roman to compare her experiences as an actress to being a screenwriter and director.
"I think the main difference in being a writer, director and producer is I am part of the project for the entire time. Two of the scripts came from my head and it is a completely different feeling creating something from scratch and being a part of the whole process.
At the end when the film is finished and you have to do the distribution and the film festivals and all the stuff like that it is challenging, being more or less alone doing that. Still, it is my film and I want it to be seen and noticed. It is just part of the job being a producer."
Reflecting upon her return to Los Angles to present her first film, Love You to Death one that was made with few financial resources, she says, "To come back to L.A. it is like a part of me and I feel at home there. It was an amazing, amazing experience to go back. It is one of the things I am most proud of in my life is to do my first film with no money and then to have it premiere in Hollywood. I don't think any other Norwegian films have done that."
Please visit the website for Camilla Roman. You can also follow Camilla Roman on Instagram.
Photos: Top photo - screencapture from the film Waves with Tonje Thwin and Eric Vorenholt. Photos two and three by Linda Steinhoff. All photos are protected by copyright ©
#CamillaRomanDirector #CamillaRomanActress #CamillaRomanScreenwriter #RivetingRiffsMagazine #RivetingRiffs #WomenDirectors #WomenFilmmakers #WomenScreenwriters #NorwegianFilms #NorwegianTelevision #DirectorsNorway #ActressesNorway
This interview by Joe Montague published September 25th, 2021 is protected by copyright © and is the property of Riveting Riffs Magazine All Rights Reserved. All photos are the the property of
Camilla Roman unless otherwise noted and
all are
protected by copyright © All Rights Reserved.
This interview may not be reproduced in print or on the internet or through any other means without the written permission of Riveting Riffs Magazine.