Interview by Joe Montague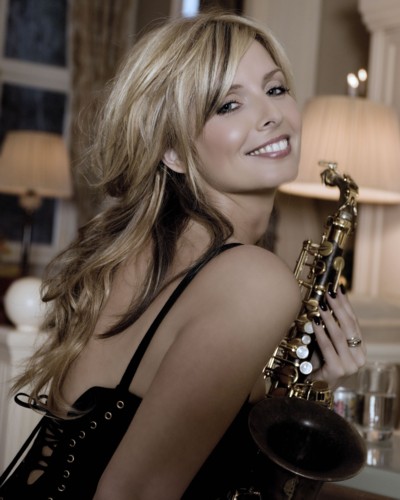 Without a doubt Candy Dulfer belongs to a special class of musicians who have for this millennium redefined the word funk, and the Dutch saxophonist / composer and vocalist, and she possess the ability to incite audiences to, in James Brown's words, "Get Up Offa That Thing." Dulfer's just released Funked Up! Continues the thread from her last album Candy Store, of creating highly danceable music, that is influenced by a number of genres and sub-genres, including, the Latin tinged "Still I Love You," to the reggae styling of "True & Tender," rapper Pete Philly's rhymes on "My Funk," and the stadium jazz sounds of the last track, "Roppongi Panic." For good measure the funky, body swaying, opening track, "First In Line," is introduced with electronica.
One of Dulfer's personal favorites is the tune "Don't Go," of which she says, "That is a song that really works. Sometimes you have beautiful songs, and there are a couple of them on the album, that I know won't really work live, but this one worked in the studio and (works live). I still think that it is nice to have tracks that work well on the record, even if you never do them live, because you can still work with sounds and create an atmosphere and I love that. I like songs that work both ways. "Don't Go," is good for audiences and I love to play it." Chance Howard's bass, Dulfer's sax and Guido Nij's tenor sax drive the groove, as Dulfer doubles on vocals with Moon Baker.
Moon Baker has been a fixture on Candy Dulfer's albums and live gigs in recent years and the vocalist from the Netherlands draws high praise from Dulfer, "Moon Baker is a great singer who deserves more recognition and someone that I met eight years ago. Since then we have been working together and she has released her own albums (including) her new album ABC Of Romance. She is a very creative artist who has a fantastic voice, and I love her style, because it is really eclectic. She will always work on my albums, and if I need someone who can do background vocals, with any sound and in any way, in any form, and with a lot of soul in it, it is her. I would like to work with her a lot more," says Dulfer in her typical fashion of sentences simply flowing into one another seamlessly, yet unhurried, yet without her noticeably pausing to catch her breath.
In addition to Moon Baker, Funked Up! features vocalist Leona and keeper of the beats Pete Philly. Dulfer describes Leona as an up and coming singer and the Jamaican who was raised in the Netherlands, continues Dulfer's trend of utilizing homegrown talent whenever possible for her recordings.
"She has a lot of talent. I like to get people onto my albums and into the band, who I think are not just good musicians for me, but who have a career in their (future), and I would just like to give them a step up. They seem to do really well after they play with me, because we play so much that they get a little bit of the mileage that they need to start their own careers, (plus) they receive a little bit of recognition. We did two songs with Leona "Tender & True," and "Step Up," and she is such a great singer that she really nailed the songs. She brought her own creativity to them. She really got the lyrics and the melody. She is on our live tour as well," says Dulfer.
As far as Pete Philly is concerned, Dulfer says, "He is a Dutch rapper, who is a really great guy, and he is creative. He is known in the Netherlands for being a really great writer, who is a little bit more eclectic and a little bit more thought out. He came in, and I played him the track (for "My Funk"), wondering if he could do something on it. He told us to get out and to come back later. When we came back in fifteen minutes, he had already written everything, and it just needed to be recorded. That was it. "My Funk," is really nice and it is a send up track on the album. It is different than the rest. It is really nice and easy on the ears without being too watered down for instrumental music. I think that the song says what he really wanted to say.
As for why Dulfer's own vocals appear sparingly on her new CD, she says, "In live performances, I can sing and play, I am pretty quick. I do sing a lot during the gigs as well, but this time there were just not a lot of songs that fit my voice. I am not a real accomplished singer, some styles fit me well and other styles I should really leave alone. I always think that things should just happen and if they are good, they are good, and if there is something for you there, you should just do it. I never do things for just commercial reasons. This time I just sang less and on the next album it could be more. With the albums, the songs dictate how they are going to sound on the album and not the other way around. Fortunately, we had some great singers who came and did some really nice stuff for us."
Funked Up! is Candy Dulfer's second album released through the label Heads Up International, and she is thoroughly enjoying the relationship, in particular the freedom that the label gives her, as she includes on her new release, an eclectic collection of songs, all funk based, but with many influences, such as the Latin grooved "Still I Love You," a romantic song on which Dulfer's horn and Frank Stukker's guitar seduce the listener.
"I have always been around Latin music and merengue, I love it. The music is so hard to do even if you play it with the people who are the best, like real Latin musicians. This time it just crept in. There was a soundtrack for a movie (Kissed By The Grape), about organic wine and it is based on areas in Italy and Spain, so you keep seeing pictures of the Mediterranean landscape, which inspired us (Candy Dulfer and Thomas Bank created the soundtrack). It just felt like it should be that way and that is always the criteria for me. I don't want to play something if I feel I have to play it at that moment. "Still I Love You," was so inspired by the movie that we just felt it should fit in. It has a very strong melody and we thought that it would be a waste not to have it on our album, so we decided to include it. As an American record label (Heads Up International) is so good about letting me incorporate so many different styles, and that makes the album a lot more difficult to pinpoint for a lot of people. The label really embraced that from the very first album (Candy Store) that we did together and that is really great for us, especially in the (United) States, where things are a little more formatted than they are in Europe. I really love them (Heads Up International) for that, and especially this time for being very easy, and relaxed with the artists, that is very rare," observes Dulfer.
As Candy Dulfer and her band embark on an American tour in May, make sure that you have your concert ticket, and while you are waiting for her to appear on a stage near you, pick up a copy of Funked Up! because it is next best thing to being at her gigs, as the studio mix creates a live ambience.
Dulfer says the live feel to the recording is because, "We have been playing together for such a long time that we are a little looser and it is more like a live gig. It is still a studio album and you can hear that, but the whole vibe was much easier. This time we were really relaxed and there were some really nice moments on the album. I am really about live playing and if I have to choose I will always choose live playing, because that is more what I am about. Everybody always says that is a whole different experience when they see me live, so maybe the album is a blueprint of things, which I can then take out on the stage, unwrap it and go places with it. I like it that way. I like to have a basic album that is about the songs, and then I take it on the stage, stretch it, and showcase our musical ability, (while making) contact with the audience."
What are you in store for when you attend a Candy Dulfer concert? "People getting up and dancing is one of the things that has to happen at my concerts. I don't go home without it happening. I want to give them (the fans) stuff to really listen to and that touches them, but in the end everybody should be dancing. There are a lot of different things going on in my music and especially at my live gigs. We start out relaxed and we end up really hyper and funky. We try to take people on the journey with all of the new music, maybe stuff they have never really heard before, or maybe some combination of music that they haven't heard before. That is what I always wanted to achieve with my career and my music, and it is great that people always dig it, especially in the United States where at the end they are going crazy. When I play I talk to them and everybody is 'Ya, whoo hoo,' (she mimics her audience.) They really react to it and they aren't afraid to show what they think. For me it is fun watching people in their seats, and then slowly getting up and by the end really going crazy. That's the best way to finish a concert," she says.
Interview by Joe Montague, all rights reserved, protected by copyright © 2009 Return to Our Front Page