Rio Carolyn Striho Takes Her Fans To The Promised Land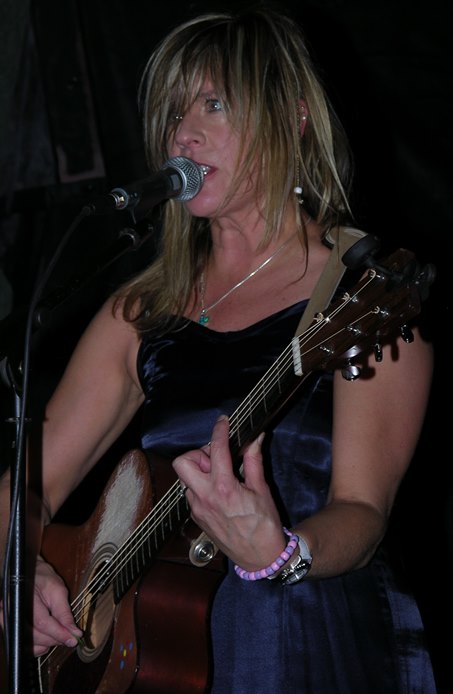 Carolyn Striho and her band served up a concert on June 15th that is deserving of a much bigger stage and that is not disrespecting Callahan's Music Hall in Auburn Hills, Michigan where the concert took place, but it is a testament to just how powerful of a performer Carolyn Striho is and a compliment to Callahan's for booking such an outstanding singer-songwriter-musician.
Striho opened with "Always In My Heart." Scott Dailey introduced the song with his electric guitar, before being joined by the other band members for a thirty second instrumental that segued into Striho's vocals.
Although, Striho is backed by a band of sensational players comprised of the aforementioned Scott Dailey, dynamic Bonnie Kaye on violin, electric bass guitarist Dave Dion, guest drummer Charlie Bongo, and background vocalist Maurya Kay, there is absolutely no doubt as to who the leader of this band is. At times Striho is like the female embodiment of Freddie Mercury (Queen) and at other times she displays her Punk Rock roots as her fingers attack the keyboard like mini jackhammers. Intensity pulsates through her body and passion infuses her vocals and every note that she plays. On the harder hitting lyrics her eyes pierce your very soul.
The band then moved into the hard hitting "Circles," introduced by Carolyn Striho singing "Carve my hand / carve my heart / Tattooed daggers / now it starts / Crawling around in my mind…" and later "Mr. Love holds us close to earth / I think it is time to clean my turf." Scott Dailey on electric guitar and Carolyn Striho on electric acoustic were spellbinding in their performance and solidly backed by Dave Dion's bass guitar and Charlie Bongo on drums (what a great surname for a drummer). Some singers deal lyrics that cut like a knife but they lack the vocal prowess to turn the commentary into a good piece of music, but Carolyn Striho's vocals are so superb that even when she is ripping hair extensions out or lying on the floor playing her guitar you still are very conscious of her outstanding abilities as a singer.
Striho is a bold artist who engages her audience easily and gives her band members lots of room to shine. Rock violinist Bonnie Kaye is terrific and adds to this band's magical performance.
A spirited French flavored "Enchante," followed with Striho using the Yamaha keyboard to emulate an accordion. Carolyn Striho had her foot and leg moving to the music throughout the song and at one point she beat her fists against her chest. What we liked about Carolyn Striho's music is she is not afraid to take risks with her songs and yet she always comes through with flying colors and draws the listener even deeper into her musical web. During a time when so many artists take the easy route out and opt for formula writing or merely mimicking whoever happens to be doing well in the charts at the moment, Striho is a breath of fresh air and her musical genius is stunning.
Another example of Striho's creative brilliance is evidenced in her song "Promised Land," a song that deals with the journey of angst, hope and suffering and then the promise that after the pain, one will be released to a better place. Once again Striho and Dailey shine on their guitars and the onstage chemistry between them is undeniable.
On "Motherless Child," everyone left the stage except Bonnie Kaye and Carolyn Striho. Striho introduced the song playing the keys gently, while Kaye provided a tender, yet sorrowful accompaniment on her violin. For "January Baby," Striho donned a pink boa and considering how intense she is when she performs, we are surprised it stayed on until the end of the song.
The most brilliant performance in this concert came three songs from the end when the band played "Honesty," from the album of the same name, a song that mixes protests against the establishment, status quo and politicians and uses them as metaphors for personal relationships. The message of the song is summed up with the line "Honesty, it is revolution." If you like your Rock hard with lyrics and guitar riffs that will slam you up against the wall and leave you trying to catch your breath, then you will like "Honesty."
During the concert we were also treated to Scott Dailey's "Game Of Hearts," which will appear on his soon to be released record. Dailey's vocals are outstanding and his songwriting and performance reminds you of a blend of Bob Seger and Bruce Springsteen. Those by the way are pretty accurate comparisons for an artist who deserves far more attention. Watch this space soon for an interview with Scott Dailey.
The Carolyn Striho concert in Auburn Hills, Michigan, a suburb of Detroit, goes down as one of the most memorable concerts that Riveting Riffs Magazine has reviewed.
You can listen to Carolyn Striho's music here. Return to our Front Page
Photo by Joe Montague protected by copyright © All rights Reserved.
Reviewed by Joe Montague, protected by copyright ©
This review is protected by copyright © and may not be reproduced in print or on the internet or through any other means without the written permission of Riveting Riffs Magazine, All Rights Reserved