One should not be surprised that the team of composer Manel Santisteban and lyricist / singer Cecilia Krull from Spain have another hit song, but nobody could have anticipated the enormous success of "My Life is Going On," the theme song for La casa de papel (Money Heist) (Editor's note: In Spanish all of the words in a title do not always appear in capitals) which is directly linked to the second most watched Netflix show in the world. This is not the first time that Cecilia Krull has made a big splash on the movie, television and Netflix scenes, as she collaborated with Mala Rodríguez on "Agnus Dei," for the Netflix series Vis a Vis (2015 - 2019). Other collaborations with Manel Santisteban include, "La Verdad," for the television series El Accidente (2018), "Something's Triggered," for the film Trés metros sobre el cielo and "All My Fears," for the film Fuga de cérebros. In addition, Cecilia Krull is a highly respected solo artist, known for writing, recording and performing songs that blur the genre lines between Jazz, light Pop and Adult contemporary themes. She will also soon be releasing her first album.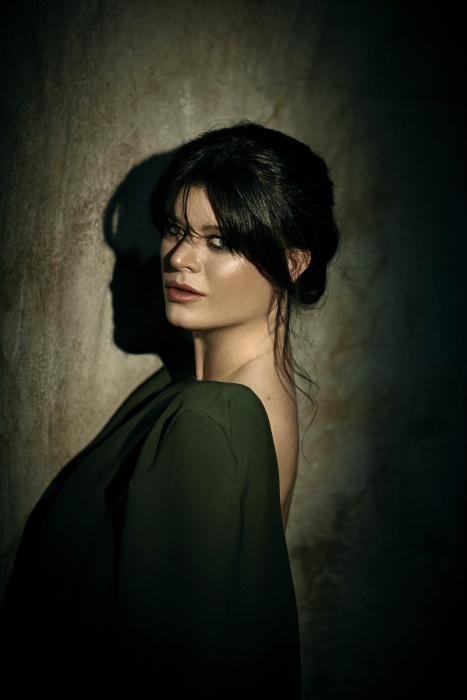 Cecilia Krull was gracious enough to take a few minutes and visit with us at Riveting Riffs Magazine earlier this month.
As for the success of her song "My Life is Going On," from La casa de papel Cecilia Krull says, "It is a dream come true! I never expected that success and worldwide. It's crazy. All of my life I have been a singer and I grew up in a musicians' family, so this is a very huge thing. It is like the difference before and after La casa de papel. I am not famous, but the song is famous. I am traveling all around the world. Many people in many countries know about me, because of the song. Personally, I am the same. I am a mother, I am a sister, I am a daughter, I am a friend, and I am a lover. I am the same person as I was when I wrote the lyrics and when I (recorded) the song."
She uses the same words as the actors from the series often use in describing the effect that La casa de papel has had on their lives, "It is a gift, absolutely. It doesn't mean that we don't deserve it. When the song started to become big, I received a lot of messages from social media. That is when I started to realize that the song was huge. I started to have calls from all around the world, Brazil, Argentina, Colombia, Turkey, France, Portugal and India. That started two years ago (2018). I started to realize (how big this was becoming), because of the social media (activity) and people started tagging me when they were doing covers of the song. That is how I knew about the success. In the beginning, I was very shocked. I was touched. At first, I thought I don't deserve this (and she repeats the phrase). It was because of the series. How can I not feel gratitude? Here in Spain we have so many talented people and so many people deserve something like this, but it happened to me. Now I realize if it is happening for a reason.
If you listen to my lyrics, I speak about trusting destiny and I want to be the best version of myself. All of that message is in my lyrics (she laughs) and I didn't realize that I was writing my destiny."
As for her songwriting with Manel Santisteban she says, "When Manel calls me about a new project he usually sends me a demo with some melodies. When we make songs for soundtracks of movies or series I always want to know about the characters and the stories. Alex Pina told me all about La casa de papel, about the characters and the red color (the suits worn by the characters). He didn't tell me all of the story.
We started with the first episode and he let me see that episode unedited. I started with Manel's melody and with the story. The song for La casa de papel was inspired by the character of Tokyo (one of the main characters portrayed by Úrsula Corberó. She was completely lost when she met "el profesor." Her boyfriend had just died, and the police are looking for her. She is in the middle of nowhere and she cannot do anything. She is lost. When the profesor made a proposal to her (to participate) in the robbery, her (attitude) was I don't care at all. I have nothing to lose. I have already lost everything. The police are looking for me. I was inspired by Tokyo.
I am always looking for lyrics and that are inspired by the story. I try to imagine everybody singing the song."
Cecilia Krull and Manel Santisteban (Editor's note: If we were to list his accomplishments and the numerous outstanding artists he has worked with we would be here all day) have been collaborating for more than a decade, "Manel, is a great and popular composer here in Spain and of soundtracks for films and series. He came to a Jazz club years ago. He always knew about me, because my parents are musicians too. My father is a piano player and my mom used to be a singer, before she became a mother.
Manel has known me since I was a little girl. Ten years ago, he came to a Jazz club here in Madrid and he saw me performing with a quartet. He also came to concerts and a show where he saw me perform. He said he was interested in working with me.
He was working on the soundtrack for a film in Spain called Trés metros sobre el cielo. Of course, I said yes, and he wanted to try different melodies with my voice. Two days later I went to his professional studio at his house. It is a perfect collaboration, because his melodies are like they are made for my voice. I was very inspired from the first minute that I was in his studio. I started to write lyrics and to sing his melodies.
For four hours we worked on the song "Something's Triggered," (Trés metros sobre el cielo). The song worked well with the film and it was very well received after the premiere of the film. Everybody was talking about it and ten years ago we had a lot of success with that song.
We developed a friendship and a good working relationship. I was lucky to be discovered by him.
In this film, Alex Pina who is also the creator of La casa de papel was also on the team, so he (also) discovered me.
If we borrow Cecilia Krull's words working on that film was not the first time she was "discovered" as a singer.
"I started working very young at seven years old here in Spain with Disney (more about that in a moment). Trés metros sobre el cielo, however was my first experience with a soundtrack. They believed in me. After that Manel continued to call me for more projects, (including) the soundtrack for Fuga de Cerébro, another Spanish movie and Vis a Vis, which is another series," she says.
In fact, Cecilia Krull had a cameo appearance in Vis a Vis, "It was in one of the last episodes of the first season. I was playing a keyboard and I was singing. I loved that experience. After that I started to take acting lessons, not to become an actor, but to double up my career. Why not? I really loved the experience. I have always thought I am a singer, but after that… (she changes direction in the coversation). In fact, my sister is an actress, and she is a theater director. She is also a film actress. I used to always be a singer and my sister was the actress, but after the (cameo) I realized I can be a singer and an actress too. I love (my acting lessons). Now I am older. I am thirty-four and I used to be shy when I was younger. I had those lessons five years ago or something like that. Maybe I am not the most talented girl for being an actress or maybe yes, I don't know, but I try not to judge myself in a negative way. If I want to do it and enjoy it why not? It is a question about learning and sharing with other people what you like to do. It is with a positive energy," she says.
We circle back to the Disney experience starting when Cecilia Krull was seven years of age, "My father received a call from the music director for Disney Spain and they were looking for children who sang. I had been singing since I was very little, and my parents told me that I began to sing when I was two years old. When my father received the call and the (director) said Richard do you know any children who sing? He said my daughter Cecilia sings very well, maybe you can do a casting with her.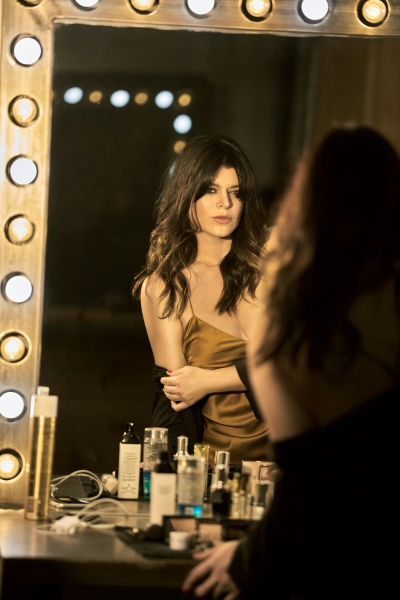 They were doing castings all around Spain and I went to a casting for Disney and I didn't expect anything. My father is very realistic, and he supported me, but he (taught) me to think of it as a game. You love to sing, and Disney is looking for children to sing for their productions. If you want to go, we can go together. He always had a positive energy, but he was realistic and said they might not choose you. It was like a game and an experience. I was seven years old, so I didn't realize how big Disney was (or the opportunity). I was surprised that they chose me.
I started to go after school to record sessions and I did a lot of them for Disney. I became a professional without knowing that. I always compare it to when you learn another language from when you are very little you don't realize you are learning a language. I learned the language of music and I became a professional without knowing I was a professional. It was something that was very natural and normal for me to go after school to record."
In a twisted humor sort of way it strikes this writer as funny that Cecilia Krull started off as an innocent and talented seven year old singing for Disney and in recent years has sung the theme songs for two highly successful Spanish series, one show being a prison series and the other whose themes are two robberies. In jest we posed the question to her, are you becoming the crime show diva?
We share a lot of laughter and Cecilia Krull stops laughing long enough to answer our question, "Maybe, maybe I don't know. I would love to continue making soundtracks. I am very proud and happy to be part of those kinds of stories and to create songs for those stories. I want to make my own projects too. Everything in music is good for me. That is what I want the most."
Our readers should do themselves a favor and visit YouTube to listen to "Hard" and "Losing My Mind," two singles released by Cecilia Krull during this past year and that will be included on her debut album.
She says, "Hard," was released as a single and it will be on my first album. I also released "Losing My Mind." It was more difficult to release the album this year, because of COVID. I am still composing new music and I hope to release my new album in 2021.
The music industry is not like it was before, because now you release singles and then you release the complete album. I am working with a lot of different producers from Portugal, France, here in Spain and in Germany. I am looking for new songs and new sounds."
It should not surprise anyone who knows Cecilia Krull that she would be seeking out new sounds and looking for new twists to put on her original music, because her musical appetite ranges from Classical to Jazz, Soul, Pop and "I love Hip hop."
"I love music. Jazz is my passion. I am a singer and I love to sing. I am a very versatile singer with a lot of influences, Chet Baker, Amy Winehouse, Mariah Carey and Beyoncé (to name a few)," says Cecilia Krull.
While listening to her father play the piano at home, often for eight hours a day was definitely an influence upon Cecilia Krull when she was growing up, she is also quick to point out, "My sister is in the same family and she is into theater (actress and theater director), so I like to think music is my destiny. My name is Cecilia, and she is the patron of music. I am very romantic, so I like to think it was written in the stars. It was very important growing up with musicians around me, it was important to be supported and to have this powerful energy around me in an artistic way."
Although, Spanish is her native language Cecilia Krull writes most of her songs in English and she explains why, "I grew up in a family of musicians. My father is from France and Germany and my mother is from Cuba and Spain. I am a mix and I studied in a French school, so from the beginning I spoke two languages, Spanish and French. All of my life I listened to American music, because I am a Jazz lover. I always listened and I think I learned how to sing English music. I grew up with Ella Fitzgerald, Joni Mitchell, Whitney Houston and Mariah Carey. I love to sing in French and in Spanish, but when I write music and when I feel it, I feel it in English.
I am not a perfect English speaker and I need to improve. I am not an American or an English girl, but I understand perfectly. During our conversation she was close to perfect in English and certainly far more advanced with her English skills than this writer is with his Spanish language skills.
As for what the future holds for Cecilia Krull, well she is in a bit of a holding pattern like the rest of us in 2020, but "I am composing new songs. I want to do more concerts and I hope I can have a long career. After La casa de papel it would be very difficult to have another hit like this. I don't expect to have another hit like "My Life is Going On," but I will be very happy if I can continue to live through the music."
What should one expect when they attend a Cecilia Krull concert?
"Each concert is different, and we make the concert together. The energy of the audience is not always the same. It depends on the venue and of course the musicians. What I want from my concerts is for them to experience a unique moment and I will share from the truth and in a natural way. I like to speak with my audience between the songs and I like to share my experiences."
You can follow Cecilia Krull on Instagram or on her official Facebook page. You can also purchase the song "My Life is Going On," from iTunes Return to Our Front Page
#CeciliaKrull #LaCasaDePapel #VisAVis #CeciliaKrullCantanta
#CantantaEspañol #RivetingRiffs #RivetingRiffsMagazine #MusicaEspañol
#CeciliaKrullEntrevista #MusicaEntrevista #JazzEspañol #ÁlexPina
#MoneyHeist #ManelSantisteban #TrêsMetrosSobre #FugaDeCerébro
This interview by Joe Montague published October 15th, 2020 is protected by copyright © and is the property of Riveting Riffs Magazine All Rights Reserved. All photos are the the property of
Cecilia Krull unless otherwise noted and
all are
protected by copyright © All Rights Reserved.
This interview may not be reproduced in print or on the internet or through any other means without the written permission of Riveting Riffs Magazine.