On Thanksgiving day you will hear laughter in the background and it will continue throughout the holiday season and continue until Christmas. It is not the ghost of Christmas Past, Present or Future, but it may very well be the ghost of singer, composer, musician, arranger and actress Charleene Closshey. I am going to borrow a sentence from Charles Dickens and with artistic license change Scrooge's name and the gender, "And it was always said of her, that she knew how to keep Christmas well, if any woman (or man) alive possessed the knowledge."
Christmastime Is Here is the title of Charleene Closshey's brand new album and yes you have heard most of these songs before, but you have not heard them this way. Charleene Closshey's tremendous musical gifts as an arranger and composer are in the forefront, as she weaves together lyrics and melodies from different songs. The incredible beauty of the Bulgarian choirs (including a boys choir) from Sofia, Bulgaria and the accompanying orchestra recorded at Four for Music studios in Sofia. Masterful conducting by Lyubomir Denev, Jr. (orchestra), adult choir (George Elenkov) and boys choir by Dr. Adrianna Blagoeva.
The album was produced by six time Grammy Award winner, American Brent Maher (As a producer: The Judds, Ike and Tina Turner, The 5 th Dimension, Tanya Tucker, Shelby Lynne, Jo Dee Messina) and we have not even talked about his six times being awarded Song of the Year by the Academy of Country Music or his engineering feats. The album was also produced by George Elenkov and George Strezov.
Charleene Closshey opens our conversation, which catches this writer by surprise (the words you just read were written in mock disbelief), "Well first of all I have always loved Christmas music. It is in my bones, it is in my DNA and I listen to Christmas music all year 'round and I have since I was a kid (it is easy to detect the enthusiasim in her voice). One of my first memories of Christmas music is of an old ivory colored eight track my parents had, of Bing Crosby singing "That Christmas Feeling." "I Heard the Bells on Christmas Day," "Good King Wenceslas," and "That Christmas Feeling," (all from Bing Crosby's album) all hold an incredibly special place in my heart. There is a purity of connection to that particular album and for whatever the reason has inspired me during the holidays.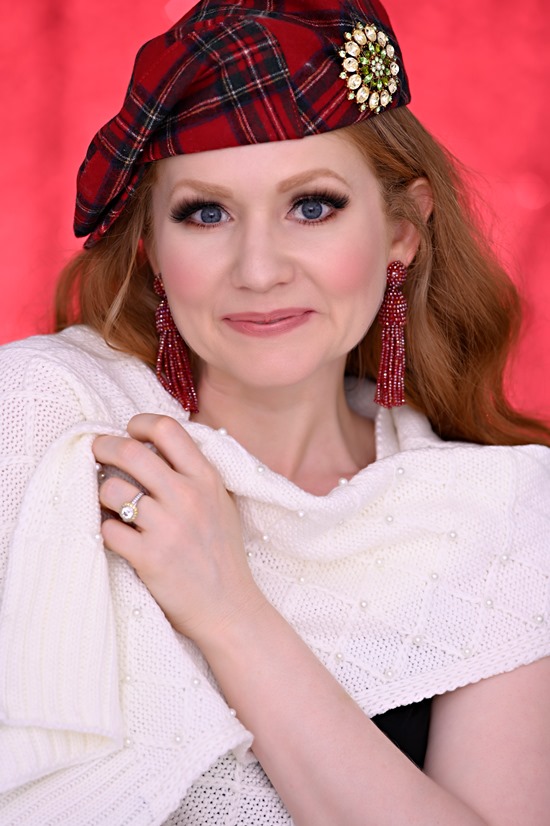 "Good King Wenceslas," is one of those songs that nobody really knows, but my goodness I am convinced that they should. In the story you hear of someone coming from a position of power realizing the strength in benevolence, compassion and loving their fellow man, especially at a time in history when everything was about survival. Everything was about conquering or being conquered.
Even if you look historically at King Wenceslas who was a king in Bohemia, which is now the Czech Republic, he was the first Bohemian king who was noted for his strength and compassion. Later on in his life his brother tricked him and ended up killing him on the side of the road, so his brother could take the crown. King Wenceslas was a societal disrupter, because he lived a life of love. I hope that we can all be societal disrupters, by living a life of fierce and ferocious love like Wenceslas. He is celebrated as a saint in the Czech Republic and he has his own holiday. There is so much power in that resonance that this happened. When I watch a movie that I know is based on historical events or that is historically accurate there is something that is so much more gutturally moving about what I am seeing on screen than a fictionalized plot that might be just as compelling. However, when you add that element of this really happened, that gets me every time. Wenceslas definitely falls into that category.
I love the antiquated language. It is so colorful and so vibrant. My favorite line on the entire album is from "Good King Wenceslas." It is "Through the rude winds wild lament and the bitter weather." When I say (those words) I get cold. It is such a powerful piece. I couldn't imagine not recording it. I remember when I first showed it to Brent my producer and he was like Good King Who! (more laughter) He is so well versed in Christmas music and one of the six Grammy Awards he won was for a Christmas album. I am sure you know there is not a Grammy category for a holiday genre. The album was so good that it won its category even as a holiday album. He knows what is up when it comes to Christmas music. It was fun to explore the antiquated language. We had to (think about) how we could bring somebody in and for us we dug into the groove, while exploring these Celtic like vibes.
When this particular track begins I am playing a harmonium. You have this pipe like feel that brings us into this world music sort of thing. Harmoniums are really popular in Indian music and The Beatles used them a lot in their recordings. I just happen to play one and I thought, why not? Let's try it. It was a fun way to set up this eastern European, Celtic, Bohemian vibe. There was a lot of freedom to explore with that."
For those who may not know what a harmonium is we asked Charleene Closshey to take a moment to explain, "It is an instrument originally developed in Europe and then introduced to India (I think) in the 1700s or 1800s. It quickly became a staple in Indian music and especially northern Indian music. Think of it as a little tiny box and you sit on the floor in front of this little tiny keyboard. On the backside of this box is a bellow that you pump on the left hand side. You pump with the left hand and you play with the right hand. You can also generate drones with the instrument. The instrument has alternate tunings and all kinds of crazy things. You get this cross section of a wind and keyboard percussion. You have a unique sound that is almost like a hurdy gurdy."
The conversation segues back to the song, "Loreena McKennitt had a great version of "Good King Wenceslas." The producer Brent and I study different tracks as well, because it is the easiest way for me to describe to him what is in my head. Loreena's was one of the tracks that we looked at, before recording. There were three main inspirations for me with this song, one of the Bing Crosby versions of the song, because he has a shortened one that is part of a medley and then the longer one and I like the shorter one, Loreena's (version) and Blackmore Night's "Good King Wenceslas."
The charming rendition of "Christmas In Killarney," showcases Charleene Closshey's musical genius and at her creative best. The listener is swept away to the town of Killarney in County Kerry of southwest Ireland.
"You have this Irish girl who loved everything about her heritage. Aren't we all a little bit Irish too anyway? (You hear the fun in her voice) It was fun to explore my own cultural heritage, while we were creating this piece. An instrumental is great, but we actually need a jig in here. I thought what would be a good fit and immediately I heard "Morrison's Jig." It totally works transition wise. Wow I am really digging this. It is amazing how the universe brings us what we need at exactly the right time and usually, before we even know that we need it.
We were putting the track together and I was wondering why this particular jig came to mind when there were (others) we could have put in, but this one felt right. When I looked it up "Morrison's Jig," was written in the same area that is Killarney. It is a neighbor to this other melody and this idea of "Christmas In Killarney," with all of the folks at home and the neighbors come to visit or the priest comes to call. Everybody is celebrating this raucous, happy and joyful time. I think that is the spirit that everybody looks forward to at Christmas. That is where we want to live, but we frequently live in the hustle and bustle and the lists that need to be checked off and checked twice and three times.
There is even the opposite side of the holidays that we don't talk about the sorrow that comes up too, because we have memories of things that have been or people who have been and situations that are no longer here. We miss that and we crave that. A lot of the times you feel alone and you feel disconnected. If I remember correctly the statistics of the suicide rates are the highest during the holidays. There is also this heavy feeling that exists during the holidays. Anytime for me that I can tap into a place of joy or merriment or pure happiness I really want to try to go there. I am not negating all of the other challenges that are the holidays, both good and bad. We are celebrating that connectivity and to me that is what "Christmas in Killarney," is all about. It is about people coming together and that is Christmas to me.
When you put all of this depth and this lilting sort of melody and this approach to life that you hear in everyday conversations it is a culture to which I think a lot of us want to connect. What an intriguing people, their ability to tell stories, the ability to paint pictures with the word and the ability to paint a picture with nothing but the sound of your voice.
Wealth is a state of the heart. It is not a state of the bank account. It is this idea of being connected to truth and to love, this universal flow that it enables us to manifest life in a different way. We manifest whatever that we want, always, period. I think it is very easy for people to say I really want this, but I can't seem to get it. There is something that you are still working through and for whatever reason it is not the right time. There is something that if you keep your focus on whatever it is that you want it will manifest. That is the way our universe works. I think that element of joy, kindness and benevolence that is one of the easiest and greatest ways of staying connected to all that is. Of course there is happiness there and you can't help but be (happy) when you are that connected," she says.
As for "God Rest Ye Merry Gentlemen," she says, "It was a fun little ditty for me, because when I was sketching through what the album might look like I wonder how "God Rest Ye Merry Gentlemen," and "Patapan," would marry. They are divergent melodies and songs, but they just hit it off. It was almost like watching a first date. I think in reflection that this marriage of these two songs worked. To me it has a masculine feel and a masculine energy. It is talking about hey, be happy dudes. That is literally what the title means. Then you have "Patapan," a Burgundian carol "Patapan," that was written in old Burgundy (Bourgogne – France) that was later assimilated into France. One of the last rulers of Bourgogne was a female and this song in general always sounded a little more feminine to me. You have this masculine / feminine or light / dark interplay. It was one of my favorite pieces to record, because there were so many counter-lines and counter-melodies that we were able to tap into, because of this interplay. I always envisioned it as a date between this dude and a chick and musically it works. I have always liked the melody of "God Rest Ye Merry Gentlemen," I like this darker sort of verse (She sings some lines from the song and even a cappella she has amazing pitch). It is a melody that is so haunting. (The song) is encouraging people to find joy, because it is not as bad, as you think it is and there is hope. The message and the melody really jived with me.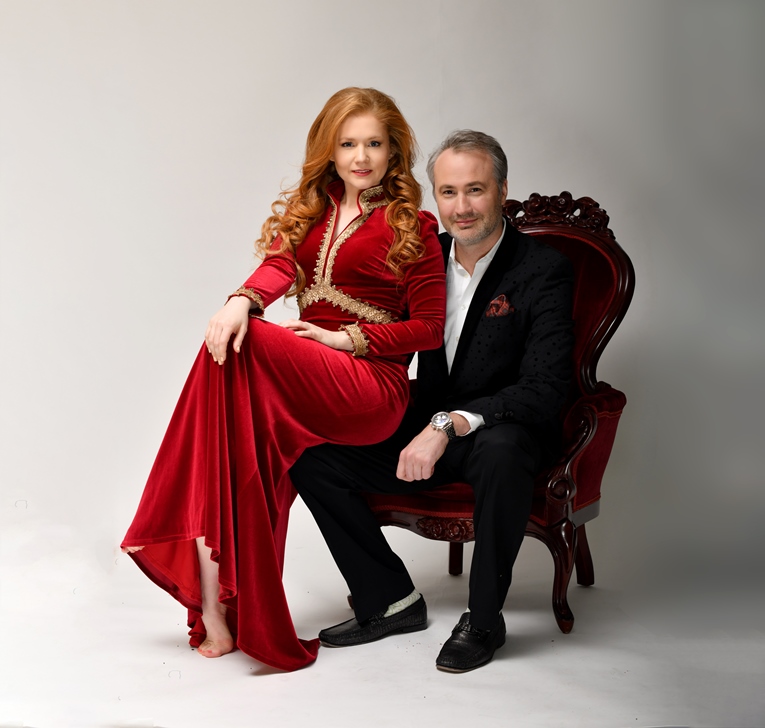 With "Patapan," we hear more of (this type) of music in Classical sacred music or Classical Christmas music. As a Classical musician I have played it many times. The lyrics are literally, "Willie get your little drum / Robin take your flute and come / When we hear your fife and drum / Tu-re-lu-re-lu / Pat-a-pan-a-pan / When we hear your fife and drum / How could anyone be glum."
It is another song about come celebrate with us and do what you do. Since the adults are encouraging them with this onomatopoeia Tu-re-lu-re-lu like you are imitating the flute or Pat-a-pan-a-pan (as though), you are playing the drum. Everybody is having a good time, so it is this idea of inclusion. There is so much depth of resonance of what these lyrics are connecting to. I think "Patapan," was composed in the mid-1700s, so it has been around for a long time. "God Rest Ye Merry Gentlemen," was in the 1800s and an old English carol. There is a lot of history that we can tap into at the level of the heart."
One imagines "O Holy Night," being sung with a majestic choir featuring a powerful solo vocalist, perhaps not surprising since the song written by French composer Adolphe Adam and French poet / lyricist Placide Cappeau, first made its debut courtesy of a performance by Opera singer Emily Laurey. However, true to form, Charleene Closshey recorded "O Holy Night," her way and since you are still reading this interview does that really surprise you, we ask with a smile?
"O Holy Night," has always been one of my favorite songs, but never in my top five. When I was putting together the album I asked everybody, my mom, my dad and I asked Jeremy (her fiancé) and a couple of other people as well what song they would like on this album. The one song and the only song that Jeremy wanted is "O Holy Night." I said are you serious? He said yes and without a doubt!
To me it seems that song is always done in a pretty similar way and it is usually done by people with really big voices (We told you!). They are people who bathe you and shower you in this massive sound at the pinnacle of the song. That is the whole reason we listen to it and that is great, but that is really not my voice.
For this album we kind of turned everything on its head and for (this song) we took the approach what if they had to lean into whisper? What does that look like? It resonated with me for "O Holy Night." I said guys this is not the big song on the album. This is someone sitting in a field at midnight with the shepherds hanging out one hundred yards away, with a stable in front of them and there is a star above the stable. They are sitting there watching all of this transpire. They are all by themselves. What does that look like? Do the angels come and hang out and do they say hey we see you too and you are a part of this. When I thought about the construction of this song, that is what I envisioned. It was the only song on the entire album when I sat down to record the vocals. I sat on a stool in front of the microphone and I recorded. For everything else I stood. I wanted it to have this very intimate, inviting and selective quality, because that is how I assimilate that particular song and its message.
Could a Christmas album of classic and traditional songs really be complete if "Ave Maria," was left off of the record?
Charleene Closshey talks about her experience with the song, "I wrote an original composition of for "Ave Maria," and it is for a soprano soloist and a boys choir. Hence the trip to Bulgaria (in the fall of 2018) and we filmed a music video with the boys choir (singing) that song. It was the first time that I had heard that composition live. It was a magical and surreal experience," she says.
Charleene Closshey explains how she was first introduced to the choir and orchestra in Bulgaria, "In 2017 I had a track that we were working on and I told my producer this needs full orchestration and he said oh we can do strings here in Nashville and I said, no, no we need a full orchestra. Several years prior to this a dear friend of mine had turned me on to a couple of different organizations in Eastern Europe.
I have also continued to work extensively with the choir and orchestra out of Bulgaria, because it is considerably more cost effective for me to get the same quality that I would state side with this particular orchestra and group. As an independent artist I don't have $100,000 to throw at a track."
The connections were made through "Four For Music which (is comprised of) four gentlemen who are partners and they each have a different specialty within the production field. They contract all around the world."
Christmastime Is Here and what better way to spend it than with family and friends trading stories of years past and looking with hope towards a new year with Charleene Clossehy's beautifully sung, arranged and orchestrated Christmas album. You will find that you are transported to another day, time and place with "Christmas In Killarney," you will be reflective with her rendition of "O Holy Night," and perhaps for a moment in time we will be reminded by "Good King Wenceslas," that a kind deed and a heart full of love can indeed change lives.
Please take time to visit Charleene Closshey's website.
You can listen to one of the songs from the Christmas album here. Return to Our Front Page
All photos by Michael Cairns. Bottom Photo: Charleene Closshey and her
fianc
é
Jeremy Culver
This interview by Joe Montague published November 26th, 2019 is protected by copyright © and is the property of Riveting Riffs Magazine All Rights Reserved. All photos and artwork are the the property of Charleene Closshey and
all are
protected by copyright © All Rights Reserved.
This interview may not be reproduced in print or on the internet or through any other means without the written permission of Riveting Riffs Magazine, All Rights Reserved