"I find life to be very exciting, but I always have. The words I'm bored have never come out of my mouth. I don't understand when someone says, 'I'm so bored.' That just does not compute to my brain. I don't know how people utter those words. I can go outside and say oh my God there is a cardinal sitting outside of my window. I find people and life fascinating and exciting and unpredictable for sure.
I had a lot of days with really dark times and that were really challenging. There were times when I didn't want to get out of bed. Things had happened, but I have also had some really blessed days and some really good days. Even on the darkest and most challenging days the one thing that I will say is life is exciting no matter what it brings," says film, television and stage actress and playwright Charlene Tilton.
Charlene Tilton did not have time to be bored in (2017), even if that was in her nature, as she co-starred with Lauren Aliana in the movie Road Less Traveled, as an eccentric wine making aunt, had another major role in Second Chance Christmas, as the meddling mother of Katrina Begin's character Caroline who is dealing with amnesia and she appears in the drama Vengeance: A Love Story with Nicholas Cage and Anna Hutchinson, as the mother of two meth addicts and a drug dealers. In the latter role she says some of her own friends did not recognize her when they saw the film. She appeared on the revived Battle of the Network Stars and she wrote the script for a one woman play Tammy Faye Tweets. At the beginning of 2017 Charlene Tilton starred in the stage production of Driving Miss Daisy. Along the way there was a stop in October of 2017 to speak at Voices for the Voiceless: Stars for Foster Kids, hosted by Seth Rudetsky in New York City, just one of several charitable causes that Ms. Tilton is involved with.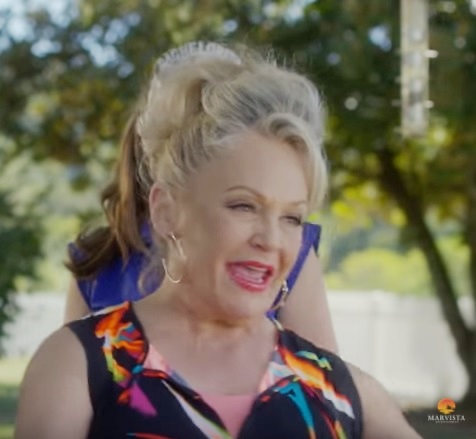 Charlene Tilton talks about Voices for the Voiceless: Stars for Foster Kids, a star studded evening that featured Broadway stars, Tony Award winning actors and producers, as well Grammy Award winner Stephanie Mills and stars from television and film.
"Everybody comes in and donates their time. They bring out people who have come through the foster care system and when I was little I did spend some time in the foster care system. I was there to tell my story and I have done it twice now. It is probably one of the best events that I have ever done. It is quite amazing," she says and whether she is talking about this event or another one of the charities with which she is involved, the timbre of her voice changes, leaving no room for doubt, as to just how important these events are to her.
Prior to moving from Los Angeles to Nashville to be closer to her daughter and grandson, Charlene Tilton also served as the President of Actors for Autism. She still remains active on the board.
She says, "I realized after my fiancé passed away that the best way to get out of your depression and self-pity is to help somebody else. I had a friend who mentioned that he was working with Actors for Autism and if I ever wanted to come down and teach a class (to let him know). I went to check it out. I walked in the door and I didn't know anything about autism. I saw them for the talent that they possessed. I fell in love with the kids and my first time there they fell in love with me. We connected and I realized that I had a gift for working with them. They received from me and I learned from them. It was an amazing experience."
This past year Charlene Tilton has demonstrated both her versatility as an actress and her resilience.
"When I arrived to do Second Chance Christmas I had just been doing Driving Miss Daisy on stage. The producer and director said they wanted to get everybody together for a dinner that night, before the first day of shooting. I told everyone that I had been doing the play, I had a sore throat and (I wasn't feeling well), so I said I was going to pass on the dinner. Well, I ended up with pneumonia and I have never been so sick in my life, as when I was doing this movie. I just got through it," she says.
As for Road Less Traveled she says, "I will try anything and I will try as hard as I can. I will do my best. I am not afraid of looking really stupid. Everybody was nice and we had a great time, so that was fun. I play the eccentric aunt who makes my own wine (she laughs). I had a great time with that."
When talking about her involvement with Battle of the Network Stars she pokes fun at herself, "That was so much fun and I am about as athletic as a doorstop. I am not athletic at all. I can't catch a ball or throw a ball. I can't do anything, but I had a lot of fun doing the show."
Despite that she says, "I found out that I have done more Battle of the Network Stars than anybody else and I didn't know that."
Battle of the Network Stars is not the only time that Charlene Tilton had an opportunity to demonstrate her, hmm, athletic prowess on television. She talks about her experience a few years back with Dancing On Ice.
"They were doing that show in the U.K. and Dallas was so popular out there. I also have done a lot of shows out there and so they inquired. I said that I had never skated in my life.
I had just gone through something. My fiancé had passed away unexpectedly years ago, five or six years ago on December 23 rd right before Christmas. I had gone into depression and I wasn't doing well, but I was turning my life around and I decided that I was going to seize every opportunity that came my way, so I said yes I will do it.
Oddly enough as non-athletic as I am for some reason I can balance on ice skates. Don't ask me why, because I have no idea. I wasn't great, but I wasn't bad either. I was shocked by how well I did and so were they. On the days that we did the show I was fourteen hours a day on skates, because we would rehearse and we would shoot. It was one of the best things that I have ever done and I enjoyed it so much. For a middle aged woman who had never been on ice skates I didn't do too badly. You challenge yourself and you are out of your comfort zone. It was a wonderful experience for me," says Tilton.
Charlene Tilton talks about the theater side of her career, "I have been doing stage since I was a kid. The whole time that I was on Dallas I was always doing Equity waiver, ninety-nine cents theater productions. I did Who's Afraid of Virginia Woolf in London (England), I did Cinderella in London when I played the evil step-mother, Snow White in Los Angeles when I played the wicked queen. Ariana Grande was Snow White and Patrick Harris was the mirror. I did a play called Tell Veronica that I produced and I played a crazy talk show host. I was in a play called Dish Babies in which I played nine different characters. For that one I won the Los Angeles Theater Critics Best Actress Award. I have done a lot of theater and a lot of plays. I love doing theater. I did a play called The Foreigner, which was directed by nine time Tony Award winning director Jerry Zaks. I did that with Imogene Coca. I love doing theater.
In my own life I tend to be very extroverted. If I see a flower it is oh my God that is the most beautiful flower I have ever seen in my life. To me it is whatever it is. If it is a dessert then it will be to me the best dessert that was ever made. I tend to go very big and broad, so for me (playing parts like the wicked queen) are wonderful and I love doing them. I relish them, but Second Chance Christmas was also a wonderful thing, because I played just a regular mother. Believe it or not those things are oddly enough a little bit more difficult for me to do, because I have to be a little more real."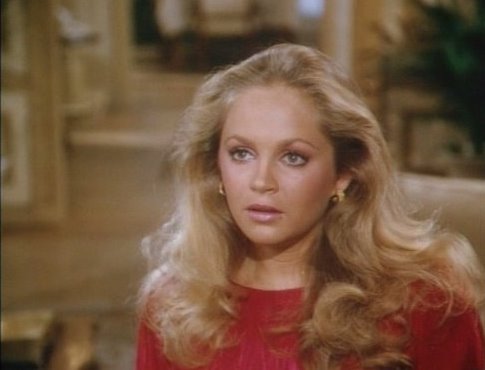 It is almost like Charlene Tilton was predestined to be an actress and it all began when she sang "O Christmas Tree," as a six year old at a school pageant.
Later on, "I grew up in Hollywood and right before I turned eight years old I was a latch key kid, as my mom would go to work. I wore a key around my neck and I went to school by myself and I would come home to our little apartment by myself. I was surrounded by Paramount Studios, Desilu Productions, Screen Gems and of course the infamous Hollywood sign that beckoned to me every morning. It just seemed to me that magic was made there. The most amazing place to be was on the other side of the studio (gates). I would stand there (at the Paramount Studios gates) and I would try to flag people down who were driving in and out. I would just dream of what it would be like to be on the other side. The feeling never went away, even when I got Dallas. I would drive through the studio gates at 5:30 in the morning and they would say good morning Ms. Tilton and I would say good morning and I thought I can't believe that I am driving through the gates of MGM studios. It is Sony now, but it was MGM at the time. It just never ceased to amaze me. It was always something that seemed so incredible to me."
Charlene Tilton would start taking herself to the theater when she was nine years old and then started taking acting lessons, but it was while she was attending Hollywood High School that she was spotted by an agent.
She recalls, "I was in the drama and play production (programs). That is where I got my start when an agent saw me in a production of Elizabeth I. I played eight different characters and one was a mime (she starts to laugh).
We had some very talented people who came out of that class. The director at Hollywood High School was amazing and I was introduced to Shakespeare and Molière, Tennessee Williams and all of the great, great playwrights. It was very exciting.
The agent who saw me at Hollywood High School needed eight inch by ten inch headshots and I didn't have money for that, so I took my school picture and had it duplicated and enlarged. She sent me on some auditions and the first one was a McDonald's commercial. It was between another girl and me and I did not get it. The second one was a Walt Disney movie Freaky Friday with Jodie Foster and I got that. From that I got Happy Days. I would audition and I would get parts and finally I got Dallas, which was very exciting."
Charlene Tilton was just seventeen years old when she read for the part of Lucy Ewing in Dallas.
"I was so excited (She repeats this twice reliving the excitement of the moment). I just felt a connection with the part. I knew it was mine and I knew it was meant to be. I knew it before they did. First of all we did not know that Dallas was going to be a worldwide phenomenon. It was originally a six-part miniseries. I was still learning my way around the set and I was fortunate, because I had people like Larry Hagman, Jim Davis who played my grandfather who was a major movie star and Oscar nominated Barbara Bel Geddes. Barbara was the original Maggie in Cat On A Hot Tin Roof. The work ethic on that set was stellar and I learned from the best people. We were really close and became a family. They were so professional and so nice. They guided me and it was lovely.
They did not just keep my character as this little young thing, but they let her grow up with me, which was very nice."
Charlene Tilton easily endears herself to you. She is full of energy, exudes warmth, talks effusively about her daughter Cher Ish and her music career and she leaves no room for doubt that she is basking in being a grandmother. Each theater production or film or television show that she has been a part of in the recent or more distant past she speaks about enthusiastically and always there is a sense of gratitude.
Perhaps that is why it did not come as a surprise to hear her say, "It's not about the fame. It's about the work and your preparation and study, how you treat people and the family that you form or if it is a play. Whatever project you are working on you form this unique bond with everybody that is involved, because it takes a lot of people to make a production for theater, television or film."
Photos: Top photo - Charlene Tilton in Second Chance Christmas, courtesy of MarVista Entertainment, middle photo - Charlene in Road Less Traveled, courtesy of MarVista Entertainment, bottom photo -
as Lucy Ewing in
Dallas, courtesy of CBS Worldwide Distribution
#CharleneTilton #RoadLessTraveled #LucyEwing #rivetingriffs #RivetingRiffsMagazine #SecondChanceChristmas #VoicesForTheVoiceless #DrivingMissDaisy
This interview by Joe Montague published January 1st, 2018 is protected by copyright © and is the property of Riveting Riffs Magazine All Rights Reserved.
All photos are protected by copyright © All Rights Reserved as noted.
This interview may not be reproduced in print or on the internet or through any other means without the written permission of Riveting Riffs Magazine, All Rights Reserved