Get ready folks, because coming your way in early February (2019) is a sensational and fun album by Charlie Faye & The Fayettes. The new record is The Whole Shebang, literally the name and the listening experience. The trio of ladies from Austin, Texas, boasts great harmonies, led by Charlie Faye and supported by her Fayettes, BettySoo and Akina Adderley. Influenced by girl group of the sixties and Soul from the sixties and early seventies they are so good that listeners may find themselves saying I am sure I have heard this song before somewhere and assume the trio is merely covering songs from yesteryear and yet that is not the case, as these are all original songs.
"In fact that happened at a show of ours last weekend. Someone who wasn't really familiar with us, came up to us after the show and that person said I thought these were all songs from the sixties until you said something about that you had written all of these songs. I think that happens a lot," says Charlie Faye.
The Whole Shebang opens with a song co-written by Charlie Faye and Bill Demain, "1-2-3-4," feels like it stepped out of the sixties, but more importantly resonates with the audience in 2019. The first four lines recall that feeling of meeting "the one" with "1,2,3,4, That was all it took / A heartbeat and a look, and I was so gone / Felt my whole world tilting left and right / And suddenly a light just came on…"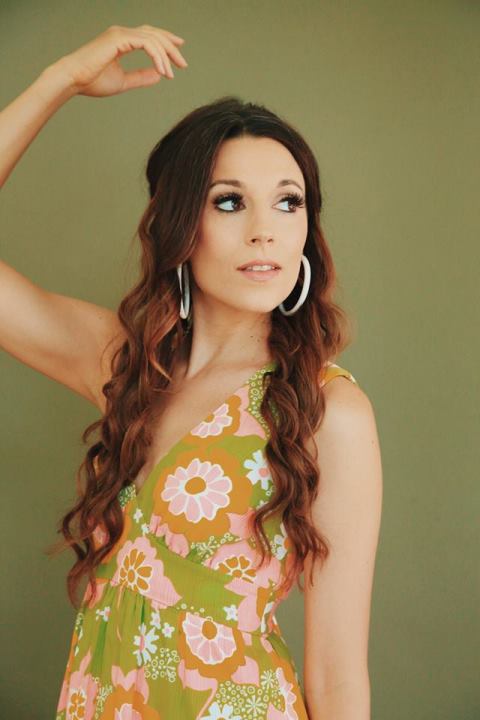 It is easy to imagine being at a Charlie Faye & The Fayettes concert and everybody being up on their feet dancing to their music. These are songs that their fans are going to be singing back to them and singing with them.
Bill Barrett delivers an outstanding harmonica solo on "1-2-3-4."
The second song on the album The Whole Shebang "I Don't Need No Baby," showcases the vocals of all three ladies and in our opinion is the best song from an outstanding collection of tunes. The song was written by Charlie Faye. This song is so good that you will love it whether you are eight years old or eighty years old. The song is a conversation between a woman and a man, as she asserts her independence and tells him I can do this on my own and I really do not need anybody else in my life right now. Well that is a real downer…except it is not the end of the conversation, because she comes back with the lines, "But how could a girl like me not want a guy like you? / Get a clue."
Charlie Faye talks about the lyrics, "When I say "How could a girl like me not want a guy like you," that is what he is probably thinking, so I have to make sure I turn it around and say, dude get a clue (she laughs). That song is really fun to sing and it was fun to record too and to do something with the vocals that was a little bit like a feminist anthem, but playful. It is a sassy song (she giggles). It is like I am busy and I have a lot going on. I don't have time for this right now."
She says, "It is a catchy song and people will start singing along to it and start clapping along with it. That is really fun. I thought that women would really connect to it, but I find that both men and women connect with it. It has been really cool."
Eric Holden, Charlie Faye's husband produced the album, which was primarily recorded at Redstar Recording, where it was engineered by Tim Sonnefeld. The Whole Shebang was mixed by Will Kennedy and mastered by Hans DeKline.
"I wanted Eric to produce the record, because I knew that he would give it one hundred and fifty percent. I have seen him do that with every project that he has worked on. It is just who he is. That being said we were a little worried about working together and it wasn't always easy. We are both really happy with the end result and we are really glad that we did it. I think that he did an amazing job producing the record and he brought so much to it.
I wanted to bring some more modern sounds into the record, but I'm also turned off by a lot of modern sounds. He was really able to get me comfortable with some stuff and I don't know if anybody else would have been able to do that. He would say just take some time with it and just listen to it for a few weeks. See if you still feel that way and we can come back and always change it. I think what served us really well was the fact that he knows me so well, he knows what scares me and he knows that sometimes I just need a little time with (things that are new). That served us really well.
Eric brought in the synth and the digital instruments, as well as the horns and strings that were added to the record. We did have a couple of horn arrangers and a string arranger work on the record and Eric worked really closely with both of them," she says.
With the song "Night People," the early seventies influences of Soul, Classic R&B and soft Pop merge. The soulful vocals of Charlie Faye and the brilliant harmonies of Akina Adderley and BettySoo serve as reminders of groups like the Staple Singers and The 5th Dimension. Jim Hoke created some fabulous string arrangements for the song. Trumpeter Steve Herman, violinist Kristin Weber and cellist Rustin Hoke create a lush texture. (Charlie Faye & The Fayettes Trivia: The influences of artists who appeared on the Stax Records label is so prominent in Charlie Faye's life that she even named her dog after Rufus Thomas the well-known artist from the label.)
Faye refers to both Jim Hoke and the other horn arranger Steve Elson ("The Whole Shebang," "That's What New Love Is For," and "Riding High," as being "great to work with." Steve Elson also played sax on all three songs. Steve Elson's musical resume is vast and a small sampling of the artists with whom he has performed includes, Stevie Ray Vaughn, Fontella Bass, David Bowie, Duran Duran, Radiohead, Peter Gabriel, Tito Puente, David Ruffin and Diana Ross. Jim Hoke's musical history is equally impressive and diversified, as he has played and / or recorded with artists such as Dolly Parton, Van Morrison, Harry Connick Jr., Sheryl Crow, Buddy Guy, Keb Mo, Don Henley and Faith Hill, to name but a few. Hoke also plays saxophone on "Night People," "Baby We'll Be Okay," and "Cream Rises to the Top."
Charlie Faye sheds some light on the inspiration behind the song "Night People," "I had this Holy Cow! The Best of Lee Dorsey album, which had all the cool older stuff on it, such as, "Ya Ya," "Everything I do Gonna' Be Funky," and "Working in the Coal Mine." He also recorded a version of Allen Toussaint's "Night People," (on the album of the same name). It's a catchy little number, and it got stuck in my head a lot, and I would sometimes just randomly start singing the chorus while hanging out at night, waiting for something to happen! Anyway, I liked the title "Night People" and thought maybe I could write a cool song with that title too. Austin is such a nightlife town, a music town, and I wanted to write something for the music fans, the people of all ages who go out at night to see music in Austin."
Comparing how the empowerment of women has grown since the 1960s and how that is reflected in the music of the girl groups from that generation versus the music of Charlie Faye & The Fayettes she says, "It is not even like I am making a change or putting a twist on this kind of music. It is just that I am writing from a more modern perspective, because I am living today. There are some things that are still the same, such as, we still want someone to love us. That is always going to be. A song in the sixties might say, I just need you to tell me that you love me or I need some comfort from you. You can say the same things today, but you can also say I don't need a man, I am doing my own thing. I want to express all of that. The fact that we are living in a different age of feminism does affect my songwriting, but I think in a very natural way."
To some readers it may strike them as odd that Charlie Faye was drawn to music that was recorded a long time before she was born and she talks about that, "I grew up with the music of the girl groups and a lot of sixties Soul and Pop. This may seem funny, but being a child of the eighties, I saw the movie Dirty Dancing when I was seven years old and it became my favorite movie. I watched it over and over and over again. The music in the movie is central to the whole story and I fell in love with that music. There are videos of me dancing to "Be My Baby," and dancing to these other songs from Dirty Dancing. That is when I first heard The Ronettes, the Shirelles, Solomon Burke and The Drifters. I was introduced to so many great artists. I don't know how to talk about Dirty Dancing, because I love it so much and I know other people think that it is a silly movie.
I always had that music in my lexicon, but when I started playing music I was more into Americana, Bluegrass and old Country like Hank Williams. I guess I moved away from that sixties Soul stuff for a little while when I (started). It did not seem achievable for me to do (the kind of music she sings today), but I thought I could do this thing with me singing and playing an acoustic guitar. I thought any music that was playable in that way is what I was going to do. "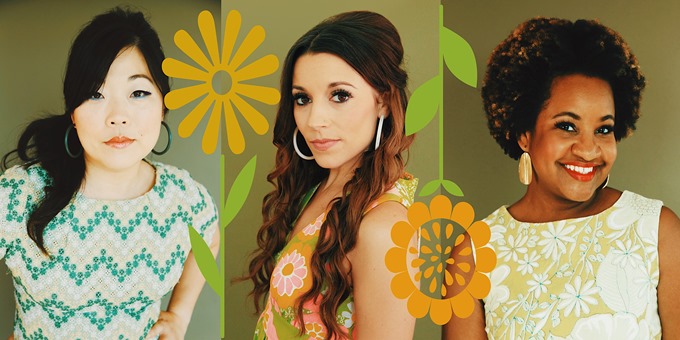 That is really how Charlie Faye's music career began. With a degree in psychology tucked in one hand a mandolin that she received as a graduation present in the other she started going to Bluegrass jams at the Baggot Inn (located) in the West Village of New York City.
"They were on Wednesday nights and they were my favorite things. I looked forward to them. Somebody asked me to play this Johnny Cash tribute and through that I connected with a guy Kevin who booked me to open for Greg Garing. Greg saw that I played the mandolin and that I could sing harmony, because I was playing with a friend and we used to sing harmony with each other.
When I pick up an instrument and when I put my mind to it I can get to a good place pretty quickly. I was pretty good by the time that Greg met me," she says.
Faye talks about her experience after being invited to play with Greg Garing's band, "In the next year that I played with Greg I learned so much. I was playing music every day and with somebody who really wanted to teach me. It was an incredible learning experience.
At the same time I was so into music and I was everywhere in New York that it was going on. I was meeting everybody. I think being out, being everywhere and being excited about playing music served me really well and it serves young musicians well. People are going to want to work with you."
Eventually, Charlie Faye was regularly playing solo gigs and accompanying herself on the guitar, which still does not explain how she became the founder and lead singer of a very good all women's group in a completely different genre that echoes the groove and the vibe of another generation. Maybe we should ask her.
"I had been an artist for a long time, making records under my own name and touring all over the country by myself. I loved that, but at a certain point I started getting a little tired of my own live show. Although, the songs may have been great and the music may have been great it was not that fun to watch as a show. I wanted to do something that was more exciting to watch.
At the same time I was getting really deep into the Stax catalogue. I have listened to sixties Soul music since I was a little kid. As I got deeper into the Stax music I noticed that it was coming out in my writing. I was writing songs that sounded like they could have been written by Stax in the sixties. You can see how that came out in my records, because there are some songs that have a little bit of that vibe.
With my songs I was writing more towards that sixties Soul and Pop thing and I had an idea that I would like to do a sixties girl group.
BettySoo has been my best friend since I moved to Austin, so when I told her about the idea, she was in immediately. She said I'm going to be a Fayette. She is amazing and she can do many different things at the same time. We started making the record, before we had the third Fayette set in stone. We started making the record and Akina whom I knew from the Austin music scene saw a post about me creating Charlie Faye & The Fayettes record and that it was a sixties girl group type of project. She wrote to me on Facebook and she said hey, we don't really know each other, but your project seems really cool and if you ever need another Fayette give me a call. I said let's get together and we will try singing. BettySoo and I had her come over and the three of us sang together. It was just perfect. Akina became a part of the band, while we were making that first record. She ended up singing on a few of the tracks that were some of the big singles from that first record. I couldn't ask for better than Akina and BettySoo. They are both incredible."
That debut album was self-titled and it was so well received that it led to placement of four of the songs in television shows and Netflix series.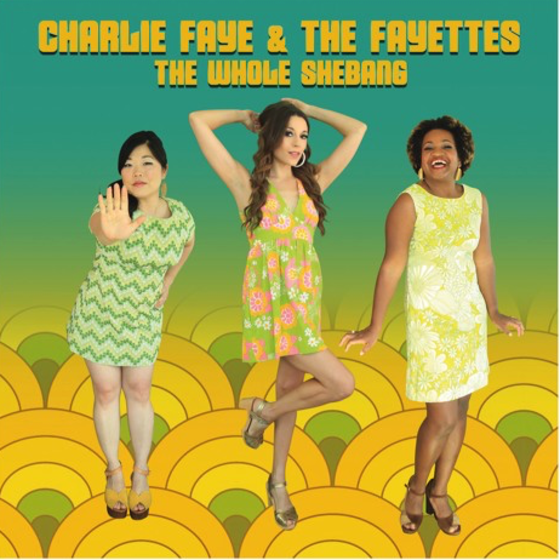 "The song "One More Chance," was placed in Riverdale and that came about through my relationship with Bank Robber Music, which is a great licensing company. Another song "Coming Round the Bend," was in Girlboss, which was a great show on Netflix (Editor's Note: a second song placement happened with Riverdale and another song was placed on the CBS television show Seal Team). It has been exciting to me about the success we have had with sync licensing. The way the music industry is changing it is harder and harder to make a living through CD sales and digital sales. We are all looking for alternative streams of income through music. Getting into the licensing world is super exciting to me," she says.
There has also been another benefit to the placement of Charlie Faye & The Fayettes songs being placed in these shows. They have noticed a dramatic increase in the amount of fans now listening to their music.
"I think it plays a huge role. The song "One More Chance," was not one of the singles from the first record. It was the ballad from the first record and that is the song that was placed in Riverdale. It went from having under 1,000 streams on Spotify to having over 100,000. Now it is our most played song on Spotify. A show like Riverdale is reaching millions and billions of people. People who are big fans of the show love the soundtrack and they are listening to the Spotify playlist of the soundtrack. A lot of them are making their own playlists of the sounds on the soundtrack. It is amazing how many people you can reach through having your songs on a TV show," she says.
One song from the debut album that showcases the trio's fabulous harmonies is "Sweet Little Messages."
"I wanted to write a song about getting a sweet little message from someone that you like, that makes you feel good and that is kind of a pick me up. I thought about how one receives messages has changed over the ages. In the sixties it may have been someone passing you a note in class or maybe your sister took a message for you when someone called you at the house, but now it is a text message. I wanted to get all of that into a song.
A lot of times my songs will start from an idea or a concept that I have. I took this idea to Bill Demain who is my favorite co-writer in Nashville and he came up with this little lick for it and then we proceeded to write the rest of the song together," Faye recalls.
Four time Grammy Award winner Dave Way who has worked as a producer and sound engineer with artists such as, Fiona Apple, Savage Garden, Mick Jagger, Sheryl Crow, Stevie Wonder, Michael Jackson, Foo Fighters and numerous others, was the producer for the first Charlie Faye & The Fayettes album.
"Dave and I have known each other for a long time and we had worked together before with my Travels With Charlie album. When I told him about the idea for the girl group project he was totally into it," she says.
Faye talks about another popular song from the first album, "Eastside," explaining that the song is about "the east side of Austin, as well as LA, New York and Nashville. I grew up in New York and I have spent a lot of time in LA and in Nashville. I find it really interesting that the east side seems to be similar in each of these cities. In every city it was the east side that developed later and that started off as the wrong side of the tracks. Then it became the hip side of town where all of the artists and young people wanted to be. I still don't know why that is. If anybody knows please tell me, because it can't be a coincidence. In New York it happened a long time ago, but in Nashville, Austin and LA, a lot of people I knew were living on the east side and then it quickly became gentrified. People who had lived there for decades were starting to feel pushed out. At the same time new people were really excited about moving to the east side. It is really an interesting time for a neighborhood when it is in that phase of change. It can be difficult, but it can also create something really cool and unique, so I wanted to write a song about that.
When I was growing up in New York in the '80s Alphabet City was a dangerous place. We were not supposed to go there. In Tompkins Square we were not supposed to hang out in that park. It was cool to hang out in Washington Square, which was on the west side. Avenue A was okay, Avenue B beware, Avenue C cautious and Avenue D was danger. Now I think pretty well anywhere in Manhattan is gentrified. That didn't happen that long ago."
Charlie Faye says the success of the debut album led to Charlie Faye & The Fayettes wanting to record The Whole Shebang, "and my experience with it personally. It is so much fun for me to be playing this kind of music and to be doing it as a group.
With my solo artist stuff I got a good response to my last couple of records, but I would find that sometimes I would be up on stage playing those songs and I would start feeling sad, because there are a lot of sad songs. With this music even if I get on stage feeling in a funky mood it will bring me up and it makes me feel better to be playing this kind of music. I think and I hope that it does the same for the audience."
Riveting Riffs Magazine guarantees you that it will be an uplifting experience. You want to be the first among your friends to own a copy of The Whole Shebang, so you can take the credit for introducing them to an outstanding collection of songs.
For a sneak preview of Charlie Faye & The Fayettes recording the song "Baby We'll Be Okay," in the studio for the new album The Whole Shebang click here.
Please take time to visit the website for Charlie Faye & The Fayettes.
#CharlieFaye #CharlieFayeAndTheFayettes #TheWholeShebang #RivetingRiffsMagazine #GirlGroupsSixties #EricHolden
This interview by Joe Montague published December 30th, 2018 is protected by copyright © and is the property of Riveting Riffs Magazine All Rights Reserved. All photos and artwork are the the property of Charlie Faye and
all are
protected by copyright © All Rights Reserved.
This interview may not be reproduced in print or on the internet or through any other means without the written permission of Riveting Riffs Magazine, All Rights Reserved