When you are a little girl growing up in a tiny village in the very far north of Sweden where during the middle of the winter you may only have at most two hours of daylight and you are in some of the best ski country in Sweden, one supposes like most children you turn to sports or music. Charlotte Axenström became an avid skier, something she still enjoys today, but her imagination and creativity, also took her in another direction.
"It was kind of boring," Charlott Axenström says chuckling, "I think that was the key (to where this all began), you are so bored and it is so dark. I am a skier and a swimmer and I was into clothes. I started sketching clothes when I was five years of age. I think when you have so much time to think about it you (become good at what you are doing). That is what I tell my daughter you have to be bored (first) to be good. If you have everything just in front of you there is no reason for your brain to work."
"I grew up in the same village in northern Sweden as Ingemar Stenmark the skier (Editor's note: Ingemar Stenmark won more international ski races than any other skier in history, including eighty-six World Cup wins). I think with it being dark for twenty-two hours every day (in the winter) that was part of the creative process. Yes it is dark and you are out skiing, but you also stay home a lot. In the summer I was outside all of the time. From April until September you don't sleep that much (Editor's note: there is almost continual daylight)," she says.
When this writer comments about how for such a small country in terms of population Sweden is and yet how it seems like from every little village and town across the country extraordinary athletes, musicians, singers and artists have emerged over the years, Charlotte Axenström elaborates further.
"In school they had all of the instruments for you to play and so it did not matter how much or how little money you had, you could do whatever you wanted. Today in Sweden it has changed a lot, because the schools do not have the money. They do not have music and sports as much as when I was young.

When I was in school I could do my sketches a lot and I could paint and it was a more creative time when I was growing up. I think it was like that in the seventies, eighties and nineties," she says.
Charlott Axenstrom's, family would later move from their village of 500 people to Örnköldsvik with a population of approximately 33,000 (today's population). She would spend what we would refer to in North America as her high school years in Örnköldsvik.
"I started to make my own clothes when I was ten or eleven and in my teenage years I made all of my clothes. I was extremely into fashion then. (Many years) later at a school reunion (former classmates) told me they knew what kind of a job I would have, because of the way that I dressed, but then two or three later we dressed the same way," says Charlott Axenström, acknowledging that she was always ahead of the curve or if you like a trendsetter in fashion.
Today Charlott Axenström is very well-respected in the film, television, fashion and beauty industries. Her couture designs are often worn by celebrities at high profile events, her costume designs are splendid (more about that in just a bit) and she has been an image consultant and stylist for television personalities, business executives and those who just want to change their image. We should also point out that her clients are both women and men.
After graduating from the Swedish equivalent of high school, Charlott Axenström moved to Copenhagen, Denmark to study at Tillskärarakademin (name of the school). It was here that she refined her skills in design and construction in the fashion sense (learning about theory, practical skills and techniques).
"During that time in the early eighties fashion was not a thing in Sweden. From the left side it was more you shouldn't think about how you dress and you shouldn't think about makeup and those things. It was almost forbidden at that time. So, at my school I said I want to become a designer and people would say we understand why you want to become a designer, because you make your own clothes. It wasn't an option to become a designer (back then), because it wasn't a real job. (We joke about that is when the word "lagom" became popular. You can Google it). It was thought that everybody should be something in the middle of the mainstream, but I have never been that. In the United States you could go more your own way than you could in a small city in Sweden.
I couldn't find a school in Stockholm where I wanted to go and I had been traveling for a couple of years, so I decided I wanted something more metropolitan. I wanted to go to a school that would (enable me) to work outside of Scandinavia," she says, explaining her decision to attend Tillskärarakademin.
With such a multi-faceted career we wondered what came first to Charlott Axenström, being a fashion designer, costume designer or image consultant / stylist.
"Actually, I don't know. I think stylist, but everything was connected together. I started my education with the dream to become a fashion designer in Italy, so when I went to school my focus was to become a fashion designer. Then I worked in Sweden for one year in a fashion industry company. After that I got a job as a stylist and I was also an assistant costume designer for the musical La Cage aux Folles and that is when I felt this was my life and this was where I belonged, in the theater. At the same time I got a job as an assistant for television shows. A couple of months later I became a costume designer for a television movie. When I was a costume designer I also did some (work) as a stylist on the side.
The list of notable people and television programs that Charlott Axenström has work with is too long to mention all of them here, but we will give you a small sample; she has created designs for Swedish television personality and host Kattis Ahlström on several occasions including when she hosted SVT's television program Arvinge Ökänd (2018 – 19) with Niklas Källner, whom Charlott Axenström also dressed. From 2016 – 2018 she was the designer of choice for SVT programs such as Världens Barngalan, Kristallengalan and 60 år. Television celebrity Karin Hübinette has also been a client of Charlott Axenström. Others with whom she has worked include news anchor Stina Lundberg-Dabrowski, Swedish actress, comedian and theater director Sissela Kyle and Hans Rosenfeldt the creator of the internationally acclaimed television series The Bridge and the ITV / Netflix series MARCELLA.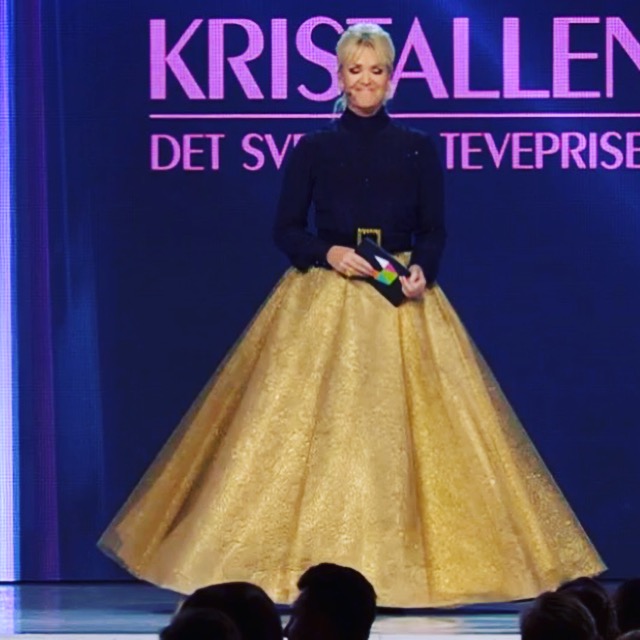 Some of her film credits for costume design include Birdcage Son (2018 – 19) with director Richard Hobert filmed on the Faroe Islands in the north Atlantic, between Iceland and Norway. She also worked on I Miss You (director – Anders Grönros), I'm Your Warrior (director – Stefan Jarl), Agnes Cecilia (director - Anders Grönros), Sounds of Silence (director – Peter Borg) and the epic film 1939 when she worked as a costume designer assistant with director Göran Carmback.
"I worked as a costume designer for a couple of years, before I got a job with the news anchors for Swedish television in the early nineties. That was for Channel One which was the biggest news channel. I would tell the news anchors what colors were best for them, what clothes to wear and what makeup to wear. At that time (television news anchors were really boring to look at), so I tried to make it so it wasn't boring. It was like Eastern Europe, because at that time Eastern Europe was Russian. In Sweden (the way people dressed) was like that, but then we changed it. That was my job to change it. At that time I was really excited. They would ask what you think if I wear these clothes or those clothes. What is best for presenting the news?" she says.
Charlott Axenström has worked with both women and men news anchors and we wanted to know if certain colors or patterns were better for news anchors and if others were on the do not list.
"Trust is very important. Color is very important. Colors I don't work with on TV are grey and black. I never work with black jackets or blouses or black near the face, because you look older and smaller. You look better if you choose colors other than black, white or grey. I was working with both men and women news anchors.
I know in the United States when you look at Good Morning America the women have a thin little blouse and you can almost see her bra and the men are wearing a suit, white shirt and a tie. I want to work more equal.
I don't work with that many patterns. For the news anchors I think it is better if they don't have a lot of patterns," she says.
Have you ever wondered how all those great costumes you see in the movies are created? We did too!
"If you see the latest movie (Birdcage Son) that I did and that was set in the 1800s on the Faroe Islands I work with the material that was (available) in that time. If I am working on a movie that takes place in the 1940s I work with material that they had in that time. That is for clothes that you see, but not what you don't see. If you don't see the underwear then of course you have underwear from today. Everything you are going to see is made from material that you had during that time.
In the 1800s you had wool, you had linen, cotton, leather and you had silk. Sometimes I have to do something that is not correct, but it was when I had no other options. Ninety-nine percent of the time I want to use the right materials. If you are on stage though you can work with materials other than what you had in that time," she says.
Charlott Axenström has designed twelve dresses for Nobel Prize honorees and she takes us behind the scenes to tell us what happens when she is working on a couture design.
"We start with a meeting and I make fast sketches when we talk about the dress and what the client's ideas are and also my suggestions. We talk about color and I bring some fabric ideas.
We then make an appointment with my tailor Larissa to measure the person. We only make couture dresses. Everything is made for the client's body, so it will fit perfectly.
The next step is to find the fabric and material that I need for the dress. I collect some samples from a couple of fabric agents.
I make a couple of watercolor sketches and show them to my client and at the same time I show them the fabric. So far all of my clients have liked my ideas and I will often order the fabric from France, Italy or Great Britain. I need many meters of fabric for my designs.
Then my tailor makes a toale the client will try it on for the first time, so we can see how the design works.
The tailor then cuts and starts to sew the fabric. There are about seven or eight times that the client will try on the dress until it is finally completed. I'm very picky and it has to be just like I want it to be and of course my client has to also be satisfied. My tailor is fantastic and always makes my designs just like I want them to be. It is almost impossible to make a design without a brilliant tailor. Larissa is the best tailor I have ever worked with and this year we celebrate ten years of working together," she says.
If you are looking for a new couture dress designed by Charlott Axenström for you next special occasion how far in advance should you plan on contacting her?
She says, "It depends, but I think it is best that we have at least one month, because I have to find the material. If you are in the United States or in Los Angeles or New York you can just go and buy everything in the store and that is fantastic. Here in Stockholm we do not have that many choices. If they contact me two months ahead of time that is perfect."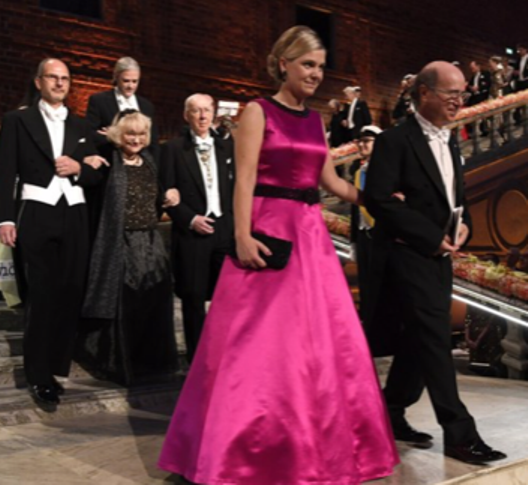 Charlott Axenström also assists her clients with picking out jewelry to go with the new dress and she collaborates with a makeup and a hair stylist to create the ultimate look.
Our conversation then segues into talking about her role as a stylist and image consultant, "All kinds of people come to me. I also work with politicians, small companies that want to change their image, big banks and other big companies. Sometimes it is not the client, who calls me, but it is their secretary or someone on the team that feels that person does not reflect their job. Often times the (first) meetings are with someone else and not that person. The second time I will go to the meeting with another person and the client. It is very important that they like me and that the chemistry between us is right."
She makes the point that often when she is working with executives of big companies the image of the new executive needs to be addressed, before he or she becomes a more public figure.
"If you wait until the big boss has been in the position for one-half year and then you change the image people will say oh what happened to him or her? She looks so different and that takes the focus away from the job. The best thing is to change the style, the hair and the glasses and everything, before they start the new job. You can always change your style at any time, but if you have a very public position people will see you on TV and in the news," she says, but then adds that it is not always big time executives that come to her looking for a new image, "Some people may be (newly) divorced and they want to change their style, because they want to meet a new partner. They come to life, the kids are growing up and moving out and they want to change. They start with changing on the inside and then they think okay I have to do something with my outside too. My figure is not the one I used to have and my hair is different. It is getting older and you have to make the best of it."
Sweden has come a long way from being that fashion conservative country back when Charlott Axenström started her career and she has been one of the catalysts of change for the better.
"Sweden is pretty good at music and food, but with designs now we are on the front line. We have had a lot of success. I think if you compare us to other European countries we are often the first with (a new style). We have a good sense for what will be the next (trend or style). We are at the leading edge. A lot of Scandinavian labels have been successful around the world. We are a small country, but we do well," she says.
Reflecting upon a vast and very interesting career with a lot of diversity we asked Charlott Axenström to share with us a couple of her special moments.

"I have a couple. The movie 1939 was the biggest movie ever made in Sweden and I was an assistant. I dressed all of the extras. That was a big project, big money and a lot of people. That was great (Editor's note: this was very early in her career).
Working on the movie Birdcage Son on the Faroe Islands and to be there working with a time period, in a different country was fantastic for me. (I think she said the movie is called The Bird Cage) That was a treat for me to work with such a great group of people. We worked hard and it was a small budget, but it was very enjoyable. The people who live on the Faroe Islands are such nice people. It is not only about my job, it is the people and the team. On the Faroe Islands everybody was positive.

The film was about a family who had to have a boy and they had three girls. This really happened in the early 1800s, but we decided to make it in the late 1800s. Then they tried to find a man for the wife of the family to try to have sex with him and hopefully she would get pregnant. It was a French captain she did this with. She got pregnant with a son and he looks like a French man. The reason they had to do this was, because in that time it was the same as in Sweden if you didn't have a son you would lose your home and everything you owned.
I think that every job when I can do something new and I can learn something is the best job. Of course when you work with people that you connect well with that is fantastic. I have had so many good experiences in my life with my work.
Please take time to visit the website for Charlott Axenström where you can learn more about this fascinating lady and her couture designs, costume designs, image consulting and other services that she offers. If you are not Swedish your internet browser should give you the option to view the website in English.
If you have a daughter or niece or granddaughter share this story with them of a woman who grew up in a small isolated village where it was dark twenty-two hours each day in the winter months, but she followed her imagination and pursued her dreams and her dreams came drew. It does not matter what a young girl or young woman is aspiring to, the story of Charlott Axenström should be an inspiration for all of us.
Photos: Top Photo from the film Birdcage Son, costume designs by Charlott Axenström ; Black & White photo: Charlott Axenström ; Photo with gold skirt is a couture design by Charlott Axenström worn by Swedish television celebrity Kattis Ahlström ; Next Photo: Dress is a couture design by Charlott Axenström, worn by Sweden's Finance Minister Magdalena Andersson. Top small photo: Early sketches and design by Charlott Axenström, as a child ; bottom two small photos: costumes designed by Charlott Axenström
#CharlottAxenströmCoutureDesigner #CharlottAxenströmCostumeDesigner #CharlottAxenströmFilmDesigner #CharlottAxenströmTelevision #SwedishCoutureDesigns #RivetingRiffs #RivetingRiffsMagazine
This interview by Joe Montague published January 19th,2020 is protected by copyright © and is the property of Riveting Riffs Magazine All Rights Reserved. All photos are the the property of
Charlott Axenström unless otherwise noted and
all are
protected by copyright © All Rights Reserved.
This interview may not be reproduced in print or on the internet or through any other means without the written permission of Riveting Riffs Magazine, All Rights Reserved