Take a white American girl who grew up in North Carolina and Georgia, and who attended the first integrated school in the state of Georgia, where many of her fellow students were the children of civil rights activists, mix that with listening to a healthy dose of Martin Luther King Jr. and Ralph Abernathy on Sunday mornings and she has now lived in Paris, France for most of her adult life and what do you get? You get a terrific Jazz singer named Christine Flowers, who is also a voice actress, and recently launched her own YouTube channel featuring weekly ten minute restorative and therapeutic yoga sessions. You also get a woman who knows who she is, has strong convictions concerning human rights and who appears to be very comfortable in her own skin.
Looking back Christine Flowers describes herself as, "I really am an artist and I was a failure at academics. I was so flighty and I was so daydreamy about other things, music and poetry and all of that stuff. I didn't (care) about anything else. I was just allergic to that stuff. The funny thing is when I finally got out of high school and had I not graduated out of a performing arts high school (she pauses) all of my credits were because I was a singer, an actress and a dancer or I don't think that I would have graduated.
There were a few years that went by that all I did was act and sing. Then I decided to go back to university. I realized that I was quite good at studying and academics. It was a choice and I even got really interested in physics and astronomy. I found out I was really, really good at that, but the only thing was, I wasn't good at math. I got my head around the theory about it, but I couldn't go ahead in that discipline, because I didn't have the head for mathematics. Depending on my mood, when you start talking about quantum physics and everything I go wahhh, (and then there are non-syllabic utterances of excitement). I really get into that, but I can't do the math about it. It just kind of came when the pressure was off of me, because I was a disaster even in physical science. I certainly got a good inkling to want to do it when I was about nineteen or twenty when I went back to university. It was amazing and I surprised myself. I still surprise myself with some of the books that I am drawn too.
One of my favorite books is The Dancing Wu Li Masters and it is about quantum physics. I think there is some kind of connection between that and music theory. I am great in music theory, as long as it doesn't touch on the mathematical side. I can spin off of ideas and go what if we can do this? As soon as you start talking numbers and quantifying it by mathematics I go no and I turn right off."
That cerebral prowess combined with gifted aritstry comes through on in a new mood a tribute to Oscar Brown, Jr., Christine Flowers' stylish album that boasts great song selection from the saucy and sassy "Hazel's Hips," to the sophistication of "Summer In The City," and the swinging "Mr. Kicks," as well as the poignant reminder of the ugliness of racism as expressed in "Driva' man." Flowers' skills as an actress also giver her the ability to bring to life "But I Was Cool.
There really were not any musical influences in the home in which Christine Flowers grew up, but in a very real way music changed the direction of her life and she explains, "I fell into a bad crowd. It could have gone really bad, but I just fell into this program, because I was lazy. I wanted to take an elective program and it was a guitar program that was headed by the musical director of the Northside School of the Performing Arts (in Atlanta, Georgia). The school music director was very dynamic with the kids and in this guitar program he made us come every week with a study about some kind of composer.
We had to put on a skit and sing, which was horrifying for me. I had never done that, but I finally got accustomed to it and it turned into something that I really, really dug. Through that he must have seen some kind of spark of something and he talked me into the music program. It was a young music program at that point and it was on the edge of becoming a performing arts school headed by the state. The students who were a little bit gifted were able to get into this program and they were able to concentrate on what they were good at. From the ninth grade until I graduated I was in this program and he (the music director) was a very big influence on my life. Had I not run into him I probably would not have done anything. I probably would have gone down the path of ill repute (her voice takes on a dramatic flair) and I would probably have been dead by now.
It was the model school for integration. It was the first school in the United States where they bused in the black students. I had the very good fortune and I am so happy for this and to have gone to the school. A lot of my classmates were the children of the immediate posse of Martin Luther King Jr. and Hosea Williams' children, Ralph Abernathy's children and the children of Gladys Knight (of Gladys Knight & the Pips). It was very, very, very much civil rights oriented. This particular music teacher Billy Densmore was right in there. We would go on Sundays as a continuum of the program. You didn't have to go, but he had such an infectious passion about everything and especially about civil rights that on Sunday mornings we would convene in the school parking lot and he would have a yellow bus waiting for us to bus down to the southwest part of Atlanta to attend the big Bethel services where Dr. Abernathy and Dr. King would preach. For the most part I grew up on Gospel, as my initiation to music. There were drum kits on the altar and people would play the bass guitar. The pianist or organist could have played with James Brown. The music was amazing! It was a party. It was a real big party."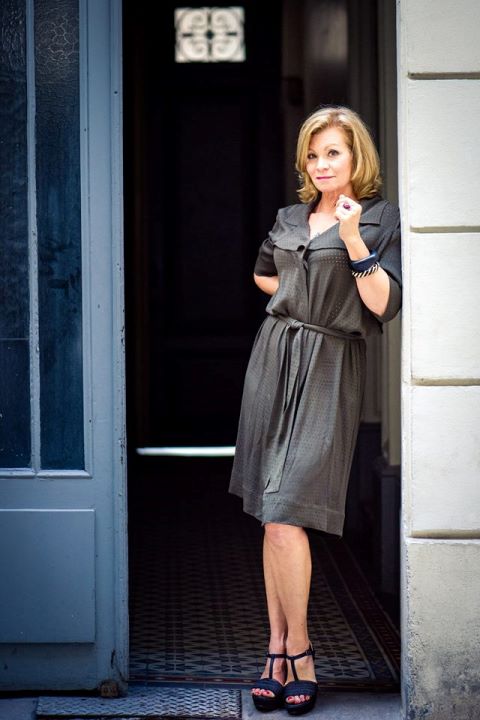 As for how those lessons in life and in music imprinted her at a young age, Christine Flowers says, "I carried it with me and I really hugged it to my bosom. Until this day I am very influenced by that. I am a Jazz singer principally and I am a Jazz singer, because I came from Gospel, Funk and Soul influences."
When she was fourteen years old Flowers appeared as one of the street singers in Robert Shaw's theatrical production of Leonard Bernstein's Mass, as Shaw conducted the Atlanta Symphony Orchestra.
She refers to that experience as, "an amazing experience," and "a major milestone in my life. I was only fourteen and I was only in the chorus, but he, Robert Shaw was a major man. God rest his soul. He was a very fine conductor. He was very revered and respected. It was a great body of work."
As for having designs on a music career Flowers says, "I don't think that I ever had that light that went on saying I want to be a star. It was just something that was organic and I kind of fell into it. I realized this is what I was made for. I didn't consider it like a job that anybody would do. I have never been someone who thought I want to do this, because I want to be a star. It was just something that I had to do. I just had to do it, otherwise I would die."
While still in her teens, Christine Flowers began working in the music industry in Nashville, commuting from her home in Atlanta.
"It was serendipitous in a way, because I just kind of happened into it. Looking back at everything now I think I was really, really lucky. I don't think that it happens that easily to kids anymore or maybe it does, I'm not there anymore. I just tended to get into things that were very, very interesting and relatively easily. I worked at Opryland (as a singer and dancer) and I was pretty plugged in. Most of the musicians there were really highly revered musicians. They needed a day gig, so they would be there. There was a horn player who heard me and he was a session player as well, so he invited me to come with him, because they needed backup singers for demo work. It wasn't backup singers for a stage, but I thought ya' I've never done that before, so I went in and I was able to do the gigs.
One thing led to another and I got called for another studio thing. Then I got called for another one. I didn't even know these people, because I wasn't in the Country (music scene). I was more into Gospel, Funk and Soul. I would just walk in and I was this young ditzy blonde who thought I can do ooh wop doo wop. It's not that I did this, but as I think about it now. I did something for a Tammy Wynette song
I didn't know these people, they weren't the people that I listened to, and so it was just Country music to me. I would just do it. Probably if I had been star struck it would not have gone down as well as it did. I was able to concentrate on what I needed to do and not be nervous about it. I think that is why I was able to get these opportunities. There were two or three times when I worked with some pretty heavy people (She sang on the demos for Reba McEntire and Charlie Rich, as well). When I look back it I go Jesus you were only seventeen years old Christine and you did that. Not bad.
It really was a wonderful experience. It was an amazing musical education for me in Nashville. Even though it was very Country oriented I met musicians that taught me a lot about different genres. It was before I even started singing Jazz. There were people that I played with especially the horn players who were totally into Jazz. That is when I first started my education into Jazz. They turned me onto a lot of things and a lot of recordings. It was a very effervescent period of time in Nashville.
I was singing and dancing at Opryland in a show called I Hear America Singing. There were probably about twenty different live shows in the park at any given time. There were a lot of people, especially during the years that I was there that really made it big time. There was really amazing talent. The show that I was in marked the beginning of American music up to the time when we were playing it."
When Christine Flowers was twenty-two years old she made a pivotal decision that would forever changed her life. She moved out of the United States.
"I never really felt in my place when I lived in the United States. I never felt comfortable. I always felt from a very early age that I wanted to get out of there. When I had the opportunity I did. I just remember being in Nashville at one point and being overwhelmed with everything. I didn't go directly to France at that point, but I did go to the Caribbean Islands. I worked on a sailing yacht for about eighteen months as a cook. That really taught me a lot about my own country, because I saw it from the outside. That was the time when the Nicaraguan civil war was going on and the El Salvador war was going on. We went through the Panama Canal and we stopped in El Salvador and Nicaragua.
I saw firsthand these Central American countries that were supposed to be really bad countries the way that politicians had made them out to be. I realized they were just countries of people who wanted to live. They wanted a life and life chances just as much as anybody.
I got to San Francisco and for some reason I went down to LA and that is when I enrolled in university. Because I had been so stirred with what I saw in the Central American countries I enrolled in a lot of political science classes and international relations classes to try to understand it. I took those for about a year and halfway through the second year I just went, no I have to vomit here. This is not at all what is going on outside of the United States of America. That stirred my interest to leave. I took out an atlas at one point and I just pointed to a country and I went I'm going there. It was France. I think I took a semester of French thinking that will do me. That will do the trick.
I came over here with two hundred dollars in my pocket and with a semester of French under my belt and I had absolutely no contacts. My idea was to go to the Sorbonne, with two hundred dollars…ya' right. At that point in time you could buy a one way ticket. I had bought a one way ticket, because I was too poor to buy a round trip ticket. I was stuck here and so I had to make it. Of course the Sorbonne was out of the question (she starts to laugh) because with two hundred dollars you are not going to get in there (she is still laughing). I was young and I was fearless so it worked."
As for the on semester of French, "When I got off the plane everyone was talking so fast that I thought I was in the wrong country. It was awful. When I heard all of the announcements at Orly where I landed, it was so fast. I thought I do not know anything. I wandered into Paris and I think the only thing that I could do for the first six or eight months was to ask for a baguette and to say thank you. Everybody wanted to speak English to me, because they wanted to practice their English. Maybe being (as lazy as) I am I just laid back and said okay we will just speak English. I never improved in Paris and it wasn't until I went to the south where nobody spoke English at that point that I had to speak French. Within a matter of a few months I was pretty fluent."
The road to a career in Jazz music in her new home country took a rather circuitous route.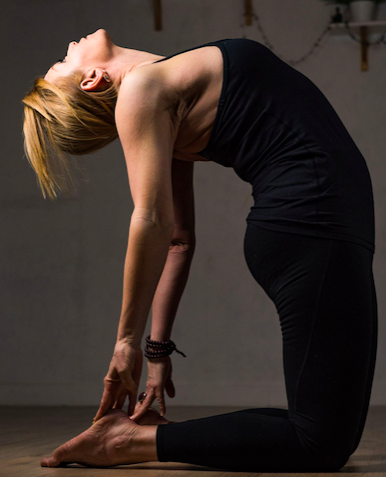 "That was out of necessity, because I was illegal here. When I got off the plane I didn't take the time to sort out my student visa or a visa. I came over as a tourist, so I was only supposed to stay over here for three months. Back in the day I would have to go back and forth to Brussels every three months. The only thing that I could do under the table was to sing. They would pay me in cash and there were a lot of American singers here.
When I got here I realized there was nothing that I could do. I would go around to the Jazz clubs and sit in and they would say oh can you come back and sing? They would give me a job for a night or two. Finally, I landed a job at Harry's American Bar and the guy wanted to hire me five nights a week, but he said to me you have to be legal. I said how do I get legal and he said I don't know and that's your problem. He said I will wait for you, but you are going to have to try and get your working papers in order, because I can't hire you. I must have walked around on a daily basis trying to find a way to get legal for at least two months. I was living with my bass player boyfriend who was French and he would come back at night and see me on my knees going I don't know what else to do. Finally, he said, let's just get married and let's not tell anybody and that way you can get your papers. I said, really? He said yes, let's just do it that way. When we got married (she pauses), we got married in a fever (alluding to the Johnny Cash and June Carter song). I walked by that town hall the other day and it brought back a lot of memories. Two weeks later everything was fine and I got a job. I was legal and everything was cool. I worked at that place for a couple of years, five nights a week, singing "Strangers in the Night," and other stuff like that.
I got tired of that, because it was the same thing every night. (Now that) I was legal I had a lot more freedom, so I got into groups and did some theater. That was when things started happening for me."
In 1994 another career path emerged almost simultaneously with the release of Flowers' three CD Colors and Light. Her quartet shared the same name as the disc. She describes the songs as being a blend of Jazz Rock, Jazz Funk and Jazz Fusion, with an element of Pop, so the quartet could make a stronger impression on the media. The second career path to emerge was that of a voice actress doing work for clients such as Air France and L'Oréal, and more recently for Yves Saint Laurent. Flowers also replaced Scarlett Johansson's voice to promote Moet & Chandon champagne. Christine Flowers has also become a notable voice actor for cartoons. At this time she can be heard in Mini Ninjas, a spinoff from the video game.
She says, "I play the really mean Shoko. I am like a baby Cruella de Vil from 101 Dalmatians."
One of the other cartoon characters which Christine Flowers has voice is Mimi the mermaid from Eliot Kid.
How does one prepare to be the voice of an animated character?
"The only thing I have to go on is the image (most of the time) and I try to spinoff of that. Usually there is a very precise idea coming from the production. There is character building as well. I try to do that as much as I can, but in the experiences I have had the production and the director, i.e. the writers and the creators have an idea of what they want already. That is probably why they choose me, because I am probably already very close to what they have in mind. I have to go for a mix of what I have come up with and what they want.
The way they do it with Mini Ninjas, which I am now doing, they do tracking. Eight or ten years ago we had the luxury to be in the same room with all of the actors and to interact with the actors and that is fabulous. You are really acting. Nowadays they bring one actor in at a time and you do your lines in the wilderness (she starts laughing) and you hope that what you are saying is going to match up with what the other actor is going to do. Sometimes that works and sometimes it doesn't. When I see the image and I hear my voice on it I can tell and I go hmm, but other times I have nailed it," she says.
As for how and why Christine Flowers decided to record in a new mood a tribute to Oscar Brown, Jr., she explains, "I was already doing some of his tunes in my sets and I started studying what his thing was and I realized that he had a big connection with a lot of the other artists whose music I liked and I did some of their tunes. When I started studying him I realized that his message was so strong and it resonated so deeply within me that I just went ya' this is right on. I was very involved in Abbey Lincoln's music as well and their paths seemed to cross a lot. I wasn't ready to take on her boat, but his seemed like something that I could tackle at the time.
The song "Driva' man," is so important. If there is a stance that I really defend it is (against) racism. It is a call that makes me want to get up and want to do anything.
I remember when I was growing up and I was going to Grant Park Zoo, I asked my mother who was very complacent, as both my parents were. I am sure, as most white people were. I don't think necessarily that she was stone cold racist, but she was complacent. I remember being at Grant Park Zoo and seeing the line for colored people and seeing the line for the white people for the water fountain and I remember asking her why it was like that. She just brushed me off and tried to brush it under the carpet.
There were so many different episodes in my childhood, where I just did not understand why and nobody could tell me about it (you can hear the frustration in her voice) and it really pissed me off. It wasn't until I got to the school with this music director that I got an education with that. I am so happy that happened. I was in this bubble in this music program, because we were so privileged. We lived, slept, ate and sang together. Nobody ever realized that anything outside of our bubble was any different from what we were living and then when I got out of it I was like, what is going on? Why are these people so silly about all of this stuff?
When I heard "Driva' man," it just rang really true to me. I remember one time I was still living in Atlanta and I had to commute back and forth to Nashville to go to work. I stopped off at a gas station one time and there was this real redneck guy in those things, those overalls and he was chewing tobacco. Before I had pulled into the gas station I had seen this sign on the side of the road and it was really weathered and rusty. All it said on it was n_ _ _ _ r beware. I thought what in the fuck is that? This was circa 1978. I was really appalled by it, so I asked him what is that sign about? He took his time answering me, chewed his tobacco a little bit and he finally spit it out. (She starts imitating the man and does a good job of pretending to chew tobacco too) He said well those n_ _ _ _ rs know if they ain't out of this county after dark, their asses are ours. I almost fell down, because I thought this was over. When I heard this song I realized it wasn't twenty years earlier and that it was still going on. I knew it was still going on in different parts of the country.
I had a black drummer who is very political and I asked John, what do you think, do you think that I can carry this song (Driva' man)? He looked out into space for a long time, before he answered me and he said, yes I think you can. It was really scary to me and I am glad that I did it and I am glad I decided to carry it, because the message is really important.
I love "Hazel's Hips," because it is so sassy and the last one "A Tree In Me," which has an incredible message as well. Those are my three favorite (songs from the album)."
Christine Flowers does an outstanding job with each of the twelve songs on this album and her musicians are superb. When the album was released it garnered praise from every quarter, including Jazz singer Maggie Brown, daughter of Oscar Brown, Jr.
Christine Flowers may not live in America anymore, but her music, her voice, her phrasing is definitely something that American Jazz aficionados should acquaint themselves with, because if you do not, then you are not as clever as you think you are when it comes to knowing everything that you should know about the gifted Jazz artists who are out there.
In addition to her creative endeavors Flowers is a certified instructor in restorative and therapeutic yoga, conducting classes and workshops in Paris and recently launching her YouTube channel featuring weekly instructional episodes.
I got into yoga six years ago, so very late in my life. It was in the midst of my mother dying and my best friend dying and it was my best friend who had been nagging me about it for years. I was like nah, that's for old people. I will do that when I am old. She ended up getting very sick with cancer. She lived in New York, so we didn't see each other very often, but we were very close. We ended up having to Skype a lot. She knew she was dying. One time the screen opened up and she was radiant. She was going through her second or third round of chemo I think. I was blown away, because she looked absolutely stunning. I said Trisha there are moonbeams coming out of you. She said Chrissy baby that's the yoga and the meditation. That minute I went I am going to have to get me some of this. The next day I went to my first yoga class and I have been practicing since on a daily basis ever since. It has literally changed my life. It has changed my personality and I never wanted this. (She laughs lightly) I wasn't looking for this at all. That is what I find so amazing about it, because whether you are lookiing for it or not, if you practice it does have an affect on you and a very profound affect.
It is not a religion, so you don't have to talk about it. It is something very silent and very personal and that is why I like it, because I hate religion. It is something very humble and it is something very humbling. It means a lot to me.
Please visit the website for Christine Flowers and her YouTube channel Yoga Flower.Paris
Photos by
Ana
ë
l Miantsoukina
#ChristineFlowers #ParisJazz #JazzMusicFrance #ChristineFlowersVoiceOver #ChristineFlowersVoiceActor #ChristineFlowersJazzSinger #RivetingRiffsMagazine
This interview by Joe Montague published April 1, 2017 and is protected by copyright © and is the property of Riveting Riffs Magazine All Rights Reserved. All photos are the the property of Christine Flowers unless otherwise indicated and all are
protected by copyright © All Rights Reserved.
This interview may not be reproduced in print or on the internet or through any other means without the written permission of Riveting Riffs Magazine, All Rights Reserved