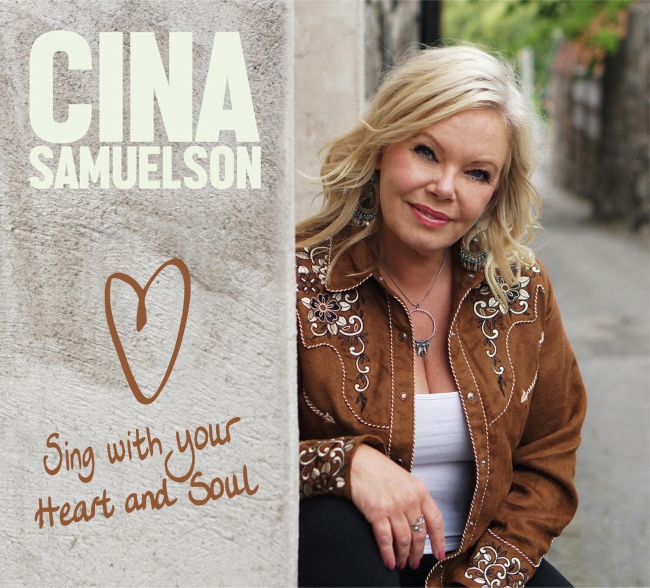 In a quiet, confident voice, Swedish Country music singer and songwriter Cina Samuelson says, "Everyone likes to listen to songs about life," and that pretty well sums up what her current album Sing with Your Heart and Soul is about. Marking her twentieth year as a solo artist (she performed earlier in her career in other bands), she has put together a collection of songs that in many instances are deeply personal. This is also an album where her husband Johnny once again joined her as one of the musicians, this time playing the baritone tic-tac guitar, her daughter Malin and Johnny sing background vocals and her other daughter Emilie was the photographer.
Cina Samuelson says it was special to have her entire family participate on the creation of this album.
"I love it when I can have them with me. Johnny doesn't work so much with music these days. It is very nice to do this with my family. Malin has been touring with me for nine years now. She is great with harmony singing and playing guitar on stage, so it is very nice to have her voice on the record with mine. I think my voice fits very good together with Malin and Johnny. I love to sing together with them. My other daughter Emelie sings wonderfully, but she can't sing harmony, but she said she could do other things. She said she could take the photos and I love that she can also be a part of it," she says.
Cina Samuelson wrote all of the songs for this album.
"I wrote some of the songs a year ago and some of them I wrote just a couple of months before I recorded them. I wanted to do songs that were about me, because a lot of songs are about my family and me. The song "Connie and Loretta," is about me. When I was a teenager, I started to sing Country music and there were a lot of people who told me that I was never going to be a Country star. What is Country music? No, no, no. Don't start to do that, because you aren't going to be a Country star. For me it was very important, because I had listened to Country music since I was seven years old and I had waited until I could start singing it.
When I was seven years old, I stayed at my aunt's place for two weeks. Her record player was in my bedroom. One evening I asked her if she would put on a record, so I could listen to some music, before I fell to sleep.
She told me later that she just picked a record and put it on, and it was a Country music compilation record. I quickly fell in love with that record and that music. I listened to that record every night. I loved it and I thought when I get a little older, I am going to start singing Country music myself. A good friend of hers gave her a lot of records and told her she had to listen to them, because it was wonderful music. She played a lot of records for me too, but Connie (Smith) and Loretta Lynn were the first records that I listened to a lot," recalls Cina Samuelson (Cina pronounced with a hard C like a "k").
Fans of classic Country music and who like to two-step will be up and dancing to "Connie and Loretta." Fiddler Thomas Haglund is stellar on this song, as he is throughout the album and the guitars are tremendous, Nickie Widen (pedal steel), acoustic (Johnny Samuelson) and Andreas "Ea" Olsson on electric guitar. Stig Lindell on keyboards adds a nice lively touch. If you have never heard Cina Samuelson sing, you are in for a real treat, she sounds like she came straight out of Nashville in the 1960s or early seventies and no this is not a Swede trying to sound like an American Country artist, she is a Swede just being herself!
The songs from Sing with Your Heart and Soul are being played on radio stations in numerous European countries, including Sweden of course, Germany, Belgium, the Netherlands, Norway and Ireland. One of those songs is "How Long is Forever," the opening track.
"I didn't (intend) to do a song like the music of the fifties, sixties or seventies. I thought I would like to do "How Long is Forever," in a 4 /4 shuffle tempo. When we started to play, and I heard it I thought it sounds like we are in the sixties or seventies. It just happened when we started to play together. It feels so right, and I like the sound," she says.
The song "How Long is Forever," was recorded live and mixed at Gura Studios by Stefan Jonsson.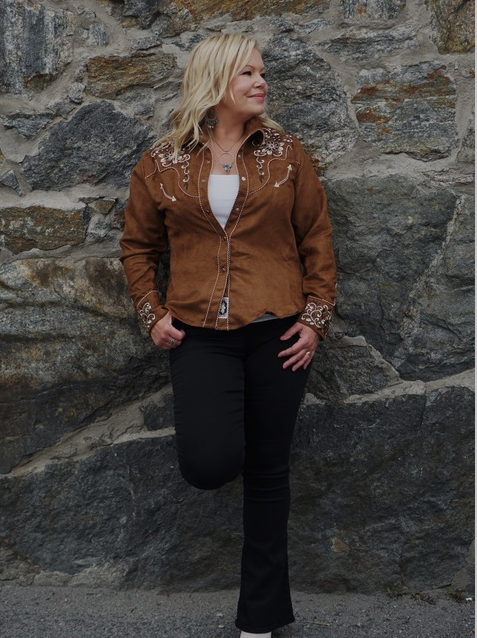 Cina Samuelson talks about the recording session, "The band and I were in the studio together and we played the songs and then we said okay now we can record them and they were done in one take. We did the background vocals afterwards, but all of the musicians were playing at the same time," and that live feel comes through very prominently on this album.

If you like to dance to lively music then you are going to absolutely love the Rockabilly tune "All I Want to do on a Saturday Night," and Stig Lindell matches Cina Samuelson's vocals step for step. This is an incredible performance.

"I have not done a song like this on one of my CDs before, but I love that tempo and that kind of music. I wanted to that kind of song for this album and then just one day it came to me "All I want to do on a Saturday Night." I started to find a melody and lyrics for the song. My fans really love it. My brother told me you can't stand still when you listen to this song.

Thomas Haglund plays fiddle on every song. I have recorded with him several times and the last time that I recorded the tribute album Roots and Memories we also recorded the music live with all of the musicians he was one of them. I love him. First of all, he is a wonderful person, but he is also a great fiddle player," she says.

"Sweet Mama, Elvis and Me," brings back happy memories, "About mama and me. She loved to dance. When I was two, she put me on her hip, and I remember her saying now we are going to dance to the King. We danced to Elvis. She loved Elvis Presley and we danced a lot together to his music. We did it when I was growing up and we continued to dance every time I went to my parents' house (she whispers now, as if sharing a secret, while recalling her mother's words) shall we go into the room and dance. I would say yeah! (with lots of enthusiasm). She would put on the stereo and some records or CDs and just with Elvis Presley. We danced and the music was loud (she laughs). We danced like crazy. It was so much fun. I loved (my mother) very much. She was a fun and lovely person. She laughed a lot and she loved to dance. This song is about my mother and our dear Elvis Presley," says Cina Samuelson.

The song "I'll Miss You," is poignant and evokes a strong emotional response from the listener. We did not ask, but we suspect some tears were shed during the writing of this song that chronicles the last days of Cina Samuelson's mother.

In a hushed voice, she talks about the song and that time in her life, "It was very sad, because she got cancer and she fought it for several months and then she passed away. This song is about her last weeks. She stayed at home during her last week and she died at home. She wanted to do that with us, with her husband and grandchildren.

One evening we celebrated my (nephew's) birthday in the kitchen and we had the door open to her room, where she was in bed. We sang and we said hooray for this little guy and after that I sat down together with her. She wanted me to sing when I was sitting by her side. That evening I sang so many of the songs that I knew she loved, and I held her hand. She was so happy that I sang these songs. I tried to write a song about our last weeks together."

"You and Me," is a tender song lifted from the pages of Cina Samuelson's childhood. It is a song about friendship, about changing someone's life, because you had the courage to stand up for them when they were being bullied. That girl being bullied was Cina Samuelson.

She talks about this real-life ballad, "It is very special to me, because when I started school there were some boys and girls who were not very nice to me and they bullied me. It was always when we were outside and when the teachers were not with us. One day a boy who was two years older than me came up to my side when I was being bullied and he said come along, I know a place to hide. After that, every time when we did not have lessons we would go to that place. He meant a lot to me and that song is (dedicated) to him.

We were friends for two years. He loved to take a bath in the lake. A couple of days before (my family) was going to take a summer vacation he was diving, and his head hit a big stone at the bottom of the lake, and he died.

When I returned from that summer vacation, I was afraid, because I didn't have him anymore, but the interesting thing was the bullying stopped after that. It was so strange."

The title song "Sing with Your Heart and Soul," features a fabulous guitar solo by Jimmy Glavö and like most of the songs on this album it is inspired by events in Cina Samuelson's life.

She explains, "My grandmother and grandfather had a farm with cows and horses. She worked very hard in the fields, plus she cooked, and she sewed. She fixed everything for us, and she always sang. When she was working, she always sang when she was doing things inside and outside of the house. She always said if you have troubles or there are (difficult) things going on in your life, try to sing, because it will feel better. I thought a lot about it, and I have been doing this ever since she told me that when I was a little girl. I think she was right. Even if I am mad or sad or very happy, I go to singing like she did."

We began this interview / review by quoting Cina Samuelson and we will repeat her words here, ""Everyone likes to listen to songs about life." In many ways this is a sneak peek inside her diary or perhaps we might describe it as her autobiography set to music. It is a very fitting way to celebrate twenty years as a solo Country music artist and someone whom this writer personally has come to respect so much in recent years.

Please take time to visit the website for Cina Samuelson, where you can also purchase her music. You can also follow Cina Samuelson on Instagram.

#RivetingRiffs #RivetingRiffsMagazine #CinaSaumelson #CountrySingerSweden #CountryMusicInterview #SwedishCountrySinger #CinaSamuelsonSinger #CountrymusikIntervju

#CountrymusikSångare

#SvenskCountrymusik

This interview by Joe Montague published October 7th, 2020 is protected by copyright © and is the property of Riveting Riffs Magazine All Rights Reserved. All photos are the the property of

Cina Sameulson unless otherwise noted and

all are

protected by copyright © All Rights Reserved.

This interview may not be reproduced in print or on the internet or through any other means without the written permission of Riveting Riffs Magazine.