Fresh off of her tour of Finland Swedish Country Music singer and songwriter Cina Samuelson took time with Riveting Riffs Magazine to reflect upon her career and her life.
"We had a wonderful tour and we played at wonderful places that most of the times were near water. We had lovely weather, the sun was shining and the sunsets were so wonderful. It was a tour that I will have in my mind and in my heart for a very long time," says Cina Samuelson (pronounced Keena Samuelson).
The year 2020 will mark the twentieth anniversary for Cina Samuelson's solo career, after spending ten years as a founding member of the band Freetown Highway and another five years performing with other bands. During her career she has toured and performed in the United States with Charlie McCoy, Dale Watson, Teri Joyce and Becky Hobbs.
To celebrate that anniversary she is going to start recording a new album this fall (2019) to be released in 2020 and it will include her recent single "Sweet Mama, Elvis and Me," (now available to purchase online).
She talks about that single, "It is a song that I wrote about my mother and me and the way that she taught me to dance crazy to Rock and Roll and Elvis Presley. I haven't got a name for the new album yet. I haven't decided which song will be the title song. I am going to record this exactly the way I did it with the Roots and Memories album (2014), to sit down with all of the musicians at the same time. I did it that way with this single as well. It was a smaller studio. I would like to do the album that way again and do it like a live recording."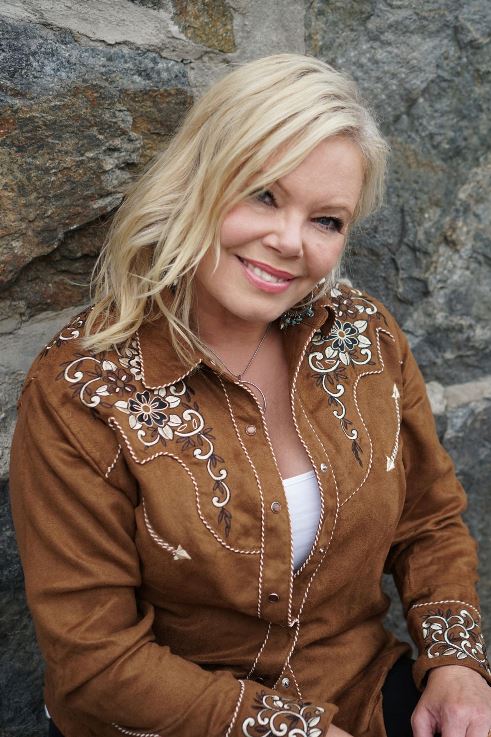 Cina Samuelson's musical journey began in the small Swedish town of Fristad near Borås and forty minutes by car, north of Gothenburg.
"I have been singing since I was a little girl. Some of my aunts sang a lot and my grandpa loved music and he loved to sing. My mother was a good singer, but she didn't perform in front of people. She loved to sing at home and she played some accordion. (My family) inspired me; because they loved music and we listened to a lot of music. My mother was a big fan of Elvis Presley, so she played a lot of Elvis songs for me when I was a little girl. She sang and danced a lot and she put me on her hip. She would dance around the room with me," she recalls.
When Cina Samuelson was six years old she began to play the zither and she continued to play it until she was ten years old. For those not familiar with the instrument we asked her to describe it to us.
"It looks like a small table with a lot of strings and you can play chords on it. When you have taken one chord then you take another chord and then you have to put your hand on the first chord, so it will be silent," she says.
Samuelson recalls when she heard Country Music for the first time, "When I was seven years old I went to my aunt's place and I was going to stay on her farm for two weeks. In my bedroom she had a record player and I asked her to please play something for me one night when I was going to bed. She said yes, I will. She picked one compilation record with different kinds of American Country Music artists. She put the record on and started it and I fell in love from the very first note. I didn't know what they were singing about, because I didn't understand the language. The music, the songs and the way that they were singing and playing talked right to my heart. I fell in love with that music that night and every night that I stayed at her home I begged her to please put on that record again. I listened to it and listened to it and I loved it. I said to myself when I was a bigger and older girl I would love to be a Country Music singer. I waited until I was thirteen and then I started to sing Country Music."
Although, she could not understand what the artists were singing about, because she could not speak English back then, her aunt understood a little bit of English and explained to her what the songs were about.
"One song I did not ask her to explain so much. It was a Dottie West song that I recorded some years ago called "Mommy Can I Still Call Him Daddy?" I was seven years old when I heard her singing it together with her son and he was four years old at the time. I fell in love with that song and maybe it was because I heard he was a little boy. That song talked to my heart. I understood when I listened to it that he was sad. It was a sad song. I asked my aunt why was he sad and she said his father had gone," she says.
"When I was 8 years old I started to sing in a choir for children. I liked it very much. But after two years I was bored because I thought the songs were too easy and they were not interesting. I thought it would be more fun to sing with the adult choir instead. I knew that they sang harmonies and I just loved that. My aunt had practiced harmony singing with me since I was seven years old and I felt ready to do it together with other singers.
My choir leader was also the adult choir leader and I told her that I wanted to start singing with the adults instead but she said that I was a kid and had to wait until I was older. But I didn't take no for an answer so I was nagging and nagging and one day she said okay, come to our rehearsal tonight and then we will see.
I was so happy. I stayed the whole night and sang a lot of songs with them. When it was time to go home she said here are the lyrics to the songs we sang tonight. If you can sing them without looking in the papers next week you will be one of the singers in this choir. I practiced and practiced and at the end of the next rehearsal she welcomed me to the choir. I was a very happy girl. I became their lead singer and sang with them until I was twelve years old and then we moved to another town."
The next year when she turned thirteen Cina Samuelson sang Country Music in front of an audience for the first time.
"It was for a song competition. Everyone else was singing Pop and Rock and then I came and said I am going to sing a Country song for you. I loved it and I was so proud, but some of my friends thought I was crazy. They wanted to know what kind of music was Country Music. They loved Pop and Rock more, but I didn't care, because I loved it very much and I just did it. I didn't win, but I came in second place, so I was very, very proud.
I sang "Stand By Your Man." They had a band that played for all of the girls and boys who took part in this competition. They played it well and I was satisfied afterwards. It was great. I had been singing since I was seven years old, but I had been singing Swedish children's songs and sometimes I sang with a piano player or someone who played guitar or I accompanied myself on the zither, but this time it was with a whole band, so it was very, very nice," she says.
When she was eighteen years old Cina Samuelson formed the Country Music band Freetown Highway with her brother Berra Karlsson one of Sweden's most famous pedal steel players. At the age of twenty she wrote her first song and it was a love song about how happy a person can be when they are in love.
About Freetown Highway she says, "We said now we are going to play Country Music (light warm laughter). The ages of the band members were from sixteen to eighteen years and it was fun. I think that band did well, because at that time we were the youngest Country Music band in Sweden. One famous pedal steel player in Sweden, Janne Lindgren, heard us and he wanted to help us, because he thought it was so wonderful that young people loved Country Music and wanted to play it. He helped us a lot and he filmed us. He took us to his home and he showed us the film and he said okay that's good. Try to do it a little more like that and keep thinking about this. He taught us a lot. He was great and I also think that we were good and (especially), because we were so young. We learned a lot and we listened a lot. All of the time we tried to do our best and we wanted to be a good band and we worked hard. I think that is mainly why (we were successful). People liked it.
At the time when we formed Freetown Highway some older musicians came to me and said ha ha, Country music, you will never be a Country star. It is better for you if you start singing with us instead. I said thanks but no thanks. I don't care if I'm not going to be a Country star. I love it and this is what I want to do. They came back several times and said the same thing and they always got the same answer from me. The last time they came they said okay it's your loss. When I'm thinking about this today I am so glad and proud of myself that I stood up for what I wanted to do. It's almost forty years ago and I'm still doing what I love to do.
There were not so many specific Country Music radio stations like we have today, but radio played our songs a lot. It helped us very much. It is more difficult to get your songs played these days than it was at that time. We also got gigs at big stages. I think that helped a lot too.
From the very beginning we did mostly covers and then through the years we started to write some of our own songs and it became a combination of the two."
After thirteen years of being together the band members of Freetown Highway went their separate ways in the mid-1990s.
During the years between 1995 and 2000 Cina Samuelson says, "I sang Country Music, but with different groups and there were some bands that wanted me to work with them. It worked and it was good, but all of the time I was thinking about doing something on my own and I was deciding what I wanted to do. What will I do? What do I love to do? I thought a lot during these five years what my next step would be. I decided I wanted to go out as a solo act and do my own songs.
I had a wonderful time in my band Freetown Highway, but we were a band and it was important that all of us could say what we wanted to do. I longed to do something on my own.
In the year 2000 it felt very, very good when I started to go out that summer and sing in my own name. People knew me from Freetown Highway, but I was a little nervous, because I knew that people loved Freetown Highway very, very much. I thought people might say, oh you don't sound like Freetown, but at the same time I didn't care, because this is what I wanted to do. It was wonderful. It is so crazy that next year I am celebrating twenty years as a solo artist."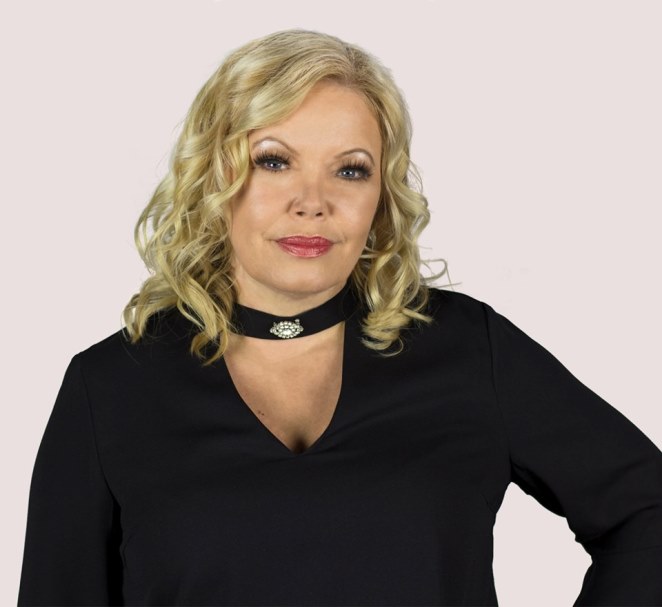 I started thinking about doing an album (Country to Country), two years after I started to go out and sing in my own name. I had started to write songs that I could maybe use for an album. I was also a little bit afraid, because I didn't want to do an album with only my own songs. I had read so many reviews from so many Swedish (critics) about other artists who when they did their own songs the reviews said oh it is not good. So I thought it was better to do some songs or half of the songs from my own pen and some songs from other songwriters. I recorded ten songs and I wrote seven of them. It turned out so well and my reviews were good. I was happy and it (encouraged me) to write my songs. I was so glad that people liked them."
At the beginning of Cina Samuelson's solo career she had approached several record labels, "I sent my songs to several record companies in Sweden and hoped that someone would sign me. All of them liked my voice, the harmony singing, my songs, the arrangements and the musicians but, every company told me to do Pop Country. The most important thing for me was to do what I wanted to do, to do music from and with my heart. When I realized that they only wanted a pop country girl I decided to start my own record company. I called it CCM, Cool Country Music.
By this time Cina Samuelson was married to her husband Johnny and living in the woods. Yes you read that correctly and we shared some warm laughter about it being such a great environment for a Country singer.
"I met my husband when we were playing in Freetown Highway and we did not fall in love from the very beginning, because it took three years, before we realized that we were in love. Then we moved out to his grandma and grandpa's little place. They had this little house as a summer house and they said that if you want to live here it is time for us to leave it. If you want to take it over you can live here, so we bought it. We moved out to the woods and it is the best thing that I have done," she says.
Three years passed by and when 2007 dawned Cina Samuelson released her second album, Laugh, Love and Live.
"I wrote all of the songs myself and the first song that I wrote for the album was the title song "Laugh, Love and Live." I lost my youngest sister many years ago and it was the saddest moment in my life. One day I was sitting and thinking about her and I thought she would be very sad if she just saw me sitting and crying. I asked myself what the most important thing was for me. I am here, I am alive and I thought I should start laughing and loving again. I thought I would do an album to these words, because I hadn't been living these words since she died.
I wrote a song about a man who knows that he is going to die and he is talking to his wife and he said to her that he wants her to still laugh, love and live even if he is not there. It was the first song that I recorded. When I decided to record the song, my mother got cancer and she was very ill and she died some months later. This song means more to me after that. I told her that I had written a song, but that it was about a man. I told her what it was about and she loved it. I dedicated this album to my wonderful little mother," she says.
During her concerts Cina Samuelson sings a mixture of her newer songs and songs from her earlier albums, which have become fan favorites.
In 2008 three of Cina Samuelson's songs were placed in the Swedish comedy / drama film Patrik 1.5.
It was (very exciting). A very good friend of mine was booking me at that time and he said I have been talking to a guy from a film company and they are going to do a Swedish movie. They want some Swedish Country Music. He said they want to hear back from you. I wrote to them and they said please send us all of the songs that you have, so we can listen to them. After a couple of weeks they called me and they said we would love to use three of your songs in this movie. It was not (the entire) songs, but part of them. I was invited to the party that they had. We saw the film. We walked on the red carpet. My sister was with me. They said you can take one person with you. My husband couldn't be there with me, so one of my sisters went with me to Stockholm. It was wonderful to meet all of the people from the film," says Samuelson.
In 2012 Cina Samuelson's third album was released Fast Road Home.
"There are eleven songs on the album and two of them are duets. After we recorded the instruments for "You Make Me Feel," a song that I wrote, I thought maybe we should do a duet for this song. I said to a friend of mine that it would be wonderful to do a duet with Bobby Flores. A very good friend of mine knew him well, so he contacted him and he said to Bobby we are recording an album here and wondered if you could be the duet partner on a song. He listened to the song and he said yes I will.
The other (duet) song is a song that I wrote for another album at first. I had the pleasure to sing and tour with a wonderful man who passed away last year and I am very sorry for that. His name was Rayburn Anthony. We met in 2008 and we toured a lot and did Christmas concerts here in Sweden. We did some summer tours together and I had been his duet partner on an album that he did. He was recording an album with someone else and I said to him I have a song here, can you listen to it? I heard the songs from that album, before it was released and it was a lot of up-tempo songs. I had written a slow one and I asked if we could do that one together. I sent the song to him and he listened to it. He said oh yes Cina this will be a very nice song on this album. We did a duet called "I'm Sorry." I wanted to do this song on my own album, so all of my fans could hear the song too. I was happy and I think we did a good job together. I love the song," she says.
The album Roots and Memories came out in 2014.
"Throughout the years people have asked me a lot of questions about why Country music. I had been thinking for a while about doing an album and to record some of the songs from artists who inspired me, when I was a young girl. They inspired me to become a Country singer. I wanted to do songs that were different than all of the other Swedish Country singers did. I really picked them with my heart. I thought it would be nice to record the songs, as they did back in the fifties and sixties and with all of the people in the studio at the same time. I was working in a studio in Gothenburg and all of the musicians were there. I did all of my singing at the same time. The only thing we did afterwards was the harmony singing, because we couldn't do it at the same time. My duet partners did their singing afterwards, as well. I sent them the files. It was so nice to record every instrument at the same time. I hadn't worked like that before. We played the songs a few times and then we said okay, we are going to record. It was just one take and we recorded like that," says Cina Samuelson.
Cina Samuelson works with different combinations of musicians in her touring band, but two people have remained at the core, her husband Johnny who plays guitar, fiddle and mandolin and her daughter Malin who sings harmony and plays rhythm guitar.
"One person who is very important to me is my brother Berra (Karlsson), but a lot of other Country artists want to work with him too, so I have to fight for him (light laughter)," she says.
It took a year for schedules to match up from both Riveting Riffs Magazine and Cina Samuelson in order for this conversation to take place, but it was well worth the wait. She is a talented singer and songwriter, who if not for her delightful, melodic Swedish accent could very well be mistaken for being born in the heart of Tennessee or Texas. She is the real deal.
Please take time to visit the website for Cina Samuelson.
Photo Credits: Top two photos by Emelie Samuelson and bottom photo by Malin Samuelson
#CinaSamuelson #SwedishCountryMusic #BerraSamuelson #RivetingRiffsMagazine #RivetingRiffs
This interview by Joe Montague published September 2nd, 2019 is protected by copyright © and is the property of Riveting Riffs Magazine All Rights Reserved. All photos and artwork are the the property of Cina Samuelson unless otherwise noted and
all are
protected by copyright © All Rights Reserved.
This interview may not be reproduced in print or on the internet or through any other means without the written permission of Riveting Riffs Magazine, All Rights Reserved