You should purchase Cindy Alexander's new album Nowhere To Hide, you really should, because it is a beautiful collection of songs that will stir your soul, remind you of what it feels like to be in love and most importantly what it feels like to really live.
The album opens with Cindy Alexander's original "I See Stars," one of the prettiest songs you will hear this year. She is elegantly accompanied by Paul Trudeau on piano, while Ali Handal plays acoustic guitar and provides background vocals.
Alexander says, "(The song) "I See Stars," is one of the first songs that I ever wrote and it came about in my life at the time when I didn't know that I was a songwriter. I was making stuff up. I took my diary and set it to music. I was reading the book Running From Safety: An Adventure of the Spirit by Richard Bach. I have always been fascinated by time travel and in the book he goes back and he meets himself as a child. It turns out that the child knows more than the adult. I think it is true that as we get older we struggle to believe the things that we innately knew as children. That is what this song is about. I wrote it as a love song to myself, but I know that other people may take it as a love song (written) about another person. That's great. That is the goal that somebody can find their own story in my songs."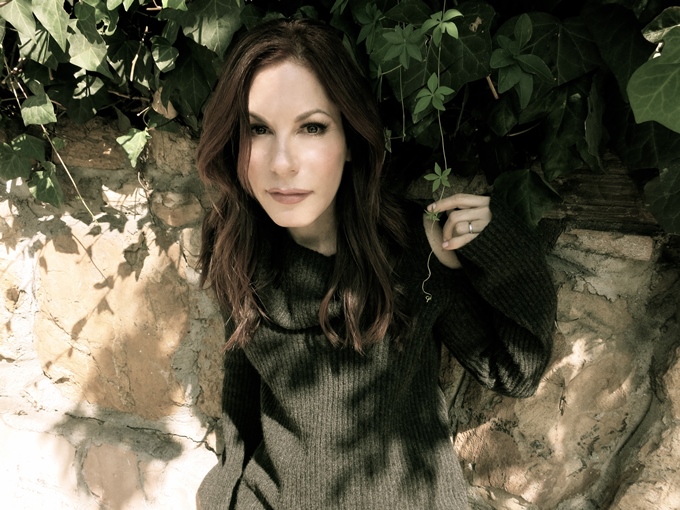 We were not willing to let Cindy Alexander off quite that easily, so we asked about her fascination with time travel, "I don't believe that time is linear. I think that we accept it, because it makes life easier to understand. There have been too many times in my life when I knew what was going to happen next or I meet somebody and I feel like I have known them my whole life. That idea seems to support those feelings that I have in my gut, so I embrace it.
I have very strong intuition and I think part of that comes from my belief in a parallel universe."
The song "4 Hours," co-written with Kim Tribble is about a woman on a red-eye flight that was delayed. She starts thinking about the person sitting beside her you have four hours to make a connection with me.
Kirk Pasich the co-founder and President of Blue Élan Records to which Cindy Alexander is signed hit the nail on the head when he says, "This is such a personal recording and Cindy's performance speaks to a lot of people. She has an honesty and vulnerability that you don't often hear. Cindy did an amazing job."
About the song "4 Hours," Alexander says, "I think that's all it takes to truly connect with somebody is four hours. It doesn't mean that you are going to fall in love, but the strength of the connection is tested in four hours. The idea for the song was born on a plane flight to Austin. What should have been a short flight turned into four hours because of a storm. I had four hours to connect with my seat partner."
Applying her theory in another way she says, "I realize that four hours is the amount of time that I have when I am touring. From the time I pull into a city, load in my gear, soundcheck, do the show and sign CDs afterwards it's about a four hour period. I have met people from all over the world, and we have exchanged pieces of our hearts. These connections are not necessarily about falling in love. It is the quality of the connection, and the fact that these people moved me or I moved them, and the intensity of that feeling. It only takes four hours."
Even though we have Cindy Alexander's explanation of her song, most listeners will not have heard it and it would be easy to interpret this song with more romantic overtones.
Both the lyrics and Alexander's vocals draw you into cinematic experience not unlike watching Casablanca with Ingrid Bergman and Humphrey Bogart or as if you are watching the characters in the movie Love Actually. That is the magic of good songwriting, leaving enough to the imagination of the listener, regardless of the original inspiration for the song.
Talking about some of the people who played on the album she says, "The basic tracks were me, Colin Devlin, who produced (my record) Deep Waters and co-wrote that record with me and Paul Trudeau who was my first co-writer and band mate. Having those two spanning my entire career and in one room was an amazing experience. It was a treat for me. The three of us played live together and without a click track. The bed of the record is raw and real. It is emotional. These are two people that I genuinely love and I love to make music with them. You can hear that with this record.
For the icing on the cake we brought in Randy Ray Mitchell (dobro, acoustic guitar). I met Randy through my first manager in the late '90s. We wrote a song called "Joei" together, which is on my first record. He plays an amazing dobro. I love that sound and it graces a few of the tracks ("Passenger," "Everything I Own," and "Soul Quake"). Ali Handal who is my sidekick on tour, comes in a plays with me and sings with me on "I See Stars."
Dave Darling and Cindy Alexander collaborated to write the song "Wonderful," and it was recorded by Zackary Darling and Clear Lake Recording Studios. Like the rest of this album one of the things that immediately make you sit up and notice is how pristine the engineering is for this album. Eric Milos recorded and mixed the rest of the songs on the album.
"Dave Darling came in and played (acoustic guitar) for "Wonderful." It is important for me to have Dave on the record. He produced everything up through Curve, so that's seven records.
It was very important to me to have this song on the record. On the first four or five records you hear a lot of sass and self-deprecating humor. That is something that was signature to me. One of my first songs and it was very popular with my fans, was called "Sick of Myself." When I wrote "Wonderful," it was supposed to be the more mature approach, (as in) I accept myself for who I am.
I love that song, it is a fan favorite and I wanted to have some levity on a record that was turning out to be quite gut wrenching. It was super important to me and I brought in two of the funniest ladies that I know, one is Tina Travino who has been my backup singer for many, many years and Scout Durwood who is hilarious. Scout is my Blue Élan sister. We had a great time recording this song."
"Wonderful," begins with the sublime playing of pianist Tyler Cash and the conversational vocal styling of Cindy Alexander. The song transitions for a brief period into something edgier with lines such as "Don't talk smack or I will tell you where to stick it!" This is a song about taking pride in who you are and what you are and having a healthy self-esteem. It is a song with the message do not let anyone, including yourself convince you otherwise.
About Paul Trudeau, Alexander says, "He is stunning and he can bring me to tears with his piano. That's what we wanted. We wanted emotion. Every single person who came into the studio poured their heart into whatever they did.
I am extremely grateful and I feel like this record doesn't just belong to me. It belongs to every single person who was involved in making it, including the people who didn't play on the record. Kirk produced it and there are two people Kim Umanoff who is the CEO of Blue Élan and Kacy Swain who is my project manager. They were in the room the whole time, giving feedback, smiling, laughing, crying and that was important too. Eric Milos engineered it with so much care. We did this and it wasn't just me."

"Something To Look Back On," is a gentle and reflective song about being willing to take risks, not foolish risks, but not hesitating, not being afraid to take a chance. There are some incredible words such as, "What's the point of breathing, if you don't feel every breath" and "I want to have a love that lasts forever, even if it lasts a little while." The first lyric we quoted Alexander attributes to the brilliance of the writers Janey Street and Gary Burr.

"Kirk brought that song to me after the first day of recording. He said give a listen to this and if you like it maybe we can try it tomorrow. I got home that night, it brought me to tears (when I listened to it), because I related to the subject matter.

The line that got me was, "When the sky on the horizon is more sunset than dawn." We are getting older. I have been through cancer. My husband has been through heart disease and he has two stents in his heart. I helped my mother through a second bout of breast cancer last year. I am very aware of time and making the most of it. I am so grateful that Kirk brought that song to me and I love it. I am sure everybody else will too. It is brilliantly written.

The risk was also for me to do this record and that I had to sing these in full takes. I couldn't punch in. (Kirk) wanted full takes and we weren't going to use a click track. We were all going to be together in the same room, so we couldn't redo their parts. I was scared to death. This was a risk and this was a chance. I am so grateful that Kirk pushed me to do it this way. It encourages me to take more chances musically in the future, if not in other areas of my life as well.

I am aware of the changes (as I get older), but I feel like my body is just my container. My body may be going through things and suffer through these ailments, but my soul and my spirit are intact. I will do the best that I can to take care of my body and this container that I was blessed with and I must constantly feed that soul and that spirit. You can't get too old to do that.

One of the musical gems on this album is "Soul Quake," and it showcases another side of Cindy Alexander's vocal repertoire, as she serves up a soulful performance.

"It is an older song from the record Every Rise & Fall and I wrote it for my girls Jette and Perry. It is the only song that I wrote when I was pregnant. I had just come home from the doctor (who specializes in) high risk pregnancies for twins and he told me that I was having two girls. I burst into tears when he told me that. My husband could not understand why I was crying and he said I thought you wanted twins. I thought you were happy. I said, I am happy, but what if they fall in love with the same guy? They are going to break each other's hearts. I went home and I wrote "Soul Quake." I wrote it in about fifteen minutes. I have had many soul quakes throughout my life and those are times when your world is shattered and your heart is shattered, but you rise up stronger for it," she says.

Another good song from Nowhere To Hide is "Book of Love," which has a whimsical feel to it. It was written by Stephin Raymond Merritt and in the past was made popular by Peter Gabriel. It is very stripped down with just Cindy Alexander at the piano and Colin Devlin playing the guitar.

You have Nowhere To Hide now, we have told you what you should do and now you have all the goods on this fabulous album, so what are you waiting for? Buy it!

You can visit the Cindy Alexander website here and the

Blue Élan

#CindyAlexander #BlueElanRecords #NowhereToHide #ColinDevlin #rivetingriffs #rivetingriffsmagazine

This interview by Joe Montague published January 29th, 2018 is protected by copyright © and is the property of Riveting Riffs Magazine All Rights Reserved. All photos and artwork are the the property of Cindy Alexander

unless otherwise noted

and all are

protected by copyright © All Rights Reserved.

This interview may not be reproduced in print or on the internet or through any other means without the written permission of Riveting Riffs Magazine, All Rights Reserved