Cindy Blackman From Art Blakey to Lenny Kravitz
Interview by Joe Montague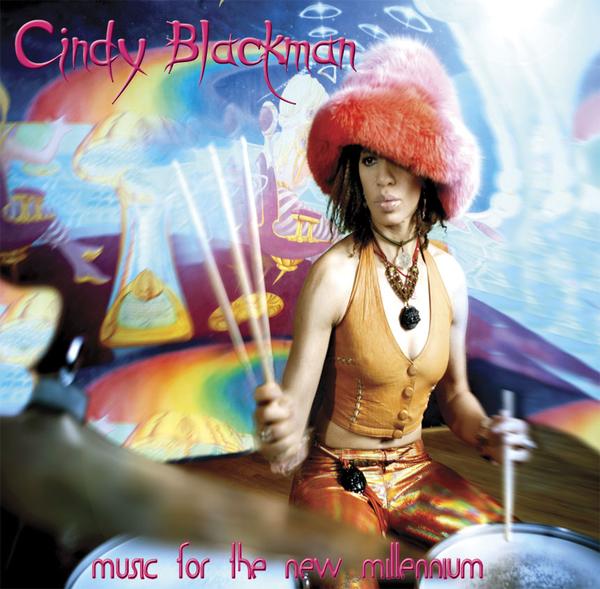 There exists a misguided notion among some music fans that the words rock musician and wild life are synonymous, however as Riveting Riffs discovered in our conversation with prolific rock / jazz drummer Cindy Blackman, that truly is a misperception, for the congenial, articulate Blackman is very family oriented. In fact, Blackman who toured as Lenny Kravitz's drummer for ten years, before embarking on a solo career as a jazz drummer, credits those deep family roots, for a lot of her early musical influences, and dedicated her current album, Music For The New Millennium, to her paternal grandmother. Do not misunderstand what we are saying here, Blackman can be as dynamic and loud on the drum kit when she is keeping the beat, for songs like Kravitz's "Let Love Rule," as any rocker you have ever heard. There is however, far more to this superb musician than what the casual listener may assume.
The crafting of Blackman's keen sense of musicianship began when she was a child, and in part, under the watchful eye of her maternal grandmother, who was a classical pianist. "She didn't like the damper or sustain pedal on a piano, because she felt that if you wanted to make a note ring, you should do it with your touch, and if you wanted to dampen a note, you should do that with your touch as well. That always stayed in my head, and when I got to a certain level of proficiency with an instrument, I completely understood what she meant. That really got me to thinking about my touch, how I hit the instrument and the sound that I get out of the instrument. Those two people were really important to my growth and the path that I got on very early in my life," says Blackman.
The second disc of Blackman's current double CD Music For The New Millennium, contains two songs, "Insight (From My Mother)," and "Insight (From My Father)," which speak to her family centric values, and pay tribute to the influence that each of her parents had on her life.
"(The song) "Insight," is given different treatments throughout the entire record. It is recorded on both CDs ("Insight (Past Wisdom)," "Insight (Right Now)," and "Insight (The Future)," and each one reflects a different period of my learning, the different things that I am experiencing, and the things that I have learned from different people. "Insight (From My Mother)," is like my mother, who is very strong, but also very soft. She is a beautiful person inside and out. My mom is pretty special, and the song reflects what I get from her. "Insight (From My Father)," is more hard hitting and driving. It is more like my dad. It is more the strong guy, the heavy hitter kind of guy," says Blackman, noting the song reflects the jazz musical influences of her father.
As for the other treatments of "Insight," which appear on Music For The New Millennium, Blackman says that they represent her maturing, both a person and an artist. "The different Insights are woven together throughout the record, and there is a different feel and approach to the way that we play them. They are the very same song, the very same form, but they feel very different. That is a very noticeable thread (that connects them)."
"Even the songs that are not my compositions, but are J. Dee's compositions, fit in a certain way with all of the rest. They are like big pieces of a puzzle that are put together, and they make a collage," says Blackman.
Blackman's ability to transcend genres is not surprising considering the eclectic musical flavors that abounded within her family. For instance, when she was a small child, Blackman's mother took her to the Hartford (Connecticut) Symphony Orchestra. "The other kids didn't want to go (to the orchestra), but I wanted to go. I was her little symphonic orchestra partner. I got exposed to different types of music. It all helps in your growth and the way in which you hear (music)," says Blackman recalling those orchestral excursions.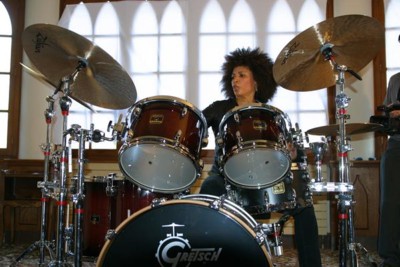 Blackman's older sister Anasa also had a profound effect on her younger sibling's musical development. Despite dealing with the effects of a heavy cold, at the time of our conversation, Blackman came to life and was practically bubbling while recalling Anasa's influence. "She had a fantastic record collection. She had everything in that collection, including the Beatles, Sly and the Family Stone, James Brown, Miles Davis, John Coltrane, Chaka Khan, Earth, Wind & Fire and Betty Davis. She had just about everybody in rock, except unfortunately Led Zeppelin. I was able to listen to all kinds of music while growing up. Rock was not a stretch for me at all, because I grew up listening to that, and playing it. For a while after she (her sister) moved out of the house, she left her record collection with us. I inherited her room, which meant that I also inherited her music collection. I was able to listen to those records every day. I was certainly lucky in that respect."
Even though familial ties and influences infuse Cindy Blackman's music, it was great bebop jazz drummer Art Blakey who became a mentor to her. "He had such a great and beautiful spirit. When I first came to New York, he befriended me. I would call him papa and he would call me his daughter. I would ask him questions and he would show me stuff, as he did with a lot of drummers. If I was in the audience, he would pull me up to play. There was one time when he was playing at the Village Gate, with Walter Davis Jr. on piano, and Art called me up. She lowers her voice imitating Blakey's instructions to her, 'Start off right here and don't let it go. Keep up that tempo.' He wanted me to play a certain groove, so he showed me the tempo and I kept it there," says Blackman as she goes on to tell me about numerous other occasions when Blakey would take her under his wing and mentor her concerning the nuances of tempo and technique.
"I really loved Art Blakey so much, and I really miss his energy. When he passed away, there was a big whole in the scene. For so many years, all the musicians would flock to New York and audition for a place in his band. He was a calling card and a reason for young players to come to New York. One of the things that he was famous for was creating a forum for young players," says Blackman.
While speaking with Cindy Blackman you become very aware that you are in the presence of someone who has truly mastered her craft. She is to the drum kit, what Eric Clapton is to the guitar, John Coltrane and Charlie Parker were to the saxophone and Stanley Clarke is to the bass. She is an innovator, not content to settle, but to continually raise the bar, and push the envelope. It is that desire for continually creating a new standard of excellence that always allows the truly great artists to rise above the rest.
Blackman compares the different approaches that she takes to music, dependent on the style that she is playing, "The goal for me is to be able to make the music change and grow, and to be able to converse with the other musicians. You want to bring the music alive with the textures and colors that you add (when playing jazz), whereas in a rock situation you have to keep that backbeat happening, keep it dancing, and feeling good the whole time. If I am playing jazz, I want to have that music feeling great, but now I can expand and add other ideas. A common goal for me with all music is that it should feel good. In jazz music, I expand on top of that feeling."
As one would expect, Blackman's technique varies depending on the type of music that she is playing. "For sure it is a totally different headspace. When I am playing with Lenny, it is completely different, because the whole concepts and the goals of the band are different. The way that I hit the drums is different, because (she chuckles) I hit them really hard. Although I hit them hard, I need to be able to get a sound of the kit without choking it. You need to know how to match the physical strength that is (required), with the need to still get a good sound of your instrument. When I am playing in more of a creative situation (referring to jazz), I have more of a love affair with texture, and with a variety of soft and strong playing. All of the subtleties and nuances are used. I play little things here and there, some of which you may pick up, because they are audible, and others are just for the feel."
Blackman compares rock drummers with their jazz counterparts, "Some drummers don't go back and forth. Some drummers, who play rock, don't have the slightest idea of what it takes to be a jazz drummer, and some jazz drummers don't have the slightest idea of what it takes to be a rock drummer. I will say however, that because of the requirements for playing jazz, a jazz drummer who wants to play rock, could probably play rock easier, than a rock drummer who wants to play jazz. When you play jazz drums, you have to have more facility, and there is more required of you. There are a lot of things that you need to know (in terms of time signatures and formations). When you play rock drums you can play it in a three-note style or play it as 2/4, (she imitates the sound of her sticks hitting the drums and cymbals). You will work (as a rock drummer), make a ton of money, and you do not need to know other things, but in jazz there is a lot more required of you as a drummer."
Cindy Blackman has become a master drummer in both the world of jazz and rock music, but if you were to ask her, I bet she would say she still has much to learn, and so many more colors and textures that she wants to explore. For young drummers, she could not be a more perfect role model, as someone who continually strives for excellence, while remaining respectful of her past, and those who have helped her attain the career that she enjoys today. When you talk to her, she doesn't dwell on her accomplishments, but instead remains focused on the music. She is fun and sincere. If you are an aspiring drummer and you are looking for a mentor, look no further, for Cindy Blackman is the only name that you need to know.
Interview by Joe Montague, all rights reserved, protected by copyright © 2007 Return to Our Front Page