The story of German fashion designer Cindy Morawetz who established her own brand drezz2imprezz is both inspiring and amazing. With more and more celebrities wearing her dresses and jumpsuits she can now fondly look back to where even though she did not realize it at the time, it all began, in her teenage years and she can look forward to a bright future. She already has her sights set on making a big splash on the American fashion scene.
Cindy Morawetz started designing her own clothes when she was a teenager, but she very emphatically says "absolutely not," when asked if that was when she first started thinking about a career in the fashion world.
"I never had this idea, because it was only just for me and I never studied this. I only had fun doing things for myself, because everything that you could buy I did not like. If something was not done like I would have liked it, I recreated it.
My family is also very conservative, so they told me I had to study something to get good money, so after school I started to study (to be) a lawyer. It was my family's idea but I only studied for one and one-half years and I noticed this wasn't something that I could be creative doing. Absolutely not. This was the moment when I knew I had to do something creative, but I didn't know what. Studying fashion was not an option, because my family did not have the money to send me to the school and I had no idea that I could ever earn money with this fashion stuff. It was always only for me. Later on it was never planned, it just came.
I started to look at other designers and how they do things and I looked at tutorials. I had a woman working for me and she showed me all of the stuff you have to know as a designer. I never went to a fashion school, but I learned everything by myself. I always knew that I was a leader in things of fashion, because everything that I created for me other people said where did you get it from or can you do it for me? (They would say) that's crazy that's not in fashion right now and then some weeks later it came into fashion. I never had any idea to earn money with fashion and I never planned this.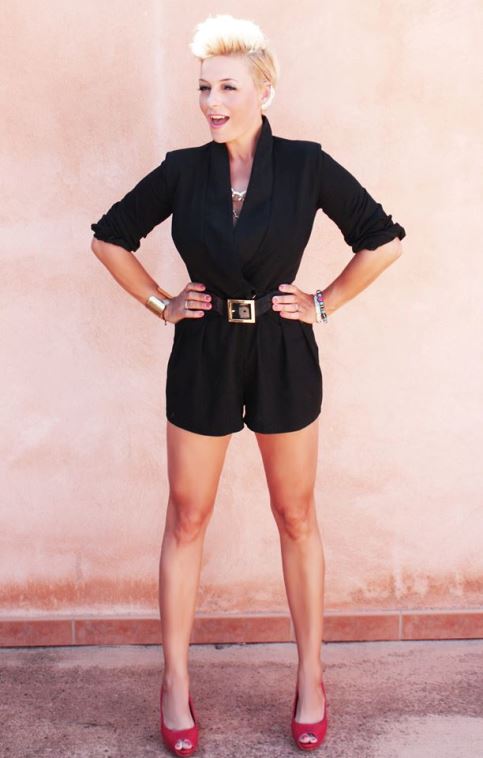 When did I know? It was fifteen years ago when I started to buy prom dresses from the USA (to sell) and I (also) noticed that not everything that I could buy was 100% of what I (would have) liked it to be. I began to sew and to create my own dresses. I always thought I could do it better. The designers did not do it like it was perfect. I still think this when I see dresses from other designers and other brands I think why did he do this length or why did he do those sleeves, because I would do it like this. I always think I can make it more perfect. I don't want to say that I am perfect, but because I am a woman and I think like a woman , I know what kind of problems women have with their figures, so I take care of those problems and want to make them look better. Many of the successful designers are men and they always think if you are a woman that you don't know how to dress a woman perfectly."
Cindy, let's go back to the prom dresses for a bit, because this is such a fascinating part of your life and it really tells us a lot about who you are.
"I started to sell prom dresses, fifteen years ago and that was my first (company). I had some stores. I saw that there weren't any prom dresses in Germany and I always had seen these Hollywood movies from high school and there were prom (scenes), so I wanted to bring some glamour to Germany. I bought from Los Angeles designers those prom dresses and I sold them in Germany. That was going very well. I did it for ten years and then I was asked to do some prom dresses that were recreated from Oscar night dresses from the celebrities.
About eight years ago I started to look at the Oscars and I recreated evening dresses. Then I took the original Oscar dress and I thought what do I have to change to make it wearable for a normal woman or a teenager? I changed the designs and made the Oscar dresses wearable for normal women. I got bored a little bit and then I thought I want to have completely my own designs. I had a lot of friends who were business women and they asked me to do business styles that were classic, but had bright colors and that are a little bit different from the big players and the big designers who always do gray, brown, dark colors. My friends wanted to have something else, so I started to create my own brand five years ago," she recalls.
That is the basics of when I started to do my own designs. I like the old classic Hollywood movies with the classic forties women like Judy Garland, Audrey Hepburn, Marilyn Monroe and I think in this time the women were very sexy without showing too much. The dresses were very straight and classy, up to the knee, they had sleeves and they did not (show) a lot of cleavage. I think this is much more wonderful on a woman.
When I started on my own five years ago I created my own brand for pencil dresses. This was my first inspiration and it is still my inspiration, because I do a lot of business styles. The business styles are always a little bit classier. In Germany it is very classy. You have to follow some rules. The dress is not allowed to be very short, not too much cleavage and if you don't wear a jacket you have to have some sleeves. I try with my business collection to play with the rules. I have a classic dress, but then I take different fabrics or I put some bright colors. After doing this every day and selling dresses every day for women for business I started to create a style that is sometimes the opposite. The dresses are shorter or they are short jumpsuits. When every day you see the classics and you sell the classic styles to women then you want to wear something else. I created sexier, shorter and more modern dresses just for me to wear. Then my customers also started to ask me to do it for them. That is why you see the most classic style and the most hip style. When I went to school and when I was a teenager I always created my own stuff and after I wore these (clothes) many of my friends asked me to do the (same thing) for them too. I would say that I see trends, before they become trends," says Cindy Morawetz.
It took more than Cindy Morawetz's designs to bring her success, she started in the fashion industry without any significant contacts, but she worked hard at it.
"When I started out during the first two years I did a lot of public relations. I took my dresses to all the TV stations and all of the celebrities and it was all that I had done in the first two years. In the beginning it was very expensive, but in the end it was worth it, because (my designs) were always on TV, on the red carpet, in the press and this is how I was recognized at first.
After this the women came to me and they put on the dresses and posted them on social media and they put down my name. I never (spent) money to make an advertisement. I always did it like this and I sent them to celebrities or I do pictures with my customers and they are put on social media. They tell their friends where they got their dresses from. Over the years this is how the brand became well-known in Germany and now in Mallorca and I am trying to bring it all over the world. The rest of the world is my mission, but it takes some time, because when you are a one-woman show you cannot be everywhere in the world. You have to do it step by step.
My friends always ask me, where do you get the energy? I don't know, but that's how I am. I always have to push, push, push and it is a 24 / 7 job. It happens a lot and this is the way it is going to spread all over the world. Even if I don't have the budget that a normal designer has, I think if you are always working on it 24 / 7 then it is possible to dress the world someday. Now I start to get to the U.S.A., because I got to know four years ago a woman who is a director for Hollywood movies and she loves my dresses. She is bringing out a big movie and she wants to wear my dresses on the premiere. This is my little step into the U.S.A. now," (Editor's note: At the time of our interview Cindy Morawetz was not yet allowed to reveal the identity of the director).
Cindy Morawetz's drezz2imprezz does not have seasonal collections and she explains why, "I always have a basic collection of my best selling styles that I discovered over the years and that sell very well. I have those in basic colors and they are in stock. I am not doing seasonal collections, but I do something (new) when I find a new fabric and I have new ideas, then I put out a new design. When I see that women like it then it comes to my basic collection.
I did not want to do the seasonal stuff, because I think it puts so much pressure on the designer to have four collections a year (instead of one). I didn't want that pressure. I have limited designs, because when I buy a fabric it might be fifty meters and when it's done it is out of the collection. I think for me it is the better way."

As for how she came up with the name for her brand drezz2imprezz she says, "My friend and I came up with the brand over a glass of red wine and decided to spell it (using) "z" not "s" and it says everything about it, because put on the dress and go out to impress all of the other ones that see you in the dress. That was the idea."
Cindy Morawetz has a dream and that dream is to see her designs worn in America. When she was a teenager she used to travel with her father to the United States and Canada, because he imported cars to Germany.

"I started to fall in love with Canada and the U.S.A. We went a lot of times to Florida. I cannot exactly tell you what affects me about the American way of life, but I am more American than I am German. Germans are really straight and they do not think out of the box. I am more the American way to first do a thing and then think about it and the Germans are the other way around. That is why America is so interesting for me. I have never been to Los Angeles and Hollywood and that for me is a dream, because most of the time I was inspired by the Hollywood stars and the movies. I have never been there. This is my dream to go there and to find some Hollywood stars to wear my dresses, because when this happens, I am getting rich," as she whispers those last few words you can still hear her dreaming her dreams and who can deny that she deserves for them to come true, because she has worked hard to build her brand.
Cindy Morawetz is one of the most loveable people you are ever going to meet. You come away from conversations with her smiling and inspired. She has a showroom in Mallorca, Spain and her dresses are showing up quite often now in Europe at fashion shows, high profile events and on television. She is also one of Mallorca, Spain's best ambassadors, calling it a magical island and now it is her home.
Please visit the drezz2imprezz website.
You can also visit the official Facebook page for drezz2imprezz here. Return to Our Front Page
All photos are the property of Cindy Morawetz and are protected by copyright © All Rights Are Reserved. All dresses that appear in the phones are designed by Cindy Morawetz. Middle Photo is of Cindy Morawetz . Bottom Photo enlarges when you click on it.
#drezz2imprezz #cindymorawetz #GermanFashion #GermanFashionDesigners #MallorcaFashion #MallorcaFashionDesigner
This interview by Joe Montague published September 6th, 2017 is protected by copyright © and is the property of Riveting Riffs Magazine All Rights Reserved.
This interview may not be reproduced in print or on the internet or through any other means without the written permission of Riveting Riffs Magazine, All Rights Reserved