Continental Drifters - Drifted: In the Beginning & Beyond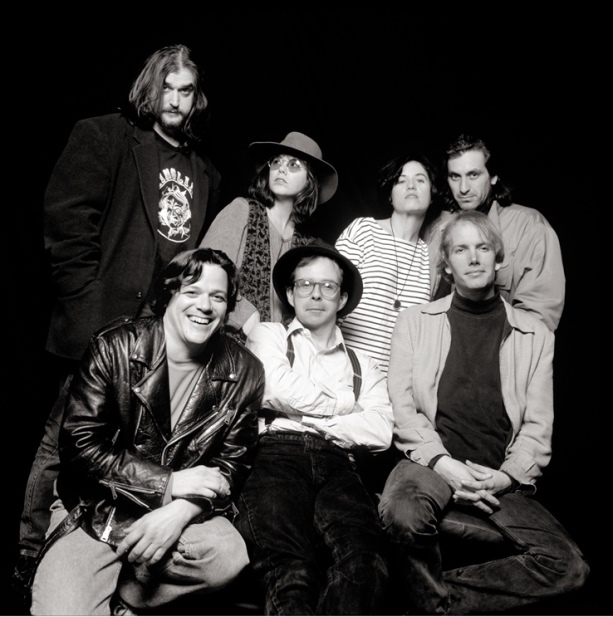 Throughout the 1990s and the first part of the 21st century the Continental Drifters formed as a band in Los Angeles and later relocated to New Orleans, as some of their members returned to their hometown. The media brief from Omnivore Recordings that accompanies the double album set Drifted: In The Beginning & Beyond suggests Continental Drifters "The best Americana supergroup that you've probably never really heard of, although you know several of its individual members." Although Omnivore gives top billing to Vicki Peterson (The Bangles), Susan Cowsill (The Cowsills) and Peter Holsapple, it was our guest at Riveting Riffs Magazine, bassist Mark Walton (Dream Syndicate), Carlo Nuccio, Gary Eaton and Ray Ganucheau who founded the group and first began playing gigs together at Raji's in Hollywood.
Mark Walton remembers, "Carlo and I had a little tiny house in Studio City and we had a couch and a bunch of chairs. Carlo liked to cook gumbo and all kinds of stuff. We would sit around and drink cases of beer, eat, be merry and play music. Everybody would just pickup guitars and sing. It was a jamboree and that is how we did it.
Carlo and I were playing in bands around Los Angeles. I kept hearing Carlo sing songs on the couch and I kept saying, you're so good and he said you should play bass with me and I said ya' that would be fun. We were so busy doing so many other things.
Ray had moved to town and he was working for Microsoft in their sales office for the Los Angeles region. We knew Gary from some other bands. We just started off sitting around living rooms playing songs just to have fun. We liked it so much we thought we would go out and play in one show, just to have some fun and that was it! We liked it so much we decided to keep it going and to have a weekly party. Hey this is fun let's play some more and let's invite some more friends down. It just became Tuesday nights at Raji's and we had a really great time doing it.
We would play a song the night before we played at Raji's and then we would play it live the next day. We didn't arrange it. We just heard the song and we played it. It wasn't one person, this is my song, and here is your part. It was just a very homespun approach to playing."
Mark Walton talks about the evolution of the band, "To me that early band was not just those people. Danny McGough (organ, piano) is a very important part of that piece of time. Eventually, Peter started coming around three months into the Raji's thing and he enjoyed it and he wanted to play. It didn't matter if they were Punk Rock, Alternative or mainstream, everybody was just having a great time wanting to be a part of it. We had a lot of auxiliary musicians who also came in. Everybody who played with us was really part of the band and the whole makeup of it. It was meant to be just us and our friends. I wanted to keep it going like that, but we also wanted a band and we wanted to make a record, so we decided the core membership was Ray, Carlo, Gary, Peter and me originally, even though Susan (Cowsill) and Vicki (Peterson) were singing with us nightly. They (Susan and Vicki) were part of the band from the early time period. Eventually, we looked at it and we said, you (Susan and Vicki) are here every week and you are just as much of this as we are, so we should include you in the official lineup also.
I had all of these recordings from the different sessions and I wanted to put all of those lineups together if I could. I think it all blends and it sounds like the same band."
The first disc of the two album set opens with "Who We Are, Where We Live," written by Vicki Peterson and featuring her on lead vocals. It is a quick moving song that bears influences of middle of the road Rock and Americana. Peterson's vocals are solid, but what also shines through here is the work of the guitarists. Although the liner notes list the musicians and singers and what songs they appears on, it is not clear who is playing guitar on "Who We Are, Where We Live," as five different people play guitar on this album and it is unlikely that all five played on this tune. If there is a criticism of the presentation of the album it would be that with so many people listed as contributing to various tracks in different ways, that it is not always clear who does exactly what on any given song.
"The Mississippi," written by Carlo Nuccio and Ray Ganucheau has a nice Southern Rock feel to it, has a lazy melody and features some good keyboards by Peter Holsapple.
The second song on disc one, "Side Steppin' The Fire," conjures up The Band, as a good comparison. The song written by Carlo Nuccio and featuring him on lead vocals is a very, very good song and it was originally released on the Continental Drifter's album Nineteen Ninety-Three on Blue Nose Records.
The longing on the part of Nuccio and Ganucheau to move from Los Angeles back to New Orleans can be heard, Walton believes on the song "The Mississippi," and he says that is why the song is so strong, because of the deep personal connection.
"They wanted to go home and we didn't want the band to end. We wanted and we felt the need to keep it going. Peter and Susan who were married and were having a daughter didn't want to raise her in Los Angeles and they said, hey let's move to New Orleans too. Peter and Susan wrote the song "Drifters," and it is a very telling story about us moving from LA to Louisiana.
I was tired. I had a studio there and I was driving around in the traffic and just the music that we were getting was so satisfying that I said yep I'm going too. One by one it happened, except for Gary who had a son from a previous marriage and he did not want to leave him behind. He felt it was necessary and important (to stay). We tried to fly him in to do gigs for about another year, but it just didn't work out.
Vicki was doing the same thing flying back and forth, but then she just realized, I love it here (New Orleans) and I am moving too. Eventually she moved. It was just a magical pull and once we got there we started feeling it. I had always heard Carlo talk about New Orleans and the love of it. It has that magical pull. I would still be there if it wasn't for Hurricane Katrina destroying everything that I owned in that storm, but that is a different story," he says.
Due to the damage that Hurricane Katrina caused to his home and studio Walton threw away the tapes of the band, because he assumed what was on them was lost forever. A friend of his convinced him that he couldn't or at least shouldn't do that. These were songs that nobody other than the band members had ever heard.
"I said no these are never going to play. There is no way. He salvaged them and kept them for years and then five years ago he gave them back to me. I forgot about them until the album and people said would you like to do this? I said there is nothing. It is all destroyed. All of a sudden a lightbulb went off in my head and I thought about those tapes. I had to find a DAT player, which was impossible for months and months. I finally found one and they played. I began transferring them one by one and tried to figure out what would make a cool package.
It is a good story and it is a hard story for me to tell. It is an emotional thing. I was still in my salvage mode from Katrina, breaking into my house, all of my instruments and everything was destroyed. The (recordings) were up on a high, high shelf. I had a ranch style house with eight foot ceilings. I didn't think that anything could survive. I didn't think they would ever play. It was magical to me and I was crying. I was listening and saying listen to that, it is beautiful.
It took me a long time, but it was a labor of love to salvage that part of my life and the Continental Drifters.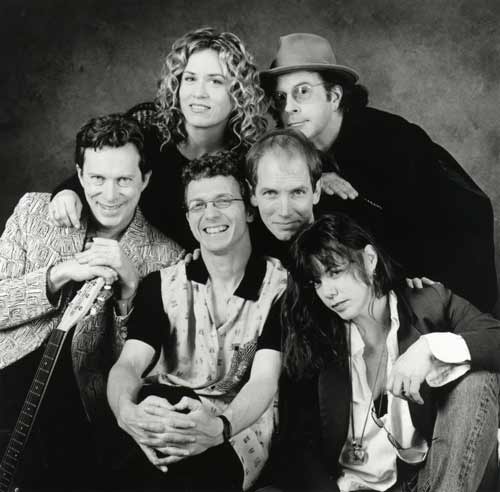 Until the album was released nobody else knew what was going to happen except that I was producing it. They didn't get a copy until two days before the release date. It is an interesting collection of songs. It is my way of trying to put something in the past and to bring closure and salvaging my life in a way and a storied career," he says.
The second disc of the two CD set includes some great covers including a fabulous recording of "Tighter, Tighter," originally recorded by Alive N Kickin' and written by Tommy James and Bob King. The song released in 1970 charted at # 7 on the Billboard Hot 100 and we think if the Continental Drifters version had been released as a single it would have surpassed the accomplishments of Alive N Kickin', it is that much better. The vocals kick ass, the instrumentals are tighter (excuse the pun) and overall it is just a better rendition.
Richard Thompson's "You're Gonna' Need Somebody," is also covered and although Thompson was British the song is covered in such a way by Continental Drifters that Peter Holsapple's accordion lends a bit of a Zydeco flavor to the song. The lead vocals are reminiscent of the Traveling Wilburys with Cowsill's and Peterson's lighter, poppier background vocals juxtaposed.
The Continental Drifters' music appealed to fans in North America, but also in Europe. Mark Walton attributes that in part to their desire to be true to the band members' creative instincts rather than being content to cater to musical trends or conform to a record label's demands, which is why they remained as independent artists for so long.
"The cool stuff is never what we were looking at. We weren't trying to be something. We weren't trying to fall into some niche that people could relate to. This was a warm fuzzy place that we wanted to be in and where we wanted to feel comfortable. Susan always talked about how we were misfit toys from that Christmas animated feature (Rudolph the Red Nosed Reindeer). We were like the misfit toys and we all felt we could hang out, feel comfortable and be ourselves. I think that is a very good way of putting it," says Walton.
The two album set Drifted: In The Beginning by the Continental Drifters is sometimes very polished and studio refined and at other times it is very organic with live peformances of songs such as the Lowman Pauling / Ralph Bass song "Dedicated To The One I Love," originally released by The "5" Royales, The Shirelles and most commonly associated with The Mamas & the Papas. Some of the other live recordings include a cover of Lucinda Williams' "Crescent City," which pays homage to New Orleans and the beautiful "At The End of the Day," (written by Sandy Denny).
The liner notes are rich with commentary from most of the band members and a ton of photos. Vicki Peterson talks about Continental Drifters being a refuge for her after the disbanding of The Bangles and the death of her fiancé and Susan Cowsill humorously explains how they found out they were now considered part of the band, "Did we miss a memo?" Is this an important musical release? The answer is simple and unquivocally yes. The songs are well written, the artists are good and with thirty-three songs comprising this double album it is a steal. Fifteen of the songs have not been previoulsy released (editor's note: some are covers, so they have been released by other artists).
Photos by Greg Allen, protected by copyright © All rights reserved. Top Photo: L - R back row - Carlo Nucci, Susan Cowsill, Vicki Peterson, Gary Eaton. Front Row L - R - Gary Ganucheau, Peter Holsapple, Mark Walton.
You can listen to a sample of the Continental Drifters music on the youtube promo. Return to our Front Page
This interview / review by Joe Montague published September 13th, 2015 is protected by copyright and is the property of Riveting Riffs Magazine © All Rights Reserved. Photos and cover art courtesy of Greg Allen and Omnivore Recordings protected
by copyright ©, All Rights Reserved
This review may not be reproduced in print or on the internet or through any other means without the written permission of Riveting Riffs Magazine, All Rights Reserved