D. Henry Fenton Says it is "Time For Moving On"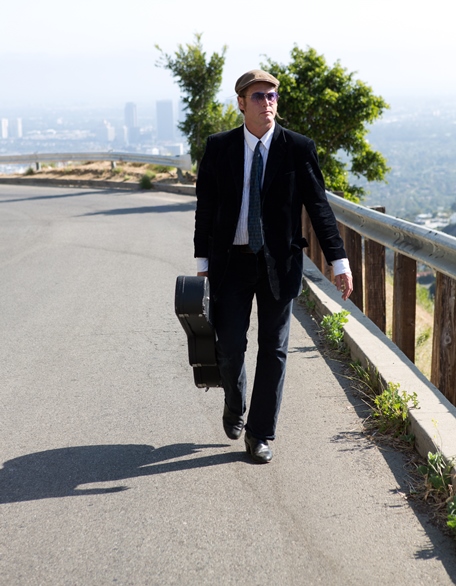 D. Henry Fenton an Australian singer-songwriter from Sydney, who has been living in the United States for several years, chose an appropriate title for his current album Turnin', because the listener will be continually turnin' back the dial so to speak to listen to his songs over and over again. The affable New Zealander whose family moved to Australia when he was two years old possesses deliciously smooth vocals and his songs have melodies that remind one of a gently flowing stream, never hurried, never meandering, but always with a peaceful vibe.
New Zealand singer-songwriter Jackie Bristow who has been touring America regularly in recent years and now makes Austin, Texas her home says of D. Henry Fenton's music, "D. Henry Fenton has hooky charismatic songs with beautiful melodies that soothe your soul. Henry is a real talent and his soulful voice speaks from the heart."
Fenton's original songs such as "Sweet Virgina," which opens with strong, but not thundering guitar rifffs and his trademark vocals that never seem strained, never seem blemished invite the listener to sing along on the chorus "I miss you sweetheart mine / I'll make it back this time / Just to tell you that I love you." The musicians and vocalists, with Fenton leading the way on guitar, Luke Herbert on drums, Kristian Attard (bass), Jeff Young's organ, Stuart Mathis (Lead guitar / pedal steel), Kelsey Collins (percussion and background vocals), Andy Clockwise (background vocals) and Jorgen Carlsson (percussion) are very, very good. These are solid players and singers.
The success of "Sweet Virginia," has served as something of a wakeup call for D. Henry Fenton, including the recent video shoot in Nichols Canyon in L.A.
"I thought we need to do a clip. We have done a few Youtube things, but the Youtube content for my act is not what it should be, relevant to the level that (my music) is at. I am trying to rectify that a little and I am trying to get some nice videos up of the band. We are going to do some live things, film clip types of things of the songs from the album. Now that I am getting airplay we need to do it quickly. I have a friend Abbie Rose, who is a director and she wanted to help out, so she is putting together a film for us for "Sweet Virginia," says Fenton.
"Time For Moving On," is a song written from personal experience and about a relationship that is coming to an end "I had my share of mourning for sad days that made this song / But if tomorrow baby is all we have / Then tomorrow darlin' don't be sad / It's time for moving on / Time for moving on"
D. Henry Fenton says, "That song "Time For Moving On," is actually from my time living in Melbourne. I was dating a girl and I was making plans to head back to America, then I thought it is time for moving on. I thought that is a cool idea, so I wrote about my time in Melbourne and then I mentioned parts of my travels when I was in the Carolinas. I flew from Sydney to New York and then caught a Greyhound bus from New York to Winston (North Carolina). It was two days of traveling and that's (he chuckles) what made me (write the song)."
When asked what type of a songwriter he is, Fenton replies, "I think I used to (write) more from my personal experience, but I got bored with that kind of approach, because I hate repeating myself. What I am writing now is more a stream of consciousness. I always like writing a song about the girl that you can never have and I have written a few of those.
I remember reading something back home about Paul Kelly who is a very successful songwriter from Australia and he gets his ideas from conversations. He will sit there and listen to everybody talking. He will write stuff down on a little notepad. I will write things down in a little notebook or I will text some of the ideas to myself. I have a little Walkman at home and I will meander off for a while and I will just let it record. I have tapes at home and sometimes I will go through them weeks later. I will go oh, I don't remember that, it is kind of cool and it is working out."
D. Henry Fenton's friend Jesse Bellamy, a prolific songwriter in his own right, describes Fenton's music as, "poetic introspection, but still melodically Poppish, in the best sense of the word and all in his own unique voice. It is something that a lot of singer-songwriters strive for and never attain. Henry seems to do so effortlessly."
Bass player Jorgen Carlsson, who plays with Gov't Mule introduced Fenton to producer and sound engineer Steve Holroyd who has worked in the studio with more high level artists than we have time to list in this space, but a small sampling includes, Mick Jagger, AC/DC, Counting Crows, Linda Ronstadt, Elvis Costello, Joe Satriani, Elton John, Stanley Clarke and Green Day. Carlsson co-produced the fourth and sixth tracks "Anne," and "Black Is The Color."
"Steve was interested and they wanted to help me out. I had recorded some of the music before I met them, mainly just drums and I took that to their studio (Rogers Boat Studio owned by Carlsson and Holroyd and located in Van Nuys) and we recorded some more tracks. I wasn't happy with it, so we erased the whole lot and we started again. I think we came up with something a lot better," he says, noting that this album has been evolving since 2007.
Like most budding musicians, D. Henry Fenton got his start as a child…wait for it, while watching cartoons.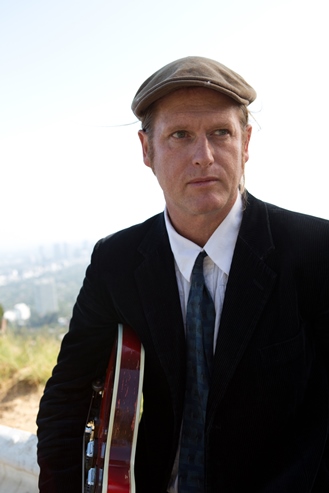 "I remember standing in front of the television watching cartoons with a little tin guitar just strumming it. When I was nine years old a guy came to our school and he was teaching guitar. I enjoyed music and I wanted to learn the guitar (so he did). Eventually, I taught myself how to play songs. The first song I ever sang (pondering the question posed to him)…oh…what would be the first song I ever sang? Maybe it was something by The Everly Brothers. I used to like that song "Dream," by the Everly Brothers when I was little. I learned how to play that. I used to love their harmonies and the song "Cathy's Clown," and when I was ten or eleven I remember playing "Cathy's Clown."

Then I put (music) on hold, because I was an athlete. I was a swimmer and I got into competitive swimming. I gave up swimming when I was sixteen or something and I got back into music.

My first live gig was when I was eighteen. It was with some friends in a band called the Breeding Leads and we performed in Sydney at a church hall. There were a whole lot of bands and we were doing a benefit for something. It wasn't a church thing, but they used the church hall. It was a four-piece band with a friend of mine that I met at college and a couple of his friends. We used to practice all of the time and I used to work on three-part harmonies. That is when I really got into singing and working stuff out.

I just kept playing and one of my best friends from high school, Bentley Rumble who never played music, but he was a very good lyricist and I formed a band called Holly Golightly and I did not realize there was a girl (singer) called Holly Golightly (from the U.K.). We recorded an EP called Holly Would on Siren Records and then we became Holly and we released the single "Tiny Pieces," on Village Roadshow / Warner Music, which got a bunch of commercial airplay.

The next single was a little slower and the label guys siad do you think we should do something a little faster and I was no, let's put it out, but in hindsight I should have (waited). It was a really nice song, but it was a little slow. I was younger and I was gung ho, but I didn't realize the opportunity that I had.

After the singles I broke up the band and I moved to North Carolina (where his daughter lives) and I got signed by Outlaw Records at SXSW. They paid for me to record my first solo album called Autumn Sweet with Mitch Easter (R.E.M.) and it received some good press and airplay in Australia," he says.

Of all the songs on the album Turnin' Riveting Riffs Magazine believes that "Holy Water," will become D. Henry Fenton's calling card. The arrangement is beautiful, the instrumentals equal to the task and the background vocals courtesy of Kelsey Collins, Rosa Pullman, Mason Reed and Fenton also recording background vocals in addition to the lead creates a Gospel feel to a song that other artists will be asking for permission to cover (in our opinion).

The original kernel of inspiration came from a trip D. Henry Fenton took to New York City, reflecting upon 9 / 11 and he says, "I was thinking of my own life and I am a God fearing man. Then I just meandered off. I kept writing the lyrics. I wanted to write a Gospel song. It is very different from a lot of the music that I do. Kara Grainger (singer-songwriter) said she wanted to cover this song a little while ago and she plays a great slide guitar on "Holy Water," he says.

D. Henry Fenton is one of those singer-songwriters who put the word "art" back in artist. He is another one of the superb singers and songwriters (Kara Grainger, Katie Cole, Jackie Bristow) who in recent years have found their way from New Zealand and Australia to the United States and who are putting their imprint on the American music scene.

Please visit the D. Henry Fenton website.

Please return to the Riveting Riffs Magazine Front Page.

Interview by Joe Montague, Photos courtesy of D. Henry Fenton protected by copyright

© All Rights Reserved

This interview is protected by copyright © and may not be reproduced in print or on the internet or through any other means without the written permission of Riveting Riffs Magazine, All Rights Reserved