Debbie Davies Teams Up with Benoit, Musselwhite and Montoya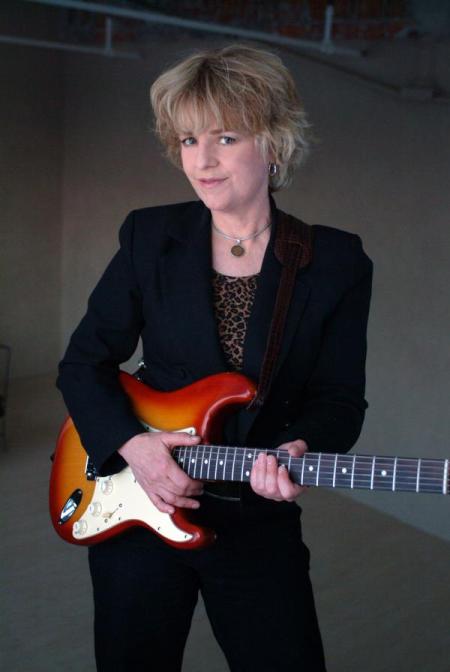 "I love what I got to do, when I did Blues Blast (her current CD). It was really fun for me, playing with other people and making music with folks," said the sensational blues guitarist and singer Debbie Davies, as she spoke to me earlier this fall, from Omaha, Nebraska, where she was preparing for a concert later in the week.
Davies who cut her teeth in blues music, while playing with such legendary artists as Albert Collins, as well as Maggie and John Mayall, has reached a sweet spot in her life, where she seems very grateful for the people who have helped her to develop as an artist, she is happy about her life, and fans of blues music have embraced her as one of the finest electric guitarists to stroll down blues avenue. She is always in demand in Europe, and at home in America, people are always eager to applaud her scintillating guitar riffs.
Davies' friend and former Female Blues Artist of the Year, Janiva Magness, a prolific performer in her own right, had this to say about Davies, when I contacted her, "Hands down, Debbie Davies is one of the best living blues guitar players. She brings a wealth of knowledge and deep experience to her playing, which goes largely unmatched in today's market. She is simply great!"
Blues Blast a CD which received high marks in this publication reunited Davies with her old friend, guitarist Coco Montoya, as well as, outstanding blues artist Tab Benoit, Charlie Musselwhite (harmonica / vocals), drummer Per Hanson, Rod Carey (bass) and Bruce Katz on the B3 organ. The star-studded cast of musicians did not disappoint us, and created a fabulous recording, particularly on the ten-minute musical odyssey, "Sonoma Sunset."
Returning to our conversation about Blues Blast, Davies says, "What we wanted to do was imply that it was like a blues party in the studio, so everything is very live. If we didn't like what (we recorded), we went back in and cut another solo over (those) sections. That is why the writing is credited to everybody, because we wrote it (the music) right there in the studio."
With our conversation focusing momentarily on the song "Sonoma Sunset," Davies describes the other three headliners who made this song happen, Montoya, Benoit and Musselwhite, " Tab is one of the most low down, greasy players that you are ever going to meet (for the blues neophyte that is a huge compliment). It is just so real, what comes out, and he never wants to overdub anything. Anything that is lowdown and slow like that, he is just going to grab. He will shine in it."
"Coco (in "Sonoma Sunset") started really gently and slowly, building up to an intense lick. It was so fast, that everybody's head was back, and their eyes were blinking. It was, 'What was that?' I call it a swirl. There is so much joy in playing with these musicians."
Turning her attention to Musselwhite, Davies says, "I felt that everything that Charlie Musselwhite did on the CD was deep and soulful. You are talking about a guy who came in, played through a rented amp, and had his tone right away. That is the sign of an old pro. The tone is in him. It is coming from him, and is not dependent upon his gear. He put it through a twin reverb, which is what he requested. It is just like chills, when I hear what he does."
The song "Sonoma Sunset," takes its name from Sonoma County in Southern California, a place where both Musselwhite and Davies lived for a number of years.
"Movin' & Groovin'," is a swing tune that was influenced in part because of Davies' roots in Southern California, where she says there has always been an ebb and flow of musicians between the west coast state and Texas. She acknowledges that like many blues players from Southern California, the swinging style of blues sometimes infuses her own music.
"I toured with Albert (Collins) for three years, and he was from Texas. Austin and (in particular) Houston, where Albert was from, were big blues scenes at the time. The Texas players have really been one of the biggest influences as far as my playing goes," says Davies, who toured with Collins from 1988-91.
"Thinking about the rhythm section (for "Movin' & Groovin'"), we had Rod Carey and Per Hanson, who is known as the shuffle king. To grab onto any kind of a shuffle with those two guys, is an opportunity that I didn't want to let go of," she says.
In talking to Debbie Davies, it becomes obvious that she learned just as much from Albert Collins, the man, as she learned from the mentoring she received as a musician. "(I learned) mostly how much grace the man had under fire, when he was under pressure and under a lot of duress. Albert was just so amazing. I just really absorbed a lot, seeing how kind he was to people, how he functioned, and put his best foot forward on stage no matter what he had been through all day. People (who attend the shows and promoters) don't know how little sleep he might have had, or that maybe he had a flat tire, but the show had to go on. That is mostly what I learned from Albert," says Davies, before adding, "He was treated really rotten at many times during his life, but seeing him come out with the artistry and sensitivity that he had, it made an everlasting impression on me."
As one might expect, those three years were also spent absorbing a lot about blues music. Davies recalls, "Most of the guys in the band were twenty years my senior, and they were the real deal. It was like walking through a door, and into their world. I got to hear all of their stories and how they moved through the world--how they handled things. Musically, it was the most powerful band that I ever played with. It was quite a trip when I stepped into that situation. It was a dream that came true. I wanted to have the opportunity to tour with one of my blues guitar idols. We all fantasize about that, but I really got to do it and I am grateful. I never, ever take that for granted."
Davies is also grateful for the time she spent touring with Maggie Mayall & the Cadillacs, an all female blues band that was formed in 1986. In addition to their own tours, the band also opened for John Mayall & the Bluesbreakers. Davies who had just moved from Northern California back to Los Angeles, because in her words, "I wanted to see if I could swim in the big pond again," found that it was an exciting time to be a blues artist in the City of Angels.
"There were a lot of blues bands in Los Angeles at the time, Bonnie Raitt with her band, Albert Collins, John Mayall, and up and coming (artists) like James Harmon and William Clark. It was just blues city, and maybe people don't think that about Los Angeles, but at that time it really was," says Davies.
As exciting a time as it was to be in Los Angeles and a blues guitarist, it was not without its challenges as Davies relates, "I was broke and living on a floor in my sister's apartment. I was going out to jams every night and practicing during the day. There were some really awesome blues jams that were sort of celebrity jams, where in other words, all of the players who weren't out on the road with Etta James, or Albert Collins, would come to these jams. I met all kinds of players. I sat in with everybody, and that is how I heard that Maggie Mayall was putting together an all female blues band."
It was during the joint tours between Maggie and John Mayall's bands that Davies first met and became friends with Coco Montoya who was playing with John. After awhile they would team up and do some side gigs of their own.
The list of musicians who at one time or another played in the legendary British blues man John Mayall's Bluesbreakers, includes, Eric Clapton, Walter Trout, Jack Bruce, Mick Fleetwood, John McVie (who also played with Fleetwood Mac), and Peter Green. That is barely scratching the surface of the artists that Mayall influenced or mentored.
Davies says, "I felt like he was trying to add me to that list (of musicians) and mentor me. When the Blues Breakers would do their finale, he would bring me up on stage with them every night. I felt like he was really making a statement and boosting my confidence by saying that I was one of the players. He also had a great collection of music, and he made me cassettes of live shows that nobody else had, such as shows of Freddy King. It was a great time and a great opportunity."
Two decades later Debbie Davies has indeed hit that sweet spot in her career. She says, "I feel like my guitar and I have become one. I don't think anymore when I play; it is just about whatever comes out. That is what I like the best about what I am doing. I feel more connected, and more deeply into what I am doing, which is hopefully what happens in the blues. That is what blues is. It is not pop music, where you just jump up and say, 'Here's my song (at which point she imitates a guitar riff), and here's my chops.' When you are young, you are thinking all about your chops. You are trying to learn as much as you can. All players have done that. It is a really relaxed feeling to be past that stage, and just trying to connect with the people each night. You are not worrying about yourself, and you are just trying to put it out there."
Photo by Shonna Valeska, protected by copyright ©, all Rights Reserved, Interviewed by Joe Montague in 2007 Return to Our Front Page
This review is protected by copyright © and may not be reproduced in print or on the internet or through any other means without the written permission of Riveting Riffs Magazine, All Rights Reserved