Interview by Joe Montague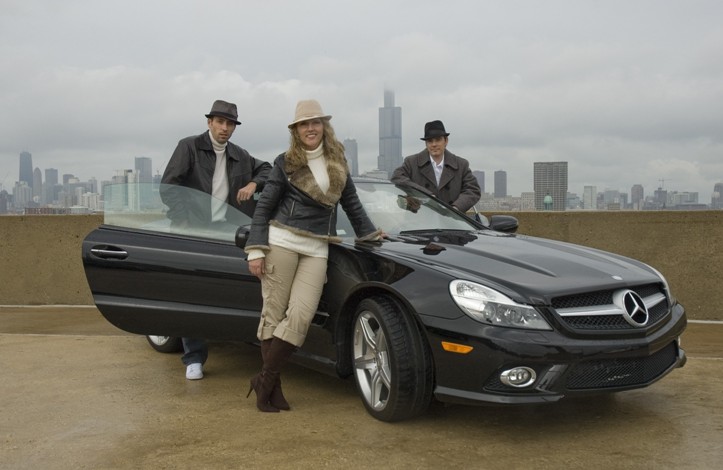 "Sweet Dreams," sounds like an excellent cover tune for a musical duo, recently turned trio, named DéNaté, who produce sweet instrumental tracks, overlaid with seductive vocals, boast a ton of talent and are signed to nuGroove Records, a label headed by legendary music guru David Chackler. Their ability to not only bend genres, but to explode the myths that artists cannot receive airplay in multiple radio formats at the same time, has DéNaté riding the big wave, that is their new CD Reminisce. Already receiving rave reviews from smooth jazz radio stations, DéNaté is in the midst of releasing a funkier mix of their album to AC and Hot AC stations throughout America. The original duo consisted of musical genius Nate Harasim and veteran dance music / urban artist, and producer Deborah Connors. Recently they were joined for a concert in Reno Nevada, by sax man Darren Rahn who has produced and performed with the likes of Jeff Lorber, Wayman Tisdale, Dave Koz, Brian Culbertson and a host of other high profile artists.
"DéNaté has the same musical magic that I heard early on from Stevie Nicks and Lindsay Buckingham. The type of lightening that happened with Stevie and Lindsay happens maybe once in a lifetime," says Chackler, who along with Keith Olsen is credited with bringing Nicks and Buckingham together with Fleetwood Mac.
Connors says of the decision to record the Eurythmics' chartbusting song, "Sweet Dreams," "If you are going to redo a classic song, it is incredibly important to make it your own, without taking away from the originality and the classic quality of the song as it was. Both of us (Harasim and her) have such great respect for the songs that we covered and there is a lot of inspiration, but you want to make it your own. I didn't listen to (the original) too much, just enough to make sure that I had things correct. I just let it happen.
The smooth jazz mix for, "Sweet Dreams," has been well received. "We have been incredibly happy with the response so far. Broadcast Architecture chose it as their feedback track of the week and it was played with their smooth jazz top twenty. "Sweet Dreams," was played on all the Clear Channel smooth jazz stations across the country," says Connors as she also notes that numerous reporting dot com smooth jazz stations have put the song into rotation.
However, DéNaté was not simply shooting for the smooth jazz market when they created the CD Reminisce, "We have a different mix that is more AC oriented and that will be going out shortly. We really want to cross formats to urban, AC and Hot AC, as much as we can. When we wrote the album, we had that in mind. It's not that we don't love the smooth jazz format, but it is a little tight and small. I think that we have more to offer. We want to be able to cross many formats and to touch as many people as we can with our music. I don't think that there is anything more important to an artist than touching as many people as you can with your music," Connors notes.
Whether you are a man or a woman, you are probably going to want to have a cold shower running, or your lover nearby when you hear DéNaté's rendition of Quincy Jones', "The Secret Garden." As if the original was not already steamy enough, with Barry White, James Ingram, Debarge and Al B. Sure lending their rich male vocals to a seductive love poem addressed to a special lover, DéNaté upped the stakes by making this song a duet between Connors and Maurice Mahon.
Connors talks about the decision to record "The Secret Garden," as a male-female duet. "The original was done with all male vocals, and it was a one sided conversation, of a man wanting to experience a woman's secret garden. When I first heard it (after Harasim brought it to her), there was a big question in my mind as to how I could express this song. The first thing that came to my mind is how this song could be shared between a male and a female, and that is how I came up with the idea of a duet. Whereas before it was fully expressed as a fully male point of view, we turned that around and expressed it as something that a man and a woman could experience together. We turned it into a duet, so that two people could share the moment together.
Maurice Mahon was chosen for the part of the male vocalist on, "The Secret Garden," because of his ability to project passion and emotion. "There is enough contrast between the two of our voices. He's got a soft-spoken part and he adds this really incredible, strong male presence with his voice," says Connors.
In preparing to record, "The Secret Garden," Connors says, "The first thing was to figure out how to arrange it. I took the vocals and really listened, then, I thought about where we (she and Mahon) would trade off. How could we take this from a one sided conversation to speaking to each other? I made preparations for the lines each of us would sing. The second part was to take the lines that Maurice had recorded, and I worked on the vocal arrangement. Once we were satisfied with that, then I could speak back to him."
Whereas, Harasim, Connors and Mahon were in the studio together while recording, "The Secret Garden," the majority of Reminisce came together virtually. Nate Harasim lives in Detroit, Deborah Connors lives in Chicago and Darren Rahn lives in Denver.
"I know it is bizarre. Just to give you some background, Nate Harasim had an album out on nuGroove, and he was working on releasing a single, for his album. He gave that to the president of nuGroove and David (Chackler) loved the song, which had a male vocal on it. David said, 'I really love it, but I am feeling this sultry female vocal behind it. Why don't you send it to Deborah Connors who I have been working with? Let her do her thing, and see how you like it.' That is how Nate and I met. I recorded my vocals on it, sent it to Nate and he loved it."
"It was a wonderful combination for Nate and me to work on this album together, because we just fed off of each other. He would send me a track and I would feed off of that as far as writing the lyrics or melodies. When I did receive the tracks from him, the ideas started flowing, it was a beautiful situation. It came very easily, which was nice," she says.
On the other hand, Connors admits, "It was very weird, because we actually had seventy percent of the album done, before we ever met in person. I have worked with other people my whole life, but they have always been in the same room, or it has been with band members, with others in a studio, or during production. This was completely different for both of us."
The remaining eight tracks on Reminisce are original tunes authored by Connors and Harasim, including the beautiful, "Miss'n You." Connors says, "There are so many different avenues of life that this kind of emotion (as expressed in the song) can come from. It can come from losing a loved one, whether it is a wife or boyfriend. It really could stem from any kind of loss of loss of someone that you love. When I was writing the lyrics for it, I wanted to leave it open enough so that anyone who has experienced this type of loss could relate to the lyrics, whether it is a lover, a best friend or a family member."
Sitting down with one third of a superb trio such as DéNaté is a little like telling someone that Renoir, Picasso and Degas are all in the same room, but you can only talk to one of them, how do you choose, well fortunately we were not forced to make that tough call, because Deborah Connors was the one who was available, and we count ourselves fortunate to have had the opportunity to sit down with the chanteuse of DéNaté, before they become so busy, that the thought of securing an exclusive interview is nothing more than wishful thinking.
Judging from the comments made by KJZS FM's Amy Mattingly, following a recent DéNaté gig that the radio station sponsored in Reno, Nevada, it sounds like the group is well on its way, "DéNaté wowed the crowd in Reno. Nearly everyone was on their feet dancing, and when the show was over they were asking for more."
Interview by Joe Montague, all rights reserved, protected by copyright © 2008 Return to Our Front Page