Interview by Joe Montague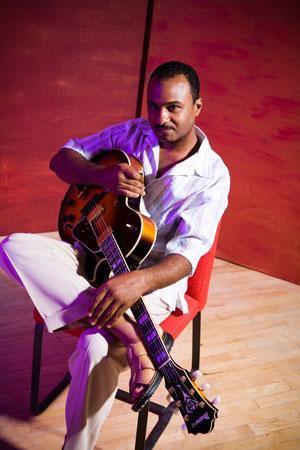 NuGroove Records keeps adding excellent smooth jazz artists to their label and they appear to have another future chartbuster in guitarist Dee Brown. His single, "El Spanyo," has suggestions of Norman Brown and his upbeat, brightly colored, "Reunited," contains hints of artists such as Nils. Both songs are from Brown's current CD, No Time To Waste, and "El Spanyo," is quickly building an audience on the airwaves.
In support of the single, "El Spanyo," Dee Brown recently performed before a sold out venue in Detroit with sexy sax man Paul Taylor and pianist / vocalist Gail Jhonson. He also opened for Pamela Williams, a powerhouse saxophonist who has performed with Patti Labelle and Teena Marie, and who is promoting her current album, The Look Of Love, a tribute album to the music of Dionne Warwick and Burt Bacharach. The video of Brown, Jhonson and Williams performing together on Williams' jam song, "In The Cut," can be seen, on Brown's myspace site and his website.
Brown explains how, "El Spanyo," was given birth, "Gerald Mitchell (his producer) had some chords going on, and he said, 'Dee try to make something with this.' Usually I play my archtop electric guitar, but I wasn't getting out of it what I needed, so I started playing the melody on a steel string guitar. Usually, when you are creating a melody, and a song with a lead on it, you don't play a song in that way, but I wanted something a little different, and with a little bit of Spanish on it. Once I came up with the melody, Gerald came up and with more chord changes. On the track, we did a combination of drum machine and real drummer. Gerald is from the techno side of music, and with techno music, it is more about the textures of sound, which are put on top of more sounds. They use a lot of electronic sounds and drum machines.
One of the reasons that I brought Gerald into the project, is you will hear sounds that you never have really heard in jazz music. For instance on the song, "Blue Street," when there isn't any music playing, you hear something else going on in the background. That is the techno side that I wanted him to bring to it. Just like the songs, "Wings Of Love," and "Together As One," you hear a lot of sounds going on and I am playing the guitar over it. Gerald brought that aspect to the CD. We had the drum machine thing going on, then the bass line and the keyboard. I also decided to put a live drummer on "Blue Street," and added another person playing the tambourine. That's what created the groove.
Unlike most songs which are inspired long before the artist is in the recording studio, Brown's title track, "No Time To Waste," originated during the production of this album. Brown recalls, "The reason that I gave the song this name is, it was typical of what was happening while we were recording. My producer Gerald Mitchell does house and techno music, so at the time that we were recording, he was traveling on a world tour in Japan and Europe. He would come home for three or four days, before he would go out again. He was such an energetic guy that he would phone and say, 'Okay Dee Brown, I am getting off the plane and we can go into the studio.' He kept saying that and I thought that would be a good title, "No Time To Waste." As I kept rolling the idea through my mind, I came up with the lyrics."
While preparing to record the album No Time To Waste, Brown reflected upon the musical tastes of smooth jazz listeners, "The smooth jazz listener is probably from twenty-five years old and up, and that person usually listens to R&B music from twenty years ago. The way that I tried to make my music was so that it appeared as though I was singing through my instrument. I was trying to create a melody that could be sung by a singer, and then I would put the background in, because it was a big part of the music twenty years ago with groups such as The Commodores and Earth, Wind & Fire. I tried to put the CD together for that listener. He or she doesn't want to listen to today's R&B, which is more like hip-hop, because it is creating the wrong kind of texture, words and meaning for him or her. These people (the listeners) are more into love songs and romance."
Brown has some more thoughts on why people are attracted to the music on No Time To Waste, "I think the whole thing is, instead of me saying I am this great musician, it is about the song. What can I do with the songs to make them more pleasing to the listeners? That is the approach that I took with No Time To Waste, before I added the vocals, sax and guitar to the songs. None of the music is overbearing. It gives you the appearance that everything is working together and that is how I wanted it to be."
Several of the songs from No Time To Waste feature performances by awe-inspiring vocalists, one of whom is Audra Bryant, who appears on, "Sunday Jazz." Bryant, who refers to herself as a soul / R&B, neo-soul artist and who hails from Inglewood, California, possesses spectacular, emotive vocals that reach out and warmly embrace the listener. As he does throughout this album, Dezi McCullers once again creates a dreamy, lounge feel to his horn arrangements and doubles as the tenor saxophonist.
Producer Mitchell and Brown already had their melody for the song "Sunday Jazz," but were looking for something else to add to the tune. Mitchell suggested that they needed a female vocalist to sing on, "Sunday Jazz." While Mitchell was at the Submerge Records' recording studio in Detroit, Audra Bryant came in, sang, and impressed him. He got on the phone and told Brown that he had the perfect person to sing, "Sunday Jazz." The problem was they needed lyrics and they assigned that task to Bryant, while letting her know the type of feel they were looking for.
Brown says, "I was thinking that Audra would need time to write the song, because all that we gave her was the title. The next day she came back with all of the words and she did all of the vocals. She was incredible."
Bryant also contributes background vocals to the # 12 track, "Call Me Up."
Outstanding vocal performances are also served up by Reginald B. Williams Jr. and Asha Williams, on the song, "Before I Began."
Brown is already working on his next, yet to be named CD. "On this new project, I am trying to do a standard jazz song. I don't know how well it will be received, because people who like old jazz tend to buy the people who originally did it. They don't care who else did it, if Miles David did it, they want Miles."
For those who are already enjoying the funkier side of Dee Brown's music, never fear, because he is pretty excited about the song, "Truth Seeker," which is slotted as one of the tracks for the new album.
Referring to, "Truth Seeker," Brown says, "It is a song that I truly got a good vibe on. It was written by my good friend and bass player Dave Henderson (who also appears on No Time To Waste) and it is produced by Gerald Mitchell. "Truth Seeker," has a funky, rock vibe that is infectious. When you hear it, your head starts to bop, and your toe starts to tap and you are in that groove."
The song, "Truth Seeker," will also feature some high-octane performances as the saxophone and guitar court one another. Brown says the song stimulates plenty of good feelings.
This fall NuGroove Records will be releasing a compilation Christmas album and Dee Brown has contributed the traditional song, "Hark The Herald Angels Sing."
Interview by Joe Montague, all rights reserved, protected by copyright © 2008 Return to Our Front Page