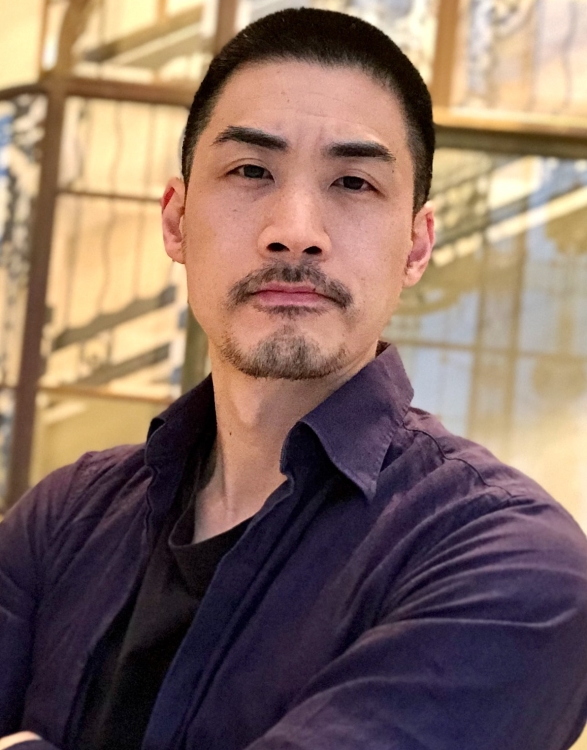 Derek Siow is one of those people you could sit and talk to for hours on end, both because he is so affable and he is an immensely talented actor, screenwriter and voice actor, who has worked in film, theater and the burgeoning video game market. The Australian thespian who now makes his home in London, England, was cast in the role of "Ah How," for the audio book The Sandman: Act II, which featured a stunning cast that included, James McAvoy, Emma Corrin, Brian Cox, Kat Dennings, John Lithgow and Bill Nighy. He also has two films in postproduction that he is not yet at liberty to talk about.
Before we get into Derek Siow's acting let's spend a moment or two talking about his other passion, screenwriting.
"I write sci-fi, drama and comedy and I write mainly because I just crave that creative outlet. In my younger days I wrote a lot of songs (oh right we forgot to mention his music, but we will!) but my writing is more focused on screenplays now. I was really fortunate last year when one of my comedy scripts placed as a semi-finalist one of the screenwriting competitions so I'm always looking at the various options on where to take my projects," he says.
Derek Siow's acting career got a big push in 2013 when he played the character Lee in the feature film Piercing Brightness.
"This was a very thought-provoking film. It was more a piece of art than anything else and it was screened at various film festivals, as well as the Museum of Modern Art (New York) and the Institute of Contemporary Arts (London). My character Lee was a Chinese immigrant that meets this local British woman and her mother who is an alien seeker. It explored the similarities between aliens from another world and people from other countries. A lot of the themes are still relevant today," he explains.
Speaking of aliens, Derek Siow is passionate about the science fiction genre, but he assures us he has both feet firmly planted on this planet.
Elaborating on that he says, "I love everything about science fiction, and I have ever since I was a kid. In science fiction, you can just let your imagination run wild, there's no limits. Growing up in the 80s, I was a huge Star Wars fan of the original movies, A New Hope, Empire Strikes Back and Return of the Jedi and even the spinoffs like the Ewok Adventure movie. I loved the Ewoks when I was a kid, especially Wicket! I didn't just love Star Wars, but I was also a huge Trekkie, I loved all the Star Trek TV series from the 80s and 90s from Star Trek: Next Generation, Star Trek: Deep Space Nine, Voyager and Enterprise. I voiced Rebel Alliance characters for the Star Wars Battlefront II, video game."
In fact, the first film that Derek Siow shot was a short one, Don't Touch the Moustache, in which he played the lead, or shall we say leads, as he played several cloned characters, "That was a great experience not only because it was my first lead role in a short film but it was the first time I got to shoot around London, on London Bridge and along the Thames. Since it was a cloning company, I got to play a number of different characters and (I was able to) really sink my teeth into some great roles all in the one film. I was amazed by how vibrant the film industry in the UK was because there were many interesting projects going on all the time."
He says he is, "Happy to do my own stunts. I've done a lot of training. I did karate in my youth and Muay Thai kickboxing as an adult. Some of the production experiences which I really treasure involve training with real navy seals and ex-marines for military roles, those moments in time will stay with me forever and I'm so grateful to have experienced them."
Although, in theory a good actor should be a good actor as the voice for an animated or video game character, but that is not always the case. Derek Siow talks about the transition that takes place from being a physical actor to being a voice actor.
Derek Siow explains how he also became a voice actor, "For voice work, it was all on-the-job training. I spent a lot of time in the recording studio recording songs early on, working with different producers, voice directors and sound engineers. I voiced the lead character of Edward Skinner for fifty-two episodes in an animation series that ran for two seasons called The Skinner Boys: Guardians of the Lost Secrets. Each episode was thirty minutes like a full show, so I would spend days and days in the recording booth working through script after script. I have spent hundreds of hours in the recording studio over the years so all the experience I have in the recording booth was from all that on-the-job training.
Preparation for animation characters is similar (to physical acting), but of course depending on the project, I think it is turned up a bit because it is all audio and no visual, so you need to convey the emotions and temperament of the character in a larger way. Everything is larger and you can just go for it. It is actually a lot of fun; I love every minute I am in recording studios. I just finished a DC Comics / Amazon Audible series for The Sandman: Act II when I play "Ah How," the best friend of John Lithgow's character (Emperor Joshua Norton) and doing that just reminded me how much fun I really have recording with other voice artists. They're all such natural comedians, these guys can make you laugh for days
"As a physical actor, we play with each other, we react to each other not just by what we say but the way we say things. (Often) it doesn't even matter what someone says, it's the intention which they convey through things like their face, their voice and their body language. However, with voice acting, the kind of direction I might receive will be more like the way I should say a line. It's similar in that in the first take I will deliver the line the way I have interpreted it and if the voice director just wants another option, he / she will ask me to deliver it with another intention in mind so you can hear those nuances," he says.
Earlier in his career Derek Siow split his time between acting and music, "When I moved to England, I was performing music at live venues around London. I was the lead singer on the keyboard with a guitarist, bassist, drummer playing with me, and I came to the U.K. mainly to work with different British music producers. It was around that time that I did courses in music at the ICMP, and I met so many talented artists and creatives, became fully immersed in the creative scene and later did a number of acting classes, including an intensive acting course at RADA. They had great teachers and the courses there involved things that I wanted to know more about," he says.
These days Derek Siow, says, "I do not get the chance to perform music live the way that I used to," and then he adds, "I'd love to do a film as a singer one day. I compose music and write the lyrics. I learned piano and guitar in my youth. I play a lot more acoustic guitar just for fun these days."
As for his life before pursuing an acting and music career in England, he says, "I grew up in the suburbs of Melbourne, but I went to high school in the city, so I hung out in the city a lot from a young age. I lived right next to a shopping centre, so I'd go to the cinemas with my friends almost every weekend and this happened all the way through to high school. We would watch movies and play arcade machines almost every week. It was just what we did back then as a social thing.
I was interested in acting from very young when I first started doing school plays. I was cast as Superman in a school play, and I got the acting bug. That was one of the first times I performed in front of an audience, but I also learned the piano. Our teacher would frequently hold piano recitals so I would play in front of the other kids and their parents. I would be praying that I wouldn't make a mistake in front of everyone! That's when you quickly learn to just keep going like it never happened and nine times out of ten no one ever notices."
As for his family he says, "Surprisingly, a lot of people in my family are quite creative, I found out that my grandfather was a great storyteller, my sister is a very talented writer. I also have many uncles, aunties and cousins who draw, paint and play instruments. My extended family is actually very large, my father has twelve brothers and sisters so you can imagine all the cousins and second cousins I have! My dad loves singing. He would sing, while doing the dishes, or in the shower and he just loves music. His music knowledge goes (all the way) back to the 1950s and he always had the latest sound systems or headphones, even now! My parents both encouraged me to play the piano and guitar. They always supported me in school plays and any short films that I would make. I used my dad's camcorder to make short films and then I would them screen at school.
You can follow Derek Siow on Instagram.
#DerekSiowActor #AustralianActor #DerekSiowScreenwriter #DerekSiowVoiceActor #StarWarsBattlefront2 #TheSandmanCast #VideoGameActor #RivetingRiffsMagazine #RivetingRiffs
This interview by Joe Montague published October 1st, 2021 is protected by copyright © and is the property of Riveting Riffs Magazine All Rights Reserved. All photos are the the property of
Derek Siow unless otherwise noted and
all are
protected by copyright © All Rights Reserved.
This interview may not be reproduced in print or on the internet or through any other means without the written permission of Riveting Riffs Magazine.