As the world and in particular the performing artists emerged from two years of being shutdown, locked down, out of work during the pandemic it has been interesting to watch the creative juices start to flow again and to observe the results of the creative juices that kept flowing during those two years. Some treasures have emerged by numerous artists in various genres of music. Diane Marino whom Riveting Riffs Magazine has had the pleasure of interviewing and she befriended us over the past fifteen years or so, recently released a new Jazz album, I Hear Music and, in our opinion, it is the best vocal performance we have heard from Diane Marino yet and that says a lot, because she was very good to begin with.
"I started (this album) not long after COVID was in lockdown. I have lost track of the years. What was that 2020 or something? A lot of people took advantage of that time and there was a lot of creativity going on. That is probably what happened here too," recalls Diane Marino.
Continuing she says, "I was researching the songs and looking for the next project, before COVID even hit and we said what are we going to do now. It forces you to spend more time focusing on what you want to do. You weren't going anyplace. You weren't working. You weren't doing anything.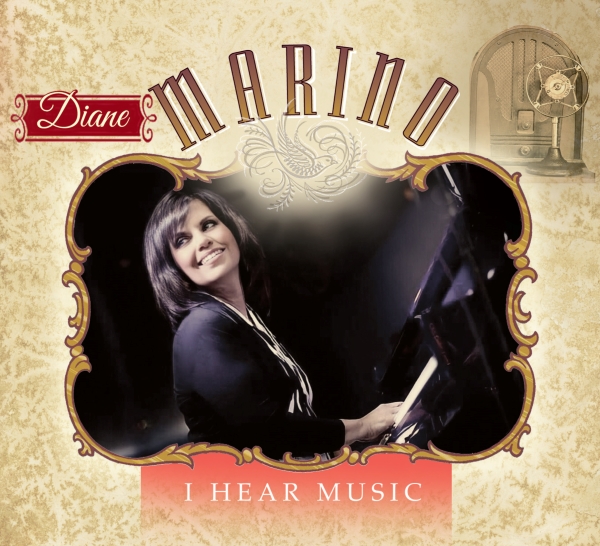 It was (recorded in bits and pieces) and we have Chris Brown, our drummer to thank for that. He has done all of my recordings. When COVID prevented us from getting together in a studio in the traditional way we thought it can't be done, but it could. We are so used to playing with Chris Brown, by instinct he knows how we play and he anticipates things we will do musically. What Frank and I did, this is our secret formula now, he would play electric bass and I would play electric keyboard, because it is a lot easier to put that stuff down as a bed, a demo type of thing. Chris can get those tracks filed and put the drum track to that. I also had a scratch vocal on it. We had a click track going too and he would sync up to that. As for the technical end I can't explain it, because that is Frank's department. (she laughs) I don't grasp it. I just want to hear the music. We gave Chris maybe three songs to work on at a time. He would send them back with the drum track and several different ideas. We would like one way, but we weren't sure yet and we wanted to see what Chris could come up with.
Chris has a home studio that he does drum tracks in, and he actually liked it, because it gave him the freedom not to have to watch the clock. He could experiment with different things and give us different ideas. He would say here is one version and here is another version and we would pick out the one we liked. We would sync it up to our tracks and then Frank would do all of his bass tracks over again, so he could play upright (bass), and I would do all of my piano tracks over, so I could play the acoustic piano here. It is quite a process and everything else was layered on top of that. It works great. It gives us that freedom of I don't like what I did here, so…When you are in a studio you are watching the clock and somebody else is at the controls. We are just another customer to them. We had (with this album) the complete freedom to experiment until we get what we wanted."
What they got is an album that really swings and that begins with the opening and titular song "I Hear Music," and one gets the sense that Diane Marino was smiling throughout the recording of her vocals for this Burt Lane / Frank Loesser song. Her piano playing is lively and Joel Frahm who plays both tenor and soprano saxophones for this album is stunning.
The tempo slows down with the second song "Moonray," and an extended solo by Joel Frahm, followed by and exquisite upright bass solo by Frank Marino. Chris Brown's drumming and percussion provides the perfect compliment to Diane Marino's vocals, not overpowering, not stealing the spotlight, as some drummers are apt to do, but setting a strong foundation, while she leads the way with her piano.
"We work so much with Chris, not so much live anymore, because he is always on the road, but with our recordings, it wasn't like somebody trying to feel his way around what we gave to him. He already could anticipate a lot of things that we would do. It works. It is liberating. You just do it until you get it where you want it. Once you record it and you put it out there it is forever. You want it to be perfect," she says.
This is now the seventh album for Diane Marino, counting her compilation From the Heart, which compiled songs from her first two records.
"I Hear Music, has a lot of swing. I was just looking for some really bluesy types of swing songs and ballads. Again, we had a lot of freedom to take our time. Maybe Chris' drum tracks are a little more relaxed and swinging. I don't know. Like he said he had a lot of time to think about how he wanted to approach the songs," Diane Marino explains.
Our conversation, (dare we say swings?) to another song, Benny Carter and Spencer Williams' "When Lights Are Low."
"It is a great standard. I had been listening to a lot to Dakota Staton. She had recorded it too and I listened to her version of it, and I liked the song. I like where the bridge goes harmonically. Something has to be interesting to me for my ears to perk up and I (hear) something that is unexpected. When the melody and the chord changes go someplace else. Who is to say why you pick out a song or not, but certainly hers had some kind of effect on me. Like I said the song is interesting to me and the more I listened to it the more I liked it. I wanted to do it," says Diane Marino.
This is one of three songs that vibraphonist Chuck Redd plays on, the other two being "It Could Happen To You," and "Ain't No Use."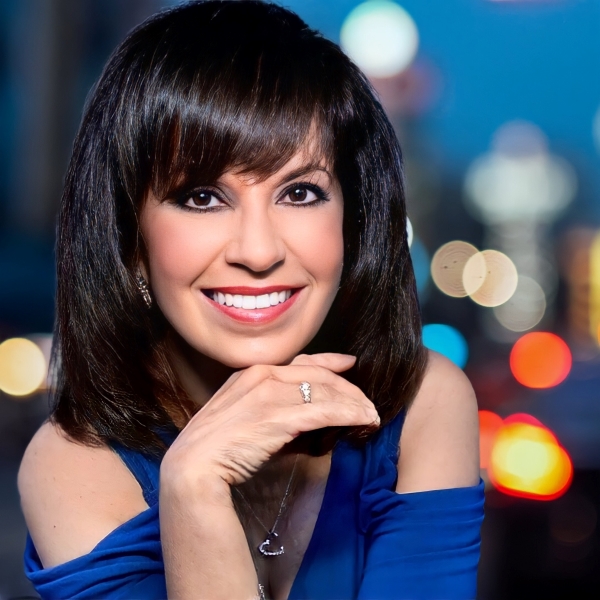 Chuck is from the Maryland area, and he was friends with a good friend of ours who sadly passed a few years back, who was also from that area, and he played the vibraphone too. In the vibraphone world Chuck is very well-respected. When I put the tracks down it evoked an era or something, maybe the forties. I knew that a vibraphone would add to that color. It was a very rich color. Chuck was the first person to come to mind and we were just lucky that these guys (all the musicians) were willing to be part of it and they also have the capability of recording, then sending the tracks to us. "When Lights Are Low," goes back to 1936. It kind of reminded me of the piano sound in the forties.
Chuck is great. I heard him on other recordings. I know how loose he can play, and he can swing. I think he added a lot to the song. Everything doesn't always suit a saxophone, although when we play out that is usually the configuration that we have. Not all songs are suited to that. I really feel the vibraphone added a lot to that particular song."
Another Benny Carter (with Paul Vandervoort) tune "Rock Me To Sleep," has a little big band feel to it owing in large part to the horn section comprised of Desmond Ng on trombone, Leif Shires on trumpet, and both Joel Frahm and Cole Burgess playing saxophone. Brad Cole (Phil Collins) plays the keyboards for this song, and he also did the arrangements. If you close your eyes, you can easily envision a big dance floor with couples moving to the music. For those without a dance partner, we know they are swaying in their chairs, as Diane Marino brings this wonderful song and performance by all, home.
"With "Rock Me to Sleep," I didn't want the typical swing feel to it. It sounded to me like it could be in the fifties and a thing they could dance a Lindy to (Lindy Hop). It has the right tempo with a strong backbeat and is really a swing thing. You know when they used to dance with the big skirts and everything. It sounds like something that could have been on a jukebox in 1956 or something. In all honesty, when I heard the song, I didn't know it was Benny Carter. It wasn't that I picked out songs by Benny Carter, it was just oh look at that it is the same guy who wrote the song. I guess there is something about his writing that appeals to me," she says.
Diane Marino has the ability to make a song come alive. The lyrics become a story, like a film playing before your eyes. The songs take on a cinematic quality. We wondered if she becomes in some way the protagonist in the songs.
"I am telling a story with every lyric. That is what really bugs me when I hear some other singers break up a thought. They think they will take a breath here, but you didn't finish the sentence. You didn't finish the thought. This is going way back, but I listen to people like Sinatra, because you can't get any better phrasing than he did. You have to get into the lyric and they call that conversational singing. Each one is telling a story and it is important to get the meaning of the lyrics out, with the emotion and the notes that you choose. That is what it is all about. For me the most important part of the song is the lyric.
I have a lot of respect for people who write lyrics. It is a real talent to get inside yourself and the lyrics have to reflect your emotions. I reflect on the lyrics and not really where they came from. You have to realize they are coming from a place of experience or how else can they think that way. You have to feel it first, I guess. You have to feel that way to put lyrics down on paper like that," she says.
Diane Marino talks about the song "You Showed Me," "When we did this song, first of all I wanted that walking bass that Frank was doing. It feels like a song out of the late thirties. The trombone has that long silkiness with the sound that you don't get with other horns. It suited the song so well. Wycliffe Gordon was the first person I thought of and I was happy that he had the time to do it for us. Matching the instrument to the song is really important. I thought this just has to be the trombone. It is right for it. It is (about) trying to create something and to create the mood. It (the trombone) definitely adds to the mood of the song. Knowing the way that Wycliffe plays I knew it would be perfect for it and it was."
Diane why do your vocals seem to be getting stronger and richer as time marches on?
"My voice has changed since I have gotten older. It has gotten deeper (she laughs). I can't do anything about it. That's what I have," she replies.
"By the way I have four more (songs) in the can. I have not finished my vocals on them yet. We aren't sure what we are going to do if we are going to put them towards another CD or if we will put them out as singles. The tracks are fantastic and they are the same musicians," she says.
Diane Marino's, I Hear Music is one of the best albums we have listened to in 2022, in any genre. Please take time to visit her website and while you are there purchase the album.
#IHearMusic #DianeMarino #DianeMarinoJazz #DianeMarinoInterview #DianeMarinoMusic #RivetingRiffs #RivetingRiffsMagazine #DianeMarinoEntrevista #DianeMarinoMusica #JazzMusica
This interview by Joe Montague published December 18th, 2022 is protected by copyright © and is the property of Riveting Riffs Magazine All Rights Reserved. All photos are the the property
of Diane Marino
unless otherwise noted and
all are
protected by copyright © All Rights Reserved.
This interview may not be reproduced in print or on the internet or through any other means without the written permission of Riveting Riffs Magazine.