Actress Dina Morrone has appeared in feature films both on screen and off as a voice artist and she has also appeared in a whole host of commercials. The Canadian / Italian actress who has called Los Angeles home for many years now is likely the voice that you heard at numerous high profile awards shows, as she introduced the celebrities walking out on stage.
With all those options exercised in Canada, Italy and America, Dina Morrone says, "My love and my passion would be for me to only write plays and to be a solo performer, whether it be through the acting of my work or the reading of my pieces on stage."
Despite the fact that there was a period in Morrone's life when she was in denial of being the daughter of an Italian immigrant family, it was her embracing of her Italian heritage, in addition to the coaxing of a few friends and acquaintances that resulted in one of her most successful theatrical achievements, her self-produced play The Italian In Me.
Her one woman play prompted renowned Canadian film director Norman Jewison to say, "Not since Moonstruck have I seen such Italian wit, humor and charm."
American actor and producer Maray Ayres describes Dina Morrone's performance in The Italian In Me this way, ""Every now and then talent and beauty walk hand in hand."
So just what is The Italian In Me? To understand the play you have to understand who Dina Morrone is, her early quest for both identity and the desire to creatively express who she is and her Italian heritage of which she is proud. Before we do that however, let's listen in as Morrone talks about how her play, which has now been staged at theatres in North America and most recently at Theatre West in Los Angeles, and how it came to fruition.
"The Italian In Me grew out of what I like to think of as a piece of marble, a big square and I just kept chipping away at it and then one day it became this wonderful play. Now I am in love with the sculpture that has come out of it. Living and working in Rome and having a life there, experiencing so much, meeting so many wonderful people and having this very colorful life. I thought I would live there forever.
It is a story about a girl growing up in Canada who wants to go to Italy and become an actress. It is loosely based on my story of going to Rome, working as an actress and then coming back to America (via Canada)," she says.
"In Los Angeles I was sitting at dinner tables with people feeling like a fish out of water, not fitting in at all. I didn't have a story to tell and I wasn't on a sitcom. I wasn't on a TV series and I wasn't in a movie. I wasn't an American. I was an Italian Canadian citizen. I didn't have a green card or working papers. I didn't have anything and I would go with my boyfriend (now her husband Stephen Rivkin) for dinners and I would just sit there. I hated my life and I did not want to be there. When I did start talking people would say, Steve tells me you are from Italy. I would start talking and then the next thing that I knew this story would come out and that story would come out. (Soon) I was talking about Federico Fellini (iconic film director and screenwriter) and telling them my story about him, which is a true story and it is in my show. People would say are you a writer? I would say no. They would ask have you ever done a one woman show? I would say no.
One day my husband said to me you can't type, so I am going to help you out, I'm going to get you (speech recognition software), but I became so frustrated with training it that I began pecking away with one finger on the computer. I started writing down every single story that I ever told at dinner. It was always in the narrative form and never in the first person. Once I started getting enough of these stories together I started feeling better and it felt very therapeutic. I was going to my theater company (Theatre West) where I was still involved in plays and doing what people do in LA to make it, the circuit, the casting workshop, the agent. None of it was working out for me, not one thing.
One day at Theatre West Dina Morrone noticed that someone brought in an original work and so Morrone decided to bring in one of her stories and presented it. A woman approached her after she had presented her story and told her that it sounded a lot like the kind of writing that her husband did.
"That pushed me to get going and every week I would bring in a different story. They were all written (as stories) and none of them were written in the first person. They were these nice little stories that you could have submitted to Reader's Digest. Everybody kept saying you have to jump into it and you have to be the character. I kept saying I'm not going to be the character. I'm not going to become Fellini. The director said you have to become Fellini.
I kicked and screamed and then I started writing these pieces and they became pieces that I acted out. I strung them along one after another. I kept putting it up and getting my work out there, as short monologues. One day I found the piece that put them altogether with the story I had already written and that became The Italian In Me. It really grew out of my own loneliness and my wanting to be in Italy again. All the pieces in this monologue are really things that happened to me. At the time that they happened (some weren't so happy), but then when you write it, it becomes funny. You are able to laugh at it years later," she says.
The late Doris Roberts, who was an outstanding stage, film and television actress thought Morrone's play was funny too when she said, "Dina is spectacularly funny, original and wonderfully entertaining. Don't miss her. You'll have a great time. It's the best one woman show I have seen in Los Angles in the last forty years."
Mel Brooks said it was, "One of the truly funniest nights, I've spent in the theatre."
"I love doing my one woman show now and it really is a very funny piece, very moving and very entertaining. I am proud of it. It grew out of just missing Italy and wanting to be there again," says Morrone.
The story behind The Italian In Me begins in a remote northern Ontario, Canadian city of Thunder Bay, forty minutes by car to the American border and Minnesota and nestled on what Dina Morrone describes as "the icy cold shores of Lake Superior."
As she talked to us from her parents' home in Thunder Bay where she spent much of this summer Dina Morrone says, "Growing up here in Thunder Bay it was very much an Italian household. We grew up speaking Italian; we grew up eating Italian and being Italian. We were Italian and most of the immigrants here are Italian. The children like me are all first generation (Canadian). Their parents didn't speak English and they spoke Italian at home or a dialect. We were part of the Italian church and part of the Italian hall. Everything was more or less Italian. We had neighbors who were French, Ukrainian, Croatian, Portuguese, French Canadian and Indian. Everything was just a mix of everybody here. That is how I grew up.
We weren't privileged people. We were very working class, an immigrant blue collar family. My parents worked very, very hard. My dad worked at the grain elevator and for many years my mother didn't work and then she went on and worked at Lakehead University in the cafeteria. My parents were so happy to have a job and to work and to make money to support us. I wasn't rolling in the luxury lifestyle, but I had humongous dreams, as a young girl. I didn't share them with people or with my mother or at home. For a girl who had not been anywhere. I had not been to Toronto and I didn't get to Toronto until I was ten (Editor's note: Toronto is 16 hours south of Thunder Bay). There is nothing around here. I kept dreaming about going to the big city."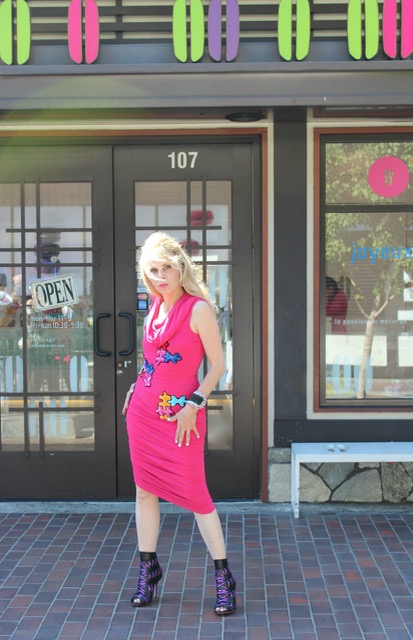 Dina Morrone's dreams grew even bigger when a neighbor who had visited Italy brought back a view-master for her brother.

"You put these little slides in and you clicked and it showed you different images. I didn't know what Italy was from Adam. I had no idea. I just knew my parents were from Italy. When I looked at it, there were pictures of the Vatican, of the Swiss guards and of all these different images of Italy. I was ahh, I was a dreamer. I played with my Barbies and I created cities and stories and relationships. It was escapism. I put on shows and I wrote little skits and plays. I had these big ideas and these dreams, but it was very hard to have these dreams, because I came from a very different family. People from my parents' generation came from an immigrant world. These were people who wanted to get out and have a better life. These are not people who thought oh I am going to put my child in figure skating or I am going to send my daughter to dance classes. This was not the reality (she laughs quietly). All I wanted to do was to be in ballet or in figure skating and in dance. I just had these dreams when I saw other girls doing it and I wanted to be that. It wasn't a reality for me. My parents sent me to baton classes, but we couldn't afford, because batons were for privileged people. I went figure skating and my parents sacrificed so much. It was a lot of money for two people who had three children. I couldn't be just the only child doing it. I had a lot of goals and dreams. I wanted to be in the Ice Capades. I wanted to be a figure skater and I wanted to be in a show. I wanted to be performing," she says.

It was against the backdrop of that childhood, her Italian heritage and staying connected to those humble roots that gave rise to Dina Morrone's play Moose On The Loose, which has since been produced in Los Angeles where it received rave reviews, including those from the LA Times and the LA Weekly.

Morrone talks about her full length, twelve character play Moose On The Loose, "The play is about a moose that meets up with a Canadian family in northern Ontario in a fictional town called Way Up Bay. It represents any town (or city) in Canada where immigrants went, grew up and lived and who felt like a fish out of water. The moose is a metaphor for displaced people. I was a moose when I moved to Los Angeles. I came from Italy (after Canada) and I moved to Los Angeles. I felt like a fish out of water."

Dina Morrone's mother also deserves some credit for the play's birth as it was during a conversation with her daughter Dina that she related a true story about a wayward moose.

"The play was not something that I was going to write, it was just a funny short story and I thought oh my God I have to write this. I need to get this down on paper, because it was just so funny. It really happened and it was true. I put it down and then I thought this could be my next play. I was happy with my play being a short play.

(It is about) a family that is interrupted on a Sunday by a moose that gets stuck in the neighbor's yard and all hell breaks loose. I brought it to Theatre West and people told me that it was a little bit short. They said it feels like there is more there, so I made it a one act and one hour play.

Everybody was like it is very funny, but there is way more to this story than you are exploring. I said no, no this is my play and this is what I want. I don't want it to be any longer. I want it to be a one act and I want it to be able to get into the festivals. The critics in the writers workshop said, Dina you are onto something more meaningful and more powerful, so you've got to really look at this. I credit one guy from the theatre company who kept saying, girl you are beginning to touch on something and you don't even know what you have. I said really? I fought it and then I sat down and started writing the play, which became Moose On The Loose. It will be staged at the Tarragon Theatre in Toronto in June of 2018.

This story has kept me so grounded and I didn't know what I had when I started writing it. It has kept me so grounded in the immigrant experience of growing up in an immigrant family where your parents don't speak English and there is culture breakdown. Even though it is set in 1999, it's relevant today," she says.

Dina Morrone has come a long way from the twelve and thirteen year old girl who wanted to be cool, so she refused to speak in Italian to her own family.

She says, "There were occasions when I would be out in public and my grandmother would say something in Italian and I would answer back in English. I wouldn't respond in Italian, because I didn't want to be Italian."

Fast forward several more years and Morrone says, "As soon as I had an opportunity and I had my Italian passport I moved to Rome. I spoke fluent Italian. I had heard it in my ear and I didn't speak English until I was five. I understood dialect and I spoke some dialect and I never looked back.

Now I have come full circle and I have gone on to do my life. I have lived in Italy, lived in Rome, worked in Italy, became very Italian, embraced my Italian heritage and I am an Italian citizen. Now I don't care who is in the room or where I am, I speak Italian to my mother and now she will say things to me in broken English and I will just answer in Italian. I wrote the play and it is all about the immigrant experience. It reminds me every time of the sacrifice that they made in coming to Canada, which is everyone's story."

In the month of October (2017) Dina Morrone returns to Theatre West in Hollywood, where she honed her craft as both an actress and a playwright. She is producing the play The Face Behind The Face Behind The Face written and performed by Anthony Gruppuso. This musical theater presentation is about a performing artist who visits his therapist where he attempts to dissect his life, his career, his family and his undying enthusiasim for musical theatre.

Director Calvin Remsberg says, "There is nothing so entertaining for an audience as a peek behind the curtain! How did that performer get to this point in his life and career? Who helped him? Were there setbacks along the way and are they where they thought they'd be? When Anthony, my old friend and student, asked, I jumped!"

Musical Director John Dickson adds, "

I have loved working with Anthony on his show. He is an exciting performer whose story is both poignant and hilarious. Plus he has a voice that moves the walls! He's a real joy to work with!"

The musical will be performed beginning October 1 and running until October 29.

Please visit the website for Dina Morrone. If you would like to learn more about her play Loose On The Moose you can visit this website or for The Italian In Me this website.

Top Photo by Ed Krieger from The Italian In Me, Middle and Bottom Photo by Kate Younger

#DinaMorrone #DinaMorroneActress #TheItalianInMe #rivetingriffs #RivetingRiffsMagazine #LooseOnTheMoose #TheatreWest

This interview by Joe Montague published September 26th, 2017 is protected by copyright © and is the property of Riveting Riffs Magazine All Rights Reserved. All photos are the the property of Dina Morrone

, unless otherwise noted

and all are

protected by copyright © All Rights Reserved.

This interview may not be reproduced in print or on the internet or through any other means without the written permission of Riveting Riffs Magazine, All Rights Reserved