The album Clifford / Wright: For All the Money in the World opens with the title song and it sets the table for a fabulous collection of never before released songs from the 1980s recorded by Doug "Cosmo" Clifford and featuring guitarist Steve Wright who like many of the fabulous musicians who appear on this album, was once a member of the Greg Kihn Band. Keith England's vocals lead the way and are well-suited to straddle the genres of Rock and Pop.
Doug Clifford is always a welcome guest at Riveting Riffs Magazine and he sat down with us from his home in Nevada to talk about this new / old album or if we may a record that should quickly become a hot collector's item, not just because of the people playing on it or the fact Doug Clifford produced it, but the songs are also very good! Keep reading and we will soon reveal why this album took so long to see the light of day.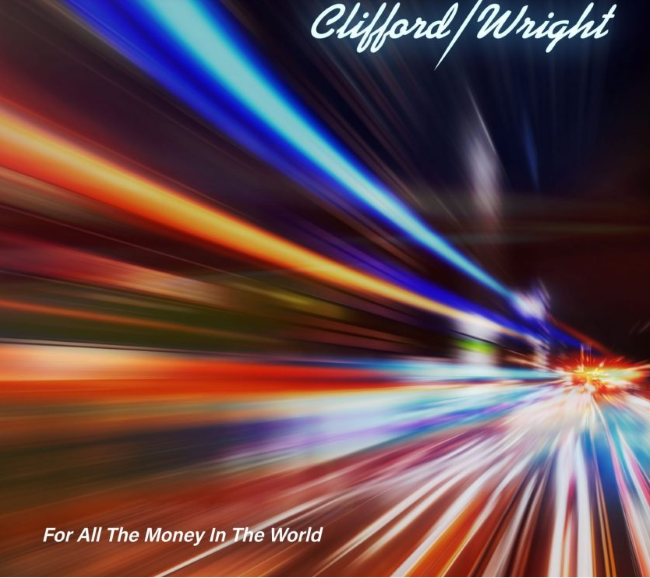 He says, "There are some really talented guys on this album and needless to say I've got some pedigreed guitar players. Clifford / Wright started with Steve Wright and I writing songs together and then all of a sudden, we were pretty prolific together. I said we better record these things or we are going to forget them. When I do that, I do what I call a finished master that would be put out in the marketplace. I was making records that sound professional and sound like what this record sounds like with the intention that someone is going to hear it (editor's note: instead of an unfinished demo, that is usually very bare bones). I never wanted to put it out with just an acoustic guitar, dry vocal and say use your imagination. I don't want people using their imagination, I want them to say wow that sounds good. Well yeah, we are making records here, we are not putting out junk. That has always been my modus operandi."
Doug Clifford continues to talk about the album, "We had a terrific singer in Keith England. He is great. Steve Wright is an amazing bass player, but he is no longer with us. There are a couple of keyboard guys (on the record) who were in major bands.
I did my singer / songwriter album with Magic Window and I thought I did a pretty good job on the record and certainly with the vocals. I was proud of that and there were only three guys on that record, Russell DaShiell, Rob Polomsky and Chris Solberg (and of course Doug Clifford). I released that right when the pandemic hit, so the timing was off.
This record is happy, good time Rock and Roll. It makes you feel good. There are love songs in there and Creedence never did love songs. When I have the chance that is the subject matter that most songs are written about, so I might as well join the club on that. Right now, we need happy and groovin' music. There are good grooves on this record. I would have to attribute that to the rhythm section being from El Cerrito, California. Steve is from El Cerrito as well. I knew his brother in school."
We promised you we would tell you why it took so many years before this album was released. Doug Clifford explains, "I was in my studio and going through some filing cabinets and drawers and things and I discovered some two-track master tapes and they are about a quarter of an inch with a left track and a right track. It is what a finished master would look like. In other words, if you take your sixteen-track or twenty-four track machine and you get all of your information from all of the performances from the drums, the guitars and the vocals and then you mix all of those things together with echo, compression and other electronic wizardry the finished product is that two-track master.
An audio tape is fragile, it is pretty thin and you don't want to touch it with your fingers. You treat it like it is a newborn baby. I did a lot of recording in the mid-eighties. I probably did ten separate sessions. You then put it away in a place where the temperature is constant and the cooler the better. You want it dark without any light.
When I came across these tapes, I thought I have a bunch of these things and I hoped that they were downstairs otherwise they didn't make it in the last move. I went downstairs to the locker that has a lot of musical wizardry in it and I (found) all of these tapes. Now that I knew what I had I didn't dare put them on a machine and start running them, because they would probably disintegrate. I didn't know if they would even play.
I got ahold of an engineering friend of mine who lives in northern Nevada and when I told him my situation, he said we will have to bake them. I said well we aren't making brownies here. Baking is a process and I think the temperature is around 200 degrees (Fahrenheit). He went to LA to do this. I didn't want to go, because if it failed, I didn't want to see the destruction of all of that work. It turned out and I have enough for between six and ten albums. I was very lucky. I found Magic Window that way and that solo album I recorded in my house at Lake Tahoe.
After it is baked you have to transfer the information to digital, because the tape will only be good for a play or two and then it will start to disintegrate. We did that in LA in one step.
Unfortunately, some of the tapes from back in the eighties had whale oil in them and I didn't like that. What are you going to do, the damage is done there? I don't think they do that anymore, in fact I know they don't (editor's note: to clarify, Doug Clifford cares deeply about both our environment and the wildlife on it).
I have a multitrack of Doug Sahm, before they became the Texas Tornadoes when Freddy Fender joined them (also included Flaco Jiménez and Augie Meyers). We did that at my house too. Anything that I produce I play drums on, so I played drums on all of this stuff. I have my own label now, Cliffsong Records. I am excited about that and all of the music that comes out of that record company, I am a writer or co-writer on it. It is a publisher's label. I am the publisher. I wonder why some other people don't come up with that idea, because it is a pretty good way to market your songs if that is what you want to do with them. I want to get them out to as many people as I can, because it is all about listening. I wouldn't put something out that is subpar. I have everything on good tapes and they are good songs.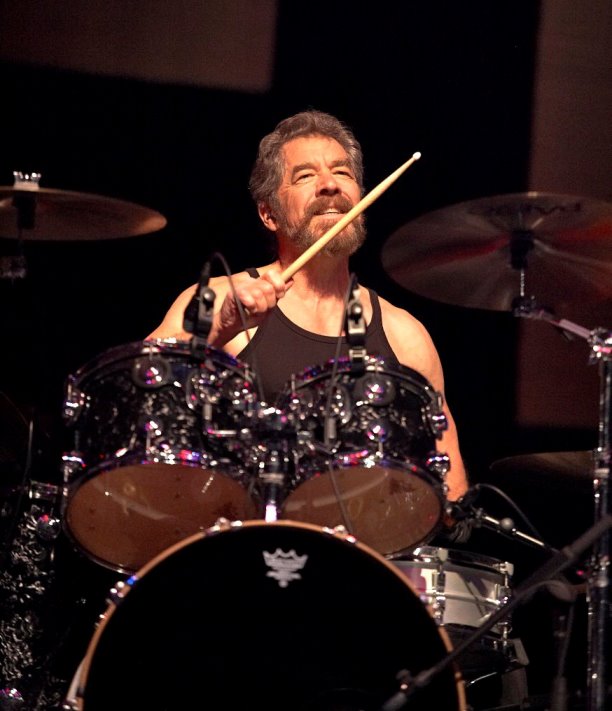 When I write, I write with one person and not more than that. When you get three or four people in there then there are conflicting ideas. You have guys who will say you only wrote half as much as I did, so I should get twice as much (of the royalties) as you. I would say wait a minute we will split everything down the middle. That is what Lennon and McCartney did and I am not comparing us to them. That is not the way to write a song, going in with the attitude if I write this and you get that, because you are ruining (the creativity). When I write with one other person, they have something I don't have and I have something they don't have. That is the whole point of collaborating. It has worked out well for me. With all of the people that I wrote with I enjoyed the process. It was exciting because we were building a little house of music."
Our attention turns back to the Clifford / Wright: For All the Money in the World album, "Most, everybody, but Keith and me played with the Greg Kihn band. At that time (when the album was recorded) Joe Satriani wasn't famous yet and it was the same with Jimmy Lyon (Eddie Money). Greg Douglass was in the Steve Miller band and he wrote a couple of songs with Steve. They were guys that I knew and respected, and I was from the Bay Area. They were from the East Bay, where El Cerrito is and that is where Creedence came from. Berkley is there. Richmond, California which was a predominately Black community and there were a lot of things happening there," he says.
The keyboardists were Tim Gorman from The Who and Pat Mosca from the Greg Kihn Band. Joe Satriani played with a number of high-profile artists including Mick Jagger (solo tour), Deep Purple, Crowded House and Alice Cooper.
Doug Clifford talks about the El Cerrito area of California back in the days, "There was a major ship repair and boat building spot and that's what brought a lot of these folks out from the south during World War II. They needed a labor force and when they came out to California, they liked it and they stayed. They brought their radio stations with them, the real R & B and the real Country, not the fluffy stuff. I listened a lot to the R & B station and John Fogerty did as well, but he listened more to the Country station. If you take that kind of Country and that kind of R & B and put them together, that is the roots of Rock and Roll right there. We were right in the melting pot if you will for music."
Doug Clifford says one of his favorite songs on the album, is "For All the Money in the World," and describes it as," It has so many wonderful things about it. It is happy and it is a shuffle. I always wanted to do a shuffle as a single and Creedence never did one. There is just something about a shuffle. You can't but help tap your foot to a shuffle.
It is an interesting thing, economics and love. Love will always win out over economics if it is real love. That is another song on the record, "Real Love," and I like the groove on "You Keep Running Away." Satriani played the guitar on that one and he really aced it."
Keith England adds a rasp to his vocals, kind of like Joe Cocker with a better voice. We realize the description of this song can be interpreted in a lot of different ways, but we prefer to think of the lyrics in the manner in which they were intended as innocent, unrequited love, passing by and noticing a silhouette of someone that was either a big crush or had once been deeply loved. Although, this is Keith England singing the song and it was written by Doug Clifford and Steve Wright, it could just as easily be presented by a woman singing or two people of the same gender. The song has an easygoing melody.
Doug Clifford says, "I See Your Silhouette," is one of my favorites. It is so different. It is a sexy image, that is really a shadow. Sometimes what you don't see is sometimes sexier than if someone was standing there naked in front of you. I was really proud of that one. There is a mystery about this person. It is almost surreal and it is about falling in love. There is no verbal contact between the shadow and this fellow. He carries this memory throughout his lifetime and never gets a chance to have a real relationship with this person. It is more about using imagination than a heartbeat scenario."
Doug how did these songs come together?
"Steve and I wrote the songs during our writing sessions and we had a really good way of doing it. We rented a studio rehearsal room and he would bring his guitar and I would bring a drum set and we would jam. I brought a cassette recorder and I did that with Creedence as well, and I would put it on the floor. I would then take it home and put it on my four-track machine. I would put some ideas against (what we had) to see what worked best. I did a lot of homework and that is how we were able to get so much done in the recording realm with six albums in two years. Three of the albums were in '69. I called it my notetaker for the ideas that Steve and I had.
We had different sources. Sometimes I would just start a drumbeat or a groove and Steve would find something that he liked and he would come in. He might use his bass instead of the rhythm guitar. Then I would have these little sections of ideas and I would take them home, just like I did with Creedence, only then I wasn't writing the songs, I was arranging a part for myself. (With Steve and I) I would write the lyrics and we would already have the chorus, which is the money part of the song. The chorus is what everybody knows. You have your verses to tell the story and to setup the chorus. That is what Rock and Roll and Pop music is all about," he says.
Other songs to listen for are the R&B influenced Rock song, "She Told Me So," the drum driven "Lost Pride Fever," featuring numerous spectacular guitar performances and "You're Gonna' Love Again," advice to a brokenhearted friend that promises despite what you feel now you will indeed love again. On the latter song, the guitarists really steal the show.
We come back to that statement of Doug Clifford's once again to describe this fabulous album, "That is what Rock and Roll and Pop music is all about."
#DougCosmosClifford #CreedenceClearwaterDrummer #SteveWrightGuitarist #JoeSatriani #ElCerritoMusic #TimGormanKeyboardist #JimmyLyronGuitarist #GregKihnBand #RivetingRiffsMagazine #RivetingRiffs #MusicInterviews #EntrevistaMusica #MusicaRockAmericana
This interview by Joe Montague published October 19th 2021 is protected by copyright © and is the property of Riveting Riffs Magazine All Rights Reserved. All photos are the the property of
Doug Clifford unless otherwise noted and
all are
protected by copyright © All Rights Reserved.
This interview may not be reproduced in print or on the internet or through any other means without the written permission of Riveting Riffs Magazine.