Interview by Joe Montague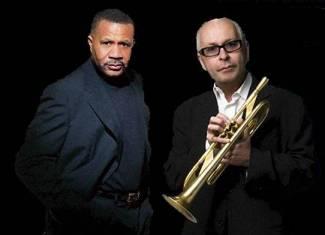 "I think that we can pull from all of our lives' experiences and our music. That's where this is going to come from. It is going to be seasoned. It is going to be like a fine bottle of wine. We are going to uncork it and let it breathe," says one of the world's premier smooth jazz trumpeters Greg Adams, as he and R&B singer, Lenny Williams, both former members of Tower Of Power, sat in with me for a conversation about their new band East Bay Soul.
East Bay Soul is to smooth jazz music what the Traveling Wilburys were to the pop rock culture. The Traveling Wilburys was a supergroup comprised of legendary artists, George Harrison, Jeff Lynne, Roy Orbison, Tom Petty and Bob Dylan. East Bay Soul has some of the finest smooth jazz artists ever to be assembled, but unlike their pop/rock counterparts, East Bay Soul, will tour as well as record new material. In addition to Adams (also plays flugelhorn) and Williams, East Bay Soul counts as its members, Brian Allen (bass), Johnnie Bamont (alto, tenor, baritone saxes and flute), Eric Marienthal (alto/tenor saxes), Tom Scott (alto/tenor saxes), Joey Navarro (keyboards), Johnny Sandoval (percussion), Evan Stone (drums), Lee Thornburg (flugelhorn, trumpet, trombone), and James Wirrick (guitar). This is a cast of musicians whose accomplishments have been recognized for a very long time by their peers and the music industry in general. Adams has been nominated for Grammy and Emmy Awards, and was the principal arranger for Tower Of Power. Williams has twice been the recipient of the BMI Songwriter Award, Allen won the Louis Armstrong Jazz Award, and Marienthal was a member of Chick Corea's Elektric Band when it won two Grammy Awards. In addition to his many film and television credits, Scott has served as the Director of Music for both the Academy Awards and Emmy Awards. Thornburg another Tower Of Power Alumni toured with the likes of Supertramp, Rod Stewart, Tom Petty, Aaron Neville, Bonnie Raitt and Nicolette Larson. He has also recorded with Carly Simon, Pink, Ray Charles, Etta James, Art Garfunkel, Toto, Josh Groban and Heart. The remaining members of East Bay Soul have performed and recorded with an equally impressive cast of award winning and hit charting artists.
Despite the strong connection to Tower of Power, this is not an attempt to capitalize on that fame, nor is it an attempt to resurrect music from the past. Williams concurs with Adams who says, "Every time I do a new project or a new record, I like to reinvent myself a little bit, and do something different." Therein lays one of the key motivators for creating East Bay Soul.
Williams and Adams have both enjoyed successful solo careers. In 2007, Adams released the very good smooth jazz album, Cool To The Touch, and earlier this year Williams introduced his new R&B CD It Must Be Love. Williams has also performed in several stage plays, while Adams is continually in demand for gigs.
Yet despite the success both men have experienced in their careers, both men wanted something more. Williams says, "When I told many of my friends about this new concept, a lot of them wanted to know why we would do this now, at this stage in our careers. (I was asked) is the money going to be as good as I am making now. I was asked if it was going to take away from the work that I was already doing. People wanted to know if my own band was going to be out of work. Like Greg said, sometimes in life you have to take a chance and reinvent yourself."
Williams continues, "When Greg brought the idea to me, he was very passionate about it. He asked what harm there could be in trying to establish new markets for ourselves. That was the lure right there, to find a different market for my music, and to take it to another place. It also inspires more creativity, because you are taking your music to a different audience."
For Adams' part he says, "I asked, 'What am I going to do next?' At my gigs, people are always requesting Tower Of Power music, but I am not a singer. Although I have always resisted (the requests), recently I dropped a little instrumental from (Tower Of Power's) "What Is Hip," into the song, "Life In The Key Of Blue," from Cool To The Touch. When we played it, the audience went crazy. I think that if I had done (something like that) as soon as I left Tower Of Power it would have looked like I was pandering. However, that chapter of my life is now closed, and although I am proud of what my legacy is, I need to move on and do something different with my life."
To that end when Williams and Adams first began putting together the concept of East Bay Soul, they were determined that this was not going to be a Tower Of Power tribute, but there would instead be a focus on Williams' solo repertoire, Adams' repertoire and the development of new material unique to East Bay Soul.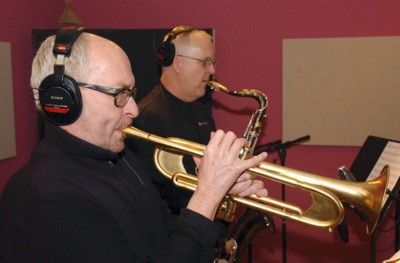 A press release was sent out on January 8th of this year announcing the formation of East Bay Soul and within the first two weeks eight gigs had already been booked. Since that time, the band has already received requests for bookings well into 2009.
East Bay Soul's website describes the band's music as, "a combination of instrumental soul funk and rhythm and blues vocals built on a design to discover new achievements rather than extend the past."
What exactly is the East Bay sound? Williams says that it is a combination of many ethnic influences including a strong Afro American middle class influence that has its origins in the middle of the twentieth century, combined with a heavily concentrated Hispanic population, white southern elements, and the Haight-Ashbury hippie movement in the sixties.
"You had all of these different cultures blending together, and so the music that came out of this was dynamic," says Williams.
To which Adams adds, "You said it right there, it is a melting pot. I couldn't say it any better. Oakland is gritty, and it is a thing that you either get or you don't. You just have to see where it comes from. It is like when you get a joke, because you realize where it is coming from.
Williams says that his music has always been heavily influenced by, "what we saw and what we felt. People like Greg, and I, Sly Stone, and Carlos Santana, were writing about what we saw when we were growing up. That to me is the essence of the East Bay sound, and it includes San Francisco, even though it is on the west side."
One might suspect with this many talented artists in East Bay Soul that eventually egos will clash and get in the way of the creative process. Adams doesn't think that is going to happen
"This is going to be a ten-piece band (counting vocals), so in essence, Lenny will have a nine piece orchestra. The cats in the band are consummate pros and they know how to lift up somebody who is the forefront, and just carry him along. That's the beauty of this band. When I am out there the band just carries me along, and they make me better. That's the whole thing, everybody makes everybody better. When it is their turn to shine, everybody is there for them."
You many want to check out East Bay Soul's website to see when they are going to be performing at a venue near you. I know I can hardly wait until they come to Seattle. I already have those dates circled on my calendar.
Interview by Joe Montague, all rights reserved, protected by copyright © 2007 Return to Our Front Page