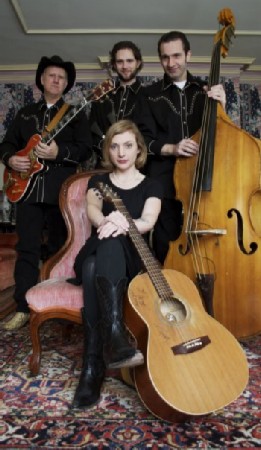 Whether she is crafting her own tunes such as "The Darkest Day," or covering Johnny Kidd and The Pirates' "Shakin' All Over," (a song that went to # 1 in Canada and # 22 in America for Chad Allan and the Expressions) the magic of singer / songwriter Eilen Jewell is in her ability to segue easily from evoking images of dramatic western scenes to shedding her naturally shy persona to become a sultry woman whose blood is running hot.
Reflecting upon the question posed as to how a self confessed shy musician conjured up the steamy vocals that are so evident on "Shakin' All Over," Jewell responds, "I don't know. I think being a musician (she laughs) is a terrible career to go into if you are shy, because you are risking potential humiliation on stage. In another way it is a good thing to go into if you are shy, because it gives you a role to play in a group of people. It saves me from being a hermit, because I go into a crowd of people at a show and I feel like I know what to do. I am not saying that I am another person, but it gives me a new persona. It gives me something to do I guess, in a crowd. It is a mysterious thing. I think that a lot of musicians would tell you that they are shy too. I am not sure what it is. It is not just me up there on the stage it is me plus the strength of the song. It is not just me it is me and the music. It doesn't even matter to me what I am singing about if it is a strong song and if I really believe in the song then it is not frightening to me at all."
Eilen Jewell's versatility as an artist is evidenced in "The Darkest Day," a song which clearly has country music written all over it and has you looking for a dance partner. Johnson Jeffrey Lynn's "The Darkest Day," paints images of a heartbroken woman who has just learned that her lover is leaving her and Jewell's phrasing brings those pain filled moments to the surface.
Although it might cause some consternation for those who try to market her music, Jewell does not lose any sleep about the fact that her music is not easily categorized. "I don't really feel like there is a genre or that there is a list of genres which would describe it. It is not that I am really doing something crazy and original it is just because I don't normally think of music in terms of genres. I have a hard time describing it. I like so many different artists who have influenced me and they in turn have been influenced by so many different people that I think there are a lot of flavors that come out. I think one of the hardest things for me to do would be to choose a genre or to choose a sound and to stay with it. I think that is frustrating to some of our fans because I am sure there are some who wish we still sounded like our first record. I like our first record as much as I like our third and I am not at all ashamed of it, but I have a hard time with genres and I find them limiting. On the other hand they have their strengths, because how do you sell a type of music that you can't even describe. I think this is why we give names to different types of music, so that it can be marketed, If you like the sound of Pearl Jam then you will probably like the sound of Nirvana, so let's call it all grunge or alternative rock or something, then you know how to market it in the store. Outside of that it doesn't have a whole lot of meaning for me. I tend to use words that end in "ish," a lot like rockabillyish, countryish, bluesish, jazzish, rock 'n' rollish and that doesn't really mean anything to anybody."
One needs to look no further than Eilen Jewell's early influences to understand the simplicity and uncluttered sound of her music. Even though Elvis Presley, Buddy Holly, The Animals and The Kinks had all passed from the music scene by the time she was born, the affable singer / songwriter says about their music, "To me it sounds like it is better than anything that is going on nowadays. It sounds a lot like people who are playing their instruments instead of post production work. There is a lot of simplicity to their music. It sounds like people playing their music and playing them well. You don't hear the effects of electronic recording devices altering sounds. It is raw and real to me.
When Eilen Jewell is in the studio with her band she takes a similar approach to their music. "We try to leave as little to the post production phase as possible. We keep it pretty live. When we record in the studio we keep it to very minimal overdubs, but basically it is live."
The freshness of Jewell's current album, Sea Of Tears starts with the fact that "We were all together like we would be at a live show. We were all playing at the same time. We just don't think that anything is gained by separating the tracks completely. The rhythm section is playing together at the same time. Most people do it instrument by instrument. They lay down a click track and there are a lot of pro tools in the modern day and age, and to me I feel that I can hear that and that it comes through in the performance. What I like about early recorded music is that it is the performance that is being recorded, it is not separate instruments in a vacuum," explains Jewell.
Eilen Jewell's musical evolution also included, "I discovered Bob Dylan first and it was on the earliest recording of his bootleg series that he talked a lot about Woody Guthrie. It was through discovering Bob Dylan that I realized we could go backwards in time from there. Then I wanted to go further back and to find out who Bob Dylan was influenced by. Well he made it very clear that Woody Guthrie was a really big influence on him, so then it was well who is Woody Guthrie and who was he influenced by? There were people who were his contemporaries and Ramblin' Jack Elliott was one of them. Then (the question was) who is he? Who were his contemporaries and who else did he influence? I became aware that there is a musical family tree. That is not something that you get a sense of when you listen to Top 40 radio when you are growing up in Boise Idaho. That is something that has to dawn on you, it is not apparent. When I discovered that, it is when my love of music really got going."
We are quite certain, that most of the aforementioned songwriters (well who knows for sure with Dylan?) were not inspired in the same manner as Jewell was when it came to writing the lyrics for her title track "Sea Of Tears." "I dreamt about a scenario with two people, and the woman was saying the lyrics to the man, so when I woke up, I wrote them all down.
One might think, that the depth with which Eilen Jewell explores musicology that there might be the subtle or unconscious temptation to somewhat mimic the performances of those by whom she was influenced. Not so says the talented singer / songwriter.
"I guess I am good at forgetting the original recording, so when I am singing "The Darkest Day," I am not thinking about Loretta Lynn. I am just thinking about the song and the meaning to me, behind the song. I escape being imitative, at least I hope that I do and I think that is the point of covering a song, it's not to imitate it, but to revive it or to cast it in a new light and to make it your own. I think that a big part of doing that is to forget the original recording and don't hear that voice in your head when you are singing it, hear your own voice and have it come from your own mouth," she says.
When you listen to Eilen Jewell's current album, Sea Of Tears, Riveting Riffs Magazine thinks you will agree that what you are hearing is the voice of a woman who is on the precipice of stardom, but the now Boston based artist has managed to remain focused on masterfully crafting incredible songs, and she is backed by an equally gifted band.