Electronic Firefly combines the extraordinary talents of violinist Silvia Carbajal, cellist Carlos Perez-Íñigo, and keyboardist Rebeca Nayla who all now live in Madrid, Spain, but at one time lived in different parts of the country. Recently, Carlos who prefers to be called Charlie and Silvia sat down with Riveting Riffs Magazine over a Skype call during the middle of the COVID-19 pandemic in Spain and talked about their careers, the formation of Electronic Firefly and the future. For the purposes of this interview, as we often do we are going to dispense for the most part with referring to them by their last names and stick to first names.
The pandemic and for almost three months having to stay inside their homes, put the debut Electronic Firefly album on pause. Sylvia and Charlie have recorded music together aside from Electronic Firefly.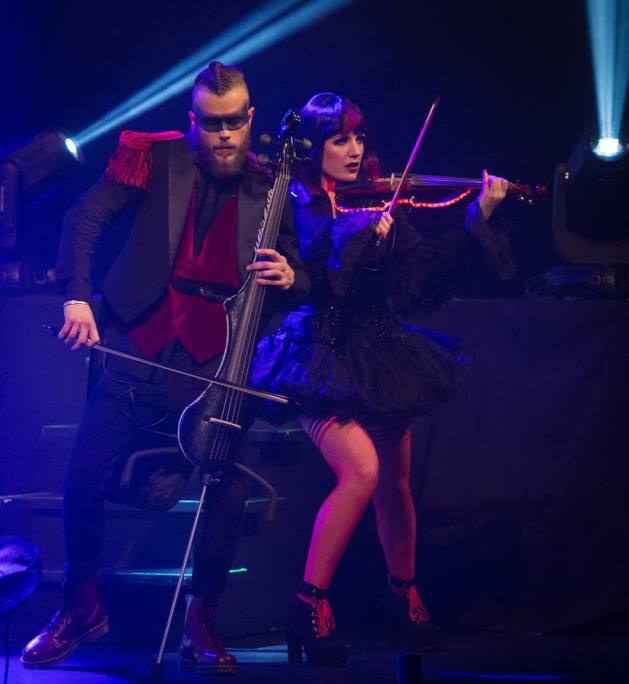 Silvia begins by talking about their music, "We do different types of music and some covers, because people want to hear something that they know like electronica, Frank Sinatra, Amy Winehouse and AC / DC are our favorite types of music. This music is for events and concerts, because people want to hear something that they know. We also do our own compositions. We work with a pianist (Rebeca Nayla) and we do a mix of electronic music and music for films. We are doing our first album and it will be an album with our songs."
Charlie continues, "We have quite a lot of songs recorded, but this project with the electronica is new. There are three of us in the group and it is completely different than anything we have done before. We have recorded five or six songs already."
Silvia says, "With this quarantine we went out to do some filming for one of the new songs that we composed with Rebeca Nayla but we haven't been able to edit everything, because we have to meet with the cameraman and when this thing finishes (the quarantine) we are going to show them to the world (Editor's Note: As we publish the interview, most of Spain is entering the final stages of returning to a more normal state)."
We both Silvia Carbajal and Charlie Perez-Íñigo having a background in producing music, they are recording the album themselves and this time they are going to mix it as well, with the music only being sent out to be mastered.
Charlie explains why they are going to do the mixing themselves this time, "because the difference between what someone else does and the way we want it is different."
They are going to record a video and song in a hospital setting once they receive clearance to do so and it is original music that Silvia, Charlie and Rebeca composed.
Silvia talks about Rebeca Nayla, "We started to work together for this project a few months ago, but we never played in a concert together. At the moment we are composing and we are doing and for instance (during the stay at home order) we did a version of a song by Ricky and Morty the cartoon. We have some videos with her on Instagram. We only have four or five songs and we cannot do a concert with just four or five songs, so we are composing more."
As for how Electronic Firefly was formed, you have to go back to when Silvia and Charlie first met, "Silvia called me to make Electronic music, but it wasn't until almost three years ago when we were really tired of working for other people and we were not working in the way that we wanted that we decided let's do what we wanted. We thought let's compose and make covers of the music that we like."
For the second time this year I found myself talking to a musical couple who have slightly different versions of how they came together and Silvia enlightens us.
"I have another version. We met each other three and one-half years ago. We didn't work together. I came to Madrid six years ago to improve my improvisation in all styles, Jazz, Electronic and Rock. Three years ago I called Carlos (Charlie) to work in an orchestra that I created and for an important event in a big disco in Madrid. It was the party for the New Year. The orchestra was five violins, one cello, an electric guitar, drums and double bass.
It was a big show with electronic music. All of these musicians played for the party. Carlos and I met each other there and we started to work in other (projects) together. We also started our personal relationship and we thought it was better to work together, because it gave us a lot of time to prepare everything. We also decided to make something for us, because we were very tired working for other people. We wanted to be our own bosses. We prefer to work together and not with a big group."
Although, they have a passion for electronic music both Silvia and Charlie needed to change the play that they play their instruments.
Charlie explains, "We are using our knowledge to make another kind of music and we had to change our techniques. For example now I play on my feet and I am not on a chair sitting down. That is one big change for me. There are different techniques with the bow in the left hand to make things a little less Classic and more modern. When I play on my feet standing up my right hand does not put the weight of the hand on the bow with the same angle, as when I am sitting down. It is just physics. Instead of going down I have to go in. For the left hand it is the same, the angle is more like an electric guitar. I have to do adapt everything to standing up."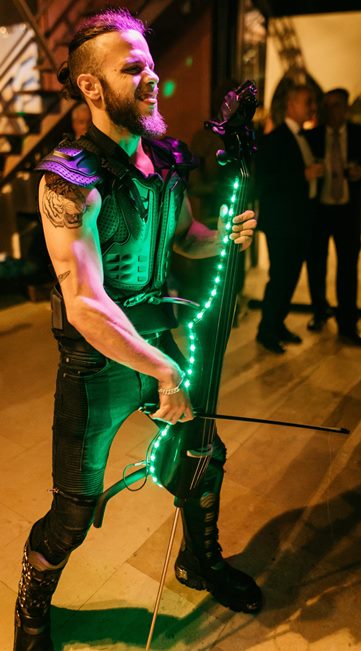 Silvia talks about what is different for her when playing, "The technique is almost the same, but the style is very different. There is a difference between me and other guys who play electric violin. Why? There are Classical musicians who take an electronic violin and they play the same way with similar results. I don't like this. I think you have to change the style. It is similar in Classical music when you play Baroque music you have to play it in a different way. In Classical music if you play Mozart you have to play another way. You have to play the same instruments, but with different styles.
When I play (electronic music) the technique is similar, but I make different styles and I imitate other instruments. For example, when I play Rock I try to play like a guitarist and I try to make the movement of my fingers very similar. When I use distortion and pedals and when I modify my sound I have to play differently with the bow. As much as you want to play with distortion, the less weight you put on the bow. You think to make noise you have to use it more, but no. For example when I play with pedals I don't put as much (pressure), because the strings vibrate and they make more noise. Not everybody knows this. Many violinists do not know this and they play with more weight and you have to know with distortion you have to play lightly, because with the vibrations the sound is amplified. If you play with more weight you cut down on the effect of the distortion."
Between the two of them, they can perform almost any kind of music, except Flamenco, which they both say is very difficult to play. Silvia also adds, "Of course we don't do Rap, because we hate it."
During their careers both Charlie and Silvia have performed and toured with some of Spain's most celebrated artists including Ara Malikian and Pasión Vega (Charlie) and Paula Rojo, Pablo Lopez and Litus. Both of them have appeared on major television shows, with Silvia appearing on The Voice.
Most recently, Silvia Carbajal has also been part of the musical ensemble to perform for the musical production of 24 Hours in the Life of a Woman produced by and starring actress Silvia Marsó.
"Silvia is a very famous actress in Spain. She saw this play in Paris that is based on the novella (of the same name) by Stefan Zweig. In France they did it with three Ópera singers when Silvia saw it. She decided to do it in Spain, but we do it as a musical. There is a text (script) and there are also songs. There is one actress and two actors and three musicians, a pianist, one cello and one violin. The music is composed by a man named Sergei Dreznin. He is Russian and he used to live in France, but now he lives in the United States. Here it was famous in the theaters and we performed for three years (Editor's Note: In another interview Silvia Marsó expressed her hope that the musical will be presented again later in 2020.)
In 2019 we were going to do it in New York and everything was booked, but Trump didn't let them go to present the play in New York. They were going to the Spanish theater in New York and the programs and the posters had already been made and we couldn't go, because Trump said no," says Silvia and Charlie adds, "It is so sad."
Silvia continues, "It's a pity. Many Americans think they have the best of the best there. Of course there "are good musicians and good actors and actresses, but also they needed to know that in other countries there are very good productions, musicians and composers. I think it is a pity that they don't know very many artists from other countries."
We asked Silvia Carbajal and Charlie Perez-Íñigo to take us back to where this musical journey began.
Charlie tells us his story first, "I was born in Madrid, but my parents decided to go to live in San Lorenzo de el Escorial. It has a very famous monastery from the time of Philip II. There is a lot of history there and it is one of the most beautiful towns in Madrid. There was a conservatory where I continued my professional studies in music. It was a mix of (regular) school and music school. They extended the time from 9 am to 5 pm instead of from 9 until 1:30 or 2 pm. We were in school all day, but at five o'clock we were free.
It was easy to study that way, because you used your time much better. That was more or less until I was sixteen. After I studied in that school I went to a high music school in the Basque country. I was seventeen when I went there and it was a big change of life. I learned a lot, but I wasn't really happy there, because I can't only study, I needed to work and I wanted to go out with friends and to live a normal life.
When I finished my third year I also had problems with my stomach and I had to stop playing for two years. I have Crohn's disease, which is an autoimmune disease. They knew what I had, how to medicate me and how to allow me to recover my life. For two years I was out of everything. I couldn't play the cello. In fact, I quit and I said I don't want to play the cello anymore and I wanted an electric guitar. I didn't want to play cello ever again.
I joined a hardcore, heavy metal group and we took things really seriously. We opened a concert for the American group A Day to Remember. These people told me you have to play cello with us for an intro of one concert. I said okay and that is why I returned to my cello playing and I finished my studies. It was quite a bit to go from not playing for two years to only having one year to prepare for your career exam. There were a lot of hours of study and everything went down okay.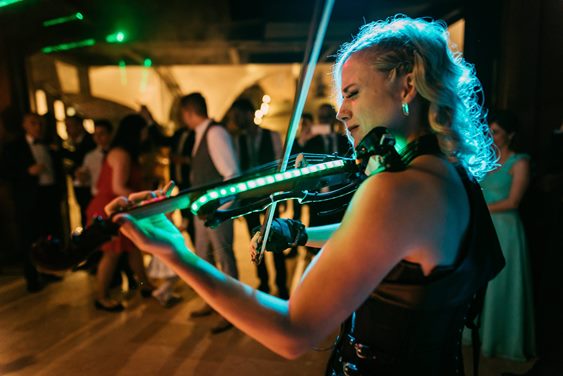 I worked for a year with Ara Malikian and then I studied some more. I studied with Michal Dmochowsky, a Polish teacher at Katarina Gurska School. He is a great teacher. He now works in the most famous school here in Madrid. I took my Master's in cello, as a soloist. It is so crazy, because very few people who play cello are going to be a soloist. Everyone who studies, as a soloist ends up in an orchestra and I didn't want to work in an orchestra, because I had done that and every day it was the same stuff. I wanted a change.
I collaborated with different people on projects and when Silvia and I met we decided to do this and it is going really great. We are really happy now."
We asked Charlie if he remembers the first time he ever played, before an audience and he says, "I was really small, four or five years old and I played violin, before the cello (Silvia starts to giggle) and with my sister, who was two years old. We only made noises, because it was so difficult for a little child to play. I remember my parents were like (and he laughs) you have to study more. This is not okay. My parents have always been very strict."
Silvia then shares her story, "I started to play music, because my father loved music. My father grew up in a small village with cows on a farm in the north of Spain in Asturius where I was born. He was not able to study music until he was thirty years old. It was his passion. He forced me to go to music school. I never said I want to play the violin or go to music school. He decided everything. I started to study music in a small school and I played the accordion when I was four years old. I had a small, red accordion.
When I was seven or eight years old the school of music came to Oviedo. Oviedo is the capital of Asturius. It is between the Basque country and Valencia. The music and the tradition there is very similar to Scottish (traditional music) with accordions and hornpipes. The traditional music there is like Celtic music.
The made a new school of music there and last week I did a video, because it is the twenty-fifth anniversary of that school and when I went there to start to play the violin. I wanted to play piano and my second choice was violin. They said violin, so I said okay. I didn't decide to be a musician, my father decided. I didn't decide to play violin either. I studied there for many years and then I went to the university to study music in Oviedo and to the conservatory. When I was twenty-one I finished my violin education. Then I did my Master's in pedagogy.
I was very lost when I was twenty-one and twenty-two years of age, because I always studied in the conservatory with the Russians. They are very strict and their methodology is very antiquated. They were very physically and verbally abusive during the lessons. My teacher was an incredible violinist, but he was not a good teacher. I learned a lot from him, but I was afraid. You cannot imagine. When I finished the conservatory with these strict teachers I was very lost, because I didn't know what I had to do. I was very depressed, because I didn't know how to work in real life with my music. I didn't know if I wanted to be in an orchestra or what I wanted. I stopped playing the violin for almost one year.
Suddenly, I was called to work as a violinist on a cruise ship. I was very nervous after not playing for one year. I agreed to do it and I studied like crazy for fifteen days. I made a repertoire with both modern and Classical music. I worked on the cruise ship for six or seven months and I know all of the countries in the Mediterranean Sea and the Adriatic Sea (she lists them).
When I finished my contract I returned to Asturius. I decided not to go back to the ship, because I found it difficult to work and to live in the same place. I decided to move to Madrid to improve my modern style in violin. I bought an electric violin. I started to study in a school that is called Escuela Creativa. This was Jazz, Latin, Rock, Pop, improvisation, everything. I studied there for one year and the next year I studied at Alfonso X University and I also taught kids modern violin.
Then here in Madrid they started to call me to play everywhere. This is the result of thirty-two years."
Please visit the official Instagram account for Eletronic Firefly and you can sample their music here and here. You can also follow Electronic Firefly on their official Facebook page.
#ElectronicFirefly #SilviaCarbajal #Carlos Perez-Íñigo #ElectronicMusicSpain #MusicaElectronico #RivetingRiffs #RivetingRiffsMagazine #RivetingRiffsRevista #MusicaEspana #ElectronicViolin #MusicosEspanoles #ElectronicCello #RebecaNayla #CheloElectronico
This interview by Joe Montague published June 8, 2020 is protected by copyright © and is the property of Riveting Riffs Magazine All Rights Reserved. All photos are the the property of
Electronic Firefly unless otherwise noted and
all are
protected by copyright © All Rights Reserved.
This interview may not be reproduced in print or on the internet or through any other means without the written permission of Riveting Riffs Magazine.