Elisabetta Comotto Italian Jewelry Designer One of Italy's Finest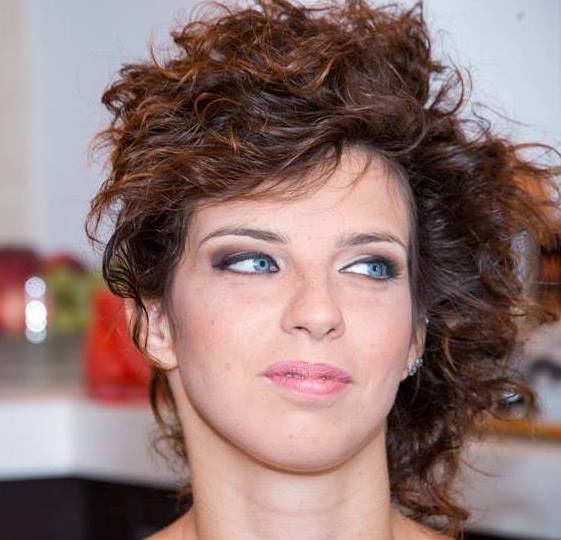 For Elisabetta Comotto, becoming a jewelry designer and we might add a really magnificient one was not a career that she decided on, but instead that career chose her. Her mother had a shop located on the outskirts of Genova (Genoa) where she sold jewelry and her father was a salesman of watches.
She says, "I made my first decision to create jewelry when I was eight years old and I was playing behind the counter of the store and my mom gave me toy beads to make necklaces made of plastic!" (Elisabetta Comotto smiles while she tells the story)
Comotto's formal training was a combination of formal education through the Isituto Statale d'arte Chiavari and England's Gem A.
Elisabetta Comotto says, "At seventeen I started working in the studio with Massimo Sasso, my mentor, while I was still attending school to become a goldsmith. The street where my studio is located is called the street of the Goldsmiths and it is in the center of Genova. There have been goldsmiths here since the year 1700."
Massimo Sasso had also studied under another of Italy's great goldsmiths, Pietro Sforza and in 1983 with his friend Giorgio Favali they opened their own studio and workshop O Scagno di Fràveghi, which gained an excellent reputation for the quality of their designs, work and finished jewelry. Massimo Sasso decided to retire in 2011 when he turned 77 years old and Elisabetta Comotto assumed ownership of the business and renamed it Comotto Gioielli. The ancient craft of being both an artisan and a goldsmith has been passed down through three generations of goldsmiths and now even though Elisabetta Comotto has many years ahead of her still, she too is passing on that precious knowledge and the techniques that she learned from Sasso who in turn learned them from Sforza.
"There is a very capable person who works here with me, Roberta and she is very good. I am teaching her about my work as Massimo did with me when I was a kid," says Elisabetta Comotto.
Comotto Gioielli offers two lines of jewelry one that is unique and there is never a chance that you will walk down the street and see someone else wearing the same ring or necklace as you and Comotto also has a line of original designs that are replicated, so if you see one of those pieces of jewelry on someone else there is a possibility of purchasing the same jewelry from Comotto Gioielli.
Of the one of a kind jewelry, Comotto says, "The jewelry is made according to the customer's needs and it is important to listen to their desires and translate them into reality in the form of the jewelry. The jewelry is extravagant and original designs.
What gives me the most satisfaction is seeing how happy my customers are with their new jewelry! I am very happy with my work and I could not ask for anything better.
My inspiration and it is reflected in my jewelry comes from nature, the flowers, the leaves and the sea at Portofino (an Italian village), because these are the things that I love the most and they remain for the most part untouched. I love to watch the sea, because I think it is spectacular!
Sometimes I take broken watches and turn them into jewelry like I did with these unique designs."
In collaboration with another artisan, Elisabetta Comotto created a line of blown glass jewelry that consists of earrings and necklaces.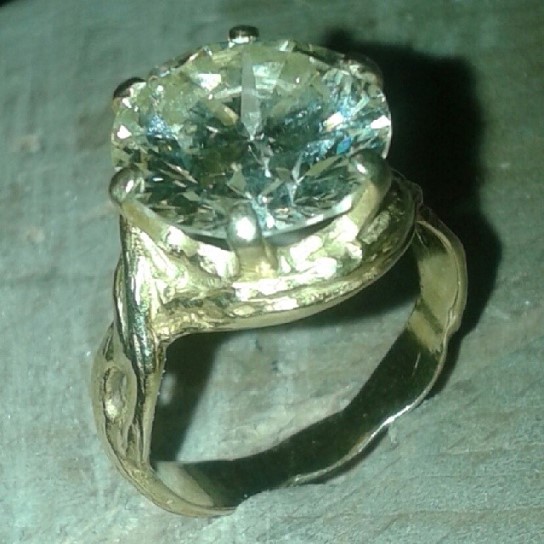 She explains, "This jewelry is meant to inspire relaxation and at the moment when a woman is immersed in a bathtub full of soap bubbles and plays with the glass balls, she feels beautiful. Some necklaces are very delicate, because it is glass, but they are still wearable."
Elisabetta Comotto talks about the creation of each ring, "Each ring takes on average six to seven hours to make and the first step is to create an ingot, but not like those of Scrooge McDuck (she says smiling). Ours are much longer and imprecise, like a stick. I then pull it in a mill and crearte a thread that is more precise in measurement, leaving enough space for creativity. I use pliers, hammers and shears to achieve the desired shape. If I am adding precious stones such as, diamonds, sapphires and emeralds then proceed with finishing and polishing them."
The combination of Elisabetta Comotto's innovative jewelry designs, her hard work and her entreprenurial flair were some of the reasons why in 2012 Comotto won an award for premio miglior giovane imprenditore 2012 (Italy's Best Young Entreprenur Award).
The year 2015 was an exciting time in the life of Elisabetta Comotto, because she married Roberto Torielli on July 26th.
"It was a lot of fun planning our wedding, because we are both creative people. I made four pairs of different wedding rings, because we did not know know how to choose. In the end we decided to create simple rings in white gold, with both rough and smooth and that reflects aspects of our character.
I also made one hundred wedding favors to give to our guests, a small key ring in the shape of a silver sunflower. My wedding dress had a sunflower studded with precious stones."
In December of 2015, Elisabetta Comotto over the internet gave Riveting Riffs Magazine a personal tour of her workshop and studio, Comotto Gioielli. Through the use of technology and her video camera we took a step back in time and got to peek at where one of Italy's finest artisans and goldsmiths performs her magic.
Elisabetta Comotto is a very gracious young woman and this writer owes her a great big thank you for making this interview possible, because you see, your correspondent does not speak Italian and Ms. Comotto does not speak English.
Let's tell the people where they can find your jewelry Elisabetta.
"Our jewelry can be purchased directly from Comotto Gioielli or at our online shop or from the jewelers who have decided to carry our brand."
Please visit the website for Comotto Gioielli and you can also follow Elisabetta and her new designs at the official Facebook page for Comotto Gioiella.
Photo of Elisabetta Comotto by Nicolò Beardo of Fotostudio Azais
This interview by Joe Montague published February 21st, 2016 is protected by copyright and is the property of Riveting Riffs Magazine © All Rights Reserved. All photos courtesy of Elisabetta Comotto and are
protected by copyright ©, All Rights Reserved
Portrait photo of Elisabetta Comotto is by
Nicolò Beardo
of Fotostudio Azais. This inteview may not be reproduced in print or on the internet or through any other means without the written permission of Riveting Riffs Magazine, All Rights Reserved