Elisabetta Russo is an Italian soprano soloist and Opera star who was born in Bari in the Puglia region of Italy and who grew up in Calabria in the town of Cariati. She now makes her home in Los Angeles, California and recently she received her green card. She has performed with some of Europe's and North America's most well-known members of the music community including, Andrea Bocelli, David Foster and Renato Bruson.
Describing her childhood she says, "It is a beautiful city in the Calabria region. I had a loving childhood and I was raised in a very loving family who always supported me. Living in Cariati it was nothing short of an amazing privilege, because I was incredibly lucky to play by the sea, inspired by nature and the coastline. I was twelve years old when my father brought home a magazine, along with a Classical CD of the opera Aida by Giuseppe Verdi. I fell in love with the story, but most of all with the beautiful music. It was my soundtrack for the whole next month. I just couldn't stop listening to it.
I used to sing Pop music as a child, but then I am an old soul and Rossini, Verdi and Puccini were the right companions for the musical adventure that I was about to start."
During her youth Elisabetta Russo played Classical piano and she also took vocal lessons. She later auditioned for the S. Cecilia Conservatory of Music in Rome, from which she graduated in 2004 with a Bachelor degree in Vocal Art and she also has a Master's degree cum laude in Chamber Music and she attained the highest marks possible. She studied with some of the most iconic figures in Italian music, Edda Moser, Renata Scotto, Alberto Zedda and Renato Bruson.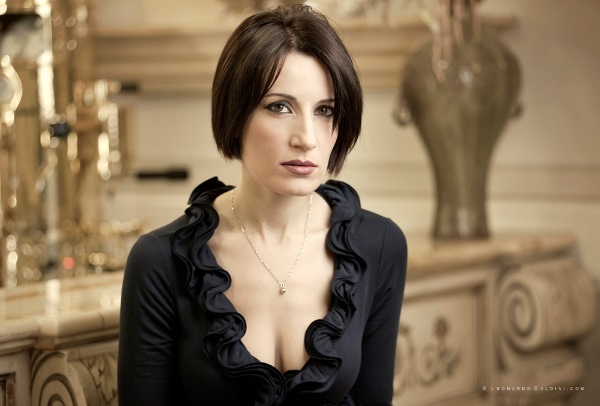 Ms. Russo refers to her time with Alberto Zedda as being, "a unique opportunity. He was a very important figure in my career and my whole life. He was very demanding, but also so encouraging and joyful. He loved his students more than anything else." (Editor's note – Mr. Zedda passed away in March of 2017. He was eighty-nine years old.)
With her decision to embark on a career in music she says, "In the beginning it was a little bit hard, because (my parents) worried about me. They knew that show business is very complicated and sometimes it is very dangerous, so they didn't want me to pursue this kind of a career. Then they just let me do whatever I wanted to do and they were very proud of me. They followed me everywhere. Even though I am in the U.S. now and they are in Calabria they support me more than ever. I am very grateful."
A survey of Elisabetta Russo's career in Italy quickly reveals that she collaborated with some of Europe's most notable Classical and Opera talents including, Eugene Kohn, Bruno Aprea, Marco Boemi, Gianna Fratta, Nicola Piovani (Oscar winning score for La Vita e Bella (Life Is Beautiful) and Ennio Morricone. In addition to his contributions to Classical music Morricone has scored and composed music for more than 500 feature films and television programs including, A Fistful of Dollars, The Good, the Bad and the Ugly, La Cage aux Folles I, II and III, The Untouchables, Disclosure, Mission to Mars and Ripley's Game. Ms. Russo has also worked with composer and conductor Andrea Morricone (Ennio's son), whose accomplishments include scoring the films, Cinema Paradiso and Liberty Heights.
"I had the opportunity to tour for ten years with Ennio Morricone," she says.
Elisabetta Russo's numerous operatic appearances include the character of Nannetta in Falstaff (starring Renato Bruson) by Verdi at Teatro Cilea, Reggio Calabria, Fiordiligi in Cosi fan tutte by Mozart, Gilda in Rigoletto by Verdi in both Milan and at the RAI Auditorium in Naples and one of her favorite roles as Norina in Don Pasquale by Donizetti.
"I have done a lot of concerts in America, but I did some roles in Italy and in Europe. My favorite ones are Norina in Don Pasquale by Donizetti. It is a comic opera. I like her, because she is smart, charming and she knows how to play men in a very good way of course. The music is fantastic. It is so happy and joyful. It is a very pleasant story.
I was Nannetta in the opera Falstaff and it is an opera in three acts by the Italian composer Guiseppe Verdi and it is adapted from Shakespeare's play The Merry Wives of Windsor. She is a very young woman and she is in love with a nice guy. They are both young. I like her, because she is the expression of young and generous love. She is full of passion and she is the expression of pure love. I love her," she says.
A trip to America in 2011 became a turning point in Ms. Russo's life and career and she explains how, "I went on a trip with some friends of mine, Italian musicians. We were here in LA for one and one-half months. We promoted our music and we (performed) free concerts, just to enjoy without any expectations. Then an agent from the Hollywood Music Awards heard me singing and he asked me to participate in a competition, so when I went back to Italy I sent him my videos and music. After three months I received a nomination for the Hollywood Music Awards and I came back to LA and I won as the Best Female Vocalist.
In 2013 I moved and I received my actor's visa. Since then I have really enjoyed living here in LA (Just a few days before our conversation took place, Elisabetta Russo received her green card).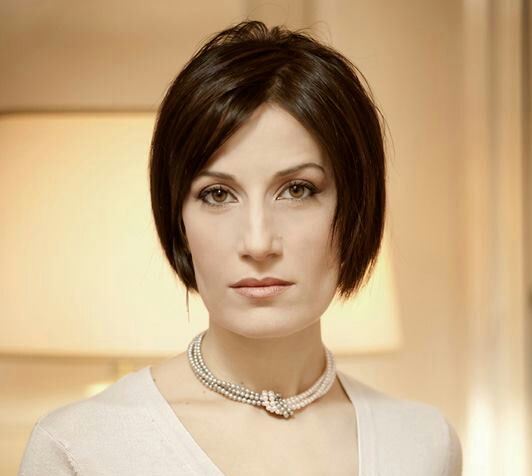 "I had the opportunity to sing with Andrea Bocelli and David Foster at the opening of a concert at the Paramount Studios in Hollywood. It was an unforgettable experience also because I didn't have the time to rehearse with any one of them. I just figured it out. I met David Foster right before I started singing and we were laughing about this with the audience. He said nice to meet you. Actually this is the first time we met, but we should do this again soon, because it was wonderful. It was very exciting. I met with Andrea Bocelli. It was amazing. He played piano for me when I sang "O Mio Babbino Caro," from Gianni Schicchi by Puccini. Some months ago I had the opportunity to see him again. I really love him. He is a very kind soul. It was amazing," says Elisabetta Russo.
Elisabetta Russo is enjoying her time in America and she says, "The thing I like most about living here is I have a lot of opportunities and most of all I notice I can do it just by myself. Here I am very much appreciated for what I do and for who I am. It is hard of course, because it is a completely different world. I just got my green card and I am very happy about that, because I know it is so hard to get it. I am confident that everything is going to come. Everything is awesome and it feels just great.
I have a lot of good friends and supporters. I have people that love and care about me. I am far from my own country and family, but I notice if you live with passion you will achieve your goal. I did that all of my life. I moved to Rome when I was 18 years old and then I went to Milan and I toured Europe and then finally I got here.
I am doing a lot of stuff (in the United States) and now I am working with the National Children's Choir, as a vocal coach. That is a fantastic opportunity that I have. I am working with fantastic and very talented kids from eight years old until fifteen years old. They are going to go on tour in Italy during the summer (July, 2017) and so I am working along with them to prepare them for this big concert series. They have beautiful voices. They love everything I told them about my country. I am very proud to be the tool or the instrument that the can (learn to) love my country in the same way that I love it. They are going to sing in my conservatory in Rome and in other places around the nation."
On August 27, Elisabetta Russo will be performing with the Virtuosi Orchestra, conducted by Carlo Ponti, Jr. The event is a benefit to raise money for Caterina's Club, which feeds approximately 1,200 children daily and provides assistance for homeless families. This is the link to their website.
"I also have an event in Miami for a fashion show that is connected with a big art gallery and some other concerts back in Italy with some musicians that I know," says Elisabetta Russo.
As for her future and making America her home, "It is always exciting here. That is the good thing about the United States you don't know what is going to happen, but the thing is you could expect something very exciting and something very special ahead. Here everything is possible and I can say that, because I am very proud now and my life is completely changed."
Please visit the website for Elisabetta Russo, where you can learn more about her concerts and listen to some of her music. She is a tremendously gifted singer and in the opinion of this writer she is also one of the nicest and one of the most grateful people this publication has ever interviewed. She truly is someone who deserves the opportunities that come her way.
All Photos by Leonardo Baldini.
This interview by Joe Montague published April 16, 2017 is protected by copyright © and is the property of Riveting Riffs Magazine All Rights Reserved. All photos are the the property of Elisabetta Russo and all are
protected by copyright © All Rights Reserved.
This interview may not be reproduced in print or on the internet or through any other means without the written permission of Riveting Riffs Magazine, All Rights Reserved