Interview by Joe Montague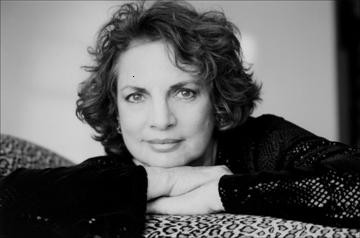 There is an old cliché that goes something like this, 'If it looks like a duck and walks like a duck, it probably is a duck.' That cliché may apply to some people and most certainly is applicable to ducks but it relates in no way to the life of jazz singer Elli Fordyce or the attitude with which she approaches her life. The singer who will be turning seventy years old on March 31 demonstrates no signs of slowing down and does not fit the stereotype of someone about to join the septuagenarian club. As my two conversations and several emails with this fun loving lady revealed she seems to be forever a whirlwind of activity and is continually seeking out fresh challenges.
On April 1 at Manhattan's The Jazz Gallery located in New York City Fordyce will have a belated birthday celebration while recording a live album. Fordyce says of the afternoon performance () "Half of the songs are new for me and half of the songs are very comfortable and easy for me, they are standards. Some of them are things that I have been thinking about for a long time and I haven't had a chance to record yet. I am going to relax and enjoy all of it."
"I had been working on a studio recording off and on for a number of years in different formats and with different producers," Fordyce says. It did not seem things were progressing to her satisfaction so she suggested to her producer that the next time they lay down vocal tracks they try a live recording.
"I am just not the same performer in the studio as I am live. That was the reason for the choice to do this now and to do it as a live recording," the singer says.
Fordyce says, "There are several songs from my old repertoire in the seventies. Some of the songs are beautiful and were top forty hits at the time. We are still picking and choosing the songs and some may not end up on the record."
"Some of the songs I just truly love and one of those is Johnny Mandel's "Where Do You Start?". He wrote the music and the Bergmans (Alan and Marilyn) wrote the lyrics."
"Another song that isn't heard from often is "Where Am I Going?" I have three songs in this repertoire that start with "where" which is a little bit funny. "Where Am I Going?" is from the Broadway musical and movie Sweet Charity. Shirley MacLaine sang it in the movie. I fell in love with it and learned it in 1970. "Where Am I Going?" is written by Marvin Hamlisch and Dorothy Fields," says Fordyce.
Fordyce reflects further, upon the rather cynical lyrics for "Where Am I Going?" saying, "There is a line that says, "No matter where I run I meet myself there." That has always rocked me because it is so much of what many people do not get (about life). They think, 'I am not happy here so I will switch jobs, I will switch husbands or whatever and they do not realize that they are still going to be the same person. It may work for a minute but you have to get to yourself."
Other songs that may make it to the live recording or perhaps performed on April 1 include "A Child Is Born" which Fordyce refers to as beautiful and touching and "Waltz For Debbie". Bill Evans originally penned the music for the later tune and Alec Wilder wrote the words. People such as, Frank Sinatra, Mitch Miller, Marian McPartland, Stan Getz, Clark Terry, Zoot Zims, as well as Cab Calloway, Doc Severinson and Bob Brookmeyer recorded Wilder's music.
Fordyce is also considering for the live recording the Jimmy Webb song "Didn't We". Just two weeks before The Jazz Gallery gig she was still undecided if the song would be included during the afternoon performance. The songwriter Webb remains one of America's most prolific modern day writers who penned such popular songs as "Up, Up And Away", "Wichita Lineman" and "MacArthur Park".
On April 1 pianist Jeremy Manasia, bassist Neal Miner, drummer Joe Strasser, Samuel Torres (percussion) and flautist / sax man Aaron Heick will accompany Elli Fordyce. Strasser and Torres have previously recorded with the singer.
The live recording will be the second recent release by Fordyce whose CD Something Still Cool will soon hit the streets. What is incredibly amazing is the singer took a fifteen-year hiatus from her singing and only returned to her music career when she was in her fifties. I wondered if the time away had influenced her song selection. She says that during the first half of her career she was not often given the opportunity to perform from a repertoire that included jazz standards. Her music consisted more of pop oriented tunes that often were in the top forty charts. It was only occasionally that she found herself singing these tunes with any sense of jazz colors.
"A song that I loved back in the day was Frank Sinatra's "In The Wee Small Hours" which he did in the fifties (from the record In The Wee Small Hours-1955). I thought it was beautiful then and I still do. It is a beautifully constructed song," she says.
Fordyce tells me another song that she is fond of is "Where Do You Start?" "I am not exactly sure of the publication date but it is certainly not from the classic jazz standard time period. I think Shirley Horn recorded it (Here's To Life-1992), so we are talking fifteen years at the most since it has been around. To me it is pretty new," she says
The title of her CD Something Still Cool was inspired by the June Christy song, "Something Cool" from the ten-inch record of the same name that was first released in 1954 and later as a twelve-inch record in 1955. Fordyce was still a teenager when Christy was hitting full stride and is the woman who many credit as defining the cool jazz idiom for vocalists.
"June was the one who knocked my socks off. Something Cool was her first album as a solo singer and I thought this is just the most romantic song. I didn't have a clue what the song meant at age fifteen but later in life when I began singing jazz again (in her fifties) this was one of the first songs to come to my mind. I now understood what that song was saying and could get really involved with that story.
"There was another song from that same album (Something Cool) "It Could Happen To You", and I have been singing it ever since then. The words are fun, the beat is fun and it is cool jazz. It doesn't have anything depressing in the story which is important to me," she says.
Elli Fordyce is a long way removed from the teenager who used to hang out with Bobby Darin in high school and maintained a friendship with the singer/actor throughout most of his life. She has traveled far from the seventeen year old who battled insecurity when her family moved to a different town during her senior year of high school. She found comfort with a friend listening for many hours to June Christy's music.
In times that are more recent Fordyce began an acting career in her sixties and recently joined the Screen Actors Guild and the AFTRA. Most of Fordyce's work was shot for small budget productions but she talks enthusiastically about the projects and looks eagerly towards more acting gigs.
If you are thinking about making the trek over to The Jazz Gallery on April 1 to take in Fordyce's live recording something tells me you are in for a special treat. She says of her approach to a song, "When I go into the story it is like a walking movie for me. When I am singing something, I am in it; I am not talking about it."
Interview by Joe Montague, all rights reserved, protected by copyright © 2006 Return to Our Front Page