Enola Holmes, a feature film released on Netflix in the fall of 2020 is a fun, adventurous movie set in England during the 1800s and as the title might suggest there is a connection to Sherlock Holmes and his older brother Mycroft, but in name only. In Sir Arthur Conan Doyle's books Mycroft was referenced, but to our knowledge there was never any mention of a younger sister of the two brothers. This fabulous, all ages film directed by Harry Bradbeer stars now sixteen-year-old actress Millie Bobby Brown, who was cast in the role in 2018 and also is one of the named producers. By then Brown had already been twice nominated for an Emmy Award and once for a Screen Actor's Guild Award.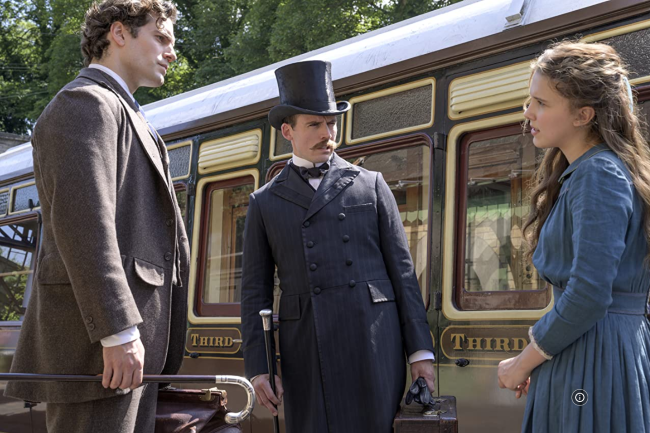 The storyline of the film goes like this Sherlock is disinterested in his family, as he is heavily focused on solving crimes in London, which is not where Enola and her mother Eudoria Holmes live. The widow, Eudoria is portrayed by British actress Helena Bonham Carter looks as beautiful as ever. Her performance is both sublime and powerful. Carter plays a feminist, a suffragette using the language of the day, who is raising her daughter to be independent, strong of character, equipping her with knowledge and even with martial arts. Really it is Millie Bobby Brown and Helena Bonham Carter who are the stars of the movie. It is a strong film that presents in a lighthearted way the importance of women's rights whether in the 1800s when none existed or today when women often still find themselves struggling to be considered as equals in every facet of society.
Henry Cavill is cast as Sherlock Holmes, Sam Claflin as the evil Mycroft and Louis Partridge as Tewkesbury, a young member of the nobility who becomes Enola's friend, with hints of a budding teenage romance. In a nice plot twist for a change, it is the young woman who is always rescuing the young man, instead of the other way around. There are the usual adversaries that one would expect, Miss Harrison, played by Fiona Shaw who conspires with Mycroft Holmes to confine Enola to a finishing school to make her a proper young lady and to drum out of her the sense of independence that her mother had worked so hard to develop. Oh, we forgot to mention, Mycroft, as the eldest now stands to inherit the family's estate and Enola's mother has disappeared. Frances De La Tour is the dowager, and David Bamber is the very evil Sir Whimbrel.
There are times in the film when Millie Bobby Brown's character turns and talks directly to the camera and by extension the audience that is watching and you feel like she is actually talking to you one on one. There are other times when she so completely owns her scenes that you are stunned, and you are left wondering how on earth this young woman has so mastered her craft at such an early age and how her character has become such a capable detective, while in her teenage years, often upstaging her famous brother.
Helena Bonham Carter, whose accolades we could extol here for days on end is brilliant, as she portrays strength, tough love, tender love and a rebel's heart. The depiction of mother and daughter by Carter and Brown is authentic and believable.
This is a film for literally all ages, and in fact you could sit a small child, say six years and up down with you to watch the film and there is absolutely nothing in it that you have to be concerned about.
We do not use a rating system at Riveting Riffs Magazine, but if we did this film would be at the top of the list and again most of that is due to the performances of Millie Bobby Brown and Helena Bonham Carter, which is not to take away from the performance of any other members of the cast, but really the characters for these two actresses are the primary focus of the movie. They are also splendidly gifted actresses.
Now a word about Millie Bobby Brown. Do yourself a favor and go on YouTube and watch interviews that she has given in the past. You will find interviews with Stephen Colbert, Jimmy Fallon and others. She was born in Málaga, Andalusia, Spain and lived there for the first four years of her life, before her family moved to the United States and she now splits her time between London, England and Atlanta, Georgia. At an early age (it seems funny saying that about someone still only sixteen) she was cast as Alice in Once Upon a Time in Wonderland, in 2013 and she had a recurring role in the television series Intruders, the following year. Her television appearances have been numerous, and she rose to stardom portraying the character Eleven in the Netflix series Stranger Things. She starred in Godzilla: King of the Monsters and the just completed sequel Godzilla vs Kong. She has two more films in the pre-production phase, The Girls I've Been and The Thing About Jellyfish. In 2017 she signed a modelling contract and shortly after her fifteenth birthday she was named by Time Magazine as the youngest person ever among the top 100 most influential people in the world. UNICEF also named her as their youngest ambassador to create an awareness of and to advance children's rights. Did we happen to mention that she was also involved in the development of her own skin care line and one that she wanted to ensure was accessible to people who did not have an endless supply of money to spend on those types of products?
This is a link to the trailer for the film Enola Holmes, starring Millie Bobby Brown and Helena Bonham Carter.
Photos by Alex Bailey, Legendary, protected by copyright.
#EnolaHolmes #EnolaHolmesFilmReview #MillieBobbyBrown #HelenaBonhamCarter #RivetingRiffs #RivetingRiffsMagazine #SherlockHolmesSister #HenryCavillActor #SamClavlinActor #LouisPartridgeActor #MysteryFilms #FamilyFilmReview #
This interview by Joe Montague published January 18h, 2021 is protected by copyright © and is the property of Riveting Riffs Magazine All Rights Reserved. All photos are the the property of
the producers of Enola Holmes and / or Netflix unless otherwise noted and
all are
protected by copyright © All Rights Reserved.
This interview may not be reproduced in print or on the internet or through any other means without the written permission of Riveting Riffs Magazine.