Erica Sunshine Lee Interview and Album Review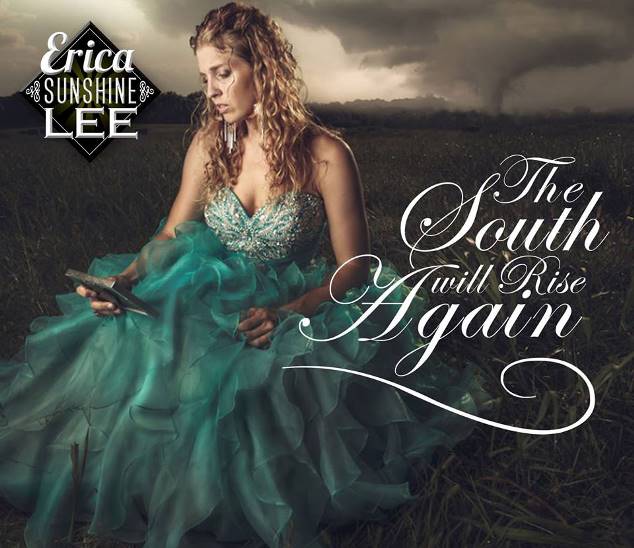 Erica Sunshine Lee's star is rising quickly, because she has matured as an artist. She still writes the fun songs such as, "All My Bucks Go To Starbucks," and ""How 'Bout Them Dawgs," but she also writes and sings heartfelt and vulnerable songs like "Train Wreck," and "The South Will Rise Again," the title song from her new album. Lee is one of the hardest working artists in America today, relentlessly touring coast to coast and internationally and one gets the sense that shestands on the precipice of suddenly being thrust into the national spotlight, as she breathes new life into America's somewhat cloned Country Music scene. Listeners feel the urge to dance to her songs and to sing along to them, but most of all they have fun with the up-temp ones and they identify with the vulnerability of the duet "You Saved Me." All of the songs on the new recording The South Will Rise Again are original tunes.
The first three songs on the current album, "Girls Night Out," "Georgia For This," and "Everyone Loves A Country, Girl," are very quick moving and get the party started early. The opening track "Girls Night Out," is a party song, about the ladies having fun, dancing, turning heads and closing down the club. "Georgia For This," this writer's personal favorite from the record, good naturedly pokes fun at the California lifestyle, while reminiscing about what the singer-songwriter truly cherishes about her Georgia roots. Eamon McLaughlin's fiddle spices up the guitar driven tune.
About the song "Georgia For This," Erica Sunshine Lee says, "I was hanging out in Nashville with my friend Joe Denim and we were discussing what I experienced while living in California. I told him how people in California tend to watch what they eat and how I love food too much to sit around and eat salad, how I would rather eat steak or fried catfish. I mentioned that California diets consist of tofu and avocado and he said, 'Tofu and avocado don't make a meal.' (the opening line of the song)"
As Lee and Denim continued to talk, their conversation would eventually become other lines to the song. She says, "I told him how I missed going out to the lake catfish fishing, eating fried chicken, frog giggin', tires spinning in that Georgia day, muddying up my Chevrolet. He loved it and the rest (of the song) flowed out in about an hour.
When we finished writing the song at my home in Nashville, we went across the street to Elm Hill Marina, to Pirate's Cove and we celebrated with fried catfish, french-fries and sweet tea. My favorite song, "Georgia For This," was born!"
Lee talks about choosing the name The South Will Rise Again, for her album and the poignant song that bears the same name, "This album's title track "The South Will Rise Again," is extremely special to me, because I was touring in Alabama, with my friend and talented co-writing buddy Wayne Mills (and we were in) his hometown right after it was hit by a tornado. The family that we were staying with had the only home on the street that still had a roof. They were talking about the tragedy and how people in the South come together to rebuild, after tragedy strikes. It was a very emotional time and I sat down and wrote this song. I had no idea at the time that Wayne would be killed (he was shot and died in Nashville in 2012), but the album means even more now as a tribute to his friends and family. It is not only about rebuilding after natural disasters, but it is about (experiencing) a personal tragedy in my own life, relationships and losing a friend.
The album represents my southern roots. I come from a small town in rural Georgia, where people genuinely care about others and our faith in God gets us through life's ups and downs. "
We are not sure if we have ever heard Erica Sunshine Lee, sing a song more emotively and with more vulnerability than she does with "The South Will Rise Again." This is a beautiful song, sung tenderly by a singer whose love for people and love for the South inform the lyrics and the vocals.
As for the song "Everyone Loves A Country Girl," Lee says, "I'm really excited about this song, because I wrote it at my home in Georgia with my daddy sitting in the living room. It is one of the most memorable songs I've written, because it's my favorite riff on the guitar and it has a fun upbeat party vibe to which all country girls can relate, whether they are from the southeast or not. I've met Country girls in California, Arizona, New York and Australia and we all share common threads, down to earth girls who love the outdoors and who enjoy the simple things in life!"
Erica Sunshine Lee notes that her fans and a lot of her close friends love "Everyone Loves A Country Girl," and count it as their favorite song.
There are so many good songs on this album and they are produced wonderfully by Kent Wells (Dolly Parton) and this is definitely the best that Lee's vocals have sounded. She also surrounded herself with a wonderful cast of musicians, too numerous to name. "Train Wreck," a relationship coming to an end, showcases beautiful vocals by Erica Sunshine Lee. Anyone who has experienced the heartbreak of a relationship ending will feel the pain, as the singer walks out the door, because "I can't watch this train wreck no more."
Australia's Viper Creek Band accompanies Erica Sunshine Lee on the song "You Saved Me," as she sings a duet with band member Damien Bagley. The song "You Saved Me," was inspired by a conversation between Lee and Bagley.
Lee explains, "I asked him what got on his nerves about his wife and he replied, 'Nothing, she's an absolute angel and she saved me.' We wrote about their relationship, how they met, the struggle with him partying and living a different lifestyle and how that all turned around after they met. It is truly a beautiful love story!"
Georgia's Erica Sunshine Lee has arrived. She has several albums to her credit, but The South Will Rise Again, is clearly her best album to date. It is well produced, her vocals are better than they have ever been and her songs are well crafted. She is ready for the next big step in her career, more prominent venues and more significant media attention, and we are predicting that will happen sooner than later.
Please visit the Erica Sunshine Lee website

.

Return to our Front Page
All text protected by copyright and is the property of Riveting Riffs Magazine © All Rights Reserved. Photo is protected by copyright ©, All Rights Reserved
This review / interview, published January 2014 by Joe Montague is protected by copyright © and may not be reproduced in print or on the internet or through any other means without the written permission of Riveting Riffs Magazine, All Rights Reserved