Outside the Soiree, is the name of the album by Jazz singer, arranger and songwriter Erin McDougald, a fitting title for someone who does not shy away from putting a different twist on her music and music that has been composed by others. That said McDougald is far from being a wild child or the 2018 version of in your face Punk come to set the Jazz world on its ear. She is in fact far from that. Erin McDougald is respectful of Jazz music heritage, tips her hat to lyricists and composers from yesteryear and she allows a lot of room for her musicians to showcase their talents. All of those elements are on display in abundance on Outside the Soiree.
For many years now Erin McDougald has been compared to Jazz icons such as Anita O'Day and as flattering as that may be it does a disservice to the tremendous talent that McDougald possesses. This writer would like to suggest that it is now time for Jazz journalists, reviewers and fans to start using Erin McDougald as the gold standard to which other artists should aspire.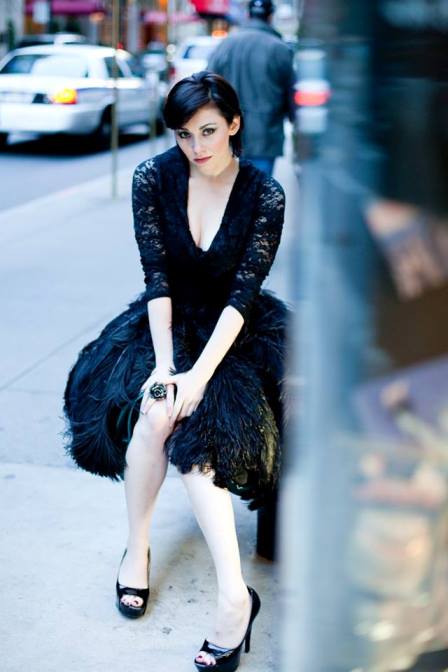 The music from Outside the Soiree is being played on the radio from coast to coast with stations in New York City and in Los Angeles raving about Erin McDougald's vocals, her arrangements and the fabulous musicians who compliment her so well, such as, Mark Sherman (vibraphones), soprano and tenor saxophonist Dave Liebman, percussionist Chembo Corniel, pianist and guitarist Rob Block, drummer Rodney Green, Tom Harrell (trumpet and Flugelhorn), bassist Cliff Schmitt and Dan Block (flute, clarinet, alto and tenor saxophone).
The couplet of songs "Linger A-While / Avalon," will not be as well known to listeners, but that also is an Erin McDougald trademark, as she explains, "I feel that is my trademark, finding obscure songs and unearthing them, so the listener can have a palette that has some historical references to the American Songbook, but I really pride myself on doing the antithesis of what would be expected. On one of my previous albums I did "Slow Boat to China," and we do it at breakneck speed. It is incredibly fast, almost like a tongue in cheek. The lyrics are "I'd like to get you on a slow boat to China," and I thought it is really funny doing it really super-fast, because it is this person who can't wait to kiss this woman for the first time or vice versa.
"Linger A-While," (by Vincent Rose and Harry Owens) is a very rare tune and it has one of the same composers as "Avalon," (Vincent Rose, Al Jolson, Buddy DeSylvia) and both were written in the twenties. "Avalon," is a well-known standard and Nat King Cole had a big hit with it. I thought it would be fun to segue from "Linger A-While," to "Avalon," and I wanted to do a breakneck burner. We showcased Rodney Green on drums. I needed a fast tune. I took a standard with a lesser known tune and we reached a little outside of the box in how we approached it."
Reaching outside the box is pretty much what Erin McDougald does.
Laughing she says, "Yes, and blowing the box up. I think it speaks to a lot of people when you take a stand to be on the outside of something, it unifies a whole bunch of people who you would not have otherwise reached.
I think back all the way to the second grade and I never had a problem making friends. I am very much extroverted and comfortably so. Being a Pisces I have that Yin Yang thing. I also have a great deal of introverted analytical and contemplative personality, so I know how to be alone, to withdraw and to be with my thoughts. I think as artists we have to constantly push ourselves to be in front of people and to promote ourselves. It is such a self-involved and self-centric way of living.
The point is you have to do that to survive. I think intrinsically and inherently I have never been someone who felt part of a clique in any way shape or form going (all the way) back to first, second and third grade. It is not that I didn't have friends. I had friends from every tribe. I keep going back to that word. It is not so much I am with this group and you are with that group. I was just sanguine and I swam throughout people that I liked for different reasons. I like to incorporate as many human beings in my life as possible, because they give you a) perspective, not just on yourself, but on the world and b) if you incorporate that with music you have what we call as musicians, a real conversation happening.
If you don't look outside of the vanilla norm (and say) this is a standard and this is how people know it that is so boring to me. The point of Jazz is to expand and seek new ground. Jazz in itself is a historical foundation. You have to build upon that foundation and find new levels, new ways of seeing things and new views. I think sometimes when you look at things from a different perspective you can be targeted as an outsider. If you are always outspoken and you don't tend to follow the norms or the pack, you are an outsider and sometimes that can be lonely and sometimes that can be very liberating. Learning how to embrace that is the key.
The arts have a way of providing messages to people that are more poignant on an emotional level and an emphatic level, instead of politics, which seems to be rooted in more combativeness. The arts have a voice that reaches people through an emotional vein. Music has a way of reaching people emotionally on any level, no matter what that subject is.
As they say in Jazz you can be as hip as you want and you can play all of these hip things or you can make it super complex and pretentious, but if it doesn't reach someone or they are not emotionally involved listening to it then it is just basically musical masturbation. You have to find a way of creating your skill, your message and your strength as an artist in a way that makes people listen to what you are doing and to feel something or to think about something. Sometimes people don't know why they like music, but you want them to be drawn into the song."
Erin McDougald has been introducing music from her new album Outside the Soiree to audiences across America and the album was first unveiled at the Acorn Theatre in Three Oaks, Michigan. She was at the Bar Fedora in Los Angeles and by the time you read this she will have performed these songs in New York City at Mezzrow Jazz Club and once again in Los Angeles, this time at Herb Alpert's Virbrato Grill & Jazz
"They loved it and I don't necessarily only do new songs from the album when I am singing. I take a handful, three, four or five songs tops from the album and I intersperse them with songs from albums I have released before, especially if I am in a new city that may not (previously) had access to the CDs. (Sometimes) I will do obscure songs or standards that I will do in a different way," she explains.
Erin McDougald decided to release Outside the Soiree on Miles High Records owned by Mark Sherman, yes the same Mark Sherman who works his magic on the vibes for this album.
McDougald explains why she made that choice, "He doesn't sign many singers to his label, which as a vocalist I see as a bonus. He is a highly respected musician who puts out highly regarded albums through his label for other artists and they tend to do very well through promotions and tours. It just made sense. He is based out of New York where I go to sing frequently. It seemed like a good fit. It is an independent label that looks out for their artists. You can actually make some money from the CD versus larger conglomerates who eat you up."
Our conversation segues back to the individual songs and in particular the title track, written by Erin McDougald, "I wrote the song initially as a poem in 2007, while sitting in a park in Chicago. I would go there a lot at night to think. It wasn't far from where I lived at the time. It is a pretty dark song. The song is about an emotionally abusive relationship.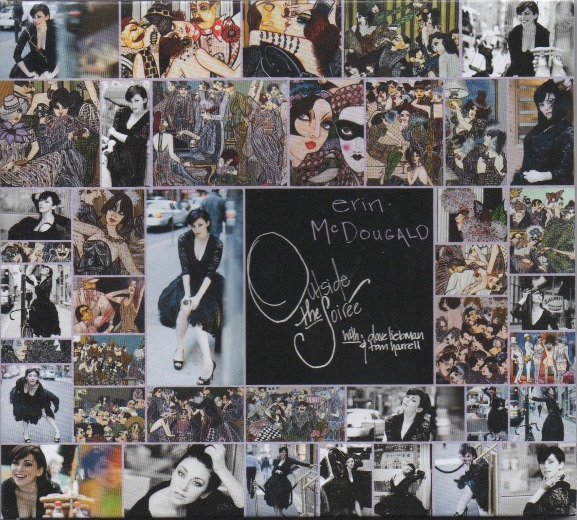 I have literally closets full of poems. I wrote it as a poem and then I morphed it into a Jazz composition. There was no melody in my head when I wrote it, it was just written as prose. I tweaked a couple of little things, but that is why the form is so unusual.
We used Chembo Corniel on percussion to mimic the sounds of distraction in a city. The song compares the solitude of a park, which is engulfed by a city that is so bustling and how the two coexist. It is a metaphor for when you are in a lonely relationship. It is very heady. It is a private thing that I turned into the theme of the album in terms of always being on the outside of something. It started with feeling that I was on the outside of love and then (transitioned) to people who are marginalized politically or sexually.
I took great care in the selection of songs and a few of them may seem a bit pedestrian on the outside, "Brother, Can You Spare a Dime?" but it is nothing like the way that it is known (She laughs lightly). If the song itself was not on the outside I made sure the arrangements were very progressive. It is a big metaphor for being outside and feeling outside and thinking outside of the box kind of a thing."
When it comes to the song "Spring Can Really Hang You Up the Most," Erin McDougald is quite effusive about the song and Mark Sherman's playing, "He really is a phenomenal artist. I love him on all four tracks that he is on. It wasn't an afterthought, but we thought there would be a little hint of vibraphones and in retrospect one of my regrets is not having him on more tracks.
I love the song "Spring Can Really Hang You Up The Most." I came up with the idea to do a Killer Joe vibe on it, years ago. I have been singing it for twenty years. I only sing it that way. It is one of my go to arrangements. I think it swings so hard and the lyrics are just so awesome. They are really witty. It is the same people who wrote "All the Sad Young Men," from the same show The Nervous Set.
"All afternoon the birds twitter twit and did you notice how Mark Sherman (She mimics his vibraphone and we both start laughing at how well she did this.) When we recorded it live you can hear the laugh in my singing. He really pays attention to the lyric, not just the changes of the song. I really admire that about him.
McDougald continues to nod to the musicians who play on Outside the Soiree, "Cliff Schmitt is the bass player and thus far I don't think that he has received enough recognition from the critics for his (contributions) to this album. He is an excellent musician. I have been working with him since he lived in Chicago. He moved back to New York about eight years ago. I have worked with him for ten or eleven years now. He is an excellent professional and he played beautifully. He never rehearsed with us for this music and I find that very impressive, because some of these arrangements were not easy.
Rodney Green on drums played with a lot of gusto.
Dan Block played four different instruments on this album. I thought his playing on "Unusual Way," just nailed it. The clarinet solo is one of the saddest things that I have heard in music. The guitar and clarinet make that song.
We haven't even mentioned the massive mountains in the room Dave Liebman (tenor and soprano saxophone) and Tom Harrell (trumpet and flugelhorn) who brought their A game. They played phenomenally. Dave Liebman was packing up to leave and he heard me calling out "Spring Can Really Hang You Up the Most," and he goes are you kidding me, why don't you put me on this song? I said, because we contracted you for only a certain amount of songs and I can't afford to pay any more money. He goes I am on this album, because you sound great, I want to be on "Spring Can Really Hang You Up the Most." I love that tune. I said to Dan Block, because it was his big song for solos, is it okay? Of course Liebman is right there and I asked is it okay if Liebman does the solo? He said are you crazy? It is Dave Liebman. Give him the whole song if he wants it. (She is laughing) What am I going to say no?"
Outside the Soiree by Erin McDougald is a timeless treasure that whether you visit your favorite online digital music store or better yet purchase the CD at one of McDougald's concerts and have her autograph it for you, this is an album that should be in every Jazz fan's music collection.
Please visit Erin McDougald's website and go to one of her concerts when she is in your town or city, because years from now when they start talking about iconic Jazz vocalists and Erin McDougald's name comes up in the conversation, you will want to be able to say that you were at one of her concerts.
#ErinMcDougald #OutsideTheSoiree #MilesHighRecords #RivetingRiffsMagazine
This interview by Joe Montague published May 8th, 2018 is protected by copyright © and is the property of Riveting Riffs Magazine All Rights Reserved. All photos and artwork are the the property of Erin McDougald
unless otherwise noted
and all are
protected by copyright © All Rights Reserved.
This interview may not be reproduced in print or on the internet or through any other means without the written permission of Riveting Riffs Magazine, All Rights Reserved