You sit down with someone on the other end of a telephone call or in this case on SKYPE to do an interview or as we prefer to say to have a conversation and neither person knows quite what to expect. All you know about in this case, Eva Gamallo, a wonderful film, television and stage actress from Madrid, Spain is what your research has been able to tell you and all she really knows about you and Riveting Riffs Magazine is what you have told her and what she has read when visiting the magazine's website. What this writer discovered during our hour long conversation with a very talented actress, is a warm and charming woman for whom you immediately want the best for her in life and career. Take a few moments and listen in on our conversation with actress Eva Gamallo. Oh and yes we do know how to say her name correctly in Spanish, because through much shared laughter and some giggles on her part, Eva Gamallo was gracious enough to teach this writer how to pronounce hers surname correctly. Her first name Eva is also pronounced like we would say Ava in English.
Eva Gamallo was born in Switzerland to Spanish parents. Her mother was from Pontevedra in the north of Spain and her father from Granada in the south of Spain.
"I have one brother and one sister. (My family) was medium size, not so small and not so large. When I was three years old we moved (from Switzerland) to Granada. I lived there until I was eighteen or nineteen and then I went to live in Madrid for one year. After that I went to Málaga to study there for four years (Editor's note: Malaga is located in Southern Spain on Costa del Sol).
A lot of artists like Frederico Garcia Lorca (playwright and poet) have come from Granada and he is the most (famous). When I act in the plays of Frederico Garcia Lorca I can see the city of Granada, the streets, the fields, the sky and I can feel the magic of the city. It is a big honor for me to act in one of Lorca's plays.
There is also a lot of Flamenco music and Flamenco dancing in Granada.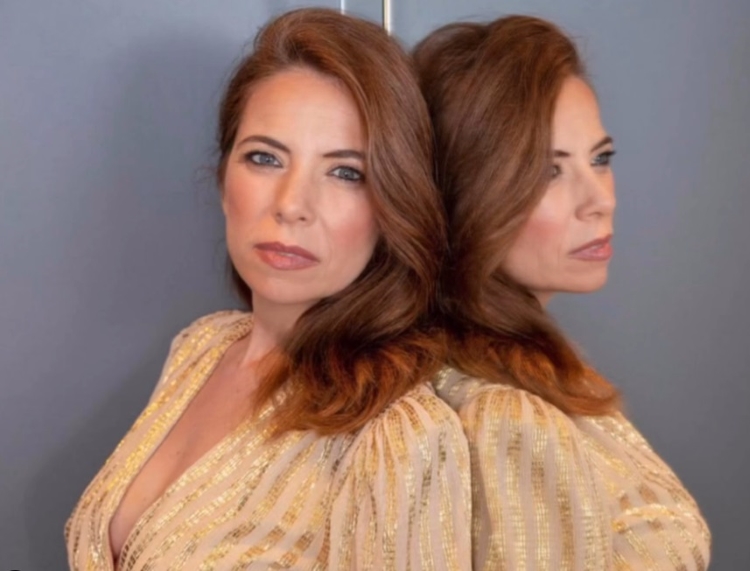 The people from Granada belong to the earth. The people who live there have a lot of passion. You can feel that as an artist and I like to imagine it. I know that I have this kind of passion and I love to know that I am this kind of artist like Lorca," says Eva Gamallo.
Eva Gamallo's passion for acting and for several other things in her life started when she was a young child and she explains, "I don't know why in my life certain things have been so clear since I was seven years old. One of them was I wanted to be an actress. I also wanted to live in Africa (and she did). It was inside my head to be an actress, so I started to study, to watch a lot of movies and to read about it. I started to study (as an actress) when I was fourteen years old in Granada. This idea continued to grow inside my head until I started my career and then I was oh, now I can say I am a real actress! I was thinking about it and it was step by step by step. Then I realized oh my god, now I am an actress. I was so young, seven years old (when I first had the thought)."
As for living on the African continent she says, "I lived in Gambia (west Africa). The first idea that I had was to live there for three months (in 2012) and work in a school with children, but it was amazing that I wanted to stay there longer. I decided to extend my journey for three months more. After that I met a guy and I married him. I was there for six months and I came back to Spain for three months and then I went back to Gambia for three months more and it was like this for nine months. After that I brought my husband to Spain. It was such a crazy experience, but so nice. I don't know why Africa is for me so amazing and I say Africa, but I only know Gambia and Senegal. It is a strong feeling that you have with some countries, but you don't know why. There is something inside of you and you have to go there to find out why. Afterwards, when you are married to someone from there it becomes more special. Now I am divorced and I am not with him, but my relationship with him is still good and with his family also. It is like I have my own family there in Gambia. For me it is so amazing to go there and to visit them, to stay with them and to know about their culture and food."
On the evening we had our conversation MALAKA a suspense filled television series premiered on television in Spain and the show which is about to air its fourth episode and it is already a huge success. Eva Gamallo has a recurring role in the show that stars Maggie Civantos and Salva Reina.
Eva Gamallo talks about her role, "My character in MALAKA is a politician woman, a city councilor and she is not very clear about the jobs that she is involved in and she also takes drugs. MALAKA is about the drug (scene) and people who disappear. My character is in the middle. In real life you do not allow yourself to be bad, so when they give you this kind of a role, it is YES! I can express myself in another way (and you can hear the smile in her voice)." (Editor's note: Although, Eva Gamallo gave us some other insights concerning her character, we are not revealing that here, as we want you to tune into watch MALAKA and Eva Gamallo. It is also out of respect for the producers of the show, so we do not provide spoilers.)
At the time of our conversation Ms. Gamallo was in the midst of numerous auditions including a film in Mexico and for a television series in Spain. This is an actress whose star we predict will shine even brighter in the months and years ahead.
Eva Gamallo's has demonstrated the ability to play such diverse roles as a policewoman (more about that in a minute), a dead person who appears in flashbacks in the film El Violin De Piedra (The Stone Violin), a woman who finds romance from behind a door in the film Lara and as a lawyer in the television series Centro Medico.
El Violin De Piedra, which was directed by Emilio Ruiz Barrachina was the recipient of three awards at an international film festival that took place in Oviedo, Spain in 2015.
Eva Gamallo talks about the film, "It was a magical movie, because of the role and the history and because of the man who was acting with me, Carlos Álvarez-Nóvoa (Gran Reserva – TV series, Las Olas – feature film, El Ministerio Del Tiempo – TV series, Con el culo al aire – TV series and many more). He is an actor whose films I have watched and it was like oh my god I really love him and I wanted to act with him. It was the last film that he did, before he died. It was a magical experience, because of the story, the people who work there, the history and because of him. (A stone violin was first conceived of by Antonio Stradivari perhaps the most renowned luthier of the seventeenth and eighteenth centuries.)
My role was strange. I died in the movie and I appear in flashbacks all of the time. Because you see me in flashbacks you can understand the history and the movie. I like these kinds of roles. You can play with different themes. You can explain different things in different ways. It is like a game and I like this kind of movie.
It was nice to work (the way this was filmed), because it was filmed in the style of magic realism. It is a different way to communicate and it allows you to play with different things (as an actress)." (Editor's note: Magic realism is defined as introducing fantasy elements into what is an otherwise realistic setting within the film.)
As for the film Lara, she says, "It is a movie about a woman who read to one man from behind a door. She saw an announcement in the newspaper that a man wanted someone to read for him. She started to work for him and read from behind the door to him. Then they started a relationship.
The movie was filmed with a sequence shot with just one camera, which is an amazing experience for an actor, because you get to continue on with your feelings and emotions with just one take (instead of many). Whatever happens in front of the camera happens."
When asked what she liked best about working in each of film, television and theater Eva Gamallo replied, "This question is so difficult, because they are so different. In theater you have many things that you can enjoy and you get to be with the public. The people are there listening to you and their feedback is amazing. You are there acting for them, but they are also there acting for you. They have their own reaction. Every day the play is different and sometimes the people are very happy and other times you do not think they are enjoying the play, so you bring your strength from another side, because you want them to enjoy it with you. They move you all of the time and in different ways. You change your energy for them, because their (the audience's) energy changes. It is never the same people and the play changes, because of that. It is amazing how you can (present) the same play, but with different things. This is wow! This is life! I love it.
It is amazing in movies and television, because you have the team with you. I like cinema and TV, because you have to find the solutions fast. If you have a problem, it is like time is money, what can I do? I want to be fast and your money is (She imitates a sound of something moving very fast.) You solve things very quickly and you become a person who can solve many things at the same time."
As for the most challenging role she had to prepare for, "A friend of mine wrote a role for me, but it was about her life. It was so crazy, because her life is amazing. Her parents died, because of drugs and she wanted to talk about this, so she wrote about her own life. She wanted me to act as her. I love her and I wanted to do it perfectly. I know her history very well. I know the whole family and I know all about her. The story talked about the second chance that people need to have. I like to do social cinema, social theater and for me it is always important to have a good role. With this it was oh my god it is so important for the people living in the street and the people who have problems or do not have anything and don't get a second chance. I wanted to be the perfect actress for this project."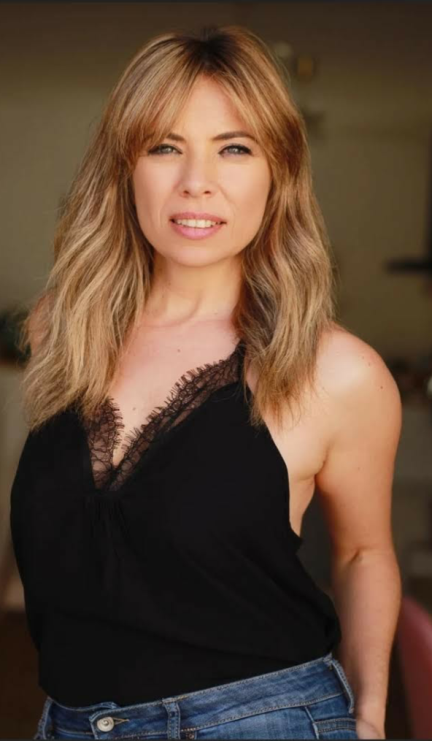 Eva Gamallo shows us another side of her acting career, her aspirations and her personality when she talks about a role she had in the television series Hospital Central.
"That was my first role in TV and it was amazing, because I was a policewoman. We were in the car and my partner was driving. He was a stuntman and it was oh my god we were driving through the cars (traffic) so fast. When I was with him I said I want to drive! Let me drive! He said no you can't! Then they put me inside the car with all of the broken glass and the blood. I was enjoying it a lot. I am not a stunt actress, but if I had to do it I would love it," she says.
Life is not always an easy road for an actress and in fact it can often be an uneven road, filled with many auditions, hoping the phone will ring and someone will tell you that you have the part. Having said that Eva Gamallo has experienced more than her share of what can only be described as weird or very odd situations.
There was one Spanish television series for which she was cast and well we will let her tell the story, "It was the strangest part, because they cut the TV series very soon. I never talked. They gave me my script and then they would go there is no time. I was so excited when I went to casting I got my part, but then it was not real (she laughs).
It happens many times. I went to Mexico in 2017, because I had a role in a TV series. They gave me my script and they gave me my date and it was (always) tomorrow, but it never happened. I was like really? There have been so many times when I thought I had a role and then it was not real. When I went to Mexico I thought I would try to be an actress there, because there are a lot of projects. I appeared in one episode of one soap opera in Mexico. While I was waiting to act they said do you know how to speak English, because maybe we are going to change our script. I said really? (She laughs). I am waiting here to act and you want to change my script to English. I can speak English, but don't play with me.
In Mexico it is so strange, because they want to tell you your script through an earphone. I was please, no I don't want that and I don't need it. They tell you your script, the script of your partner and the direction of the camera. Now I understand the faces in soap operas in Mexico, because they are hearing what they have to say. That was the soap operas, but I love the films from Mexico and some TV series there.
After six months I received a call and I was I had a role in Spain. I said if there is a job there I will go back to Spain. I came back here and they gave me a script and they changed my hair. They gave me the dates and the appointments to go to work and it was not true. After one week they said it was further down the road. I said really? (She is very funny when she says this.) I was living in Mexico. What has happened now? Can you imagine my face? If you want I will do it, but please respect my job."
Eva Gamallo tells us that Madrid and Barcelona are the two cities in Spain where most of the film and television production takes place, "but in Barcelona they speak Catalan and I would love to live in Barcelona and to act there, but most of the things that they make for film or TV or theater are in Catalan (The official language of Catalonia). It is an impediment for me, so if you do not speak the language well you will have problems getting work. It is easier for us to go to Madrid and to act there. It is easier for us to go to Madrid than to go to Catalonia. They have very good actors and directors, but the language is a problem. I would love to work there. (In Catalonia) they have their own TV channels and in Galicia (another region of Spain) it is the same. It is more complicated."
A few years ago, Eva Gamallo and her friend, fellow actress Aida Ballman started a project called Movie Replay and they reinterpreted scenes from other films in which women had strong roles.
She tells us why, "We realized there were not many important roles for women, so we acted (those parts again) and with different directors and in different places in Spain. We wanted to show that it can be amazing when women are acting.
Now it is changing a little bit, whereas before all of the important roles were for men and never for women. It was like no! We wanted to show them how amazing a woman can be when acting and how many scenes can involve a woman.
I really trust in the moment that we are living in. Now is a sweet moment for women, with all that is happening. People are listening to us. So, step by step this is going to change. We need that in politics, other organizations and in all areas, not just in culture. It is also very important to empower ourselves."
If you live in Spain we know you are going to see and hear more about Eva Gamallo, because she is such a gifted actress, as for us in the rest of the world, we can only hope that Hollywood or Hollywood North (Vancouver, Canada) or the major film studios in London, England become aware of her talent soon.
This is the link to Eva Gamallo's demo reel where you can watch her in scenes from her films and television appearances. We do however want to caution you that there is one scene of extreme violence towards a woman in which her character is the victim, so if you have been traumatized in the past we would strongly suggest you do not watch this demo reel. For the rest of you, you are going to see a very good actress with a very bright future.
You can also follow Eva Gamallo on her official Facebook page here.
#EvaGamallo #ActrizesCineEsapna #EvaGamalloActriz #RivetingRiffsMagazine #RivetingRiffs
This interview by Joe Montague published September 22nd, 2019 is protected by copyright © and is the property of Riveting Riffs Magazine All Rights Reserved. All photos and artwork are the the property of Eva Gamallo unless otherwise noted and
all are
protected by copyright © All Rights Reserved.
This interview may not be reproduced in print or on the internet or through any other means without the written permission of Riveting Riffs Magazine, All Rights Reserved