"When we got together for rehearsals on the songs, we realized how good it sounded when we played. I had questions, because I did not know how good we would sound. We had not played (together) for over thirty-five years, but there you go there is that life size bag of experience. We were good thirty-five years ago and everything we knew how to do back then, we knew so much more now. We have experienced much more. We have experienced much more. I was thinking am I rusty, but what I didn't realize is I have more to bring to the party. We sounded great. There is something to say about the camaraderie of working with people whom you have known for so long," says Brie Howard Darling in talking about Fanny Walked the Earth formerly known simply as Fanny, the first all women band to be signed by a major record label. June Millington, Jean Millington and Brie Howard Darling (then known as Brie Brandt), the original members of the band reunited to turn out an unbelievable Rock record that has electrified old fans and newer fans alike.
Continuing she says, "One of the things that we brought to this record, which was different from the first four Fanny records is this record is all original. There are no covers on this record. That was a first for the Fanny women."
The self-titled album Fanny Walked the Earth boasts numerous solid songs, including one "When We Need Her," that is heralded as somewhat of an anthem for women.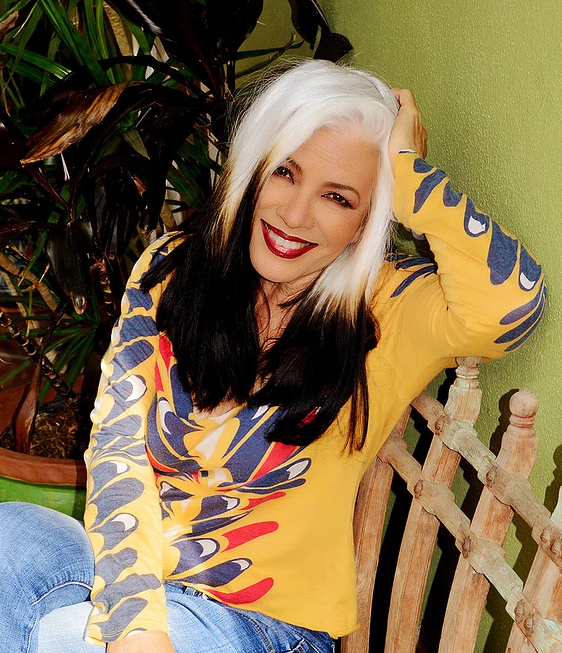 The song begins with a strong downbeat on the drums, served up by Brie Howard Darling (led vocalist) and with the Millington sisters clearly demonstrating that time has not eroded their abilities as musicians, with Jean on bass and vocals and June on electric, slide guitar and vocals and in fact there is a spellbinding guitar solo. If listening to the three of them play is not enough to get you excited, they have an all-star cast of singers backing them up. How about this, three members of The Bangles, Vicki Peterson, Susanna Hoffs and Debbi Peterson? On top of that Cherie Currie, the former lead singer of the all teenage girl band The Runaways, Patti Quatro, Teresa James (also plays piano), Sherry Barnett, Alicia Velasquez, Kathy Valentine, Wendy Haas-Mull and Genya Ravan also sing background vocals.
Brie Howard Darling explains how having this all-star cast of women join Fanny Walked the Earth on the album came about, "The very first person I thought to have on as a guest was Sherry Hagler who is now Sherry Taylor and she is from the group Birtha who were our contemporaries at the time back in the seventies. They did a couple of records on Dunhill Records and they were fantastic and they were our friends. That happened while we were making the album and we were back east at the studio where we were recording.
When Dave (Dave Darling the producer and Brie's husband) and I came back from the east and we were doing overdubs I called Patti Quatro and Alice de Buhr and I asked them if they would join us on this record. Alice doesn't sing, so she played double drums with me on the song "Walk the Earth." It was amazing and that created a bond. I feel very, very close with Alice now. I know her so much better than I did before, although we lived together years ago in the Fanny days in the early seventies.
When I asked Patti Quatro to join us and I let her know I wanted her to sing and to play on something she was very excited about it. She started suggesting other women. She suggested Kathy Valentine and that is when I thought of having The Bangles come on board. Patti also suggested Cherie Currie. Kathy and I had met before and Cherie I did not know at all, but Patti made me feel very comfortable about Cherie and she told me she is a sweetheart. She was and she still is an enthusiastic wonderful person to know and to work with. She is fun and she has an amazing amount of energy and charisma.
I didn't just want to have people that other people have heard of, but also to shine the light on women who have been working all of their lives and who contributed really early to women in music and really never got as much attention. I called up Genya Ravan from Goldie and the Gingerbreads, which was one of the early Rock and Roll girl groups (1962 – 1967). They recorded a single. That is the difference between their contribution and Fanny. Fanny was the first all-female, all girl group to record a full LP for a major record label.
Then there were some women I knew who were doing it back in the eighties. I got Sherry Barnett from the Mustangs on "When We Need Her," and then a really good friend of mine Teresa James who I was in the group American Girls with in the eighties. I just pulled people who influenced me personally and who were part of the music scene, whether they had they did not have the light shone on them or they had a lot of light shone on them. I love that is how this went down. Alicia Velasquez is on there as well. I think we have a good representation from the mid-sixties to groups that came out of the eighties.
Patti had two bands, Pleasure Seekers and Cradle and they were doing their music right around the same time as Fanny. It was great when Patti joined Fanny in 1974. Patti is wonderful.
I had known The Bangles twenty-five years ago, because we were on the same record company and we were managed by the same guy Miles Copeland. I looked up their website and I wrote an email saying, Jean, June and I from the band Fanny just finished recording the tracks for a brand new record after fifty years. We have a song that is about women and we would love for you to join with us on it. I sent it on their website and Vicki Peterson answered me. She said I would love to join you on that. You guys were the pioneers and you inspired us. Then she said can the other girls join me? I said ya' (she really lets her enthusiasm show)."
The conversation segues back to the song "When We Need Her," and Howard Darling talks about originated, "Jean and June and I got together and we were watching the (2016) election and it was so shocking to me. It was not what I expected. What I learned from that is I only know what I want. I learned that what I think is reality is just my reality. I was just so surprised to see that the country voted that way. I was taken aback completely and that is what the first verse is about. For women and for me it was a very dark moment. It just made me feel that after everything that has happened (her voice trails off) and for a long time people have been working for equality for that outcome to happen was surprising to me.
The message (of the song) is to be there for each other and to show up. One door closes and another door opens. This brought attention to everybody and the women's march happened. That is what the second verse is about. We are stronger together and if we stick together we will be heard. That is where the second verse came from. That is the message and it is not a hardcore message. It is my experience.
When we asked people to sing, they showed up so willingly and they wanted to be a part of that message. That means a lot to me, because it means that the message is getting through. I think if this message gets heard, it will speak for a lot of people.
The song started out with me thinking about my relationship between myself and my mother and my daughters. There is a connection. I was thinking about how sometimes I call upon my mother's wisdom or kindness or strength when I have to make a difficult decision. Of course my mom and I were as different as night and day, but everything she was is still with me. I realized while writing it that all of the women that I have known and some women whom I have never met affect who I am today. I can call upon their experiences, accomplishments and contributions to help me to muster up the courage to take on the responsibility of being the best that I can be. I am still working on it and I need all of the help that I can get.
As women with a goal we can call upon those women who went before us and who are still making changes for all of us now. They stood up and they stand up for who they are and for who we are. This is what I have learned, everything that we do and that we don't do we will pass onto the future generations of women. That is the message in the line "We're all in this together." Everything we do and that we do not do affects future generations. It is time to step up!
This is an amazing time of awareness of people. It is a great time to have a format to speak from."
When asked why she decided it was a good idea to reunite as Fanny now known as Fanny Walked the Earth, she says, "It was attractive initially, because I realized I wasn't ready to give up my Rock and Roll shoes. I still had a hunger for it. When June called me and asked if I wanted to join her and Jean, to play the Fanny portion of the tribute that was being paid to her I said yes, because I just wanted to play. Initially, it was just the opportunity. (Editor's note: Playing at the tribute provided the inspiration for the band reforming)"
Throughout our conversation Brie Howard Darling peppered the conversation with references to having a life size bag of experience upon which she can draw, so we asked her if that also affords her the opportunity to be more emotive while singing and playing.
"I can only speak from my point of view, because I don't know if it is easier for Jean or easier for June, but for me it is yes. After everything that I have experienced it is much easier for me to tap into what is really important to me.
When I was sixteen and I first met Jean and June I was having a ball. I had an opportunity to play with the girls and it was great. I got to be in a band, which made me important in my mind, because I wasn't popular in high school. I discovered that playing in bands was a safe place for me to go and where I had automatic friends. I had a purpose. Until then I was just an unpopular kid in school. I was from a minority family. My mother was Filipino and my father was European, we were the only non-white family in a town of 5,000 people and I felt that. When I didn't recognize it on my own, I was informed about how different I was. I think kids were just as surprised having someone that different in their school, as a friend or a classmate and they were responding honestly, but how they responded was very hurtful. I was made aware of how different I was.
I wasn't comfortable and when I was fourteen I was in my first band and for Rock and Roll my race didn't matter what color I was. I was singing, playing and having fun with my bandmates. That is what counted. I never felt that in any of the bands and situations that I have been in since I was fourteen years old and here we are fifty-four years later I have never felt that unacceptance of who I am."
With some sandpaper in her voice, a bit of gravel and lots of bite Brie Howard Darling belts out "Lured Away," backed by lighter, more melodic background vocals on the chorus.
She talks about the song, "A lot of people have told me after listening to "Lured Away," that they can totally relate to what I am talking about. That is I might be in my sixties, but it doesn't mean I am done yet. Part of where that song came from is my wanting to do something still in the Rock and Roll format. I wasn't sure what it was, because I didn't get as many calls as I used to, to go out on tour or to go do a video or a recording. It didn't mean that I didn't want it still. I am a little embarrassed to admit it, because you are not supposed to still want those things, but I don't know who according that is. You aren't supposed to want those things at this point in life. You are supposed to be happy with what you have and you have already done it. When we got the record deal with Blue Élan Records it was confirmation that I still get to do what I want to do. That song is about looking up and realizing that you are not done yet. You still have something to say and you want to express that you are still valid. I think that is the message that people like.
One of the things that we get to draw from our life size bag of experience is we get to look back and see that is true. Some of our greatest losses have opened the door to another great experience in life. There is always another door to open. I can't wait to see what the next one is (you can hear the enthusiasm in Brie's voice)."
As for juxtaposing Brie Howard Darling's raw vocals with the lighter vocals on the choruses, "It was my idea, but that is just the way that I wrote it. It wasn't a plan. It wasn't thought up. It is a song that pretty well came out in one solid piece of work. It was pretty well the minute the lyric came to me, "I'm not starvin', but I'm kind of hungry," the rest of the song wrote itself.
With the apologetic chorus or what is a lighter treatment of the melody it is like someone is taking a stance and saying this is what is going on and at the same time (the person) is saying I am sorry for the changes that you are going to go through, but I am going to do what I need to do. That is just something that happens organically. I think at one point in your life, which is where I am at right now you have done so many things and you have this huge bag of experience that you can draw from. Not that I can always do this, but I don't have to preplan a lot of things, because I've done that before or I have seen that before or I have said that before or I have felt that way before. I get to pull from this really big life size bag of experience that I have. I like that."
June Millington also wrote and co-wrote several songs on the album including "Not My Monkey," and Dave Darling also co-wrote some of the songs.
"One song I really had fun writing is "Love Farmers." I wrote the melody and the lyric. "Love Farmers," is about accepting that sometimes a relationship, of any kind, just doesn't work out. All of the seeds that you plant just don't grow. Not everything you plant grows and not everything you start turns into your hope for what it could be. You just accept that and move on. It is sad, but it is realistic. I think you keep some of everything that you experience, but hopefully some of the pain from when something doesn't work out eventually fades away. I think it is a human condition that we all experience and that is what I like to write about. It doesn't have to be obvious what exact story I am telling, but I want it to be something that everybody can feel and relate to," she says.
As the interview draws to a close Brie Howard Darling sums up what her fans of sensed about her for years and really speaks to the heart of who she is, "Something that is very important to me as a performer, I don't want someone to listen to me and be in awe of what I can do, I want them to go, I get that, I feel that way. That is important to me as an artist. Something that a (person) can relate to first hand is important for me. I want to share experiences with people. I want to tell people about my experience and I want to share it with them. Hopefully, that is what they take away from some of the songs that I write. I am more into that than a song that preaches what to do or how you should feel. I would rather tell a story or relive an experience that I am sharing or can share with somebody."
All Photos by Bobbi Jo Hart Top Photo: L - R: Jean Millington, Brie Howard Darling, June Millington, Middle Photo: Brie Howard Darling; Bottom Photo:
L - R: Sherry Barnett (The Mustangs US), me, Alicia Velasquez (Alice Bag), Cherie Currie (Runaways), Wendy Haas Mull (Svelts, precursor to Fanny), June and Bobbi Jo Hart (film maker, documentarian for FWTE) Bobbi Jo did not sing on the record.
#FannyWalkedTheEarth #BrieHowardDarling #BrieDarling #JuneMillington #JeanMillington #PattiQuatro #CherieCurrie #RivetingRiffsMagazine #RivetingRiffs
This interview by Joe Montague published August 9th, 2018 is protected by copyright © and is the property of Riveting Riffs Magazine All Rights Reserved. All photos and artwork are the the property of Brie Howard Darling and Fanny Walked the Earth
unless otherwise noted
and all are
protected by copyright © All Rights Reserved.
This interview may not be reproduced in print or on the internet or through any other means without the written permission of Riveting Riffs Magazine, All Rights Reserved