Fiona Joy Hawkins is the owner of Q Pop Up Gallery in Australia, but you know her best as being an amazing Neo Classical / New Age and Contemporary Instrumental Music, pianist and composer, who doubles as a member of the ensemble FLOW and in collaboration with musician (also a member of FLOW) and producer Will Ackerman co-produced an award winning debut album for American artist Jennifer DeFrayne. Fiona Joy, as she is sometimes referred to is also a visual artist and some of her own paintings are featured in the gallery.
Elegant while seated in front of her piano, vivacious while doing this Skype interview and giving us a tour of her gallery and down to earth enough to have become the mother to numerous orphaned Joeys (baby kangaroos), one immediately recognizes the deep connection between nature and her music.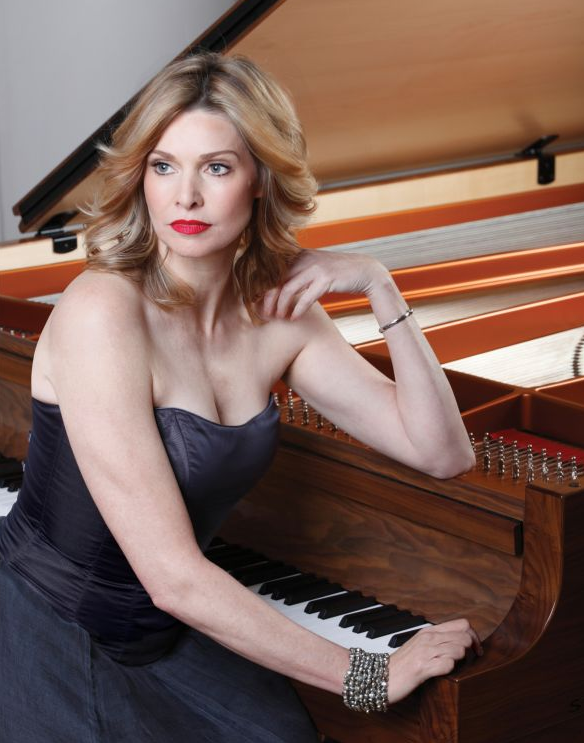 "The love for nature and animals has always been there from when I was a little girl. I used to bring home strays all of the time. I would land at home with a cat or a dog. I would find a dog with a broken leg or a bird with a broken wing or that was starving to death. I have always had a lot of animals. When my kids were growing up I was a wildlife information and rescue officer. I took some courses about kangaroos, so I was able to hand raise joeys (baby kangaroos). When the mother is killed and the joey gets thrown from the pouch someone has to raise it and that is something that I did. It was a volunteer job, but I loved it, because I love animals," she says.
Continuing to talk about the connection between her art, music and nature Fiona Joy Hawkins says, "It is all the same daydream. It is that same type of daydreaming world. As for my love for animals, sometimes you can connect more with animals than you can with people. Animals are so loyal, so trusting and so innocent, whereas some people can be so bloody horrible. Animals love you unconditionally. I love my pets. At one stage I think I had four dogs and six cats. I had a cage full of birds and I was hand feeding joeys. I just loved it. I had the good fortune to raise my children on a farm. It was a hundred acres and I spent sixteen years there. That was really great. Now I only have one cat, because I travel so much for my music career. My cat owns the house. He is in charge. One day when I retire I will get another dog and another cat."
Fiona Joy Hawkins did not turn to a professional career in music until she was thirty-eight years old. She has toured China and North America several times, gracing the stage at Carnegie Hall three times, while the accolades and awards keep pouring in. It is therefore sometimes easy to forget that this funny and likeable lady came from very humble beginnings.
"I was born in Cessnock a small coal mining town in New South Wales, Australia. I was living in a pub with my parents who were very, very young, but I was born in a hospital.
I lived all over the place, because my parents were very hard workers. They would move and find new jobs. They were builders. They would build a new house. Even though my mom was only seventeen when I was born they were still very determined. My father had TAB, which is a betting agency. That seemed to be the family thing (she laughs lightly) everyone seemed to be good at math. Everyone is good at adding up, which I am as well. I was raised in a number of places.
I was raised in Newcastle and Tamworth. Newcastle is a beautiful coastal town about two hours north of Sydney and Tamworth is a rural town about four hours north of Sydney. I was always different than the other kids. I never really fit in. I guess I was a music nerd. I always had my head buried in the piano. I was in my own little world and it was planet Fiona. I don't think people understood me. I am sure they didn't. I was probably this weird kid who would sit down and play the piano and people didn't know what to make of it.
I was always writing music and it was conceptually derived music. It is that synchronicity when you have a story in your head and you translate it as a piece of music. I think I was a little too D and M, Deep and Meaningful for most kids. They didn't get me. Everyone lives in this black and white world and I was living in this gray middle world. I was a daydreamer, just off on a different planet. It is a very intellectual world and yet I was not an intellectual, because I wasn't inclined toward studying. I wasn't academically successful, because I didn't like school. I didn't like the classroom and I didn't like doing what I was told, so I didn't go to university and I didn't do anything with it. Yet a lot of people have said that I am an intellectual, so maybe that is what conceptual thinkers are," she says.
There is one thing that we certainly cannot doubt and that is Fiona Joy's creative genius. She taught herself how to play a Classical composition on a one hundred year old German iron frame piano when she was eight years old and prior to her having any formal training.
"Yes I was eight years. My grandmother moved in to take care of me, because my mother was (so young) when I was born. She brought a beautiful one hundred year old piano with her. My other grandparents had a pub and I played a couple of notes on this really old piano when I was four or five years old. It didn't stick in my head and it really didn't mean anything to me. It wasn't a beautiful piano. It was really out of tune and Honky Tonk sounding. The first piano that I really played was this piano that my grandmother brought into the house. Before I had a lesson my mother said here is middle C. To me it was like a jigsaw puzzle and I taught myself to play in about six weeks. I taught myself what the notes were and what they equaled. It is mathematics and it is a jigsaw puzzle. That is how my brain works. That is how I write music. It is all a mathematical equation," she says.
Of course it naturally prompts the question were you good in math in school Fiona?
"(She laughs) No I failed. I never connected with mathematics in school. Mind you I was one of those kids that if it didn't make sense to me I wasn't going to do it for love or money. I was not one of those good children who would just do what they were told. I was off on planet Fiona and mathematics was an abstract concept to me. Why would I bother to learn that? I have a photographic memory and I love jigsaw puzzles. I was really, really good at playing that memory game. I could memorize a deck of cards and tell you what the last card would be. I don't know what the practical application for that is, but I guess in real life it helps me to do concerts," says Fiona Joy.
There came a period of time when her parents, "thought oh, oh we better get her some lessons. It was pretty clear that was my gift and that is what I wanted to do. It is what I loved. I had lessons right from the word go and that was my theme and all that I ever wanted to do.
I went right through to the eighth grade (in music) on a piano that you would not believe that someone would get (that far) on it, but it was all that I had. We didn't have a lot of money. I can't even remember the brand of the piano. I am really upset that I ever sold it. I should have kept it. I loved it so much, but I sold it to upgrade. The tuning pegs would slip. I don't know how I got to eighth grade or how I developed a good ear. I have no idea. When I upgraded and I got a really nice Yamaha (piano)," she says.
About the type of music she plays, Fiona Joy Hawkins says, "Trying to have any kind of genre recognition at all is a pigeon hole and the one that comes to mind is New Age, but what is New Age? It is Contemporary Instrumental Music. The influences come from so many different places for me. I have a Classical background and I am in love with world music and world instruments. There are some Jazz elements as well. My career is very much rooted within the New Age genre. When I was growing up I didn't know where I fit in. Nobody in Australia knew what I was doing and people looked at me like I was a little bit weird and (as though) I had two heads. I didn't know where I fit in until I went to America at the age of twenty-one and I heard George Winston on the radio. To me it was like one of those moments when I felt this is where I fit and this is where I belonged. George Winston made sense of the world for me. That is what I wanted to be a part of moving forward. My music may also be called Neo Classical. The album (Lightness of Dark) that I am working on with Becky (violinist Rebecca Daniel) and my own album, which I am working, which is called Moving Through Worlds and spans my whole career are very much Neo Classical."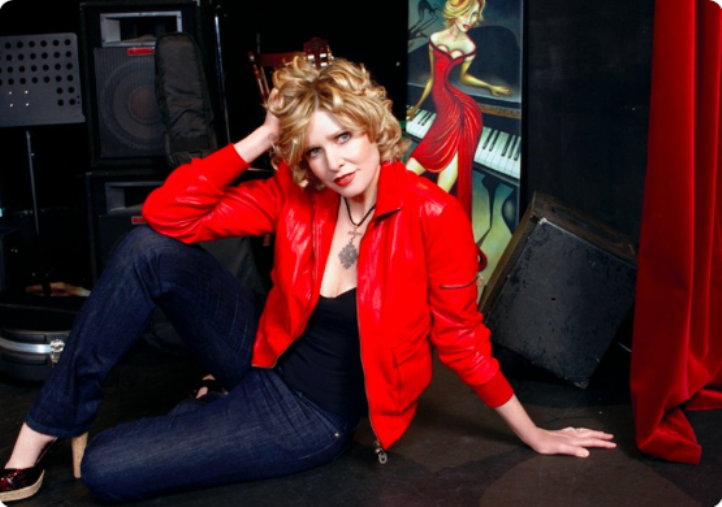 During the first part of her adult life Fiona Joy Hawkins creative endeavors were pretty much focused on being a visual artist and her paintings.
"Secret, I wanted to have a music career, but I was too scared. You know what it is like when the dream is in your head and you are this big fabulous composer and the symphony is playing your music. It is a dream and if you follow that dream and you fail, you have lost everything that you think you are, hope you are and that you want to be. I didn't dare go there, so I became an artist.
I had an art exhibition and I had this great idea that I could actually combine my music and my art together, by putting manuscript on the canvas. It is like bringing the music into the third dimension. You can hear it and feel it, see it and almost touch it. I rang up my mother and I said you aren't going to believe this, but I sold half of my paintings. The most incredible thing happened, I had two little demos of music and I sold all of them. My mother said if you don't do something with your music you have wasted your whole life. I was angry with her and I hung up. I thought about it and it really, really stuck in my mind. You know what she was one hundred percent right. She said a few things that were really profound. She said if you have a gift, it is your duty to share it. I was afraid to perform on stage and she said get over yourself, they are not interested in you it is the gift of your music. Those words were in my head going around and around, because I had such a fear of performance.
I had a complete breakdown at the age of 13 in an exam. The expectation was that I would be a concert pianist. I was doing really, really well. Everyone wanted me to get an A Plus and the pressure on me as a kid was unbelievable. I had a total breakdown in the exam. Everything didn't go black, but everything went white. I sat there catatonic and I couldn't move. I was lucky to get anything at all. The examiner gave me a B, because she said I was really talented, but I had forfeited my A Plus, because I was too nervous.
I never went on the stage after that until my mother put all of this in my face. I did my first concert when I think I was forty. I did it and now I survived it and I love performing. I have my little backstage mantra when I go backstage and I say you gave me this gift, please help me share it with the audience, as best as I can. Then I walk out onstage and I have freed myself of the nerves of making a mistake. I am a perfectionist and I always want it to be perfect, so now I have lifted that off of my shoulders. I walk out on stage and I just give the audience the best that I have on the night. It has been a very cathartic thing for me to learn how to do that, because it got me over a huge hump. It is a huge deal to overcome that and I am still nervous. Before going on stage at Carnegie Hall, everyone else is getting ready and I am making everyone nervous, because I am pacing around. This actress is what I turn into. I turn into another person and I walk out on stage and I perform. It is a real transformation, because I really am quite shy. I know you don't believe me, but I can actually be quite shy. It is the fear of failure. Everyone is going to be looking at me. Everyone is going to be watching me. What if this happens? You have to somehow get past that. I know a lot of people won't go onstage for that reason. It is a big thing. It is like jumping out of an airplane every time that I go on stage," she says.
Fiona Joy Hawkins has recorded numerous solo albums and collaborated with other artists, including the group FLOW for other albums. She also contributed her original composition "Grace," to the Grammy Award winning album Winds of Samsara, featuring Ricky Kej and Wouter Kellerman. One of her current albums is Signature Synchronicity, produced by Will Ackerman (founder of Windham Hill Records) and Tom Eaton. Her album Story of Ghosts was recorded live with Cookie Marenco in 2018. Story of Ghosts was created in the studio, but all one takes and it was during a particularly trying period of Fiona Joy's life.
"I went to the recording studio to finish the album and it was an incredibly hard time for me. I got into the studio and I lost my notes. I couldn't concentrate. I couldn't remember what I was doing. I just decided to sit down and play. That is the album that came out. According to all of the reviewers Story of Ghosts has been my best piano performance. I think it is because it is raw, it is real and it touches people. People can hear it and it is not perfect. You can hear reality and it is not watered down and sanitized, like a lot of studio piano albums are.
I find it interesting that I can sit down at the piano and put all the weight of the world that is on my shoulders or whatever it is that I am thinking about and I can offload it to the piano and then other people can take something very positive out of it. I never know what other people are going to take out of it, because I never write music or record music for somebody else. It sounds very selfish and maybe it is, but it is just my journey. Other people will just take whatever they will out of it and hopefully it is something positive. From what I hear people do that. I think that is when I say it is helping people and that is why I keep going. In terms of the music that I write it is just my world. I don't know what other people are going to get out of it. I am putting my story and energy into and I think what happens is other people lose themselves in the music and that takes them in their own little direction. They pull something they need out of the music. It ends up being positive," says Fiona Joy.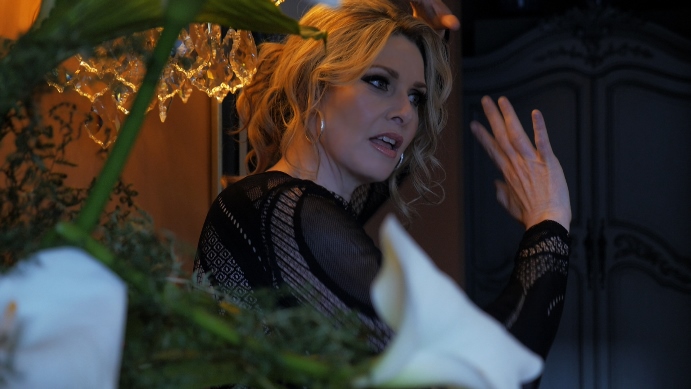 For a few moments are conversation goes down the path of another album of hers, 600 Years in a Moment, produced by Will Ackerman, "It is an interesting album conceptually. I wanted to explore the idea of globalization in a musical sense and I wanted to explore a handmade Australian contemporary piano, which is made by Stuart & Sons Pianos. It has 102 keys and I (decided) to record that with ancient instruments from around the world. It is really a cutting edge piano. It is a beautiful piano made by Wayne Stuart and it is from my hometown of Newcastle. It was the right choice of instrument for this concept of globalization in a musical sense. I could bring ancient instruments from villages around the world into this contemporary space. I could bridge, time, distance and history. That is what I was trying to do. It is a very interesting album and to work with those instruments and to have players that were just (great) and to put it together with contemporary piano compositions was to me very exciting."
The musicians and instruments that grace 600 Years in a Moment, includes, Andy Busutill playing the djembe and the Irish whistle, Charlie Bisharat and Rebecca Daniel on violin (Daniel also contributed soprano vocals and created the string arrangement), Tom Boston (wood flute), cellist Eugene Friesen, Bukhchuluun Ganburged who played the morin khuur (a type of fiddle) and Jeff Haynes who played far more instruments than we have space to mention, however we will mention a few, the dumbek, rainstick and udu. Dan Houghton and Paul Jarman (and tarogato and bawu) also played the Irish Whistle, while Tony Levin plays electric upright bass and the bass guitar, Dave Ellis (upright acoustic bass), Will Ackerman (guitars), Philip Aaberg (keyboards and orchestral arrangements), John Robinson (oud) and Michael Jackson on the didjeridu. The Paraguayan harp was played by Alfredo Orlando Ortiz and vocalist Heather Rankin appears on the album. Many more instruments than we mentioned here were utilized and our apologies to anyone we may have forgotten to mention, but we felt it was important to give our readers an idea of the musical breadth of this beautiful album.
Fiona Joy Hawkins confesses to a fascination with ancient instruments and she thought they would go well with her ethereal vocals.
"I tend to get obsessive about these things. I remember sitting up one night and looking on Youtube and listening to all of the harps until I discovered a Paraguyan harp and I knew that was the sound that I wanted. Then I found the player and I emailed Alfredo Orlando Ortiz. He said he would play on my album and I flew to LA and I got the recording session. That was how the whole album went and it was something that I was intrigued by. The didjeridu is another instrument that I love to work with. The Irish whistle is a super old Irish instrument. My (family's) history is all Irish and Scottish (At this point she repeats some of the narration from the album).
Will Ackerman asked me, Fiona what are you saying and what does it mean? I said well imagine that you are standing on the shores of your ancestors, calling through time, distance, history and space into the future. That was how the album started and then we moved into the Irish whistle. Each song, each track features a different instrument. That intrigued me. It is a little bit different. I am often put in the same sentence as Loreena McKennitt.
Now you understand why the other kids at school didn't understand me," she explains.
2019 is a busy year for Fiona Joy Hawkins, as she is touring both with the contemporary instrumental ensemble FLOW, as well as her own tour with violinist Rebecca Daniel, both tours will spend time in the United States. FLOW will be performing at Carnegie Hall once again, this time on September 27th. The album Lightness of Dark: An Album for Loss and Mourning, which seeks to uplift others, is being recorded with Rebecca Daniel. There will also be an album with FLOW.
Please take time to visit the website for Fiona Joy Hawkins and for the official Facebook page for her art gallery Q Pop Up Gallery.
#FionaJoy #FionaJoyHawkins #600YearsInAMoment #QPopUpArtGallery #RivetingRiffsMagazine
This interview by Joe Montague published February 8th, 2019 is protected by copyright © and is the property of Riveting Riffs Magazine All Rights Reserved. All photos and artwork are the the property of Fiona Joy Hawkins unless otherwise noted and
all are
protected by copyright © All Rights Reserved.
This interview may not be reproduced in print or on the internet or through any other means without the written permission of Riveting Riffs Magazine, All Rights Reserved