Geoffrey Keezer Explodes Out Of The Gate
by Christopher McHale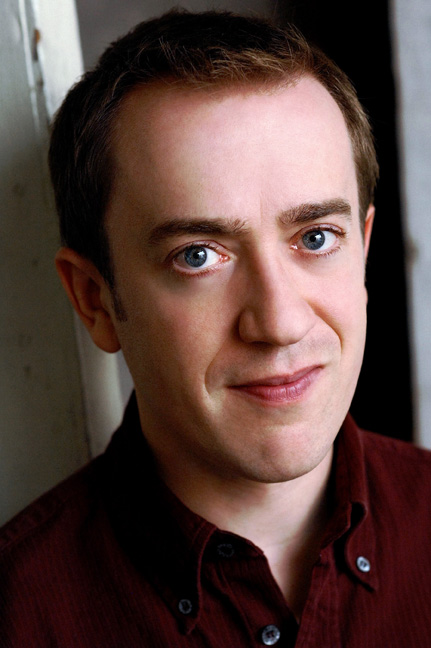 There's a fancy door with the name 'Birdland' painted on the glass, but I am down the block knocking on a dented and graffiti-laced metal door, the kind of door people use to load in freight, boxes and crates, the raw stuff.
The woman who opens the door does not seem particularly impressed to see me, takes my introduction for what it is worth and leads me inside to a concrete hallway, work notices tacked to the walls, a couple of metal desks nobody has used in a million years, a regular back hallway that nobody much thinks about except for one thing. This hallway is filled with a sound, a unique compelling sound; the sound of a man at work, somewhere inside, working some scales, riffs, chords.
I follow my guide into the main room of the nightclub 'Birdland.'
The club has 52nd Street DNA. Charlie Parker blesses the place with a big quote on the marquee. It is the same kind of room as the old Birdland, big, lots of tables, room to spread out, with a good sized bar on one end.
It is empty now, some folks moving around, setting up tables, getting them covered, linen in place, ready for the evening crowd.
In the middle of all this is a big, bright Yamaha grand, polished black, a commanding presence, a real instrument, piano perfection. Sitting at the keys warming up is Geoffrey Keezer.
He stops when I approach, but I do not want him to stop. I want to stand by the piano and listen. The taut gold piano harp seems crafted and strung specifically for a pianist of Geoffrey Keezer's remarkable ability.
Geoffrey Keezer does not just play, he attacks, he caresses and he coaxes the music from the keyboard.
On the way to the club, I had been listening to his new album, Heart of the Piano. (2013 Motema Records) It's good, very good, but more than anything, what I hear on the album, what I take from it is a sense of perfectly balanced touch.
Geoffrey Keezer is a straight-forward fellow. It comes through when you speak to him. He looks like the kind of guy who might offer to help with your taxes. There is a sense of naiveté and even doubt in his words, almost like he is surprised by his gift. He says maybe it is his time, as if he is finally giving himself permission to be simply what he has always been—a virtuosic musician with a strong compelling voice to share with the world.
We sit a small table in the front of the club and talk it over.
For most of us turning 18 meant college, the Army, maybe a beer or ten. For Keezer turning 18 meant joining Art Blakey's band, touring with Josh Redmond, Benny Golson, Ray Brown, evolving his career playing with David Sanborn, Chris Botti, Joe Locke, Christian McBride, then grabbing some Grammy nominations with Denise Donatelli.
From a career filled with other musicians on stage, bouncing off grooves, a vital dialogue of ideas passing back and forth, to a solo career, a piano, a big, ringing piano—just the audience and Geofrey Keezer now.
"No place to hide," he laughs.
I ask him about it, what it is like, on his own, in the spotlight.
He looks to the audience for support he says, feels their energy and feeds that back into the keys. And he does not think of himself as alone. Years of playing with all those great musicians have printed a universal groove in his brain, something he can access, like checking out a book from a great library of musical knowledge, right there for him, just below the surface, something to feel, to lean on, to build from.
"I can feel Art Blakey's cymbal beat, or Ray Brown's bass," he says. The look on his face tells me he sees it the same way I do. A great gift passed to him from legends.
Maybe the audience cannot hear these whispers of groove, but they hear something else—a talent emerging from a crucible. It has been there a long time, fermenting, forming, and getting ready.
If there is one word one would use to describe Geoffrey Keezer's solo playing, it is this one: explosive.
His music explodes out of the gate, like a racehorse, eager and impatient to get going and let fly. He builds his arrangements slowly, approaching the melody almost reverently, carefully exploring each twist, and then turning it inside out, upside down, pushing it, pushing it, until he finds a place to let loose, pound it and launch it forward with power.
It is an astonishing thing to experience first hand.
The inspiration for the album Heart of the Piano began one day in a San Diego coffee shop. Keezer is there, I guess, like all of us, looking for a morning lift, maybe to sit and check emails, just passing the time. Over the speakers comes a song, a pop tune by the Scottish artist, KT Turnstall.
The melody of Suddenly, I See sticks in his ear and sets his imagination running.
"I had never heard it before," he says about a tune that was ubiquitous on the nation's radio waves. "But I hear something I like, I want to play it."
From that single inspiration the entire album is created,
"How long did it take you to put it together?" I ask, expecting the answer to be a year or more.
"A month," he answers.
The audience arrives. It is a special night, a record release affair. I like these moments, a celebration of accomplishment, time to pause and take in the work, the focus, the result. A lot goes into making a record and a lot of people have worked hard to get this together. This is their time as well, but now it all comes down to this,
"Ladies and gentleman, Geoffrey Keezer!"
He takes the stage like he owns it. We watch him grab the microphone like a solo veteran in his element, no nerves, ready, engaging his audience in a friendly off-handed manner.
Geoffrey Keezers knows who he is, what he want to achieve. He has set his course now and the room is filled with willing listeners. This is a crowd that has followed Geoffrey for years, people who knew him when he lived on these streets, a 20 year city veteran.
"I'm trying to do something that has groove and energy," he had said before the gig. "Complexity to give it integrity, but not so highly complex that people can't relate to it."
These people relate to it. They send him a wave of energy and he collects it all and sits down at the piano.
It is mid-summer in the city, as hot as it gets with the air stagnant, thick with humidity. On the way over to the club I had been walking through the streets listening to the album. It is a good counterpoint to the push and shove of navigating Times Square.
The music shifts you back from the world, provides some distance from the things pressing in, the concrete, traffic, people hurrying to get home. Good music does that, takes you to another place.
The album begins with a Rush tune, Limelight. Keezer is a professed Rush fan. The way he says it, like he's pleading guilty to a cultural crime, is disarming and locates his roots, Eau Claire, up in Wisconsin. He is a Midwest guy. But his Rush vibe extends beyond where most folks go.
"My version of "Limelight," is inspired by an old pianist, Hank Jones. Hank was probably one of my top three favorite pianists, I used to hear him all the time, and Hank sounded like he had three hands—two left hands and one right," he says.
Keezer conjures ghosts, channels them through his hands, beginning "Limelight," with cascades of chords, uncovering ideas, revealing the melody slowly, maybe discovering a place even Rush did not know lay at the heart of their tune.
It is always melody that is inspiring his playing, melody the anchor and the source. But there is something else here.
"I try to be the best pianist I can be at the moment," he says.
Capturing a fulfilled moment in his improvisations is what he works for, seeks out, like an explorer looking for new passage to Shangri-la. And when he gets there he reveals something of sublime beauty.
Tonight at Birdland becomes a study in moments, those captured on the album contrasting with those created on the spot. Keezer sees his music as a living thing, each performance built on the one before.
In his sketch of the Robert Burns poem "My Love is Like a Red Red Rose," the melody emerges like a tendril of highland mist, his right hand providing a Celtic drone as he sketches the tune with his left. We are entranced, transported.
He feels tremendous freedom in these solo performances, simply follows his instinct.
"Anything that comes to mind you can play. You do not have to run it through a committee. I have played with legends, but it was time to do something solo. I try to present this material in a new way, go for a big open sound as much as possible, percussive but not brittle."
In the back of the club the music rolls over my head, engulfs me in his big insistent sound. He leaps to his feet at the end of some of the work, the audience following suit in a sort of collaborative salute to the intensity of the music. One can only imagine what it is like to be in the head of Geoffrey Keezer as he twists, tumbles, soars, thunders, roars, seduces, caresses, discovers, gets lost and finally found in the heart of his expansive pianoscapes
Please visit the Geoffrey Keezer website Return to our Front Page
Top Photo by Brad Buckman protected by copyright © All rights Reserved.
Interview and Review by Christopher McHale for Riveting Riffs Magazine, protected by copyright ©
This interview and review is protected by copyright © and may not be reproduced in print or on the internet or through any other means without the written permission of Riveting Riffs Magazine, All Rights Reserved