Actor and singer German Torres who in recent years starred in some impressive musicals in Spain, Beauty and the Beast and 24 horas en la vida una mujer (24 Hours in the Life of a Woman) and in 2013 he received the award for Best Supporting Actor from the La Unión de Actores (the equivalent of the American Screen Actors Guild), for his role in Anton Chekhov's Ivanov, was our guest recently at Riveting Riffs Magazine to talk about his career in theater, film and television, both as an actor and a producer.
At the time we spoke, 24 horas en la vida de una mujer, produced by highly acclaimed actress Silvia Marsó, who also starred in the musical with Felipe Ansola had just returned to the stage at Teatro Galileo in Madrid, after an absence of nine months due to the COVID-19 pandemic. We asked German Torres what that experience was like.
He said, "It was fantastic, after the world stopped, returning to the stage is a miracle. The theater has maximum security and culture is safe now in Madrid. We are allowed to have fifty-five percent (of capacity) for the audience now. In other communities only thirty people are allowed.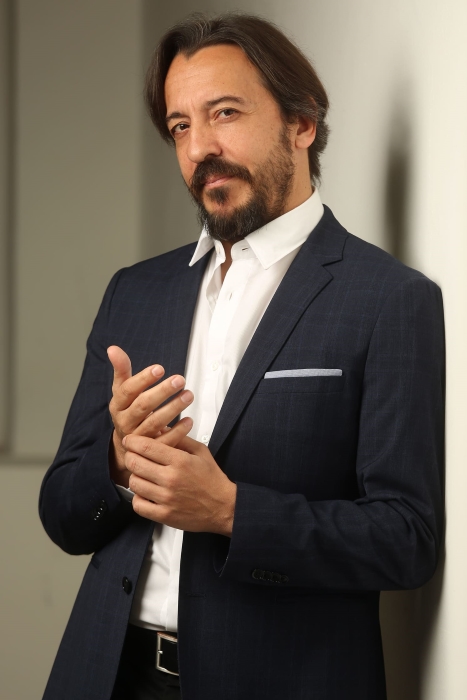 We had forgotten, just a little about the energy of the stage, because it had been so long since we had performed."
There were also adjustments the actors had to make, "It is difficult because the audience has masks on, and we can only watch their eyes (and not see the rest of their faces). There is a different (dyamic) with the audience now, but they like the show. The return of the rehearsals is very important after many months without performances.
I think people need to watch musicals and to hear music, because during the three months (of lockdown) they had to stay in their homes with just tv and books (editor's note: during the time between this interview and the publication date, many regions of Spain once again experienced tighter restrictions concerning public gatherings)."
The musical is based on the novel by Austrian writer Stefan Zweig and German Torres explains, "It is one of his more famous novels. It is about a time when women were judged by their actions. Morality reigned at that time and that a woman of her (the central character known as Mrs. C.) class who was betrayed by passion brought about judgment and rejection by society.
My character is called A Man, he is a demiurge (a man with magical powers), someone who incites the character of Mrs. C to surrender to passion, he throws her into the abyss so that she can live her life to the fullest. He handles the strings of destiny for both the Young Lover (the name of the other central character) and her own.
This is my first production with Silvia, and I love it. She saw me in another play, and she said she wanted to work with me. When she decided to produce 24 horas en la vida de una mujer Silvia said come on German this character is a good match for you. At the beginning I could not be in the show, because at that time I was starting another production."
Just prior to 24 horas en la vida de una mujer resuming performances in December, German Torres appeared in a contemporary theater project En el lugar del otro, which was also performed at Teatro Galileo in November (2020).
He says, "It is a very interesting work, with a philosophical script by Ernesto Caballero and Javier Gomá that put in the other person's place. It was a drama that was presented for one month."
German Torres says of the theater director Juan Jimenez that he loves adventure, risk and culture, so he always looks to bring quality theater to Teatro Galileo, which seats two hundred people."
Many people outside of Europe do not realize that, "Before the pandemic, Madrid had achieved something impossible years ago, being the capital of musicals. Along with London and Broadway, Madrid was at the height of those cities. It was already a travel destination for lovers of musicals.
To produce a musical in Madrid is very expensive. Now they are mostly closed, because of the pandemic, as it is even more expensive. I do not like the concept of theater online, because theater is meant to be (experienced) live (in person). The National Theater in London started (presenting) theater online for all of their productions, but it is not the same," he says.
We take a break from theater to talk about a trio of films that German Torres has appeared in during the past year and a bit, "Adam in Aeternum, is a short film that Pedro Jaén Rodriguez has created. It is an interesting work based on Mary Shelley's novel, Frankenstein. Adam in Aeternum is a deep and artistic work that has been seen at festivals and it has already won four awards. This is a more authentic story than the movie that Boris Karloff was in, because (it is truer to the novel)," he says.
A second short film Paralelos is a short thriller, but it has an impressive cast with Esther Acebo and actor Fernando Cayo, both from La casa de papel (or the English title Money Heist), Rosalia Castro and German Torres. The twenty-four mintue film is directed by David Hebrero, who also wrote the screenplay. David Hebrero is well-respected by film studios and producers in both Los Angeles and Madrid.
David Hebrero also directed German Torres in the 2019 feature film Dulcinea, which draws its title from a character in Miguel de Cervantes' Don Quixote: Man of La Mancha. In Dulcinea, German Torres' character is Alonso. The film is one hour and thirty-eight minutes long and was co-written by David Hebrero and Steven Tulumello.
The Don Quixote influence was also evidenced in the play La espuela de rociante, written by Toni Conesa, a friend of German Torres.
"It is an incredibly rich text (script) written with mastery by Toni Conesa that tells us about the previous moment of Alonso Quijano, before he became Don Quixote. Rociante is Don Quixote's horse. Toni took two years to write this play, because it was very difficult," explains German Torres.
La espuela de rocinante was produced by Rosalia Castro and the theater company La Smorfia Teatro, which she co-founded with German Torres in 2014.
"The name of our company is from Italian, because I like the language. (Our first play) was a show based on the myth of Pandora and it had a beautiful text (script) by David Sanjuan. At the moment it is only possible to present a play for one week, not one month, because of the pandemic," he says emphasizing the challenges that the entire performing arts community is facing worldwide.
He adds, "Theater is as vital as breathing and the public needs theater to feed the soul."
Our conversation segues back to is in front of the camera work and the BBC production, the Mallorca Files, which he appeared in during 2019. It was an English-speaking part.
"My character was Spanish, but I started studying English two years ago. I worked a lot on diction, but I don't speak very well yet, but I will. I speak almost five languages, badly. My role is a man in the hotel, who says things like, okay hello, good morning. It was a very small role, but for me to work in a BBC production is incredible. When I was young, I watched series from BBC. The acting is incredible," he says.
German Torres was born and grew up in Barcelona, Catalonia, Spain, in a family of four, but he was the only artistic one.
"I belonged to a working-class neighborhood, being an artist was a lot like in the Billie Elliot movie. Luckily the Fame (television) series came out and people became more sensitive.
La Cancanas (where he first took acting lessons) is when I first stepped on stage and I have never gotten off of it. There was a feeling of never wanting to leave the stage. They were my first companions and I remember them fondly," he says.
We are glad that German Torres never wanted to leave the stage and later broadened his career to include film and television, because he is a brilliant actor, and the world would have been much poorer had he chosen a different career path.
You can follow German Torres on Instagram here or visit his website here, where you can also learn more about La Smorfia the theater company.
#GermanGarciaTorres #GermanGarciaTorresActor #DavidHebreroDirector #RivetingRiffs #RivetingRiffsMagazine #ActorInterviews #ActorEntrevista #FilmInterviews #CineEntrevista #PeliculaEntrevista #ActoresEspana #ActoresEspanola #SpanishActors #FilmsSpain #TeatroEspana #SpanishTheater
This interview by Joe Montague published February 2nd, 2021 is protected by copyright © and is the property of Riveting Riffs Magazine All Rights Reserved. All photos are the the property of
German Torres unless otherwise noted and
all are
protected by copyright © All Rights Reserved.
This interview may not be reproduced in print or on the internet or through any other means without the written permission of Riveting Riffs Magazine.