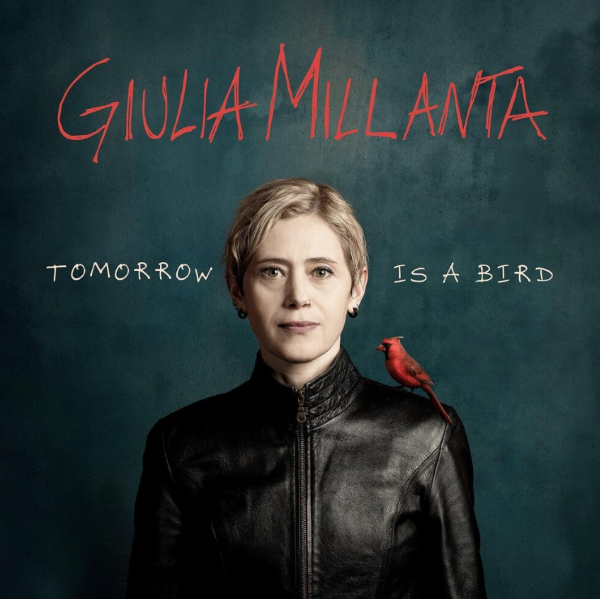 The album Tomorrow is a Bird by Giulia Millanta will be released on October 16 (2020) and for those of you who enjoy music that invites you to both sing along with it, as well as causes you to be reflective, you are going to love this record. As a songwriter Giullia Millanta, lyrically can easily be mentioned in the same breath as artists such as, Paula Cole and Shawn Colvin. Originally from Florence, Italy, the singer, songwriter, musician has made Austin, Texas her home for the past eight years. As a build up the album dropping this month there singles were release on consecutive months, "Sugar Home," in July, the title track "Tomorrow is a Bird" (August) and Castle in the Clouds (September), and each has been greeted with an enthusiasitc response from listeners. You can order the album and her book Between the Strings here and receive signed copies of both.
During our recent conversation, Giulia Millanta talked about her title track, "Tomorrow is a Bird," "I wrote the song completely by accident (she laughs lightly). It is one of those songs that I really didn't sit down to write. I was in Colordo housesitting for a friend of mine in February of 2019 and I was having breakfast. It was one of those blissful moments when you don't think, you don't intend to and you are not trying to, but it just happened. I took my guitar and I opened my notebook and I just started writing. I didn't even know what I was writing about. It happens sometimes. I have had multiple conversations with other songwriters (and it happens to them). Afterwards, perhaps in a couple of days or even a couple of years later, I think oh that's what it was! (more laughter)
Maybe it sounds weird, but that is what happened with the song. I was writing it and it just happened. I let it go. I played it for a friend who is the co-producer (Gabriel Rhodes) and he said oh my gosh I love it. He said he wished he had written it with me. I never thought about it again and I never played it live. Usually, I try out my new songs just to feel the temperature of the room and to see what the reaction is. Then a few months later I started looking at the songs that I had when I started thinking about a new record and this one jumped at me. When I put the songs together, I realized they all matched. There was a common thread and that is Tomorrow is a Bird. The main line is "Today is a feather / Tomorrow is a bird," and then on the chorus I say, "What do you owe to yourself?"
That is the whole concept of the record. You can do whatever you want. You can make whatever you want out of today, bearing in mind what you do today will have a consequence tomorrow. You are laying the foundation for tomorrow with your actions today. At the end of the day what do you owe to yourself? Who do you want to be? What is the best thing that you can do for yourself?"
The accompanying video for "Tomorrow is a Bird," sets a whimsical mood and that is further enhanced by Giulia Millanta's ethereal, staccato vocals. If you like tea parties with teddy bears and aardvarks, as well as nice nature scenes, you get both with this video. The song also features a splendid guitar solo by Gabriel (Gabe) Rhodes.
This is the second album that Giulia Millanta and Gabe Rhodes have co-produced. She explains, "Two records ago in 2016 I co-produced a record with my dear friend George Reiff, who passed later that year. Gabe was playing guitar on that one. George and I were also supposed to work on my next album Conversation with a Ghost, and we didn't have time (before he passed away), so Gabe and I co-produced that one. Technically, this is the second one that we produced."
The album Tomorrow is a Bird was recorded at Wire Studio by Stuart Sullivan who also mixed the music.
"Stuart Sullivan was recommended to me and he had mixed Conversation with a Ghost. (At that time) I was shopping around and looking for someone. I had a conversation with him, and it just felt right. I loved working with him, and I liked his approach to everything, not just music and mixing, but to life. I adore Stuart. He is a phenomenal human being and we laugh a lot. It is important for me to have a good vibe. It is a really nice studio that lets you track live. That is how I like to do my records. I track with the rhythm section, so it is voice, guitars and drums," she says.
If you had to pick a song that fans are likely to sing along with from this album our guess would be it is "Sugar Home," a beautiful song about love, just not necessarily of the romantic nature.
Giulia Millanta says, "That song was very well received from day zero. That is one of the songs I have been testing and I have been playing that live with my band for a year or so. People comment a lot about the lyrics. Often people will come to me and they will quote a line from the song. There are a couple of lines on that song that people comment about.
"Sugar Home," is a love song and it is not a love song in the conventional way or sense. It is more of a reflection about love. I don't remember exactly what I was going through when I wrote it, but I can tell you this a) I am an immigrant. I am Italian and I live in Austin (Texas) and my family is on the other side of the ocean. There is room in my life for nostalgia and I miss them. When I wrote that song it was a mixture of feelings and I am not one who writes love songs, (such as) I love you so much or I miss you so much or you broke my heart and I am going to drink whiskey," (she laughs). (When this writer jokingly asks if it is the brokenhearted songs she doesn't write or the whiskey she doesn't drink she replies,) I am also Italian (she jokes) so I am more of a wine kind of a girl.
I felt the need to explore love, but "Sugar Home," is not just about romantic love. It is about, we may suck in many ways and this can be siblings, friends or any two human beings that we can think about. My crown is crooked, and your dreams are broken. It's okay and we can hold hands and we can be kids, find that childlike sense of awe and faith and just walk down this road together. We know that it is okay to be flawed and we can just fly over all of that. The bottom line is it is okay. We have made a lot of mistakes. That is who we are. We are humans."
Giulia Millanta is trilingual, in Spanish, Italian and English and she can read and write French at a mid-level. Before she moved to the United States she moved to Barcelona, Spain for eighteen months and then back to Florence, Italy, before finally settling in Austin, Texas, eight years ago. While in Italy she was studying to be a dector and in fact has a degree in medicine.
"I had been living in Florence and my roommate said she really needed to go somewhere for a couple of days. She said let's go to Barcelona and I had never been there, so we went. I was walking down the street and I thought I need to spend some time here. I went back home, packed my bags and then I returned to Barcelona. My intention was to stay for just a couple of weeks, or a month and I ended up spending a year or a year and one-half in Barcelona," she says.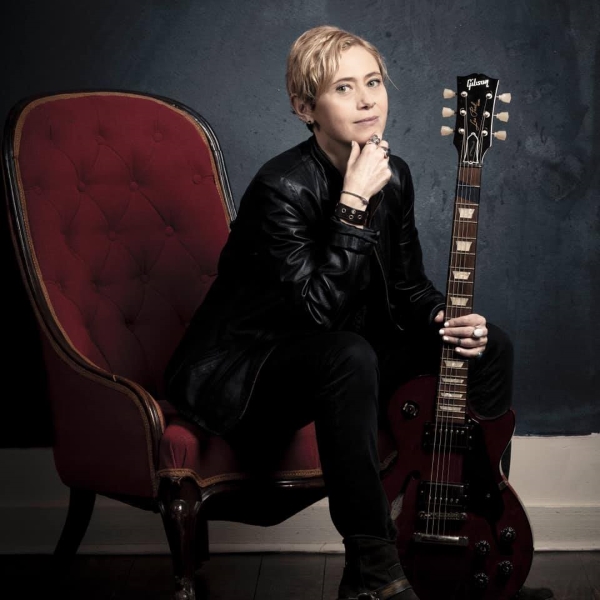 As for her move to Austin, Texas, she recalls how that came about, "It was accidental or synchronicity or however you want to look at it. In 2011 I was ready for a change. I was considering making a move from Europe, from Italy to here. I was very drawn to New York, who isn't, and I was considering going there and giving it a try. Then through a bunch of friends of mine from Florence who had been coming to SXSW for many years I met some musicians from Austin. We were playing at a Townes Van Zandt tribute night in Italy and I thought I have never been to Austin. I came here for a visit and one thing led to another. I started making friends. I booked some shows and I decided to come back here for three months. Eight years later I am still here."
The third song on the album "In a Dream," offers a lot of opportunity for the musicians to shine, Gabriel Rhodes on electric guitar and piano, David Pulkingham, guitar, Lindsay Greene (electric bass) and Joey Shuffield is the drummer and percussionist. There is just so much to like about this album, from the songwriting, to Giulia Millanta's emotive vocals and some outstanding, but subtle guitar solos. It is nice to listen to songs when the musicians and sound engineer understand the role of a musician is to accompany and not overpower the vocals. Kudos to Stuart Sullivan for an excellent job of mixing the sound and engineering this record and let us also mention assistant engineer Carter Greeves. The album was mastered by Chris Burns.
"In a Dream," is a fun song, "I have a very active mind, especially when I sleep, and I dream. I lucid dream. Lucid dreams are when you are dreaming and you are aware that you are dreaming and you can somehow interact with the dream and not control it, but you can steer the direction of the dream. There is a certain level of awareness and conciousness within the dream to the point when you can change the outcome and you decide to do certain things. My dreams are very colorful and very detailed. There are a lot of symbols and images. I also fly in my dreams. That whole thing became a song.
There are a number of songs that I have written right after a dream or that somehow have been informed by a dream that I had. This song is defnitely one of them.
Some of it is common experience, like when you want to run in a dream and you can't or you want to scream in a dream and you can't and you wake up and you scream. If you start having lucid dreams then you have control over certain things," she says.
Giulia Millanta recorded her own background vocals and David Pulkingham also provides background vocals for "In a Dream."
We really like the edgy feel to Giulia Millanta's vocals on the song "Animal," and the instrumentals add some additional sandpaper to the song.
The eighth song on the record is "Quiet Fight," a song inspired from personal experience.
"When I moved to the United States, I had a relationship with an American man. There wasn't a language barrier, because I was already fluent in English, but there was a cultural barrier. Italians are not quiet and especially me. I say things whereas my ex-partner, with whom I am still great friends, but we are no longer together, he was having a hard time, because I was saying so much. Americans tend to be more politically correct. I was thinking I know you are only telling me a bit of it and that just like an iceberg ninety-five percent of it is underneath and you are not telling me (about that). If you are having a quiet fight without addressing things, a quiet fight is not going to make it alright. You will not be able to fix things without saying them," she says.
With 2020 being such a challenging year for all of those in the performing arts, as well as their fans, we posed the question to Giulia Millanta, how have you been maintaining your sanity?
To which she replied, "Luckily, I never had my sanity to begin with, so I didn't notice a difference. It is kind of true in a way. I have talked to a bunch of my musician friends and the fact that we are so used to a life that is unconventional, unpredictable and uncertain it gave us a jumpstart on this. This is an extra level. It really is not a lot different than my life usually is, with the exception that I don't get to play gigs with human bodies and with people in front of me in flesh and bones. I spend a lot of time alone on my computer or practicing or writing. I think that people with different types of jobs or who have more of a social life have been affected (to a greater extent).
That being said, I was supposed to be back in Italy in May, and I couldn't go and then I tried to go in August, and I couldn't. That affects me, because I can't see my people and I miss them.
What do I do to keep the remains of my sanity intact? I have healthy habits. I exercise every day. I have a garden and I do physical work. I meditate and I do the things I need to do, such as staying connected to the community as much as I can. I stay connected to my friends, my art, my guitar and my writing.
You can connect to Giulia Millanta also, by visiting her website and buying her music and her new book. You can also watch and listen to her new music video for the song "Castle in the Clouds." You can follow Giulia Millanta on Instagram or her official Facebook page.
#GiuliaMillanta #TomorrowIsABird #AustinMusic #RivetingRiffs #RivetingRiffsMagazine #TexasSingerSongwriter #TexasMusic #ItalianSingerSongwriter #LucidDreamSong #FlorenceItaly #SingerSongwriterInterview #MusicInterview #TexasMusicInterview #AustinMusicInterview #ItalianMusicInterview
This interview by Joe Montague published October 5th, 2020 is protected by copyright © and is the property of Riveting Riffs Magazine All Rights Reserved. All photos are the the property of
Giulia Millanta unless otherwise noted and
all are
protected by copyright © All Rights Reserved.
This interview may not be reproduced in print or on the internet or through any other means without the written permission of Riveting Riffs Magazine.