Interview with Joe Montague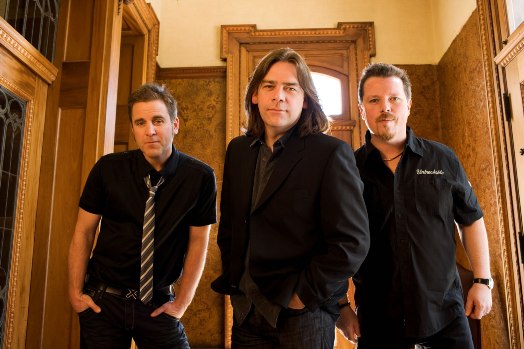 "A commitment to performance is what has driven our band, not a commitment to making records. It (CDs) is an adjunct to what we do, rather than what we really do. Bands that attract me are bands that have some sincerity to offer, whether it is Clash or Green Day or a hundred other ones in between," says Bob Hallett, a founding member of the folk rock band Great Big Sea.
Sitting in the lobby of hotel in downtown Vancouver, Alan Doyle, another member of Great Big Sea talked about the need for an artist to be authentic in their music. "For us it has always been about staying true to our sound. In general, musicians are terrible liars and you can spot them five million miles away when someone is lying (through the music they are presenting).
"We had a meeting, early on in the band's history in 1992 or '93, whatever, and one of the things that came out of that, is we weren't going to recreate a previous generation's folk music. Rather than using blues, jazz or rock 'n' roll, we were going to use the rhythms, melodies, the instruments and the language of Newfoundland folk music. That is where we started. That is the basis of Fortune's Favour (their new CD), as much as it was for The Hard And The Easy (2005), Something Beautiful (2004), Up (1995) or any of the records in between.
Much of Great Big Sea's success comes from the unique sound that they bring both to the stage and to their CDs. Born, raised and continuing to live in Newfoundland, Canada's eastern most province on the Atlantic ocean, the band members have remained loyal to the essence of the Newfoundland's culture and heritage. Those elements are clearly evident in Great Big Sea's music. The song, "Banks of Newfoundland," not only captures the spirit of the people of Newfoundland, but depicts the dangers that the deep-sea fishermen regularly face
It ("Banks of Newfoundland") is a traditional song. Most of the traditional Newfoundland songs that we have written are indigenous to Newfoundland. This is a traditional song, and it is about Newfoundland. There are a dozen songs out there with that title. The song talks about the end of a journey, the hardships of the journey and the light at the end. A lot of sailors' songs are very simple; money, booze, chicks. They are not very philosophical," says Hallett, in reference to the seventh track from Fortune's Favour.
Whereas a lot of bands tend to drift away from their roots as they spend more time touring and spend less and less time in their hometowns, or eventually move away, the members of Great Big Sea continue to live in Newfoundland.
"The biggest thing for us is the context. We don't live in Montreal, Toronto, Vancouver, Los Angeles or New York. The distance between our culture and our music, is just leaving (through) my front door and talking to my neighbors. The culture is alive and well, whereas the rest of North America has been getting more and more homogenous, St John's (the capital of Newfoundland) has become the capital of Newfoundland's culture. I don't have to go very far. All I have to do is turn on the TV, the radio or open the newspaper and all of that stuff comes flooding in," says Hallett, leaving no doubt that he is proud of his heritage.
Doyle echoes Hallett's sentiments and uses the word 'lucky' to describe how he feels about not only living in St John's but being able to breathe in, see and absorb the many things that inspire his songwriting.
"One important thing is, we never set out to become a Canadian institution. We were very much about representing Newfoundland and the music of Newfoundland, when we started. The fact that we have been embraced so widely by Canadians is a source of surprise and pleasure to us," says Hallett.
As talented as Great Big Sea is when it comes to creating original songs or incorporating elements from their homeland, from time to time the band reaches out to other songwriters, so that their music can remain fresh. With their current album Fortune's Favour, Alan Doyle collaborated with Australian actor and musician Russell Crowe to write the eighth track, "Company of Fools," a rambunctious tune, which invites the listener to sing along. They turned to indie alternative pop artist Hawksley Workman to help produce the album, as well as play a plethora of instruments and they enlisted him as a collaborative songwriter.
Doyle recalls, "Hawksley, Sean (McCann), Jeen O'Brien (contributing vocals) and myself sat down one night in the studio, and wrote "Love Me Tonight," from scratch. It started out with Hawksley's idea as to whether or not girl x would show up and soon it married to my thoughts concerning the ten minutes before a concert begins. You are eager to please the people who are out there, and it is about the whole question of whether it will go over well or if it won't. I think that if I ever lost that angst before I entertain people, then I would suck."
"Hawksley comes from this indie world. His own performances are in this sort of odd cabaret style that he has invented for himself. We knew that he was a superb musician and a superb creator of ideas, sounds and melodies. We knew what each of us was capable of and we knew what each of us wanted. We wanted somebody to come in with a completely different set of rules, someone who would shake everything up in the box. We like Hawksley personally, and we knew that he was more than capable of the job," says Hallett in offering up an explanation as to why they approached Hawksley Workman to become involved in the band's current album.
Doyle adds, "He (Hawksley) is all about music and all about spontaneity. Spontaneity is difficult for us to find, because we are all used to each other and used to our ways with music. We were in danger of doing nothing new. We were at risk of boring our fans. Hawksley got us to stop planning stuff, to break down the rules and to 'live in the moment,' for each day's recording. This record is a portrait of the days that we recorded it and if we had recorded it two weeks later, it would have sounded different."
"Over the years we have written a lot of the songs ourselves, but we also realize that to keep fresh, there is no shame in bringing other people into that process, like Chris Trapper and Alan's friend Russell (Crowe), who have led very different lives, and have different perspectives. For some reason they can tap into our creativity and to our music. All of these experiments have been successful in different fashions, because whenever you are forced to think of things in a different way it is always healthy," says Hallett.
One gets the sense when talking to Doyle and Hallett that these two men still remain grateful for the opportunities presented to them as the stature of Great Big Sea continues to grow on the international music scene. Their music is in demand in Europe and 2008 marks the first time that Great Big Sea has sold more concert tickets in the United States than in Canada, although Hallett is quick to point out, that is not due to a decrease in sales among Canadians, but instead, it is a reflection of the burgeoning support among American music fans.
The first single to be released from Fortune's Favor, "Walk On The Moon," mirrors the attitude of the band members. "It's about having the good sense to know in advance, what is really important. It's not just about being in the band, but it is about having courage and having foresight, to know what it is that you are doing, and that your days are numbered," says Doyle.
Hallett says, "One of the reasons that this CD is called Fortune's Favor, is we realize that after fifteen years, this is (about having) one shot. Most of the bands that we started with, or showcased with at such and such an event are long gone. We don't take our longevity lightly. We realize that it is a privilege. Songs such as, "Walk On The Moon," and "Here And Now," are about that. You only have one chance. We know that we aren't going to live forever."
The members of Great Big Sea may not live forever, but their music just might.