Ten years had gone by since Jazz singer, composer and lyricist Gretchen Parlato and I last sat down to have a chat. A lot had changed both in the world and in Gretchen Parlato's life during that time. She moved from New York City back to Los Angeles to be closer to her family, she got married and she now has a seven-year-old son. She received a Grammy Award nomination, Best Jazz Vocal Album, in 2015 for her album, Live in New York City. Her sense of humor, which was so evident a decade ago is still evident and as we talked over the phone she was just as insightful, introspective and still comfortable in her own skin.
Ten years ago, she told this writer, "The goal of art is to reflect who you are and to reflect your life. It has been a process for me to get to that place and to realize that it is okay to not try to sound like anyone else or to try to be like anyone else. It is just being completely honest and open and vulnerable. I want to be versatile, but I also want to sound like me."
Did she still feel the same and does her new album Flor (her quartet has the same name), reflect that same sentiment?
She enlightened us, "I am pleased with my thirty-five year old self for saying that (she laughs lightly). I would agree, that was my path then and it was my self-realization then. It is definitely a continued path now. Our art is a reflection of our life, so my life now and for the past seven years of motherhood is very different than when I was thirty-five, single, independent, and doing whatever I wanted to do, when I was touring the world. It did take me a little bit of time even after I had my son, I thought how could I balance these two very different lifestyles? How could I find time to be creative and to be a really present mother, while providing a nurturing atmosphere and setting. That took some time, but I think with this album I was finally able to put it into words.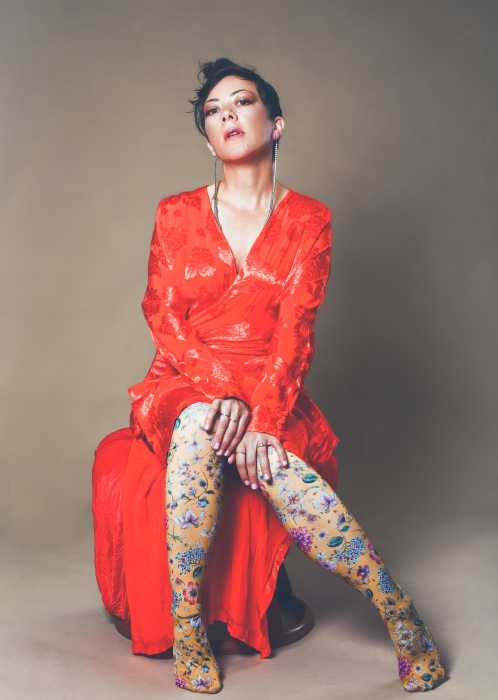 The songs "Wonderful" and "What Does a Lion Say?" are about motherhood and about my son, seeing life through the eyes of children and knowing the value of your words. "Wonderful" is about the feeling that kids have that they are invincible and knowing how wonderful they are. It would be great if we could keep that energy as adults, know that and let it shine.
"What Does a Lion Say?" is very specifically about early years of motherhood. Everything is new, wonderful, crazy, and sleepless. You are in the present moment, and it is all about this new life that you are taking care of. You have flashes of who are they going to become? (You know) this will all change, but it is about being present in the moment.
That is what the reflection is, and this album puts motherhood into art, poetry, and lyrics. Who knows, in ten more years where I will be. For now, it is about the early years and what that feels like as an artist. It is an amazing and crazy thing to watch a human being grow every day."
The name Flor, is Portuguese for flower, fitting in many ways, most obviously, because Brazilian music, grooves and vibes are front and center on this album and secondly the album is a pretty piece of art.
"I named the band first. It felt like a name that would give this group some distinction from the (former) quartets and (reflected) Brazilian music," she says.
The album Flor offers a diverse musical palette and rather than starting at the beginning, we will begin with the last song, a cover of David Bowie's "No Plan," released posthumously on his EP of the same name. Knowing that he was dying of cancer, David Bowie wrote this verse of the song, "All the things that are my life / My moods, my beliefs / My desires, me alone / Nothing to regret / This is no place, but here I am / This is not quite yet…"
We wondered how with Gretchen Parlato being in a much different place in her life, she was able to inhabit this song.
As for Bowie's thought she says, "it is a bit of a mystery. We can assume that the words that he wrote for this song painted a picture around dying, facing death, and facing that transition. There is no plan, but just accepting things as they are.
For me, I am forty-five years old, healthy, and hoping I have a long life. I feel as we age and with becoming a parent too, you think about that time and what happens and what it would feel like. I will have these very deep conversations with my son when he will ask, what happens when you die? It is profound, beautiful, and natural.
Hearing a David Bowie song and feeling that I could sing it could bring peace and comfort for people about something scary. I don't think we should push that idea away. It is more about embracing it and embracing the mystery of it. It will be easier to handle if we talk about it. Instead of talking, why not sing about it? It was the melody and the harmony and song structure, first gave me the idea. The lyrics reminded me of in Yoga, where they say all the movements are to prepare for the last final pose and stillness. That is supposed to represent death and release. It is helpful to tap into and touch in some way.
It is a beautiful, profound piece that I hoped as the band Flor we could do something unique with and tell our own story."
For the first minute and thirty seconds of the song Gretchen Parlato's vocals are barely above a whisper and a sense of peacefulness flood over the listener, as Marcel Camargo's acoustic Godin guitar gently and elegantly accompany Ms. Parlato.
With both "No Plan," and the Anita Baker song "Sweet Love," as Gretchen Parlato interpreted the songs, putting her own signature on them, she went through a familiar process of deconstructing both songs and then constructing them once again.
She explains, "The language you used is how I take a song in its simplest form for what it is and deconstruct it to its skeletal form. It has a melody, and it has harmony. What is the form of the piece? What is the instrumentation? I analyze it and take it apart. Then I reconstruct it. I still have the foundation, the melody, the harmony, the form, the order of things. The addition to that from my end is my story. What can I bring that makes the song unique, but still keeps the essence of the original, so people who know that song and love that song are not offended? It is not a comparison or a strict cover where it is exactly like the original, but it honors the original. My hope is that I can tell a different story and tell something new with it. For something like "Sweet Love," by Anita Baker I love her, and I honor her, but I don't want to imitate her. My voice is very different, and the arrangement is very different. What could we do that would still keep the essence and what is great about the piece? I put it in the meter of 5 and Marcel created some choral harmonization. I don't sing the bridge, but at the end of the piece is when I honor that part. It is still verse and chorus. It is a very different sound. To me it is not who does it better?"
We take a moment to talk about the musicians, "It started with the guitarist Marcel Camargo. We went to U.C.L.A together and we have known each other for over twenty years. He is from Brazil and he (played) a big part in my learning Brazilian music and playing it. We kept in touch, and he asked me to sing with him on a larger project. I thought I did not have anything new to offer, but this music made me feel like this is what my statement should be. It is music that is loved and has been there since I was a teenager. Singing with Marcel is what made me think about doing a Brazilian project.
There were players in Marcel's ensemble, and I asked him if I could kind of steal them if you will and create a quartet from the large ensemble. One was Artyom Manukyan the cellist who in Marcel's group was playing the role of bass player and it was a neat sound to have a cellist fit that role. There was also the drummer Léo Costa who is from Brazil. He and Marcel have a really great connection. It was great taking on a band of players who are in sync and who have a great feel together. Everybody was onboard to start this new project.
I wanted Marcel to be the MD (music director). I thought he would be very helpful to guide the project," says Gretchen Parlato.
The song "Roy Allen," which pays homage to the late Roy Hargrove, is introduced by both the scatting and percussion of Airto Moreira, who is soon joined by Gretchen Parlato's ethereal vocals. This a lavish song that transports the listener to Brazil.
"Airto Moreira has been around for a long time, and he is a legendary Brazilian percussionist. We were just thrilled and lucky to have him grace the project. Having him on it represents gratitude that we still have those living legends. I had Airto start the song, as though he was calling spirits and ancestors. What Airto and Roy represent on this piece is pretty profound to me.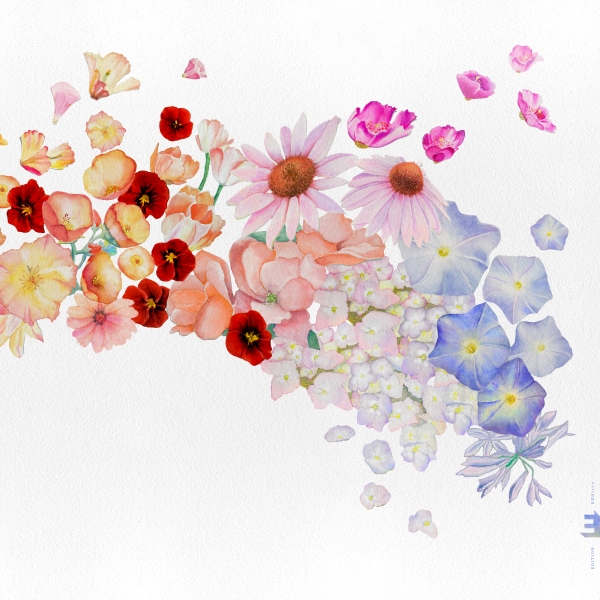 I have always loved that piece and I have great memories of hearing Roy Hargrove play "Roy Allen," with the big band in New York City. Roy Hargrove represents so much to the New York Jazz scene. When he passed away it was such a big loss and many people wanted to honor him and his music. I thought "Roy Allen," would sound great as a Samba and I brought the idea to our core band. It was during our soundcheck at the Jazz Standard in New York City. We then went right into the studio and recorded the album. At the soundcheck I said hey do you guys know this song? What do you think? Let's play it. It came together in ten minutes, and we had fun with it. It was very open, and the song had just two sections. It was fun, joyous, and wonderful.
Two years ago, when we recorded this with Airto he was in Brazil, and I was in New Jersey. We had recorded a band version of the song and then he agreed to play on it, but he had to do it in Brazil. He layered his voice and percussion over our tracks. After the fact, we put it all together. I didn't end up singing with him in that moment. You can hear me singing the melody, but everything that he does upfront, that is all him. He created that atmosphere.
We wanted to create intrigue, starting out really mysteriously, spotlighting voice and percussion. I over dubbed Airto's part and I thought maybe I should come in with the melody over the top of that. In the studio afterwards it was fun, as we (added) the layers. It really represents the Samba sound and that energy of having a huge group of people playing together. Hopefully, that is the feel that people get.
The song honors Roy Hargrove, his life and his legacy," she says.
Gretchen Parlato wrote the English lyrics for the song, "é preciso perdoar," but she did not write the song. She wrote the music and lyrics for "What Does a Lion Say?" and the lyrics for "Magnus" and for "Wonderful."
In the early years of motherhood, Gretchen Parlato took a step back from her music career to focus on her son.
"It was an overwhelming desire that I had to. I didn't know what I would feel like until that moment came, so I couldn't plan it in any way. I was a little bit older too. I was thirty-eight. I had a nice and independent time. When you are older you have that maturity and you had fun, so now you just want to be there and focused. I suppose it is different, because I am with Mark (her husband), whereas if you are a single parent, you do not have a choice to stop and slow down. You have to figure out how to do it all. I was lucky, because I could say I will handle this part, the house and our son and Mark and I could balance the work.
I did not completely stop. It was a fun time because I could take my son with me. There were a handful of shows, not long tours. Marley (her son) came with me. Either my mom came with me, which was really great or my sister or if Mark wasn't working, he would be there. Sometimes my manager Karen would help out. Marley went to Japan twice, to South Africa, Australia, New Zealand, Mexico, France, Germany, Portugal, and he was all over the world. We had such a great time. I was able to share that travel and those experiences with him," she says.
Eighteen months after the COVID-19 pandemic paralyzed much of the world, disrupted the lives and careers of many, and totally stopped the careers of performing artists, live is slowly returning to normal in many parts of the world. Those already in the midst of careers, however, were not the only ones who had their lives disrupted. Teenagers, college, and university students with aspirations of becoming artists, were in many jurisdictions not allowed to attend school. For academic subjects that has been somewhat more manageable, but how do actors, musicians, singers, create, learn, and grow when the only offering extended is remote learning? As schools reopen again, we asked LA County High School for the Arts graduate Gretchen Parlato if attending an arts school confirmed for her a career in music and what she would share with students.
"It absolutely did (confirm that for me). If there is any seed of any kind of a desire to be some kind of an artist and if there is an arts high school in their neighborhood, I would demand, not just suggest, I would say you have to go and be in that environment. There is something about being that age, having that kind of passion and knowing that you are surrounded by your friends who also have that same passion. You are all young and you have that feeling of being invincible and you are eager.
It gave me so many opportunities and a feeling of community. It validated, justified, and made me very aware, and it sealed the deal for me about pursuing a career in the arts. It changed from I like to sing to this what I want to do and have to do.
I graduated from that school in 1994 and they have grown since then and added many different art areas.
Being at that school was a dream come true. I have been a very strong supporter too. I have sung at their galas, and I have donated my time to going back and singing with the students. I am someone they can talk to and relate to.
It changed my life, and I would recommend it for any budding artist."
It had been ten years since we last had a conversation with Gretchen Parlato, we promise you the next conversation will take place a lot sooner.
Please visit the Gretchen Parlato website here. You can also follow Gretchen Parlato on Instagram.
Photos by Lauren Desberg, Artwork (cover) by Judy Frisk
#GretchenParlato #BrazilianMusic #GretchenParlatoInterview #RivetingRiffs #RivetingRiffsMagazine #JazzInterviews #WomenInMusic #JazzSingersWomen #WomenInJazz #AirtoMoreira #MarcelCamargo #RoyHargrove
This interview by Joe Montague published July 12th, 2021 is protected by copyright © and is the property of Riveting Riffs Magazine All Rights Reserved. All photos are the the property of
the producers of Gretchen Parlato unless otherwise noted and
all are
protected by copyright © All Rights Reserved.
This interview may not be reproduced in print or on the internet or through any other means without the written permission of Riveting Riffs Magazine.