World Famous Cartoonist Guy Gilchrist Developing Television Show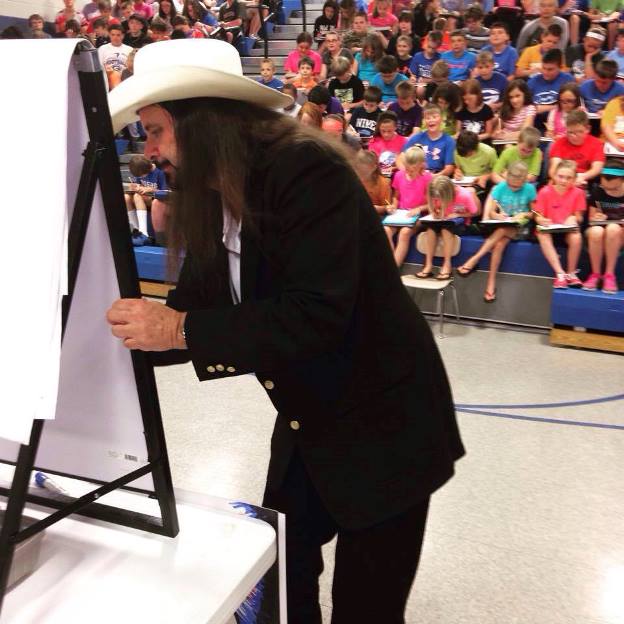 Guy Gilchrist, a world renowned cartoonist has worked on comic strips such as Nancy for the past 21 years (originally created by Ernie Bushmiller in 1933) and it has appeared in newspapers in more than 80 countries. He has also contributed to the comic strips, Jim Henson's Muppets, Your Angels Speak, Screams, Night Lights & Pillow Fights and Today's Dogg. He was the co-creator with Jim Henson, of The Muppet Babies, authored 48 children's books and contributed to cartoons such as Tom & Jerry, Bugs Bunny, Looney Tunes and The Pink Panther. His artwork Nancy Loves Nashville was on display at the city's airport from February 2013 until 2014.
The Nashville resident sounds like he is just about set to retire right? Wrong! He is really just getting his creative engine revved up again. When we talked to Guy Gilchrist recently we discovered that he is in the midst of a campaign to secure funding for a television pilot with the hope that a TV network will pick it up and turn his show into a regular series. That piqued our interest and we said tell us more.
"Over the years we have put up quite a few videos on YouTube and either they are television spots or bits and pieces of me teaching something or telling stories and drawing pictures. I was approached by some folks who have worked with my management team before and they are west coast people. They thought I would be the perfect candidate to teach cartooning on television and they just started pushing me and asking if this was something that I would like to do and if it was anything that I had ever thought about.
Of course I had thought about it many, many times, because I once had the Guy Gilchrist Cartoonist Academy for seven years and we had a brick and mortar school. We were also sharing lessons over the internet. Teaching has always been a huge passion with me ever since I started with Weekly Reader and the Muppet Show. I was going out and speaking all over the country and all over the world. I always wanted to get across through the medium of cartooning what a great country that we live in, how the future is yours and it doesn't matter where you are, it matters who you are, it matters what you have inside and that you have a no quit attitude (knowing) that you can achieve anything that you believe in. This has been an overriding thing with me. I guess these folks from Hollywood saw that and they said we would just love to try and put together a show.
Once we started talking about what kind of a show it would be, we all had the same ideas. When I do the talks at schools, libraries and museums we always have the easel and the flip chart up. I am always talking and drawing at the same time and I am really engaging my audience.
When we started looking at what had been the most successful art shows ever, Bob Ross' was the most successful ever, I think. He did the same thing, he engaged the audience. Whether you were painting along with him or not he was very engaging with the stories that he would tell and he always made eye contact, so you felt like you had a friend. That is the way that I try to engage audiences in person, so that became the idea of how I wanted to be with the audiences on television," he says.
As for how Guy Gilchrist envisions the show shaping up he says, "We haven't scripted the pilot yet, but I see the pilot as me teaching how to draw a lot of the characters that I have drawn my whole career, different types of cartoon characters and telling stories with those characters, as well as teaching the basics of how to draw anything. Then they can create their own characters and their own stories, but they will also have created a piece of art during the program. If (someone) just wants to watch the show and not be drawing then I think that it will have enough fun stories about my career that it will be entertaining for them.
The people watching are not going to need a lot and one of the things that I want to make sure happens is that the drawing is accessible to everyone. If they have paper, pencils and something that they can ink with, whether it is some kind of magic marker or a felt-tip pen, anything like that, all of the way up to having the most professional supplies, they will be able to get something out of this. One of the things that I truly want to make sure happens is that money for art supplies is not a barrier to someone learning. Certainly if they have art supplies and they want to ink professionally and want to draw professionally and they have that stuff they will be able to use it for the show.
During the years that I had the academy I created an entire curriculum on how to draw all sorts of things, how to create all sorts of characters and how to tell your story. That has really helped me in this. I think we have created curriculums where young people can get something out of this, serious art students can get something out of it and folks that want to use it as art therapy can get something out of this. Wherever you happen to be in your life, I want to be the guy to do that. It is just like if you came over to my studio and you were hanging out and while you were watching me draw I showed you how to do it. That is the feeling that I want you to have.
I have watched quite a few cartoonists on YouTube and one of the things that struck me is there is amazing talent out there and some of the folks are just incredibly personable, but what I have been seeing a lot of is the camera over the shoulder shot, while somebody draws and I have done that too. There is also the camera that is mounted above, so you are looking down on the drawing, but there is not a person looking at you and talking to you. They are talking to you, but there is not any eye contact being made. I want to make contact with you and I want to have a conversation with you. I want you to feel like you and I are hanging out in the studio.
So many people have reached out to me and they have told me about the cartoonists that used to be on television that they have such great memories about. For me the first person that I ever saw as a child was Walter Lantz.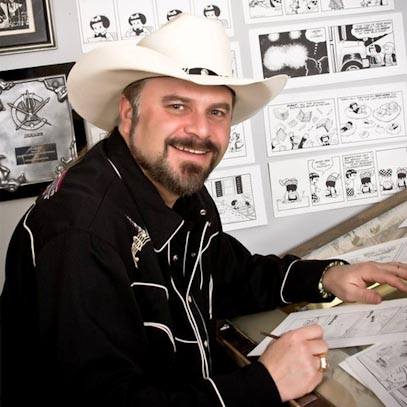 We didn't have a TV. My grandmother had a TV and so by the time that I was in about second grade, sometimes I could take the bus and get off at my grandmother's house. The two shows that would always be on when I got home from school were Woody Woodpecker and Friends with Walter Lantz and Popeye. I (also) remember as a little child standing out in the street in Winsted, Connecticut at the appliance store and watching Walter Lantz draw Chilly Willy, Andy Panda, Wood Woodpecker and all of his characters and then showing you this army of artists that he had and who all drew like him. They were making these cartoons that I loved so much. That was a treasure box and that was amazing to see someone holding a pencil and doing that.
As a child, one of the things that I truly wanted was to be an artist and I thought to be an artist and to be successful and to make good it was to become one of the millions of guys in Walter Lantz's army. It was to be able to make people smile and to change the world with laughter.
Walter Lantz was a huge, huge influence on me and one day I saw him on a show called the Art Linkletter Show. It was on about mid-day. I must have been sick from school or something to be able to watch the show. They had an address where you could send in (mail). I took the opportunity to mail off about fifty pounds of my artwork. I addressed it to Walter Lantz and I hoped that he got it and he did. Of course I set up my camp by the mailbox from the second that we mailed it. I was out there for about three months waiting by the mailbox and eventually he wrote me back. There was a letter that came from Hollywood, California from Seward Street and it said, 'A lot of talent for a ten year old boy and if you practice really hard then someday you will be a famous cartoonist.' It was signed Walter Lantz.
Years later when I was working for Weekly Reader and I was making my living now as a cartoonist, I (contacted him and) said I know you are not going to remember me, but …and I told him the story. He sent me a note back that was absolutely amazing. He said, 'While I don't recall your exact letter, but I can tell you that I can count on my fingers the times that I encouraged anyone in the way that I encouraged you. Certainly there is no point in encouraging poor or mediocre talent. If I got a letter and most of the kids tried to copy me and they weren't very good at it, I would send them a nice little picture or even a drawing of Woody back and I would say best wishes, but I would not mention anything, so I must have really felt that you had something. I didn't see in the letter that I sent to you a drawing of Woody, so here is your drawing of Woody.' He drew a picture of Woody Woodpecker for me and he signed a picture and sent that back to me. I have looked at that every single day since 1979 when he sent me that letter.
I also saw in Disney the same thing when they would take you through it and to a child it seems like a whole city that all drew the characters for Walt. Walt Disney was famous for sitting at that desk and then Donald Duck or Mickey Mouse would be animated and would be talking with him. He would show you the pencil tests and the drawings of the characters. Then you would see the pencil tests and then the actual scene. He wanted to bring you into it too, because he was such a master storyteller and he wanted you to enjoy that feeling of discovery that he felt so strongly and that feeling of creativity and in your imagination making something happen. The only reason that I can think of as to why it is not on television is because I am supposed to bring it onto television again.
In the years following (Walter Lantz) we had a guy named Ralph Kanna and his real job was as the weatherman on our local station, but he used to come on five minutes before I went to school. By third grade I think that we had a TV, because I remember watching him. If it was going to be sunny out he would draw a little poodle, a little dog with sunglasses and if it was raining the little dog would have an umbrella and he would teach you how to draw these little animals. Ralph Kanna was Walter Lantz to every single kid in our town. It was just unbelievable. When I was a teenager I used to work at the drugstore as a clerk and so many years later in walked Ralph Kanna and I flipped out. I flipped out (he says it a second time to make his point). It had been years. He still looked the same. He was a little bit grey, but he looked exactly the same. I started talking to him like he was the biggest superstar in the world and he just smiled at me. You know what, he got that every day. He had been retired, but he got it every day, because every kid remembered drawing the little dogs and cats and stuff with him on TV.
I was just a guest lecturer at Lipscomb University here in Nashville with Tom Bancroft the former Disney animator. He worked on Lion King and Pocahontas. He does a character design class over there, so Tom and I had dinner afterwards. What were we talking about? What did Tom remember? Tom remembered his local guy, his local cartooning guy. He mentioned that to me when we were doing the class together. I want to bring that back. I don't know where it went. Art is wonderful communication and there are no communication barriers when it comes to art. If I draw for you a bunny or I draw for you a cat or I draw for you a witch you know what that is no matter what country that you live in. It empowers you and it is something that you can do. It takes you to other places and you can begin drawing your own characters with the knowledge and if not and you just want to have a friend and hang out in the studio and watch me draw, you get that too. I don't know why it left the air and I know in the early days of television, they had a lot of art on television, because it was cheap. You don't need a whole bunch of cameras and a great big set and outdoors and indoors and all of this stuff. If you set up two or three cameras you are all good to go, because everything is happening on that piece of paper and in the conversation that we are having. That is the show that I am envisioning," says Gilchrist.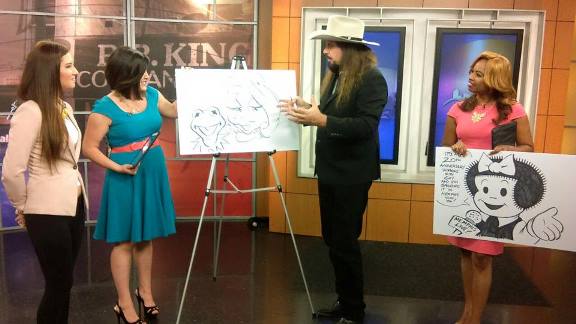 Audience engagement on television is really an extension of the advice that Guy Gilchrist was given many years ago about his comic strips from two of the best cartoonists of the 20th century Charles Schultz (Peanuts) and Mort Walker (Hi and Lois / Beetle Bailey).
"Mort told me to consider your audience and to remember to look at your stuff thinking of the audience that is out there and that you are reaching, the ones that you know about through their correspondence with you and understanding who they are. Try to stay true to yourself and try to figure out what they think is funny.
Charles Schultz said, there is only one way for you to do a strip 365 days a year and that is just to write it honestly and oh, try to be funny," recalls Gilchrist.
About the pilot that is being developed he says, "The folks that I am working with already have three shows on various networks. They have an incredible track record and they are so enthusiastic about this program that they are putting in everything that they are doing, all of their time and everything for free. We are trying to raise $25,000 for the production costs and a pilot costs a lot more than $25,000, but we have people who are willing to gamble and to put their talent and time in. We want to put something together. We want to take this pilot and get it in front of the decision makers. Everyone is just so enthusiastic about this that I can't be anything, but super enthusiastic about it."
Guy Gilchrist remembers, "When I had my school, my cartoonist academy in Connecticut for a few years, one of the things that I even had adults do was we would run off copies of How to Draw Woody Woodpecker and Friends. It was an old Whitman Coloring book that Walter Lantz did in the fifties and that thing was awesome. It taught you all kinds of stuff and it was great. This is for little kids, but it was done by Walter and his whole animation team and this thing was great. For nineteen cents or something when I was a kid in 1962 or '63 you would get this book and it was like it would open the doors of heaven for you."
Once the funds are in place and the television pilot is developed for Guy Gilchrist's show, maybe there will be another boy or girl out there who will discover that new doors are opening and new treasures are being discovered, because someone is teaching them how to take what is in their imaginations and bring those characters to life with pencil and ink.
You can learn more about Guy Gilchrist and his television pilot project here and you can view the Nancy and Sluggo comic strip here for free, as well as learning more about the fund raising campaign for the TV pilot.
This interview by Joe Montague published February 18th, 2016 is protected by copyright and is the property of Riveting Riffs Magazine © All Rights Reserved. All photos and artwork are the exclusive property of Guy Gilchrist and are protected
by copyright ©, All Rights Reserved
This inteview may not be reproduced in print or on the internet or through any other means without the written permission of Riveting Riffs Magazine, All Rights Reserved