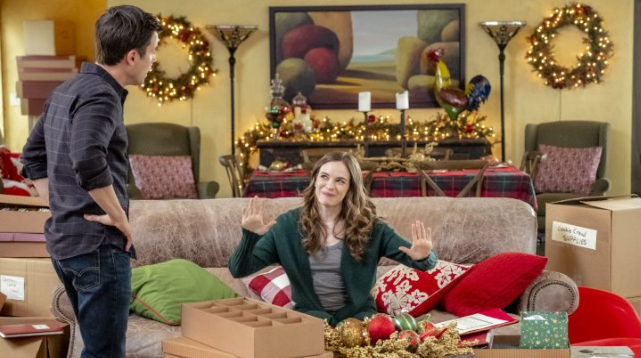 Hallmark Christmas movies may not be for everybody. We realize that some people due to religious beliefs or for other reasons may not celebrate Christmas, but for some who do celebrate Christmas the movies do hold a special place. We all know how the movie is going to end. Whether it is Danny and Maggie in Road to Christmas or it is Joy and Ben in Christmas Joy or it is Jessica and Matt in Christmas In Homestead we know eventually they are going to fall in love. We also know that it is likely going to happen during the last five minutes of the movie and yet some of us feverishly watch the clock and say quietly hurry up and do it.
Some may argue that the Hallmark tradition of Christmas movies is just simply good business for Crown Media the parent company and nothing more than that. If that is the case then why is it good business? What makes so many people want to tune into the movies each holiday season and why in recent years, including 2018 have Hallmark Christmas movies consistently been some of the top rated shows in their time slots?
Perhaps it is a longing on the part of many for a time when things seemed simpler. Whether they actually were or not or perhaps our memories of yesteryear have become a bit fuzzy is not the point, because that longing for a simpler time, when stress is replaced even for a few minutes with the joy of knowing that things can be better, is still real.
What is often overlooked at Christmas, as families get together or there are office parties to go to and friends to visit, is there are those who spend Christmas alone. That loneliness combined with the merriment that exists and should exist at this special time of the year can often be painful to those for whom Christmas just becomes another day to try and forget. There are no presents under their trees, if there are trees at all. There are no family members and therefore no traditions to carry on. What the Hallmark Christmas movies do for at least some is remind them of happy memories and perhaps give them hope that someday Christmas may be special again and that indeed they may experience love in their lives again.
Hallmark movies have actors and actresses who look like the guy or girl next door, sweet as apple pie or whatever other analogy you want to use, but their characters often are dealing with real issues, rebuilding their lives after a divorce or someone passed away or a struggling single parent or a myriad of other issues. Not all of the characters are dynamic as we note with Tom Everett Scott's character Jonathan in the 2017 movie Christmas Connection. Jonathan is a single dad and a journalist whose extended family is warm and corny as they come and when he meets Sydney played by Brooke Burns, he does not know how to navigate the romantic scenario that starts to bubble to the surface, because his life has been focused entirely on his career and his young daughter. Michael Rady's character Matt Larson in Christmas In Homestead who is the mayor of the small town, the innkeeper, a widower and a single father of a young girl is as blemished as they come. He is opposed to anything that involves change and when confronted with movie star Jessica McEllis (Taylor Cole) his world is turned upside down. In Road to Christmas we meet the Wise family and the matriarch Julia Wise, television gourmet celebrity who annually produces a Christmas special. What she lacks however is the ability to bring her three adult age sons home for Christmas each year.
Despite the glossy surface impressions and the predictable endings to the movies not everything is syrupy sweet, because these characters reflect the lives of, or at least part of the lives of many people and if in the end they find happiness, well is that not what we all hope for?
Some may be reading this opinion piece and be saying oh that writer is just a romantic and you would be right, but he is also a realist and he understands that although not all endings are predictable and not all are of the fairytale variety in real life that as long as there are people who are kind and as long as there are those who believe in love in all of its various shapes and forms then we can still have hope in a world that is far from perfect and perhaps we can find a little corner of happiness and hopefully share that with others.
Top photo is from the movie Road To Christmas and in the foreground are L - R Chad Michael Murray, Jessy Schram and Teryl Rothery. Second Photo - Matt Long and Danielle Panabaker. Photos are courtesy of Hallmark Channel and Crown Media are protected by copyright © , All Rights Reserved.
#ChristmasJoyTheMovie #HallmarkChannel #WChannel #RivetingRiffsMagazine #RoadToChristmas #ChristmasJoy #MattLong #DaniellePanabaker #CrownMedia
This opinion piece by Joe Montague published November 29th, 2018 is protected by copyright © and is the property of Riveting Riffs Magazine All Rights Reserved. All photos and artwork are the the property of Hallmark Channel / Crown Media and
all are
protected by copyright © All Rights Reserved.
This interview may not be reproduced in print or on the internet or through any other means without the written permission of Riveting Riffs Magazine, All Rights Reserved