Music fans have been waiting a long time for another album from Heidi Newfield, the northern California (now living in Nashville) Country singer, songwriter and musician with the Bluesy feel or as she takes occasion on The Barfly Sessions to demonstrate the Blues artist with the Country twang. Just when fans were excited about her new album's release last spring the COVID-19 virus dashed those plans, but she is forging ahead now with an August 28 th (2020) release.
She explains why, "The light is still on and those of us who are still here, are still looking for great music. Regardless of if I get to tour it or not, I feel it is my duty to put (The Barfly Sessions) out.
Putting a record out like this has been such a labor of love, with so much time and effort by a multitude of people, not just myself. To make a record like this and without having put music out for a while and then boom you go okay I am going to jump. I am going to put this thing out and then this happens.
I had to search my heart and ask am I prepared for what may or may not happen when you put a record out and you cannot tour around it? That is a whole new world for all of us when we are putting music out. It is like stepping off a cliff and you don't know if you are going to fly or not. I pray that is the case. I hope that is the case. I hope it catches on and if it is a slow burn that is fantastic. If it catches on fire that is great too. The world of uncertainty that we live in right now is very difficult. We are calling it the year that never happened."
We pointed out to Heidi Newfield there have been many Country music artists who embarked on their careers without ever having set foot on a ranch or a farm, but how her story really reflects the music she writes and the stories she tells.
"It is true. Country Music from its first incarnation with Jimmie Rodgers and the Hank Sr. stuff, from day one it has always been about real-life stories from the narrator to the listener. That has been what has always drawn me in. No matter if you are from Manhattan and you are a city person who wears a suit and tie to work and you never ever wore a pair of rubber boots or gotten on a horse, I don't think it is difficult for good and well-written Country Music to resonate with you. It is the narrator telling you about what it is like for them to be so lonesome they could cry or to be cheated on or to be in a celebratory mood. It is them making you want to dance, making you want to move, making you want to make love or whatever the situation may be. It is all about evoking those emotions from the listener and doing that in a way that is poetic and hits you between the eyes. If you are doing your job and you are singing a Country song then you are able to reach in and grab the heart of someone who has never stepped foot on a farm or a ranch, thrown their leg over a horse and you are able to pull them into that.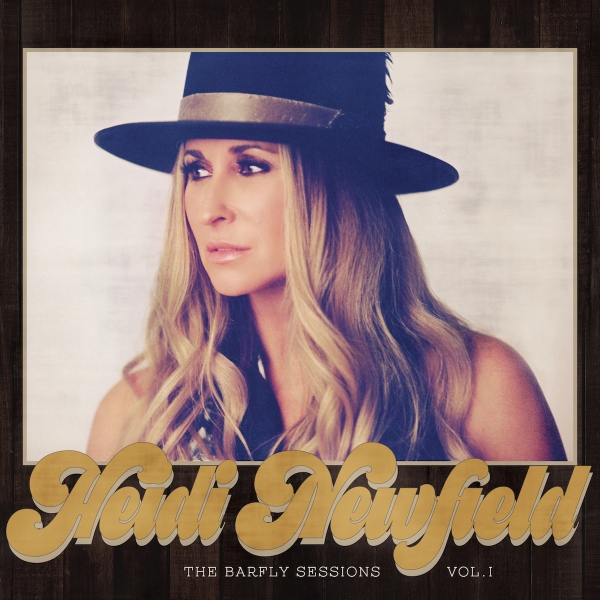 In my case I came up on a ranch in Northern California and there were a lot of ranchers and farmers where I was born and raised. The other side of my family was from the Bakersfield area and they too were farmers. I spent my early life in 4H, rodeos and horse shows. I was very much around a Country lifestyle.
My mom would bang on the door if I were listening to Blues or Rock and she would go what is going on with you? That's not Country. I was just a kid. That is how traditional they were, and it used to absolutely piss me off back then. Now I just chuckle at that.
When you grow up that way what you hear coming out of people's cars and trucks is George Strait, Patsy Cline, Willie Nelson, and Guy Clark. It could be anybody, but it is usually that lifestyle.
My mom loved Country Music so much and was an amazing singer herself. She had a couple of issues and she did not have a lot of nerve, so it would take her about three songs to settle in. She had a couple of amazing opportunities as a singer to sing background vocals for some big stars, Ernest Tubb being one of them. Because she would get so nervous, she chose a different lifestyle and wanted to raise kids and not be on the road. That really was not for her. I didn't inherit any of that (she laughs referring to the lack of nervousness). I get little butterflies, but I think that is just because you care. It is when you stop getting the butterflies that you should worry.
From my father I think I got a bit of grit or rasp in my voice. My mom had a very pure voice. She would sing Patsyesque kind of songs and she would sing some Lena Horne and some of the Jazz stuff beautifully. It blew me away when she thought no one was listening. She passed on to me the ability to sing and the love for it. My father had almost a Harry Belafonte type of voice. He would be in the middle of the Russian River in Northern California with a fishing pole and you are supposed to be quiet and he is out there belting out (a song).
My heritage and background growing up was in a rural and smaller town around a simple, organic lifestyle and where we were always cash poor and horse rich (light laughter). I always had a horse or pony to jump on and land to ride on. I entertained myself and I never felt like we didn't have any money. I never felt like I was poor. I always ate well, and we always had a big garden. It was a pretty amazing (life) when you think about it."
The Barfly Sessions boasts numerous good songs including "Love Blind," which has a bayou feel to the verses, enhanced further by Heidi Newfield's stellar harmonica playing, but the chorus contrasts nicely with this mood, as the beat is more up-tempo and the vocals more energized. Wendy Moten, Vicky Hampton and Robert Bailey provide the background vocals.
The tenth song "I Could Fall for You," rolls out vocally and rhythmically like George Jones in his prime singing "The Race Is On." The song co-written by Heidi Newfield, Leslie Satcher and Al Anderson expresses a sentiment somewhere between Patty Loveless' "Timber I'm Falling Love," and Mary Chapin Carpenter's "Shut Up and Kiss Me," perhaps more like shut up I'm thinking about kissing you. Heidi Newfield's harmonica solo and the fabulous guitars make this song one of the centerpieces of the album. This also may be the song that best showcases Heidi Newfield's vocals on an album where it is simply a treat to listen to her sing.
She says, "I had some songs that I really wanted to cut and they were gems that I was working on and they just didn't fit certain projects that I was working on at the time, but they fit this one. I wanted to cut a diverse record that felt like seventies radio, when nothing sounded exactly the same, but it all flows and there is a common thread, besides my voice and the harmonica. The music spans all the way from Bakersfield to straight up Blues to some Country Soul and singer / songwriter, folky almost sparse types of things. I really love that about this record.
There were things like "I Could Fall for You," which has an older George Jones and Buck Owens kind of feel. That is why I asked Jim Lauderdale to come in and sing with me, because I wanted that Buck Owens and Don Rich stacked vocal that is so amazing. That is Jim Lauderdale's wheelhouse. He just lives there."
"I played harp on every single song. That is my main instrument. I also play the guitar and a little bit of piano. On "The Blues is My Business," Delbert McLinton and I both played harps. I played what I call dirty harp on that. It is called dirty, because it is played through a copper mic and it has a dirty tone to it. Delbert is playing clean through his vocal mic, so he is answering me in a lot of ways and I am playing a lot of rhythmic stuff," she says, before explaining how she gets her harmonica playing from her grandfather.
"It is such a cliché. He played more straight sounding harp, like campfire songs such as, "Red River Valley," and those types of songs. We did not need much of an excuse to get together. At the end of our dinners he would push his chair back and he would reach over to this one drawer that held his pens and paper and about three or four marine band harmonicas, which I still have in the original cases.
The harp does not have to be complex. The harp can be simple and sometimes even sloppy when you are playing straight harp like Neil Young or Bruce Springsteen. That is what I love about it. I am madly in love with that instrument and I always have been since I was a young girl. I would listen to my grandfather play and I would think man that is the most lonesome sound I have ever heard, besides the pedal steel guitar.
I immediately took to it. As a young girl I started listening to those old campfire songs. Then I started gravitating towards some of the Outlaw Country stuff, Waylon and anything Charlie McCoy was on. I got into the Blues and paid attention to Howlin' Wolf and John Mayall and different harmonica players from all around Toots Thielemans. Stevie Wonder has always been one of my biggest heroes. I picked the harp up at a young age and I grew with it. It is such an internal instrument. Someone can show you how to cup and how to hold the harmonica, but for the most part it is just sitting in your room, practicing, and learning things like tongue blocking. I would take a lot of my favorite records and practice one lick at a time. (She mimics a lick and then says) I would learn that lick until I had it down and then I would add to it. It all started with my grandfather," she says.
There is far more Soul / R & B / Blues to the song "Three Things," than there is Country and Heidi Newfield turns in a stunning vocal performance, once again supported by the trio of Wendy Moten, Vicky Hampton and Robert Bailey. The song was co-written with an old friend Jim "Moose" Brown and Rivers Rutherford, the latter of whom she describes as a "ridiculously soulful guitar player and a wicked soulful singer."
"Rivers is one of those guys that you go, how are you not a huge star? He is much better than so many people. He has written huge hits over the years and he has made a beautiful life for him and his wife and their family.
I had been listening to Blues from Big Mama Thornton and all the way forward. I wanted to delve into that world. I sent a text to both guys and I said think Etta (James). That is all that I said.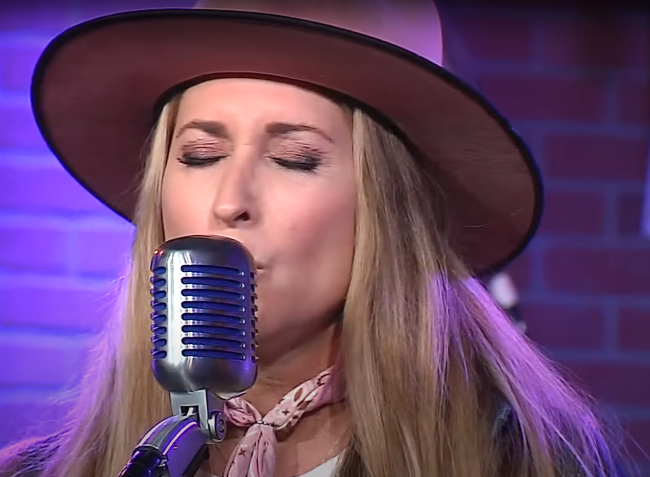 We started with that well-known ES-335, big guitars (she does a good job of imitating the guitar) that is so attractive whenever you hear it whether it is a Country song or a Bluesy song.
"Moose" just said these two simple lines, "Hearts break / Whiskey burns," and we thought that is like a big chorus. Let's go there. We wrote that song in about three hours or so. Rivers loved it so much that when his family came home he said you guys we have to play this tune and the three of us walked into the kitchen, grabbed guitars and we played this song for his family. He was so excited about it. He sang it and I harmonized with him. I couldn't wait to get it into the studio and to wrap my chops around it.
It is one of those songs that when you close your eyes you are transported to that place where …if you have lived any life at all, you've had your heart broken and you have been dragged through the mud. You have been in that empty space. There is a little tinge of anger as well, but I love the fact that she is vulnerable at the same time. She says fools like me we never learn, and we keep coming back. That is so true. We get our hearts broken and we turn our hearts around and we go chase love again.
When we finished writing the song Rivers looked at us and he said we don't have a title. I always have a title. I always have a place to write towards. If I saw that pop up on a screen or on an album cover, I would want to find out what those "Three Things" are. That is where the title came from."
The eighth song on the album is "When Heaven Falls," co-written with Chris Stapleton and Trent Willmon, a pretty reflection upon the difficult times we sometimes face in life.
"When "Heaven Falls," is another song I had a hold on. We wrote it back in 2010. I was completely heartbroken about my mom passing. I had a melody in mind and a title "When Heaven Falls." That is what it must be, what it feels like, or sounds like or looks like "When Heaven Falls." It is like a metaphor. Chris loved that. He threw his head back and he thought for a second and he sang the line out "It is the burning of an angel damned /That lingers in the souls of man." (She laughs) I stopped and looked at him and I said are you serious right now dude? You just slayed me. We both laughed and said we are off and boom! We started painting pictures and it was absolutely beautiful.
I think we need to come from an authentic, organic place and as long as you come from that place there is an audience that is searching for that, whether it be traditional twangy Country, Honky-Tonk, Texas Swing, straight up Blues with a Rock feel or whether it is Soul with a Country feel. Whatever you want to call it, as long as it is coming from an authentic place and the (genre) lines become blurred. People don't care, they just want to hear good music," she says.
Heidi Newfield, becomes a bit teary eyed when asked who she thinks "When Heaven Falls," will resonate with and she answers with a story that involves her fiancé Matt, who also sings and plays on The Barfly Sessions, as well as he co-wrote two of the songs.
"Matt is from the mountains in western North Carolina, where it is beautiful. He went up to see his family and I wasn't with him that time. He had not seen them for some time, and one was his cousin who happened to lose her father and her husband within two weeks of each other. He stayed with her for a couple of nights and Matt played for her, "When Heaven Falls."
The bottom line is she was in a place where she was about as heartbroken as a person can be. When Matt played "When Heaven Falls," she broke down and she wept. She said, I have been trying to find the words to express how I am feeling inside. Every single thing that is said in this song is exactly how I feel," Heidi Newfield recalls.
Continuing she says, "That song is about loss. It is about the back being up against the wall. That is my mother, she was dying of MS. I would go to see her, and I felt so helpless. We all wanted to do something for her, but there was nothing we could do. She was just hanging on and fading away into this little skeleton. She was laying in bed and with her big beautiful blue eyes. I will never forget the look of her, and it broke my heart. That is what that song is about."
The Barfly Sessions is not just a good album, it is an excellent album. Heidi Newfield is not just a good singer, songwriter, and musician, she is also a good person. Right now, she may not be able to tour this album, but you can tour it for her, by buying it and then telling your friends about it, so they will buy it as well.
You can listen to samples from Heidi Newfield's new album The Barfly Sessions from her website and you can also pre-order an autographed copy of the new album and be the first one of your friends to own one.
You can also follow Heidi Newfield on her official Facebook page , follow her on Twitter and connect with Heidi on Instagram.
Top two photos by Jeremy Fraser, LA Exposures
This interview by Joe Montague published July 11th, 2020 is protected by copyright © and is the property of Riveting Riffs Magazine All Rights Reserved. All photos are the the property of
Heidi Newfield unless otherwise noted and
all are
protected by copyright © All Rights Reserved.
This interview may not be reproduced in print or on the internet or through any other means without the written permission of Riveting Riffs Magazine.