The name Helen Shapiro may not be as familiar to today's generation of music fans as, Beyoncé, Norah Jones, or Kelly Clarkson, but at the age of fourteen, in 1961, Helen Shapiro owned the pop charts, the airwaves and the concert halls in England, as songs such as, "Walking Back To Happiness," and, "Don't You Know," became #1 hits. In total that year, Shapiro had three # 1 hits and four songs in the top ten. She would later go on tour and none other than an up and coming band by the name of The Beatles, would become her opening act. Shapiro went on to star in a London West End production of Oliver, and several other touring musicals. She had a formidable career, as a jazz vocalist who both toured with legendary British musician and bandleader Humphrey Lyttelton's band, and she also enjoyed a successful solo career. Several years ago, Helen Shapiro walked away from her mainstream music career, as invitations were flooding in, with requests for her to appear at jazz festivals. She declined those invitations so that she could devote herself to another passion, recording and singing gospel songs, and speaking to others about the Christian faith that she first embraced in 1987. Recently, Helen Shapiro spoke to Riveting Riffs Magazine, from her home in England, and she reflected upon her music career, her life in general, and her ministry.
Today, during what she refers to as her outreach ministries, which functions under the umbrella of Manna Music, Shapiro brings together two of the most significant influences in her life, her faith and her pop music career, and she does so by singing the song, "Walking Back To Happiness," a tune that helped catapult her to the top of the charts in the early sixties. She says, "I sing that song, and a couple of others, with backing tracks. People still know it, and amazingly kids and teenagers seem to know it, as well as the oldies (people) that were around at that time. It is telling a story, I am walking back and forward with joy and with my Lord. I am very grateful for that song, even though I didn't like it in the first place. At the time, I thought that it (the song) was corny. I have always been a jazzer, and I was a jazz fan when I was a kid. As far as pop music was concerned I preferred something (else). I had other hit records between '61 and '63, but that one stuck."
Helen Shapiro takes us back to those heady days in 1961, when a then unknown teenage girl, became all the rage in England. "I was still in school and I left school when I was fifteen, so my first year in the business it was like living a double life. Obviously, as a fourteen year old, it was wow! It was just thrilling to be in the music business, to meet the stars, and to sing at the London Palladium, the Albert Hall and all of that. As a minor, I was very limited in what I could do, because of the law, and looking back, I am grateful for that, because I wasn't thrown into the deep end too quickly."
Shapiro remembers somewhat comically, the reaction of her friends at school, "My school friends didn't treat me that much differently. They were pleased for me, but I was more popular with them, because I could get autographs for them of Cliff Richards and The Shadows, and all of those other people, who were big stars at the time. My teachers didn't know what to do with me, or what to make of me. I tried to be good at school. I was allowed to take the odd half day off to go and do a radio or a TV thing. "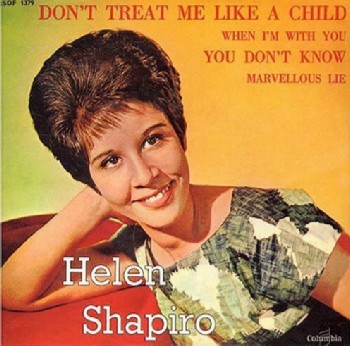 Continuing to reflect upon 1961, her first year in the music business, Shapiro says, "I had my first three hit records in that first year. The first one was called, "Don't Treat Me Like A Child," which was like a cry from my heart, because you think that you are so grown up when you are fourteen. It resonated with the kids at the time, because they went out and bought it. My first # 1 was, "You Don't Know," which is a ballad and it is a good song. It was followed up by, "Walking Back To Happiness," which was also # 1. I think one of the reasons why, "Walking Back To Happiness," was so great is, there was a documentary that they did at the cinema, about the making of the record, from the very beginning, to the end. They used, "Walking Back To Happiness," for that, and I think that it helped to sell it. Once I came out of school in '61, I did this film called Trad Dad, which in the States was called Ring A Ding Rhythm. I am getting all kinds of emails these days, from people who see it on Turner Classic Movies or something, under its original title It's Trad Dad (1962). At that time there was a big thing about traditional jazz or Dixie Land jazz. The movie was made by Pete Lester, who later became Richard Lester, and who directed all the Beatles films after that. The film did very well, and it only took three weeks to make. It had a lot of American artists like Chubby Checker and Gene McDaniels (co-starred Craig Douglas, and also appearing in the film were Del Shannon and Gary U.S. Bonds). I did a guest spot in another film, called Play It Cool (1962), where I just sang a couple of songs. It was a Billy Fury movie and he was a big pop idol here.
Helen Shapiro's early success in the music industry, was not without its challenges, as her record label EMI did not let her know that Paul McCartney and John Lennon had approached them about having Shapiro record a song that they had written for her, "Misery," and instead, in one of the biggest blunders in music history, decided that it would not be a good move for her career. In a similar fashion, although she recorded the pop tune, "It's My Party," EMI made a decision never to release Shaprio's single, and as history records, a young American singer by the name of Lesley Gore, went on the turn the tune into a smash hit. Those two moves by EMI may have kept Helen Shapiro from being at the leading edge of the British Invasion into the North American music scene, and instead her popularity in her homeland began to wane.
"Certainly, the hits dried up in this country (England) after '63, because that is when The Beatles came in, and every solo artist was affected by that. You were out, unless you were a group. They did their very first tour, on my show, on my tour. It was great and we knew that they were going to be big, but nobody could have foreseen how big. My ambition had always been to branch out, to do jazz and the standards, and that kind of thing, so this was an opportunity for me, to branch out into that area. At the same time I actually continued having hit (pop) records in other countries, including Canada, Australia and various parts of Europe. I did lots of tours around the world, consolidating the early successes and the more recent ones, the ones that came a bit later. I became very busy. I also became old enough, at seventeen, to appear at licensed premises, so I was able to start doing more cabarets, clubs and things like that. I guess that is when I really began to learn my craft, (as far as) putting an act together, communicating with an audience, and spreading out musically. It actually did me a great favor (the decline in popularity of her pop tunes in England). I had not a bad run I suppose. Three years is not too bad. My thing was always about music anyway, it wasn't just about chart success. I confess I was very disappointed when the records weren't getting on, and I kept making records. Because it was about music for me, that is what kept me going," she says without a trace of wistfulness or sour grapes, but instead, with genuine gratitude for the successes and experiences which she enjoyed.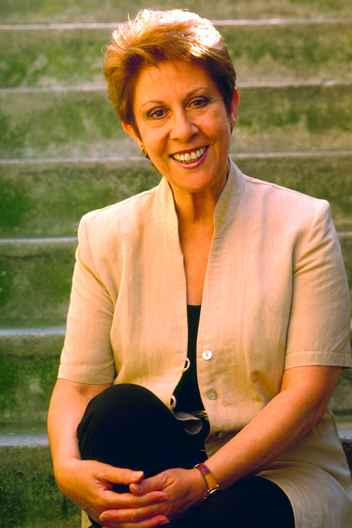 "Through the last half of the sixties and the seventies I did a lot of clubs and cabarets and then I did the Oliver thing. (After that), I didn't work, because I was determined not to go back to the clubs. I wanted to go back to the theatre. I was out of work for nine months and then I did a couple of little theatre tours. I was approached about making a jazz album of standards tunes like Gershwin and all of that. They had a gimmick and wanted to use synthesizers along with the regular instruments. I did this album, at the beginning of '83, and it came to the attention of some big jazzy people. Humphrey Lyttelton was a British jazz legend, and he heard the album, which had received great reviews. He asked me if I would be interested in doing a Duke Ellington anniversary concert in '84, which would have been the tenth anniversary of the Duke's death. I jumped at that, because it was something that I had wanted to do for years, and we did this concert in April of '84, at the Royal Festival Hall in London. It was a big, big success. That led to a long standing association between Humph and his band for seventeen years until 2001. It was a wonderful time. I was (also) doing pop concerts and other jazzy things, but it was a great lift to me personally and to my career to be recognized in that way. What I recognized about myself in doing that and in doing the musical shows is that I am a team person. I like being a part of a team onstage, which I had never been before, because I had always been the soloist. I was on stage with Humph and the band. It was fun, and they were paying me to do this. I was getting to sing fantastic Ellington songs," she says.
Helen Shapiro, it would appear, was destined to become a singer. "The very first musical that I was taken to see was Calamity Jane, with Doris Day, and from that moment on I wanted to be Doris Day. I saw everything that she did, Love Me Or Leave Me, and all of those fifties things. It was when I was very little, that I knew that I wanted to be a singer. I was brought up in a musical family anyway, and it was just so natural to me."
In 1979 -80 Helen Shapiro was cast as Nancy in the London West End production of Oliver and she recalls the moments just prior to the curtain rising, "I will never forget the opening night, sitting in the dressing room. There I was in the West End of London, getting ready, and over the speaker came the overture from the orchestra. It was such a thrill, and I was like Wow! That is one of the highlights of my career."
As the new millennium dawned Helen Shapiro made a decision, which she says came easy to her, and that was to walk away from her jazz career and to focus fulltime, on something that had become her passion, and which she had already been doing for many years, sharing her faith with others, through her music and her talks.
"God has used me because of my earlier record success and being well known in the sixties. I do these things in churches, community centers or schools. If I can avoid it I don't do them in theaters, because I don't want to give out the wrong signal that I am going to do some kind of a concert. People expect different things if they think that they are coming to a concert. People come for all kinds of reasons, such as nostalgia or because of curiosity. I am very grateful that they do come, that they show up. Even after all of these years, people turn up in the hundreds, and I am very thankful to be given the opportunity to reach out to people. Because of what happened in the old days, I can stand up on a platform and speak to a lot of people about the Lord. If I thought about it too much, maybe I wouldn't go out there, but I am glad that I do and I don't hold anything back."
This interview by Joe Montague published January 26, 2008 is protected by copyright © and is the property of Riveting Riffs Magazine All Rights Reserved. All photos are the the property of Helen Shapiro and all are
protected by copyright © All Rights Reserved.
This interview may not be reproduced in print or on the internet or through any other means without the written permission of Riveting Riffs Magazine, All Rights Reserved