Actress Imogen Tear just turned fourteen years old and she has already won several awards and when you are in a conversation with her she sounds like she has been at this for years. In fact, she has been acting for years, not many years, but the past five years. Throughout the conversation you are also reminded of something else that she is a teenager and she still sees the world through the eyes of a teenager and in a very positive way. She defaults to superlatives when describing the people who are her friends and while talking with enthusiasm about the television and movie sets on which she has worked. She also does something else that immediately stands out and that is that she expresses gratitude often for the opportunities that she has been given, for her family and for other actors who have helped her along the way.
She talks about winning the Young Entertainer's Award for best actress in a television series (awarded to those between the ages of five and twenty-one). Recently, she also won a Joey Award for Best Lead Actress in a television role (an award, which is also given to youth actors).
"I won the award for my role as Hattie in When Calls the Heart and it was an incredible experience. It was my first time ever going to LA and the experience was totally amazing!
I never go anywhere thinking that I am going to win otherwise I will always disappoint myself. Even after I win I remind myself that awards are the result of hard work. It was pretty amazing, because it was my first award ceremony ever and winning on top of that was super cool. I was quite surprised to win something, because there were so many people there and some of the people that I was up against were in shows that were really well-known. I went whoa. When I won, I was like are you sure you have the right girl? That was a night that I will never forget!"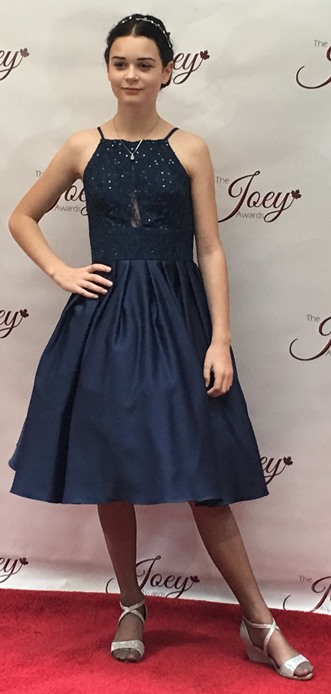 Imogen Tear continues on, as she talks about When Calls the Heart, based on Janette Oake's book and about her role on the Hallmark Channel production, "When Calls the Heart is based in 1910 and it is the journey of (teacher) Elisabeth Thatcher (played by Erin Krakow) and it is about all of the hardships the town (she lives in) has to face and her own hardships. It is also about what happens in the town and what happens with some of the children in the school where Elisabeth teaches.
My character Hattie moved to Hope Valley and everyone is very welcoming to her. Hattie is not very nice and so Elisabeth tries to dig deeper, because it is not very nice having a mean person in the school. She realizes this is how Hattie is just dealing with her friend Jamie who died. After Elizabeth talks to her everything starts to get better."
We wondered how Imogen Tear felt about playing a mean character and she says, "It was nice, but in one of the scenes I really felt bad, because I had to throw one of the character's beloved bears on the ground. I felt so bad. It is definitely a lot more fun to play a mean person, because you have that edge that most good characters do not experience."
This is Imogen Tear's third season appearing on When Calls the Heart and at the time of our interview the show was shooting its fifth season.
She says about the experience, "When Calls the Heart is the set on which I have had the most fun in a different way. With When Calls the Heart there are so many kids there and you are not sitting there lonely. I have a lot of friends on the set and I would not have seen them any other places (that I go), because they live just far enough away that it is not practical to go and see them.
It is fun, because they always think of new ideas and new plots. It is also nice, because I think (eventually) they will tie in a new invention since it is back in the day. I can just see that happening."
Imogen Tear's mother Nancy joined us for the interview and she says, "This has been Imogen's longest experience on a film set. She has really grown up with those kids and it is quite a magical friendship that they have, because everyone has grown up in Hope Valley (where the series is set)."
Earlier this fall CBS aired the miniseries Somewhere Between and one of the central characters of the show was Colleen DeKizer played by Rebecca Staab and she had this to say about Imogen Tear, "I love Imogen!! Ever since the very first read-thru, when the cast sat down to read episodes one and two, I was blown away by Imogen. What an incredible actress. She is smart, talented, and loveable. She is magnetic. I loved her as Ruby on Somewhere Between. She melted hearts with her innocence and vulnerability and she held us close with her commitment and drive. I am so glad that I got to work with her, and I look forward to more opportunities!"
Imogen Tear talks about her experience on Somewhere Between, "It was super big, super amazing and super fun. We went to a lot of different film locations and we went to houses that were incredibly big and grand. The sets were really incredible. The cool thing is that we went to all of these little places that we didn't even know about before. They were so incredible that I went, how did I not know that this was here?
We had become such a family, the cast and the crew. We were tearing up and so sad that the whole experience was coming to an end. They were tears of happiness, because it was such a good experience. There was all the action with helicopters and so many stunts. I had never really been on a film set that had that much action that I was a part of. One of the scenes that I was in was a fight scene and I had never been in a fight scene. That was just full on and I was like what! This is crazy! It all came together and it was all incredible.
Nancy joins the conversation again, "The fight scene that Imogen is talking about is the one with Rebecca (Staab)."
Imogen continues, "Everyone was nice and Rebecca was incredible. I could really tell that she is such an amazing person. We were at the part in one scene when she entered the scene and we were totaling chilling and having a blast."
The times that I talked to Paula (Patton who played Laura Price) she was always smiling. She was always so happy and she always gave off that kind of a vibe, which made everyone happy too. At the first read through Paula said we are going to have such a great time.
She also refers to Devon Sawa as being "super spectacular," raved about Catherine Barroll who played Ruby's grandmother Grace Jackson and she formed a bond with her on and off camera.
About Noel Johansen who played Ruby's father she says, "When we went to go visit him (his character Danny Jackson) he was in prison. He was always happy and he made an effort. He would come to me and say, so you are my kid and we talked about things that we might have in common. He said sometimes I will rub the back of my head with my hands, as a way of calming myself down. Ruby couldn't really process things right and she might curl up or block or she would tense up. I it helped that we were on the same page."
"Aria Birch (Serena Price) was always full of life and whenever you saw her she was smiling. Just thinking about her makes me smile, because there was never a day when she wasn't happy. That takes a lot for a young actress (a child actress). She was on set a lot. She had so many lines in the show and it is incredible that she could stuff all of that into a brain (especially) with coming home late and getting up early. She was always happy," she says.
Since 2015 it has become progressively busier for Imogen Tear with TV movies, 'Tis the Season for Love, Magic Stocking, Evil Men and My Sweet Audrina. She has also appeared as a regular on the television series The Magicians, with guest appearances on The 100 and What We Once Were.
How does a teenage girl whose star is rapidly rising stay grounded and have a normal or close to normal teenage life?
"When I leave the set I think to myself I want to be a normal person now. My mom is really strict on what time I go to bed. Most kids go to bed later, but I have to go to bed at eight or nine, so that I get a good sleep in case an audition pops up. I stay with my group of friends and we hang out all of the time. We go to school and we have fun. Also, I don't tell people at my school that I act. When they ask, I don't really tell them. I am quite humble about my acting, but also I don't want everyone in my school to know, because then I would (hear all of the time) oh what are you in? Since I haven't told anyone it also impacts how I feel about being normal. Some of my friends come up to me and they ask why I was away? Were you filming? They know, but the rest of the people come up to me and ask why I away? They bombard me (with questions). If that was the reality (that everybody knew) I wouldn't have that break and have a normal kind of high school experience.
I go to a normal high school and last year I didn't have a tutor, but this year I will most likely have a tutor. I do miss a lot of schooling, so I have to catch up a lot," she says.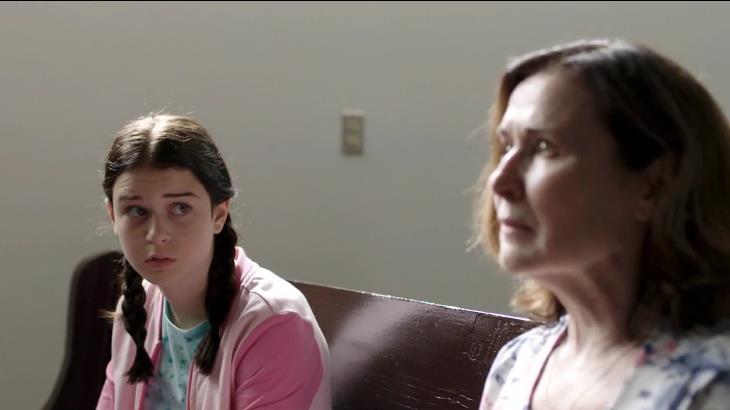 As for the approach she takes to acting Imogen Tear says, "All of the parts that I ever had I got to the point when I could just play it. To get to that point you have to think about the character, how she is in the scene and how to work that kind of emotion. Once you get to that point it is really easy to be that character. None of them were really hard to play, because I could get to the point when I could just be them."
Having now worked on a couple of Hallmark projects she says, "I like working with Hallmark, because they always have family friendly content and you don't have to worry about anything. It always makes you feel better a little bit. It is really sweet. When you get really attached to the characters and something goes badly for them you start to feel like this is no good, because you have become so fond of the characters. I think that is a really nice touch. Hallmark has really cute, nice and pleasant sets. When I was working on Magic Stocking everything was super cute. Everything was just wow. For When Calls the Heart everything was very accurate as well. All of the props were (authentic for that time). All of the scripts are interesting and the people are nice. You don't have to worry that they won't be family friendly."
As for how she first got into acting Imogen Tear says, "One of my brother's friends was in a commercial and I saw the commercial. I didn't understand that there were actors, that you could audition and be in commercials and that you could be on television. I went home and I said hey mom can you sign me up for this acting thing? If you do commercials you get to fly to Mexico or Hawaii or places.
I kept on asking for two years and then my mom thought am I holding Imogen back from anything? What if she is really meant to do this? Then her next thought was, we will give this a try and she will get over it. She signed me up and then I got an agent. That was pretty cool and I got auditions. At first I did a lot of student movies to fill up my resume. It wasn't the real deal, but I was also doing something. One of the films that I was in was called Butterfly and it got into the Cannes Film Festival.
The student films were fun. I got my first paying job one year into acting and it was a little tea commercial. It was fun, because we went into the forest (for the shoot). After that I got little bits and bobs. Then I got My Sweet Audrina and that was a big one. I was like whoa this is going to be a big film."
"I think the most important thing that I learned (so far) is being professional, but still be you at the same time," she says.
Imogen Tear also says, "It has got to the point as an actor that I know parts don't just come to you even if you are super famous you aren't just guaranteed parts, you still have to work for them and go and audition for them.
We are here now (she starts to laugh) and I didn't get over the phase of wanting to act."
Imogen Tear is a fourteen year old teenage girl just like any other, oh with the exception she is also one heck of a good actress and you do not have to qualify that by saying she is a good teenage actress or young actress, just leave it at she is a very good actress.
Photos: Top photo - publicity photo, middle photo - Joey Awards, bottom photo - a scene from Somewhere Between
#ImogenTear #WhenCallsTheHeart #SomewhereBetween #MagicStocking #HallmarkChannel #Hearties #MySweetAudrina #CBSMiniseries #rivetingriffs #rivetingriffsmagazine
This interview by Joe Montague published November 29th, 2017 is protected by copyright © and is the property of Riveting Riffs Magazine All Rights Reserved. All photos are the the property of Imogen Tear
unless otherwise noted
and all are
protected by copyright © All Rights Reserved.
This interview may not be reproduced in print or on the internet or through any other means without the written permission of Riveting Riffs Magazine, All Rights Reserved