Jacqui Naylor Smashes Lynyrd Skynyrd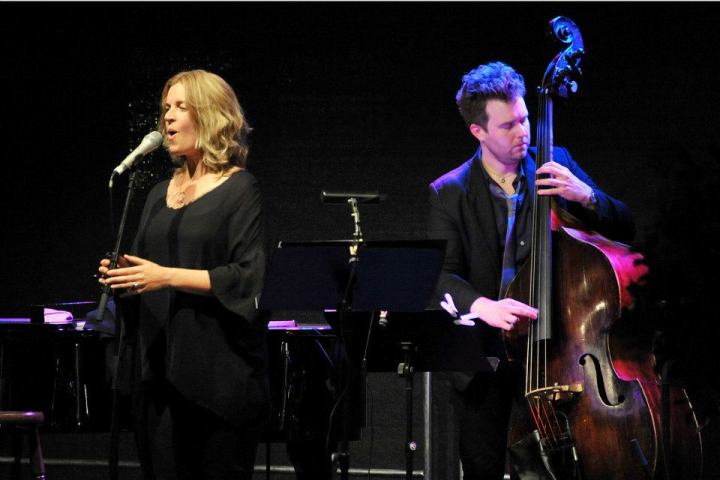 Singer, songwriter and arranger Jacqui Naylor has accomplished what few artists are able to do successfully, she has been critically acclaimed, as a vocalist who can comfortably perform jazz standards such as "Blue Moon," can sassily sing Rod Stewart's "Hot Legs," albeit with a twist, and creates quality original compositions such as the beautiful, "Easy Ride From Here." The San Francisco based artist talks quickly; her conversation changes directions often, and then she will suddenly stop to thoughtfully consider a question. She finds humor at every corner, not out of glibness, but quite the contrary, because she lives life to the fullest. She would rather be positive and innovative, versus settling for the same old same old, whether in life or in her music. Recently the talented and well loved Jacqui Naylor took time to speak to me about her unique music, and her last two CDs, 2006's Color of Five and this year's holiday album Smashed For The Holidays, a title which describes her music, not a state of inebriation.
"We call them acoustic smashes," says Naylor as she eases into our conversation with a description of her music. "I think it is fun. We (originally) did it (smashes) just because we liked the idea of doing it, and it became something that we have become known for. I wanted to distinguish our music from what DJs do with mashups, where the tunes are made to fit together electronically. We assimilate tunes because of their chord structure, so the band is able to play the groove of one tune, while I am singing a whole other song."
Naylor's approach to smashed hits was not contrived, but flowed from a desire to enhance her communication with the audience. "I very rarely sang songs that other singers did. I felt that unless I was going to do something different with it, why (bother) doing it. I had all my Ella Fitzgerald albums, and all of my favorite albums, why did I need somebody else singing, "My Favorite Valentine?" I kept getting asked to do certain songs, (such as) "My Funny Valentine," and I said that I don't do that. Sarah Vaughan sings that, you don't need me. I just didn't see a reason to be singing them. Finally, I had to come up with a way to address the issue, and "My Funny Valentine," was one of those acoustic smashes that we did. We mixed "My Funny Valentine," with AC/DC's "Back In Black." We kind of laughed when we did it, and I said, "I kind of like that, putting two tunes together," but we hadn't figured out what (other) tunes we should be doing it with, or how obvious they should be. It became a way to be innovative around tunes that maybe weren't so innovative," explains Naylor.
"As an artist I look to solve certain types of performance issues that I think are important. I used to do all ballads, because I love ballads, and if I didn't think that people (in the audience) would kill themselves, I would do just ballads, all of the time. (In particular) I think that we do a really good job of sad ballads. What happened organically is you realize after not too many times of getting up and trying to do all ballads that it doesn't really fly. (About) ten years ago I asked, 'What other tunes do I like?' I could do upswing tunes, but they would have to be in a minor key. Then this thing about doing rock tunes came up, and we (had to decide) whether to put them with swing or jazz music. It became organic in the sense of how I needed to address the issue of "My Funny Valentine," and "Autumn Leaves." It (smashing tunes) came out of my longing to communicate to the audience in a different way. I wanted to be able to communicate a story. Those tunes are fabulous songs, but I needed to figure out what I could bring to it. I think that it was more organic than deliberate, although the idea of mixing classic rock with jazz was always interesting to me," she says.
Although she has adopted an innovative approach to her music, Naylor has stayed true to her foundation in jazz music, which may sound like a bit of an oxymoron, for someone who utilizes grooves from artists such as Led Zeppelin and the Kinks. Naylor provides these insights, "I studied jazz, and had some rules that I wanted to follow as a jazz singer.
I am singing the lyrics and the melody the way that they were written. I haven't messed with the actual tune," she says, while adding that the band continues to honor the underlying groove, whether it is rock or jazz.
It was during the early part of her career, that her teachers and mentors nurtured the innovative side of Naylor's personality. "I was encouraged to be myself as much as possible, and not worry about sounding like someone else. I had a very good teacher who encouraged me, and taught me to release who I am. I think that over time that evolved into the way that I interpret jazz tunes. I was encouraged to try new things."
Naylor has enjoyed much success and her music has received high marks from the media, radio and a wide spectrum of fans. "I am very pleased to say that we get some nice radio coverage. It started with straight-ahead jazz and now our music can be heard on some smooth jazz stations, as well as AAA radio. Sirius (satellite radio) plays me on a number of different stations and internet radio plays our music. Obviously, (the stations) are playing different tunes. Some of those songs, such as "Love For Sale," which have been played on straight ahead, smooth jazz and AAA radio stations, overlap. We are getting more and more radio support all of the time, and we have charted. We just keep sending the music around, and people seem to pick things that they like, out of the myriad of choices on the albums," she says.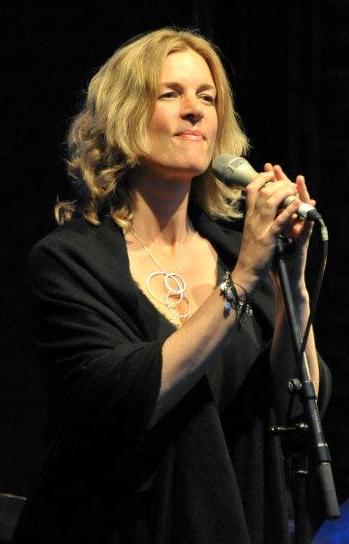 With so many segments of the music industry warmly embracing her music, Naylor was somewhat surprised. "On the Color Of Five, album I was really prepared for the jazz police. I was prepared for the jazz community to not take me seriously. The truth of the matter is that didn't really happen. In fact we received very good reviews from (a number of publications), radio stations, including NPR. It was shocking to me. In terms of the sidemen with whom we have performed, they have really dug our music," says Naylor.
Naylor is quick to give credit to her co-producer and co-arranger Art Khu, who also plays piano and guitar in her band. Changing directions numerous times as she talks, Naylor almost seems undecided as to which of Khu's many talents and attributes she should draw to my attention first.
"Art is a very intricate part of what we do. At first listen, it may sound like an easy thing to do (smashing tunes), but it is actually very difficult to find tunes that work together. You have to have a very large understanding of different kinds of music, to know all of those tunes, and the chord structures that work together. You also have to be able to reharmonize them in a way that is fun, done elegantly, and mindfully. He has the ability to do that, and I have not found that in anyone else. A lot of credit has to go to him. He has put those tunes together very intelligently," says Naylor.
If other artists had experienced the success that Jacqui Naylor has enjoyed, they might be tempted to take the path of least resistance, and ride the smashed tunes theme until the well ran dry. Naylor's devotion to achieving and maintaining excellence in her craft does not permit her to become content, nor does it allow her to abandon her jazz roots.
"When we do a live show, it is really a third, a third and a third. In other words, I am singing one third straight ahead or swing jazz tunes or ballads. One third (of my songs) are tunes that I have written, and one third of them are tunes that are ones that we have smashed. That has worked fairly well, and I have (also) kept that going on the last couple of albums. I think that I have enough albums out there now, that people are drawn more to the jazz stuff. I love jazz music, and that is why there is always a more sensitive ballad on my albums. For instance on Color Of Five, I open with "Blue Moon," and I close with "Here's To Life." The songs are done in a very traditional way. Jazz is still my favorite genre of music. (Then half-joking, half-serious she says) I don't ever want to be thrown out of a jazz club. So far, I haven't been, even though for a while I think that (my music) was pretty shocking (to people). We have played the Blue Note and the jazz festivals of the world, and it is important to me, to be able to continue to do that," says Naylor.
Naylor has some thoughts as to why her more innovative music has been accepted so well within the jazz community, "I think that I began what I am doing, at a time when it is much more acceptable to be mixing genres, because of downloading, the iPod, satellite music and internet radio. I think because of people like Norah Jones, who are mixing jazz instrumentation with pop tunes, (it has made it easier) for me. A lot of the traditional (jazz) listeners who go to jazz clubs are getting older, and (in some cases) are not with us any longer. It is now (easier), to invite younger people into jazz clubs, to introduce them to jazz music, through the mixing of some of these (other) songs, that they may know."
In response to my good-natured barb about whether or not it is true that she is knocking off the jazz diehards, Naylor laughs and says, "Absolutely not. I promise that it's not me."
With this year's Christmas, release Smashed For The Holidays, Naylor decided to send out the entire album rather than release one or two singles. The song "Santa Claus Is Coming To Town," which has been smashed with Lynyrd Skynyrd's "Sweet Home Alabama," had already been received warmly, even though at the time of our conversation it was still prior to the American Thanksgiving holiday.
"In a lot of ways, this album is a gift to my audience, to radio stations, and to those people who have supported us in the past. In fact, I have taken a lot of time to find them, and to say thank you for your support. We talked about (doing) this album forever and it feels good to finally have done it. I think that we pushed the envelope on a lot of the smashes, but in a good way. I am really happy with them, and the feedback (concerning) the album has been good so far. The album was meant to be a lot of fun," says Naylor.
Jacqui Naylor is one of the most accommodating and delightful people that a journalist could possibly hope to talk to. Her approach to music is fresh, her attitude positive and vivacious, and she is generous in her comments towards the other members of her band, drummer Josh Jones, violinist Yoon Ki Chai, and double bass player Jon Evans.
Naylor's fun, easygoing approach to her career and life is best summed up in her own words, "I have a list of songs that I have always loved, so I kind of kept those in a little drawer. I have a list of grooves that I have always loved, we just keep kicking them around, and sometimes they fit. My joke is, that the reason I do two tunes together, is so I can do more tunes in my lifetime."
Interview by Joe Montague, all rights reserved, protected by copyright © October 2008 Return to Our Front Page
This interview may not be reproduced in print or on the internet or through any other means without the written permission of Riveting Riffs Magazine, All Rights Reserved