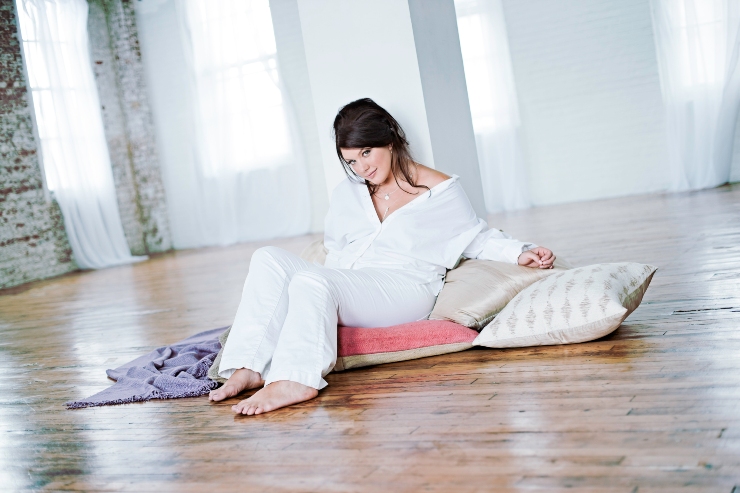 Interview by Joe Montague
During a recent performance at The Old Mill in Toronto, Canada, New York City's Jane Monheit's powerful interpretation of "Somewhere Over The Rainbow," had many in her audience shedding a few tears. It is in a sense what defines Ms. Monheit, as one of the best vocalists, if not the best Jazz singer on the music scene today, because she permits herself to be so vulnerable on stage, so emotionally naked before her fans, that she evokes powerful emotional responses.
"I do that all of the time. I am such a weeper. I need to be that vulnerable and that is my therapy. It is very, very cathartic and I do not know what I would do without it. I am sure a lot of people think that I am just plain crazy, but for me it keeps me sane. Well I am not saying I am sane, no artist is sane, but (she laughs) it helps me to stay closer to sanity. I am just a really emotional person and if I didn't give that to the songs and the performances then what is the point and why am I doing this? Why would I sing "Somewhere Over the Rainbow," which everyone has sung and it has already been sung better than anyone can ever do it again, by Judy Garland? What would be the point if I didn't have some intense personal connection and let people see it? For me it is cathartic and it is amazing. There is this little break at the end where Michael (Kanan, pianist / arranger) plays, before (and she sings), "If happy little bluebirds fly…" and every night he plays something different in there and it is usually quoting another standard. It is always something specifically chosen to rip my heart out. It is like a game that he plays with me. That night, my son wasn't with us, which is very rare and he played one of my son's favorite songs and I just started bawling. "Somewhere Over The Rainbow" is an emotional experience for the whole band or at least for Michael and me," explains Jane Monheit.
The tattooed lady (five of them in all) who is married to her drummer Rick Montalbano and who is the mother of a two-year old boy, has in recent years carved out for herself a reputation as being a singer who is able to take standards, give them a truly vintage sound, without sounding as though she is mimicking another vocalist, and yet she adds to that her own contemporary twist. She is both passionate while performing and grateful, yet she interjects her quirky humor and she can be what some might describe as outspoken. At first glance many of those elements that comprise Jane Monheit might sound like they are juxtaposed and maybe that is fitting for a woman who confesses a fondness for counter melodies.
As for her signature sound, she says, "I guess it is just me growing up listening to records and it is my natural instrument. There is only so much that we can do to shape the sounds that our (vocal) chords give up. I don't know. I just really grew up listening to all the old records of the Great American Songbook that came before and it really affected the way that I sound. Even the way that I sometimes pronounce the words can be a bit old fashioned and I am sure it comes from all of that listening. I guess it is just my upbringing and having that stuff around me since I was a baby. That will do it."
At times while she is performing, Jane Monheit appears almost as though she is a character in a scene from a theatrical production. "I have a strong background in musical theater and I miss it, so I do let myself go there a little bit when I am performing. I used to be concerned when I was younger that all of the song choices would be very autobiographical. Now that I am older, I am not quite as worried about that and I feel that it is okay to play a character once in awhile. Look at the tune "I'll Be Around," (from her album Home) I would never be that broad waiting around for some guy, who cheats on me time and time again and then comes back. I would just never be that woman (her voice become a little more steely and pronounced). To sing a song from that point of view is very interesting."
She says, "I did some community theater on Long Island where I grew up and we had an amazing theater department in my high school. I did that, did the community theater and I did a lot of auditioning in New York for awhile and that was the range of my so far short career (in theater). I didn't get very far. I almost got on Broadway once and it is just my ultimate, absolute dream to do that one day. We'll see."
The arrangements for the current album Home were created by Michael Kanan and bassist Neal Miner and includes a wide ranging collection of songs, such as Arthur Schwartz and Howard Dietz's lively "A Shine On Your Shoes," which features Ms. Monheit scatting, the romantic and dreamy "There's A Small Hotel," (Richard Rodgers / Lorenz Hart) and her confession of love, "This Is Always," by Mark Gordon and Harry Warren.
"I recorded "This Is Always," for my third album and I just didn't use it. I have always loved the song and I have known it for a thousand years, just like most of the songs that I sing, but I am not even sure why I decided to put it on this album. I am not really sure about any of the songs. The list just came together perfectly. I was just talking to my husband one day and bang there was the list. I thought this song is perfect for me let's do it. I am so thrilled to have the arrangement that my bass player Neal Miner wrote. It is absolutely stunning. I gave the boys the list of tunes that I wanted them both to arrange and I let them divide them up, because I figured if they looked at them and said, I really have a feeling for that one, I figured I would get a better arrangement than if I assigned them. They are both brilliant arrangers."
"In New York, the singers practically fight over Neal. When my first bass player was no longer in the group, our first thought was, let's call Neal, but it was like ah, he's never going to take the gig. There's no way. My piano player Michael Kanan said just ask him, Let's see. We did and he said yes that second. Mike who asked him, even said to him, you should think about it a bit, because it is a big commitment and Neal was like, nope we're doing it. When Mike called us back I think I was overjoyed and I think I probably started crying, because Neal is so amazing," recalls Ms. Monheit.
It is that tremendous respect that Jane Monheit has for her musicians that contributes to her giving them more room than most singers afford their bands. "Oh yes, we are all musicians of equal stature. They are very, very important to me. They are brilliant players. Why would someone want to listen to me the whole time when there can be more piano solos? It needs to be broken up and there needs to be a little bit of everything. Make it an interesting show. Who wants to sit there for seventy-five minutes and hear nothing but vocals?" Read more
Interview by Joe Montague, all rights reserved, protected by copyright © November 12, 2010 Return to Our Front Page