Singer and Songwriter Janelle Sadler Is Duct Taped To A Chair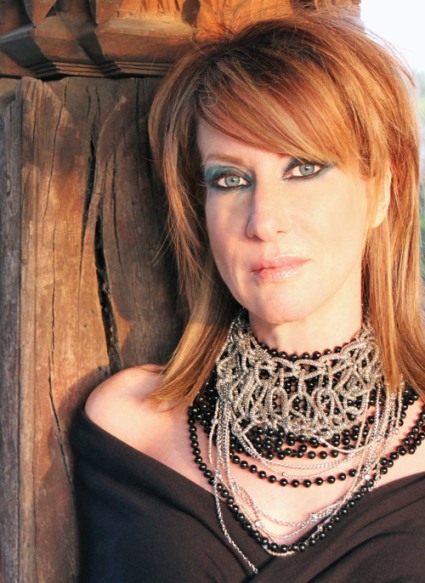 Having your husband wake up and suddenly declare that he wants to duct tape you to a chair and film you in a rundown shed is not exactly the kind of thing that gives you warm fuzzies, but in singer – songwriter Janelle Sadler's case it turned out to be a great idea, even if her hubby Robin Swenson had to work hard to convince her that this was the way to go for their Pop song "Nothin' Stupid."
"My husband and I had come up with an idea, weeks before we shot the video and it was going to be me with these heart shaped red pillows and I was going to walk all around L.A. in different scenarios, while my heart was going to be trampled on. I was going to be run over by cars, peed on by dogs, put in blenders by bartenders and whatever. It seemed like it was going to be quite difficult to make happen. One day Robin woke up early in the morning and this thought came to his mind about duct taping me to a chair. That's not a joke. He had this whole concept that I was kidnapped and in a shed. At first I was really pissed off at him, because we had really put so much time into this pillow thing and we had the pillows made. He said, well this is a new concept and I said okay, I trust you, but if it flops…It turned out to be such a whacky idea that it worked," says Janelle Sadler, while laughing.
The music video which begins with a rather creepy feel to it, as it pans and then zooms in on a dilapidated shed, spotlights Janine Sadler duct taped to a chair, singing a warning to her lover that he better not do anything to screw up their love. Images of dynamite and a talking bird appear as well. Much of the video was shot utilizing a green screen.
"Our videographer, editor dude, had an old shed that he took the interiors from and my girlfriend had this creepy old shed in her backyard that I took the exteriors from. That is how we got the footage for the video. We shot the rest of the stuff in his little tiny studio in his den.
My brilliant husband wrote everything (for the song). He wrote the lyrics and the melody. He wrote this song, years and years ago, and it was supposed to be a Jazz tune. When Rock 'n' Roll Fantasy Camp came about (more about that later), we were like, let's do it as a Pop tune. We weren't really thinking of me being a Pop star or anything, we were just trying to (draw) attention to it, so the tune would get placed. We needed a really cool video. Let me say this, with all the weird, creepy feelings aside, now I trust (Robin's) intuition more. Now whatever weird ideas he gets, I actually believe him," says Ms. Sadler.
"Nothin' Stupid," led to "What's A Girl To Do," an original written with Robin from an idea that he had. He had the title for years, but he couldn't figure out what to do with it. When we did "Nothin' Stupid," we needed another song to go with it. We were just trying to come up with Poppy ways to create something that, and I hate to make it sound so clinical, but as we all know, we're in the business of making music and we saw this as an opportunity to get music placed. We were thinking this would be a good young person's tune or something like that. We wanted a theme about women going through ages, like when I was young I was this way and when I grew up, blah, blah, blah. I thought the song turned out really good considering, we had to do it quickly (she laughs and says) everything that I do is usually accompanied by, 'we have a deadline,' and there is a TV thing or something that comes up and we have to do it right now. That is how this song came about," she says.
Janelle Sadler can rock out with the best of them while covering AC/DC's song "You Shook Me All Night Long," but it is when you hear Ms. Sadler sing "Get Here," made popular by Oleta Adams and first recorded and written by Brenda Russell, that she stops you in your tracks. Ms. Sadler's vocals are beautiful and soulful and she evokes a powerful emotional response from the listener. She is very much in the moment in this pretty song as she sings the lines, "I don't care how you get here, just get here if you can."
"That was one of my favorite tunes and who didn't like that song? It is an incredible tune. I sang it back in the day. Since I couldn't sing it like Oleta Adams, I just did it in my own way. The lyrics just reach me so much. I have always been attracted to songs about longing, being apart and needing someone who isn't there yet. That is why I like "Jesse," (from the album Don't Make Me Laugh), because it was written about someone who used to be there, but wasn't anymore. I just find that feeling of loneliness or unrequited love (in a song) to be really appealing to me for some reason," says Janelle Sadler.
Janelle Sadler recalls the release of her first album, Don't Make Me Laugh, "I was on this reality show called Life Moments. It was a fifteen minute segment about a woman who had done something to change her life and it came on at twelve noon. I got a fifteen minute segment about my first record. This was when I was with Natalie Cole and Natalie agreed to be on the thing with me. She let them come in and film a rehearsal, which was really cool of her. The (program) documented my first song on my first album. It was about a backup singer who finally has an album after twenty years in the business.
Because I got this thing out of the blue, they said, we are going to start shooting two weeks from now. Robin and I just been talking about doing the record and we were too scared to pull the trigger, because it is so expensive, so once this thing came through, we had to do something (she laughs). We finished that record in a month and one-half. "Don't Make Me Laugh," is the title track and we made that the first tune."
Janelle Sadler was born in New Jersey and her family moved to St. Petersburg, Florida when she was three years old and she jokes that she grew up in a five piece family. Her father taught school and she had a stay at home mom, until her mother bought a bookstore. Janelle was the middle child, with an older sister who eventually went to work in Human Services, a field in which Ms. Sadler also studied, before turning her career aspirations to music, and she has a younger brother, whom she describes as dashing and who is an emergency care helicopter pilot, flying accident victims to hospitals.
It was during the time that her family spent living on the island of American Samoa in the South Pacific, where her father taught school, that Janelle Sadler first turned her attention to music.
"That was when I first started playing the guitar and the first song (that I learned) was "Born Free," (as she breaks into song) 'Born free, free as the wind blows..' I thought that sounded so profound. Oh my God, I love this song," she says, again laughing, while she recalls that period of her childhood.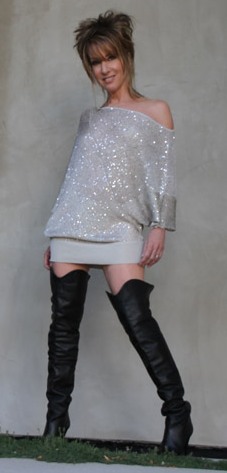 After her family returned to America, and during her teenage years, "I had a little trio that played in churches and it was called The Soft Witness. It was two guys and me. We played quite a bit and we had a blast. Then there was one moment in school that changed my life. I was asked to play for this choir concert and I sang "Jesse," which was a song by Janis Ian and it brought the house down. I got my picture in the school paper and everybody treated me like I was somebody. I will never forget this, I was in choir rehearsing and one of the guys from the high school yearbook and he was a superhot jock, but he also worked for the yearbook, he came up to me and he said, 'Excuse me Janelle, can I talk to you? I have a picture that I took of you singing and I just thought that you would want it.' He looked at me really sweetly and I thought (her voice has more gusto) I found my new career! After that I thought, good things are going to come my way if I stay singing. Those guys had never paid any attention to me, but when you get on a stage (suddenly) people paid attention to me. I learned that lesson very quickly," she says.
When it came time to go to St. Petersburg College she enrolled in Human Resources, but in truth, she did not know what she really wanted to do with her life. "I just went to college to get a degree, so my parents would get off of my back."
Janelle Sadler then began singing in beach clubs and eventually focused her attention on singing with original Rock bands rather than the top forties cover bands with which she first began. Her connection to the original Rock acts led her to studio recording sessions and she points to her decision to focus on bands performing and recording original music as another pivotal point in her career, when others began to notice her abilities. She then took the plunge and entered a music contest in Tampa Bay, Florida and in two different years she was named as The Best Female Singer for Tampa Bay.
"It felt like the small town version of the Grammies and it was a big deal back then (she laughs). This was before cable (TV). It was great. There were all of these Hard Rock acts and the first one was held at this club. I will never forget it, the big Rock and Roll DJ in Tampa Bay, which was a big deal, handed out the awards to everyone and I got called as a winner. It was like my Academy Award. I looked down at the crowd and said (she laughs) I just want all of you young singers to know that if I can do it you can do it too (the tone of her voice transports you to that place and time). It was a huge moment.
After that I was singing Jazz at a club and the keyboard player that I was singing with that night was Donny Osmond's Musical Director and he played keys for him. Donny used to fly him in and out of Tampa Bay. This guy was an excellent player. He said they have this girl that usually sings with Donny and she is a black chick, but she just got a gig with Toto and (Donny Osmond) needs a girl to take her place. I sent Donny this cassette tape of me singing in a club. He phoned the guy back and said hey she's got a great voice. They flew me up to Columbus, Ohio where Donny was playing a show and Donny interviewed me in person. I got the gig! I had to learn how to dance. I didn't dance like this chick did. She was doing early Hip-Hop moves. I hired a dance teacher to teach me how to dance. I worked with Donny Osmond for two and one-half years."
Immediately prior to working with Donny Osmond Janelle Sadler says, "I had just gotten off of this six week tour with a Heavy Metal band. Florida was known for its Heavy Metal. I had this backup singing gig with a band that toured six countries in six weeks and we opened up for Queensryche and Ozzy Osbourne. There were all of these Heavy Metal dudes in a tour bus for six weeks. You can imagine, it was my boyfriend and I and we shared a bunk on a bus and when I got off of that tour, I was such a potty mouth. The "F" bomb was like saying hello. My mother told me not to call her until I cleaned up my mouth. It was just horrible. I got this call from Donny and literally three weeks after I got back from the tour I had my first Donny Osmond gig, so I had to really clean up my act. I went from the Heavy Metal tour to something completely different. I didn't realize what a hoo haw hee haw country girl I was until I got with Donny and all of the musicians from Los Angeles. I will never forget, being on the road and I was so rough around the edges. I quickly learned that I had to clean up my act and to learn how to handle the big boys. It was a lot more serious. It's not like woo hoo!
Donny Osmond was very, very sweet. He always included me on the jokes and he welcomed me very warmly. I felt like he was one of the nicest bosses that I ever had (it is easy to detect the respect in her voice for him). He is a truly nice individual. He was working very hard to reinvent himself at that time. He was trying to sing all of his new songs from the "Soldier Of Love," record (the single went to # 2 on Billboard Top 100), which was a huge record for him and people were still going "Puppy Love." There were these women who would sit in the front row of every gig and they would just scream out "Puppy Love," and all of these old tunes that he had. He snapped and he decided to become an actor. He gave up his music entirely for quite a long period. He was just sick of it.
I think he really is (well respected), because a lot of people talk the talk about what they believe in, but Donny you have got to give it to him. He's been with his wife for a long time and he has avoided major scrapes. He has kept his nose clean. I find it amazing. He is talented. He is talented (she says it a second time for emphasis). He is a great singer. I was impressed by his generosity and his talent."
When the Donny Osmond gig ended, Ms. Sadler describes the next period in her life as a really sobering experience and a struggle. She rented a room from someone else, in an apartment. Not all of it was bad however, as it was during this time that she also met her husband Robin Swenson and in April of 2013, they will have been married for twenty years. She also started doing some higher profile session work, including singing lead vocals on a Chuck Rainey album (bassist who has worked with Steely Dan, Quincy Jones and Aretha Franklin).
In 2010 Janelle Sadler appeared on the five episode television program Rock 'n' Roll Fantasy Camp. "I was the lead singer in one of three different bands. I found out about it through one of my friends on Facebook who said I think you would be perfect for this. I went and auditioned. I was walking down the street one day jogging and I got the phone call from the guy. He said, 'you got it!' I said is there any pay? No (she laughs). I went ahead and did it, even though I had a few people yelling at me, because they said you should never work for free. The show was a catalyst for me and it really opened my eyes up to where I was at for that part of my life and it spurred me on to work towards growth, which I really needed, because I was in a plateau place not knowing what I wanted to do with my career and my life. The show kind of kicked me in the pants and it made me wake up. My band went on to win the battle of the bands at the end, but it was emotional throughout the whole show, overcoming a lot of fears and things that I had buried. It woke me up to a lot of feelings that I had. It helped me to clear the way for a new path for myself.
I don't know if it is the same for all performers, but in my situation, I always struggled with self-esteem and the fear of not getting it right. I am a perfectionist. All of these feelings lead to introverts who are shy and who are attracted to the stage. We learn to bury our fears by getting out there and kicking ass more than the other person. When you do years and years of that stuff, eventually it catches up with you. If you are going to grow, you have to break through those barriers and of what you have always hidden behind. It is all of the things that you hide from through music and by being a performer. The show woke me up to what my demons were and what I had to overcome."
Janelle Sadler also has some very definite thoughts about how a singer can extend her career as she gets older. "When I moved here (Los Angeles), I was thirty-three and I had people telling me, you've got to do something soon, because you are already out of your twenties. (It used to be), when you hit forty you were done. That was like the girls before me. In my era it is starting to be, if you hit fifty you are done. My group of women is starting to push the envelope. Women have the capability to look good later. It is still a visual oriented thing, even for men. Let's face it, when you sing, people are looking at your face. That's just the way that it is. There is very much a romanticizing of a singer whether you are male or female. You have to find out how to reinvent yourself over the years, because if you continue to try to be a romantic figure, you are going to be pathetic at the end of the day. You have to find out, what makes you special, what message you want to send and who your audience is. You can't just depend on the same old audience. It is going to change. That's what creates a long career.
If you are willing to keep swinging at the ball and you feel like you have a right to be here and you keep showing up, your life can continue on. For a while, female singers in particular will hear, 'You're too old. Do you know anybody younger?' There is a period when it breaks your heart and you feel embarrassed just to show up, so a lot of women give up. It is just too disheartening and embarrassing. If you can fight through that, it is amazing what the rewards are. It forces you to let go of those old crutches, i.e. skin tight pants (she laughs) and to work for something more meaningful, which is why you become a singer in the first place. It isn't easy to become great or to survive. It takes knowing that it is not going to be easy, but that you love it so much you are going to hang in there.
We are glad that Janelle Sadler has hung in there, because while she may not have the same degree of visibility of some other artists, we are confident that will start to change when you visit Janelle Saddler's website, listen to her music and you starting sharing the link with your friends. She has a big voice, she sings Rock, Jazz and Pop well and she is part of a strong songwriting duo with her husband Robin Swenson.
Interviewed by Joe Montague Return to Our Front Page
This interview is protected by copyright © and may not be reproduced in print or on the internet or through any other means without the written permission of Riveting Riffs Magazine, All Rights Reserved